The Best Cheap Glidecam Alternative On The Market!
So, since publishing an article about what we feel are the best Glidecams on the market for DSLR cameras a few weeks back, we have seen countless people reaching out asking what the best cheap Glidecam on the market or best cheap Glidecam alternative on the market is. Now, as we have mentioned a few times on the blog now, with Glidecam, you are paying a premium just for the brand name and although that was fine back when Glidecam came out due to the superior quality, times are most definatley changing.
Not only has the motorized gimbal market massively upped its game due to technological advancements with the latest gimbals like the Zhiyun Weebill Lab being able to offer natural-looking image stabilization but the Glidecam range are also slacking off on innovation. This has enabled brands to sneak in with a low priced Glidecam alternative and take large amounts of the market share such as Flycam with their Redking stabilizer.
Due to this, we would not actually recommend that you pick up an official cheap Glidecam but rather go for a competing brand. Trust us, you will be saving money while also getting yourself some excellent performance and functionality. Now, cheap is a subjective term and we know that our readers have a range of budgets available to them so we will actually be featuring two products in our article.
At the time of writing, the cheapest official Glidecam on the market is the Glidecam HD 2000 that at the time of writing comes in at between $350 to $400 depending on where you buy it. In all honesty, you really don't get much for you money and we would not recommend our readers pick up the HD 2000. In our opinion, the Flycam Redking is a much better option and comes in at sub $200 while offering similar performance to some of the $600 Glidecams on the market.
As we mentioned though, we know that for some of our readers, $200 is not cheap for a manual camera stabilizer so in addition to covering the Redking in more detail below, we will also be covering our budget Glidcam alternative option, the Neewer Carbon Fiber Handheld Stabilizer too that is around the $80 mark. We feel that featuring both of these stabilizers offers something for all of our readers while saving them money and ensuring that they are getting a solid level of performance.
The Flycam Redking
Now, our regular readers will likely be familiar with the
Flycam Redking
as we have
previously reviewed the Redking in full
on our blog and it is also our default recommendation for any of our readers looking to purchase a manual stabilizer. Flycam has really taken advantage of Glidecam slacking on the innovation side of things and produced an excellent little manual camera stabilizer that offers an excellent investment for any aspiring videographer.
Over the months since its release, the Redking has quickly managed to earn and excellent reputation within the community due to its low price, excellent performance, solid build quality, and ease of use. A large portion of the market has shifted from the Glidecam range over to the Redking and its reputation just keeps on going from strength to strength without showing any sign of slowing down.
Additionally, there are a fair few comparison videos online that put the Flycam Redking that costs less than $200 head to head against the Glidecam Devin Graham Signature Series that can be over $700. The performance between the two is very similar and although the Glidecam usually does come out on top, it is usually by a small margin and certainly not one that justifies the huge price tag of the Glidecam flagship model.
Performance And Functionality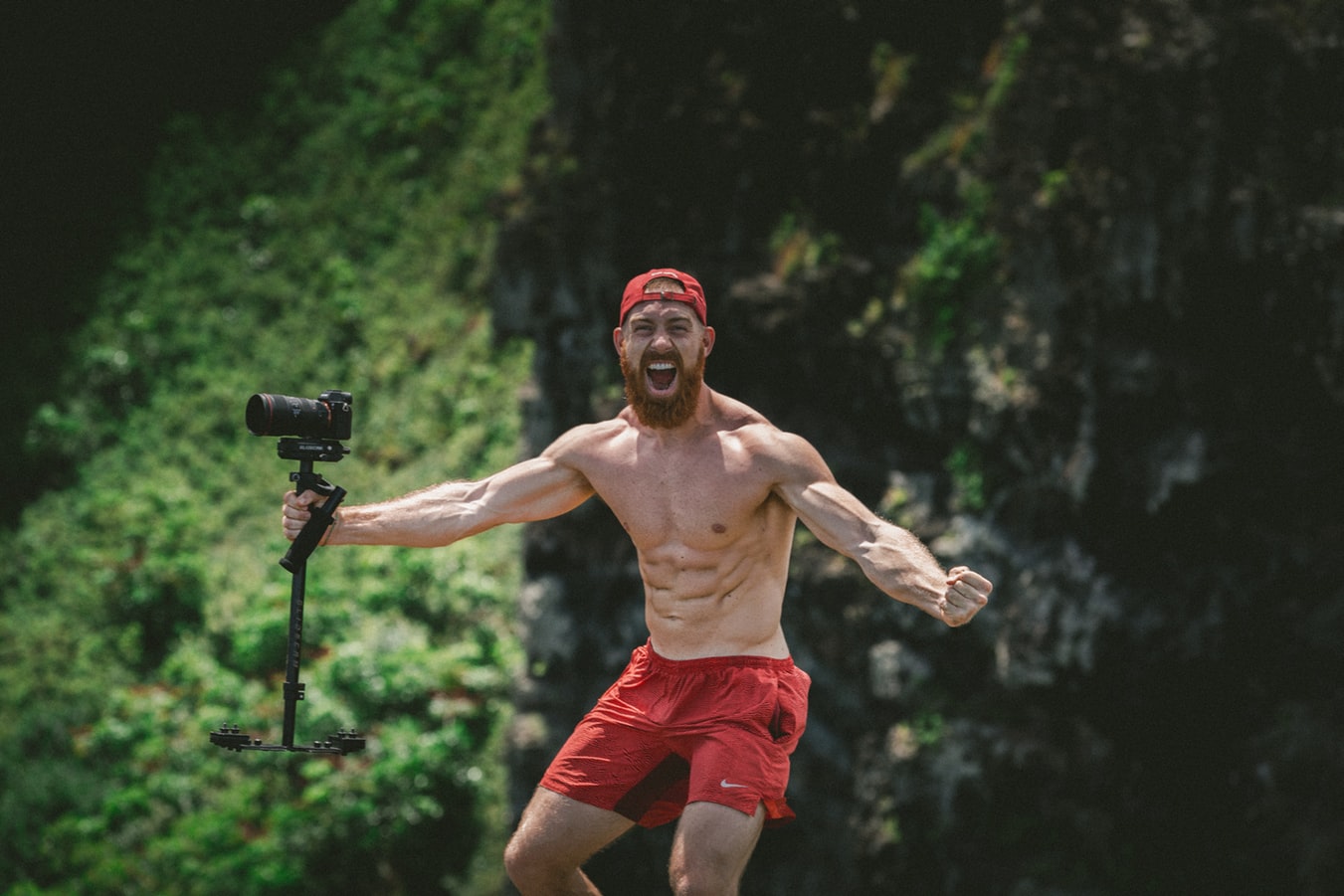 Although the Flycam Redking may have a low price tag in comparison to the official Glidecam stabilizers, it actually takes advantage of advancements in gimbal joints to ensure it offers excellent performance while keeping costs down. The Redking is able to support a maximum load capacity of 15.4 Pounds while still providing some excellent image stabilization even with heavy DSLR camera rigs.
Now, you have to remember that most of the official Glidecam stabilizers are at least four years old at the time of writing. In this day and age, there are a large number of technical advancements in the stabilizer market each year meaning that although Glidecam has kept their high price tag, the technology you are actually getting is pretty old. Flycam seems to have noticed this and decided to use it to their advantage to smash out the best manual stabilizer they can with the lowest possible price tag to exploit the aging Glidecam range.
The clips in the video footage above show off exactly what kind of image stabilization you are able to expect if you choose to pick up the
Flycam Redking
. As you can see, it makes effortless work of the mounted camera rig and offers the videographer some of the absolute best image stabilization available, especially for the price range. With the more modern technology and gimbal system, you can see why the Redking is able to compete with older stabilizers that are more than double its price.
Additionally, the Redking provides that beautiful, naturally looking image stabilization rather than the more robotic look and feel that many motorized gimbals end up providing you. Depending on what type of videography niche you are working in, the Redking can be the best alternative cheap Glidecam stabilizer and make a real valuable addition to your collection of camera accessories.
Click Here To Check Prices And Availability!
User Interface And Control System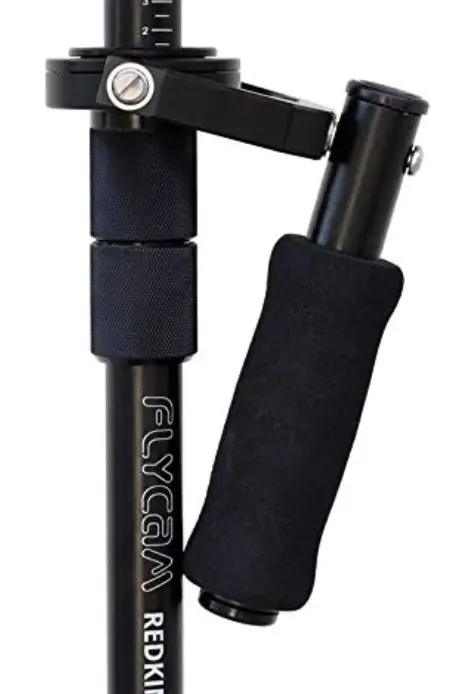 Flycam has ensured that the Redking is as easy to use as possible and that even someone who has never used a camera stabilizer before will be able to quickly and easily purchase the system and get it working efficiently. The gimble joint between the handle and main body shown in the image above is also excellent too offering you maximum performance with minimal maintenance required on your part.
Just like many premium modern gimbals and manual stabilizers, Flycam has decided to use a closed ball bearing environment on the Redking meaning there is no requirement for you to do any maintenance after purchase. The closed environment has all the lubrication pre-loaded ensuring that you will get optimal performance for many years to come with minimal maintenance on your part.
The mounting system is done via a quick release plate too allowing you to quickly and easily mount or unmount your camera set up to and from the Redking as required. The Redking uses a Manfrotto dovetail quick release plate design too and with many tripods and motorized gimbals using this same system, you are able to quickly and easily hot-swap from the Redking to either of these with minimal downtime in your session.
All in all, Flycam really have done an excellent job when it comes to the interface system between user and gimbal and the Redking offers everything you could ever want with minimal time investment required on your part. We really can't fault Flycam in any area on this and feel that they have set a new standard in the manual stabilizer space when it comes to control interface systems.
Build Quality And Design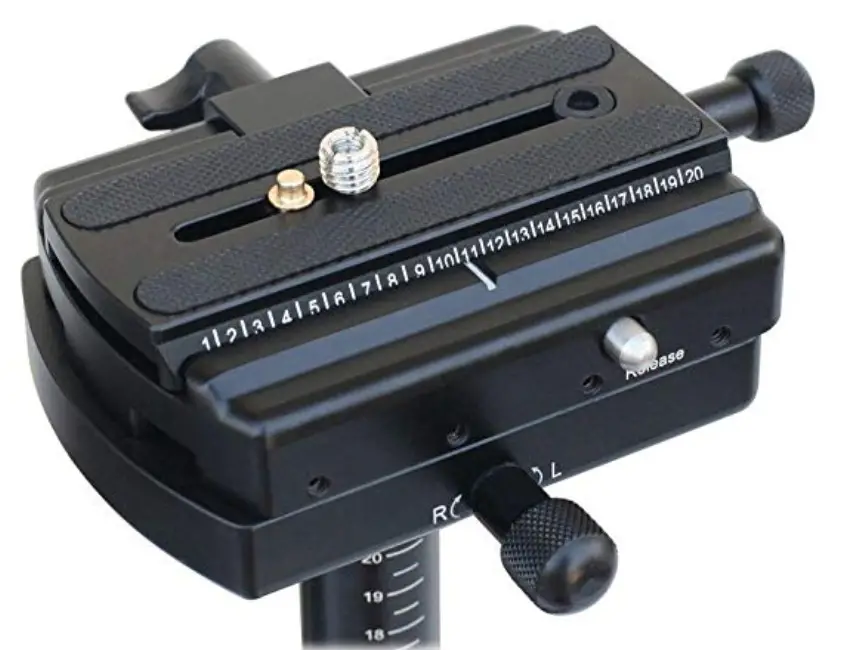 As we mentioned earlier in the article, the Redking takes advantage of the premium manual stabilizer brands dragging their feet and becoming complacent with no real new releases for a number of years now. This has left the market open for Flycam to come in and although they keep the same basic design as most of the competing manual stabilizers on the market right now, the actual technology in the gimbal joint and the alloy the stabilizer are made from are better than their higher price point premium brand competition.
The actual alloy of the Redking is as tough as you would expect but unlike most other manual stabilizers at this price point in the market, it is also pretty lightweight too. If you need to travel around for your videography gigs then this can be a massive benefit to you as you can easily pack the Redking without taking up too much weight.
The design of the stabilizer also ensures that you are able to get the premium quality natural-looking image stabilization that manual camera stabilizers are well known for too. Although some of the latest motorized gimbals like the DJI Ronin SC do have the ability to provide similar levels of image stabilization when used in certain modes, they are much more expensive than the Redking.
Our Verdict
We hope that we have made a solid point and managed to explain why we feel that the Flycam Redking is the best cheap Glidecam alternative. That said though, if you are still not convinced then the stabilizer has an absolute ton of reviews online from independent videographers who use the Redking as their goto stabilizer of choice.
We are confident in saying that the Redking will make an excellent addition to your camera accessories and ensure you are getting better image quality than you would when using some stabilizers that are double the price of the Redking.
Click Here To Check Prices And Availability!
The Neewer Carbon Fiber Handheld Stabilizer
Next up, we have the Neewer Carbon Fiber Handheld Stabilizer for any of our readers who are on a very tight budget but still want to pick up a cheap Glidecam alternative. Now, you have to keep in mind that this is a sub $100 camera stabilizer designed for entry-level videographers so you have to expect a level of performance relative to its price.
Unlike Flycam with the Redking covered above that were trying to make a manual camera stabilizer with the best possible performance for the lowest possible price, Neewer have produced a stabilizer that is as cheap as possible. They have focused on getting the costs as low as possible rather than innovating to keep performance high while keeping costs down.
Due to this, this Neewer stabilizer is nowhere near the level of performance of the Redking but on the flip side of this, it is a very popular option amongst entry-level videographers and it has managed to earn a decent reputation within the community. We would always recommend that you go with the Redking covered above over this Neewer product, especially if you are doing any type of paid videography work.
That said, if you are an entry-level videographer, student videographer or hobbyist videographer the Neewer stabilizer can be a decent option to help improve the level of image quality that you are able to capture. As our main recommendation is the Redking covered above, we will only be quickly skimming over this Neewer stabilizer as it really is an entry-level option and is not ideal for doing paid work in our opinion.
Performance And Functionality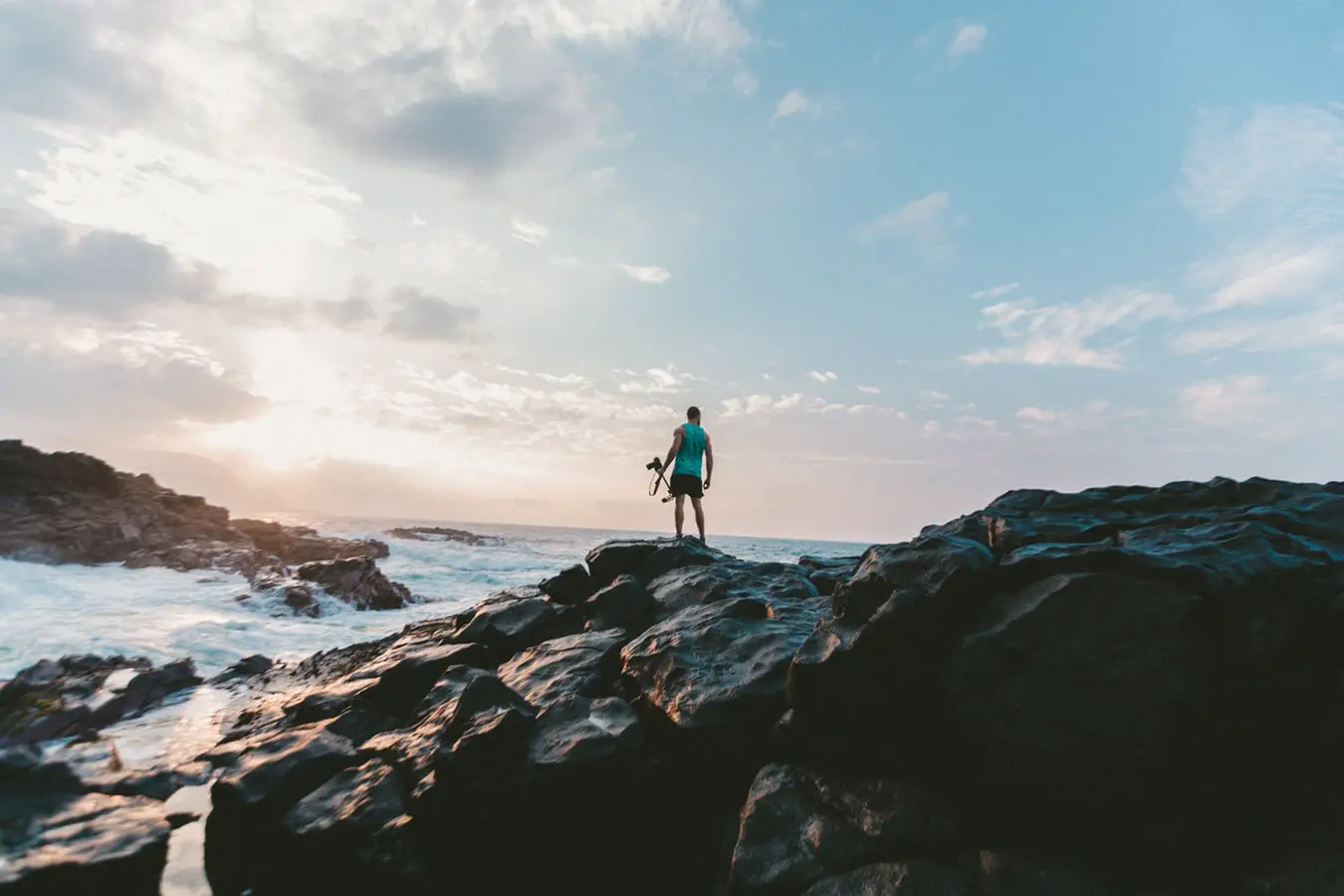 Now, being a cheaper, more budget-friendly Glidecam alternative, this Neewer camera stabilizer has a maximum load capacity of only 6.6 pounds. That said though, even the heaviest of the entry-level DSLR camera setups usually come in under this 6.6-pound payload capacity meaning that you will probably be fine getting your image stabilization from this manual stabilizer with an entry-level rig.
The video above shows some example video footage that has been captured using
the Neewer image stabilizer
and as you can see, it actually does a decent job for its price tag. It can effortlessly stabilize the mounted camera and help to improve the image quality that you can capture when compared to capturing your video handheld. Just keep in mind, the slight vibrations can be a pain and we would not recommend using it for any paid client work due to this small issue.
Click Here To Check Prices And Availability!
User Interface And Control System
As you would expect from the most entry-level camera stabilizer on the market that is not a waste of time, the control system on the Neewer stabilizer is extremely easy to use. This ensures that you are able to quickly and easily get to grips with the system as it has been primarily designed for use with people who have never used a manual stabilizer before.
We are confident in saying that the majority of our readers should be able to get to grips with the Neewer stabilizer extremely quickly requiring minimal time investment on your part prior to use. Additionally, the actual gimbal handle on the stabilizer is simple and just like the Redking covered above, it requires no maintenance due to its closed system.
All this ensures that you have the easiest time possible and that you are able to focus your time and effort on getting the best video footage possible rather than learning or maintaining your stabilizer.
Build Quality And Design
Considering that the Neewer camera stabilizer is an entry-level unit, the build quality is surprisingly solid and Neewer have done a great job of putting it together. Although the unit is far from lightweight, it does easily get the job done and it is also tough enough to take a fair few bumps or knocks during use too.
When it comes to the design of the stabilizer, there really is not much to say in all honesty. The unit follows the same design as the vast majority of other modern manual camera stabilizers on the market right now. It ensures decent performance depending on the technology of the gimbal joint while also ensuring ease of use for the user.
Our Verdict
As you would expect for a unit at this price point that performs as well as this Neewer stabilizer, since its release, it has managed to earn itself a fair few reviews from independent videographers. If you are on a very right budget then it can make a decent addition to your collection of camera accessories without having to break the bank too.
In my opinion though, for the best possible image stabilization and image quality without the need to break the bank, the Flycam Redking is definatley the way to go. It is by far the best cheap Glidecam alternative on the market right now and it just keeps growing in popularity as the months come and go. Its price tag is not that much higher than the Neewer units but the difference in performance is night and day. If you are doing, or hope to do any paid client work then the Redking is definatley the camera stabilizers for you.
Click Here To Check Prices And Availability!