The Best Cheap Steadicam On The Market!
We have been publishing a number of articles based on manual Steadicam style camera stabilizers over the last few weeks but we have noticed more and more people specifically reaching out for advice on a cheap Steadicam. With more and more people moving over to the manual Steadicam stabilizers due to their low price tag, great image stabilization, ease of use, and excellent natural panning, we only expect more and more people to be reaching out over the coming months.
Due to this, we have decided to focus today's article on what we feel is the best cheap Steadicam style stabilizer available on the market right now. Although there are a number of different, cheap Steadicams on the market right now, many of them are essentially a waste of time and not worth the money. Our hope is that we will be able to help any of our readers who are on a strict budget but are looking to purchase a decent manual stabilizer without having to break the bank while helping you navigate the minefield of entry-level Steadicams.
Now, one of the main things that we see with any article that is based on "cheap" products is that cheap is a relative term. Due to this, we want to quickly touch on the Flycam Redking that is a very budget-friendly manual stabilizer and is very cheap for the build quality, performance, and levels of image stabilization that it can provide you. It is a great competitor to the much higher price point Glidecam flagship that has managed to quickly earn and excellent reputation for itself amongst videographers. If you are a professional level videographer doing any type of paid work then the Redking is definatley the cheapest Steadicam style manual stabilizer that we would recommend to our readers.
That said though if you are an amateur videographer then the Neewer 24 inch stabilizer is a very cheap Steadicam stabilizer that is absolutely outstanding for its price point. We know that Neewer has managed to rightfully earn the reputation of being able to deliver some solid quality, entry-level products without having to hike their price tag up and their 24-inch stabilizer is no different. For a sub-one hundred dollar product it offers excellent image stabilization and has rightfully managed to grow an excellent reputation for itself.
Due to this, we will be focusing the rest of the article taking a more in-depth look at the Neewer 24 inch stabilizer as we feel that it is probably the best cheap Steadicam going at the time of writing. It will easily be able to meet the needs of any of our readers who are looking for a cheap, entry-level stabilizer but as we said above, we don't feel that it is suitable for paid videography work. If you are doing paid gigs then the Flycam Redking is definatley the way to go.
Performance And Functionality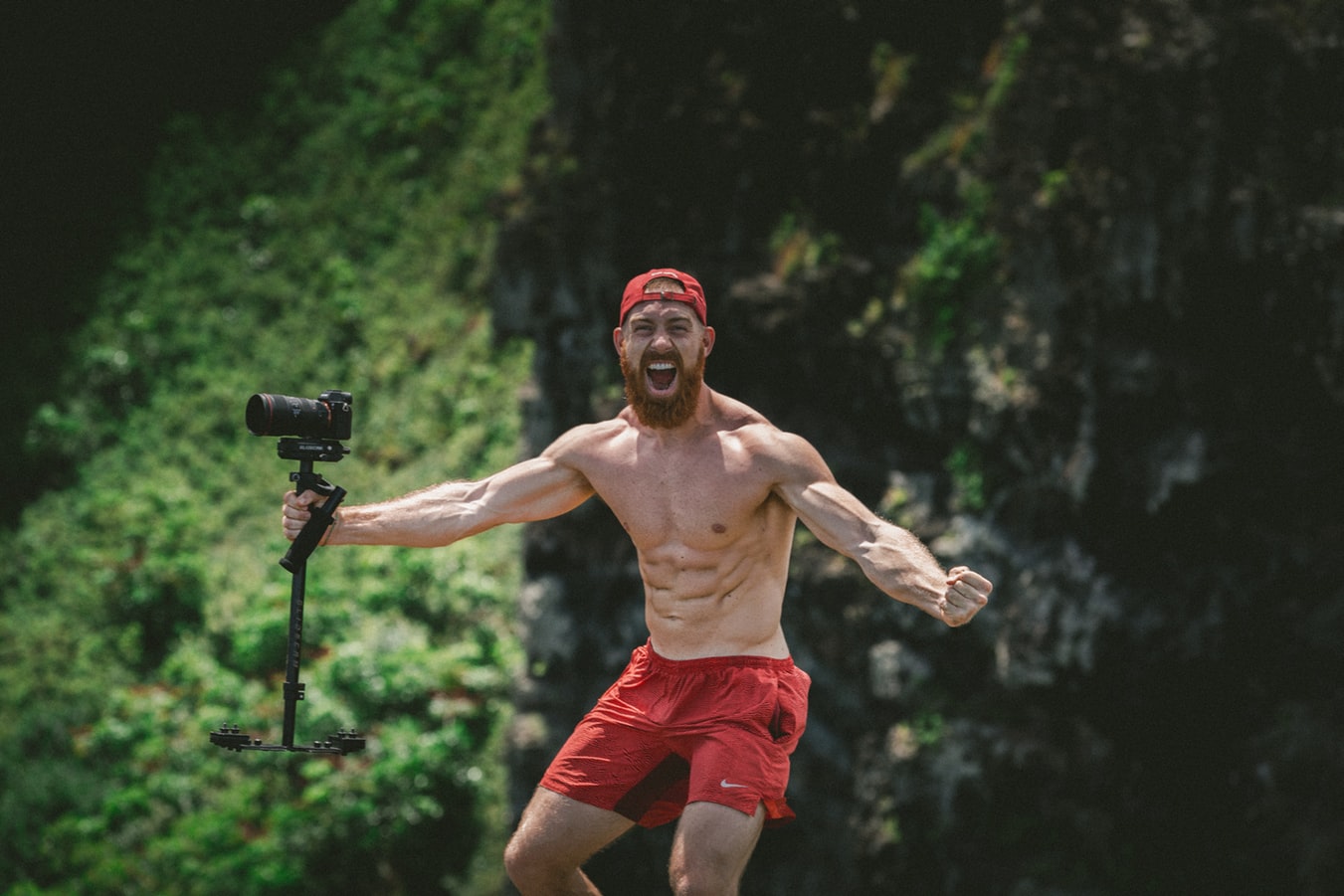 Moving onto the performance and functionality of the Neewer 24 inch stabilizer and you will be please to know that you can usually use the unit with the vast majority of entry-level camera rigs on the market right now. With a maximum load capacity of 6.6 pounds of payload weight, it is easily able to support all point and shoot camera setups as well as the vast majority of popular mirrorless camera rigs too. That said though when it comes to DSLR rigs the stabilizer can be a little restrictive so if you are a DSLR user then the
Flycam Redking
is definatley the better option due to its much larger maximum load capacity.
Just like all other manual Steadicam style stabilizers, this Neewer rig has no need for a battery like its motorized gimbal counterparts meaning that there is no need to worry about running out of battery while out and about capturing your video footage. If you are using to using a motorized gimbal are and just wanting to add a cheap Steadicam style stabilizer to your camera accessories for the natural panning then it is definatley a breath of fresh air to not have to worry about running out of battery life while recording.
Speaking of the natural panning, this is one of the few advantages that Steadicam stabilizers still have over the majority of motorized gimbals at the time of writing and this Neewer rig is no different. Although some of the newer motorized gimbals like the Zhiyun Weebill S so have gimbal modes to help you get that natural feel when panning, they are very expensive compared to a manual stabilizer.
Neewer has actually done an excellent job of working out a way to add a very similar system with low friction joints and high precision ball bearings that higher price point Steadicams use without having to hike their price tag up. Now, you have to realize that the system is not as effective as something on a $600 Steadicam but in our opinion, this Neewer ball bearing setup blows the rest of the competition in the sub-one hundred dollars price point out the water with ease.
The clips above have all been captured using the
Neewer stabilizer
and shows off just how well it can perform with a little practice. As you can see, the image quality is absolutely outstanding and it is able to provide some of the best image stabilization we have ever seen for a sub-one hundred dollar unit. It performs flawlessly and is extremely easy to use too making it the ideal entry-level manual Steadicam style unit for any budding videographers just starting off with their journey.
The unit has a fully adjustable central column allowing you to tweak the operating height of the unit from fifteen to twenty-four inches allowing you to tweak the angles that you can mount your camera for optimal coverage of your subject. Although this is only a distance of around nine inches and does not come close to the customization of the professional level stabilizers, it is a nice little feature to have as central column adjustment is often missed off the entry-level Steadicams.
The Neewer rig is also fully compatible with the Neewer vest to help add that additional layer of support if you need it during use. That said, at the time of writing and due to unexpected popularity, it is an absolute nightmare to find the Neewer vest in stores. We hope that Neewer is able to resupply retailers as soon as possible as it a great little camera accessory and the vest compliments the actual stabilizer well and increases the things that you can actually do with this great little cheap Steadicam too.
When you look at what the competition sub-one hundred dollar Steadicams offer you for your money, it's easy to see why the Neewer unit has proven to be so popular amongst videographers on the hunt for a bargain. It blows the competition out of the water and can perform just as well as some units that are more than double its price tag. It's not surprising to use at all that the community has decided to publish so many excellent reviews of the Steadicam that are well worth reading if you have the free time available.
User Interface And Control System
Unlike their motorized gimbal counterparts, manual Steadicam style stabilizers don't really have much in the way of a control system or user interface to speak of. This is not necessarily a limitation of the Steadicam design but more so due to the fact that an advanced control system or interface is simply not required. The Steadicam design has been built around being able to provide you with some of the best, natural-looking image stabilization as possible as quickly and easily as possible.
Due to this, outside of the balancing system that we will cover in the section below and the adjustable central column that we touched on in the section above, there really is not much you have to do for optimal performance and image stabilization. The balancing procedure is extremely easy too and the adjustable counterweights use the clump weight design to make the whole process even easier than most of the compeating entry-level Steadicams.
All in all, Neewer has done a great job of keeping everything as easy as possible so even if this is your very first Steadicam, you will be able to learn how to operate the unit within minutes without running into issues. We know that some entry-level Steadicam brands have tried to do some advanced tweaks to try and stand out from the crowd but in our opinion, they have been implemented poorly and make the whole thing confusing. We think that the straight forward and simple approach that Neewer have stuck to is the best way to go, especially if this will be your very first Steadicam.
Balancing
Although we used to try and type out the balancing processes for any products that we covered we have found that it can be a little confusing without a video or images to better explain the process to our readers. These days we just show a video of the balancing process and although the video above does drag it out a little, it does a solid job of showing how easy it is to balance the
Neewer 24 inch stabilizer
with no real prior experience required.
One tip that we would like to share is that if you use the same camera setup each time, work out how many counterweight plates that you need to balance the Steadicam. Then if you do have to travel around with the stabilizer, only take the counterweight plates you know you need as well as a spare or two. This can help drastically reduce the amount of weight that you have to carry with you and make your life much easier, especially if you have to travel via plane with a luggage weight restriction.
Build Quality And Design
Now, one of the only things that we don't like about the Neewer Steadicam is that it has been marketed as a carbon fiber Steadicam when in fact it is a carbon fiber, aluminum alloy hybrid. We know that this is just a little thing but we just want to point this out to our readers as we have seen a few people comment on it. That said though, for the price tag of the unit, it has an absolutely excellent build quality with the unit being lightweight and robust too.
The durable and solid construction ensures that you can easily pack it in your camera accessory bag for transit and not have to worry about it breaking from any bumps or knocks. The lightweight due to the aluminum alloy and carbon fiber build also ensures that the Steadicam does not take up too much weight in your accessories while also being light enough to hold for those longer sessions without you having to
The unit comes with a standard quarter-inch mounting thread as well as a three eights mounting thread too. This ensures that you are able to quickly and easily mount any device needed to the Steadicam with ease. Most units at this price point only come with a quarter-inch mounting thread so the Neewer Steadicam just keeps on scoring more and more points over the competition.
The handgrip on the gimbal join is also very comfortable and non-slip too. This allows you to get a firm grip of the unit, even if you are out and about in wet conditions to keep your camera rig safe while mounted. If you are recording for those longer, extended sessions then the comfort level of the handgrip can prevent any cramps or aches and pains setting in too.
Our Verdict
That brings our article going over what we feel is the best cheap Steadicam currently available on the market right now to a close. As we mentioned back at the start of the article, if you are doing any type of paid videography work then the Flycam Redking is probably as cheap as we would recommend you go without sacrificing image quality for your clients. The Redking has a a ton of great, independent reviews that offer some great insight into the excellent performance of the unit that may be worth reading.
On the flip side of this though, if you are a hobbyist videographer or on a very tight budget then the Neewer 24 inch stabilizer really is a great bit of kit. In our opinion, it is without a doubt the best sub-one hundred dollar Steadicam available on the market right now and its customer base just keeps growing with each passing month. As we mentioned earlier in the article, the Neewer Steadicam also has a number of reviews that we would recommend that our readers check out for some insight into its performance from other videographers.