The Ultimate Evo Shift Gimbal Review!
After publishing reviews for a number of handheld smartphone gimbals over the last few weeks, we have noticed a number of people asking about a dedicated Evo Shift gimbal review. Thankfully, we have some free time so we have decided to publish our review of the Evo Shift in the hope that our article is able to help any of our readers who are considering purchasing the gimbal.
Now, if you are one of our regular readers, you may already know that we are massive fans of the Zhiyun Smooth 4 and feel that it is the best smartphone gimbal on the market right now by far. If you really want the best of the best and can afford the additional $20 on its price tag then the Smooth 4 is definatley the way to go in our opinion. That said though, the Evo Shift is still a solid smartphone gimbal and has a pretty large following that is growing at a steady pace.
A large number of people who own the Evo Shift have also posted their own independent, third-party reviews of the gimbal online that you can read if you wish too. These offer an independent opinion of the performance of the Shift from people who have used it as their go-to gimbal stabilizer of choice for their smartphone for an extended period of time. If you have the free time available, they can definatley be well worth reading.
Performance And Functionality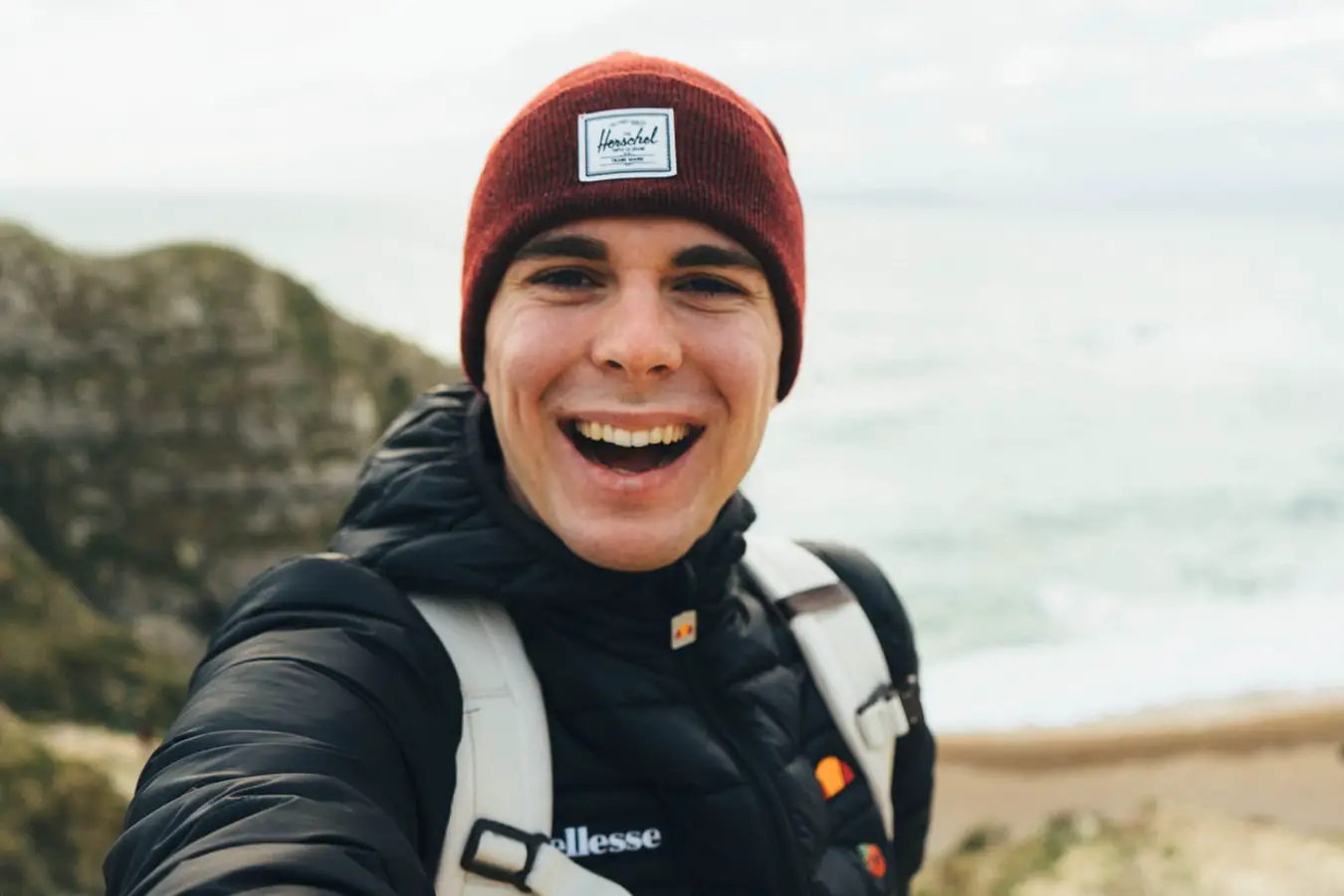 When it comes to performance and functionality, Evo has done a solid job of putting the shift together and it is not surprising that they have managed to build up the large customer base for the gimbal as quickly as they have. As you would expect from a small and lightweight handheld gimbal stabilizer for smartphones, the maximum load capacity is pretty low coming in at 0.48 pounds but this is plenty to support the vast majority of smartphones on the market right now.
As most people who add a smartphone gimbal to their accessories usually want something small and lightweight, the shift is perfect. This will allow you to capture your adventures or vlog wherever you are without having to carry a large and bulky DSLR or mirrorless camera and its gimbal with you. The shift can easily be carried with you and used as and when required without taking up much space and the image stabilization that it provides is excellent.
Additionally, Evo has used their high capacity batteries in the Shift too that provide a maximum battery life of up to twelve hours per charge of its batteries. These latest batteries are also very small considering their capacity and they are also pretty lightweight when compared to the other gimbal batteries on the market that can provide over eight hours of battery life per charge.
The Evo Shift can provide you with a longer than average battery life when compared to the competition and the additional four hours may not sound like much but it really is helpful. Say you are in a travel vlogging niche and use a lightweight setup based around your smartphone, the additional four hours of battery helps to ensure you can always get the image stabilization you need while out and about on your adventures.
The sample video footage above was recorded using the Evo Shift smartphone gimbal stabilizer and as you can see, it really does have great potential to help you improve the image quality that you are able to capture with your smartphone. If you are into vlogging or just documenting what you get up to, the image stabilization from the Shift is a great, cost-effective improvement to your setup.
The gimbal motors are also high torque and although smartphones are lightweight, they ensure that the image stabilization provided by the gimbal is quick and snappy. This ensures that if you are running or anything like that you are sure to get nice, smooth, buttery footage. Another great feature about the gimbals motors is that they are silent and your smartphone's microphone will not pick their sound up when recording. Until recently, this was a problem with many smartphone gimbals but thankfully, the motors on the Evo Shift are very quiet and will not contaminate your audio track.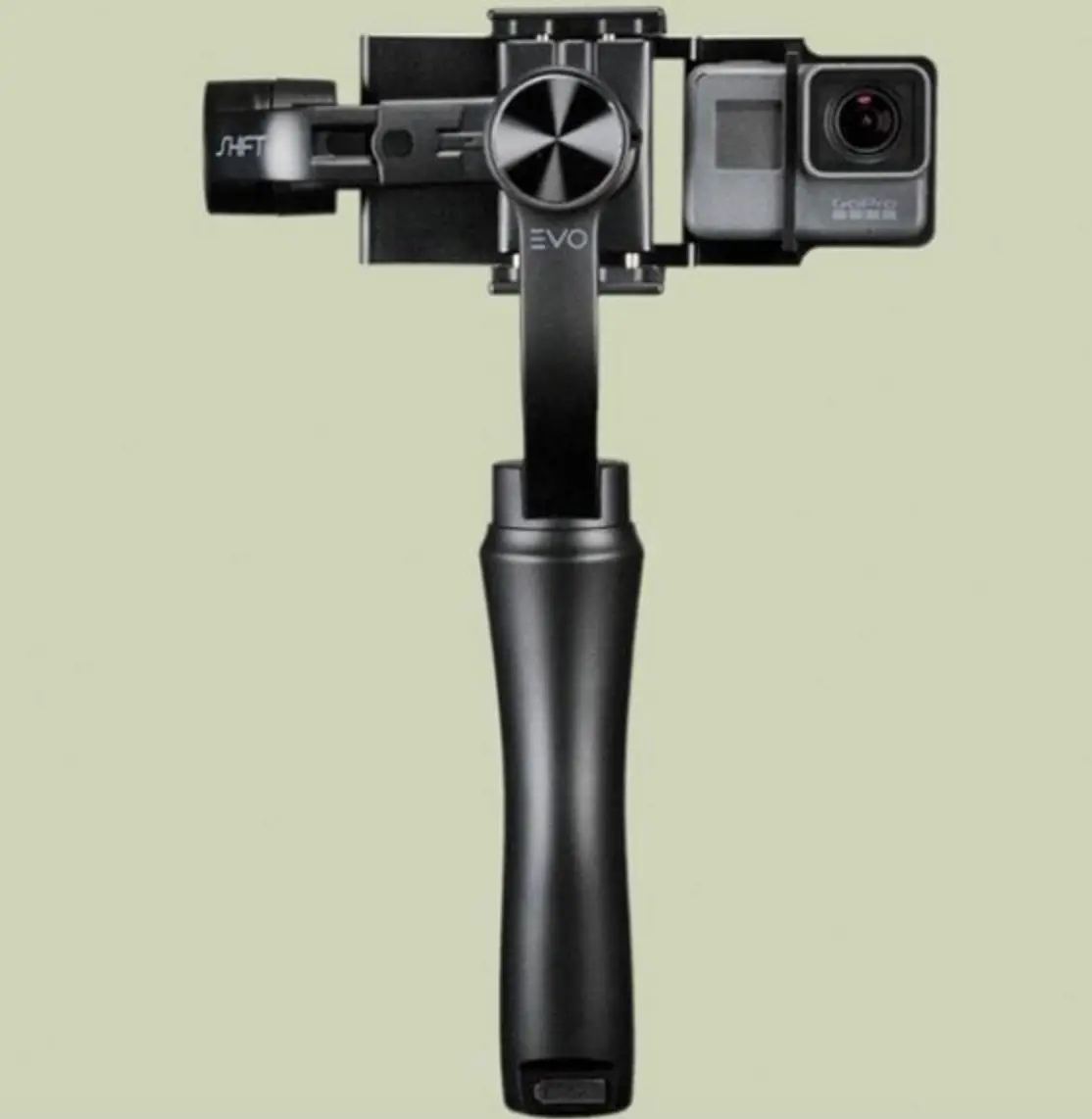 Although the native handheld gimbal has only been designed for use with smartphones, the
Evo Action Camera Plate
shown in the image above is available as an additional accessory. This allows you to firmly and securely mount your GoPro to the 3 axis gimbal to capture footage with your action camera rather than just your smartphone.
As various action cameras are common cameras used within the lightweight vlogging communities, there is a decent chance that you may want to add an action camera in to your collection for any water-based or rough sports that may damage a smartphone. It is nice knowing that the Evo Shift is future proofed against this potential upgrade and that you will be able to use the same gimbal stabilizer for an action cam without having to purchase a new gimbal.
All in all, we feel that Evo has done a great job with the shift and it is easy to see why it is so popular. That said though, the Zhiyun Smooth 4 is a better option, costs only $20 more than the shift, and has a much better reputation within the community. We would highly recommend that you seriously consider purchasing the Smooth 4 over the Shift for your smartphone gimbal needs.
Click Here To Check Prices And Availability!
User Interface And Control System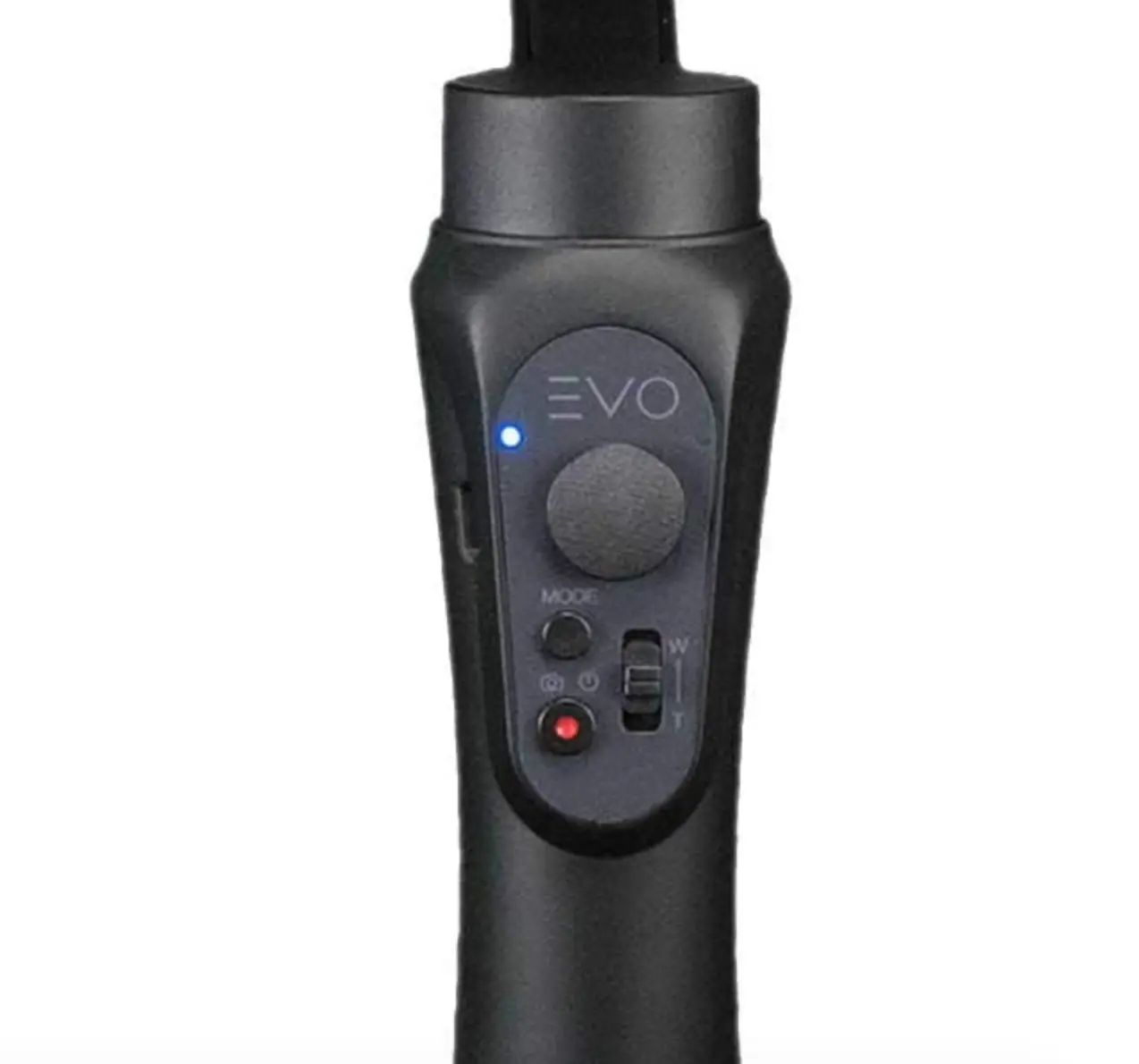 The image above shows the control interface system for the Evo Shift and as you can see, it is extremely simple making it an ideal choice for anyone who has never used a 3 axis gimbal before and doesn't need the advanced features or the professional level gimbals for DSLR and mirrorless cameras. In our opinion, Evo has hit the nail on the head when it comes to the Shifts control system as the majority of people who want a gimbal for their smartphone just want cheap and stable video footage for YouTube or Instagram.
The system is extremely easy to use and if you are able to work your way around a modern smartphone, we have absolutely no doubt in our mind that you will be able to work your way around the Evo Shifts system. That said though, the default configuration that the gimbal comes shipped with has been specifically designed for use with the popular smartphone models and should be able to meet the needs of the majority of our readers.
That said though, if you do want to use the gimbal in manual mode or if you do want to tweak the gimbals settings, you are free to do so via the easy to navigate menu system. We have lost count of the number of brands who try to do something fancy and unneeded with their gimbal control systems and end up making it too complicated for your average person. This Evo control system is a breath of fresh air and does a great job of ensuring anyone, even without experience with gimbals will be able to use the unit while also offering some customization and manual mode control for anyone who needs it.
Smartphone App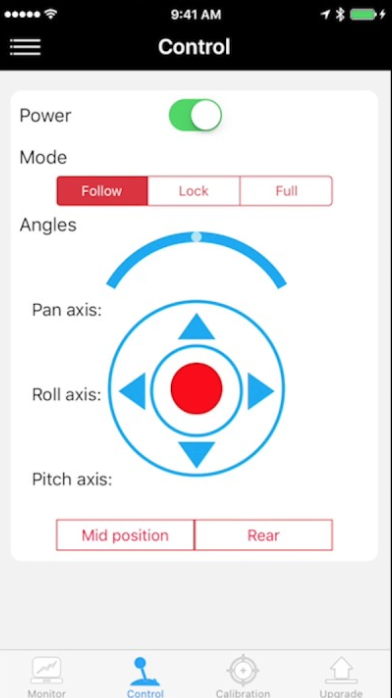 The Evo smartphone app has been updated a few times over the last few months and at the time of writing, it seems that the connectivity issues it previously had have all been fixed. Although we doubt that the majority of people using a smartphone gimbal will need the wireless remote control functionality or advanced configuration control that it provides, for a free gimbal accessory, it can be a decent download.
The main limitation of the smartphone app for the Evo Shift is the fact that unlike the Evo gimbal range designed for use with DSLR cameras, with the Shift, your smartphone is actually mounted to the gimbal as your recording device limiting what you can do with the app. There is no point having some wireless remote control functionality from the app on your smartphone if you have to be with your phone and near the gimbal to access it.
We have seen a few reports of people who are with partners downloading the app onto one smartphone while having the other person smartphone mounted to the gimbal. In reality, though, we doubt that this will be a realistic option for most of our readers.
Build Quality And Design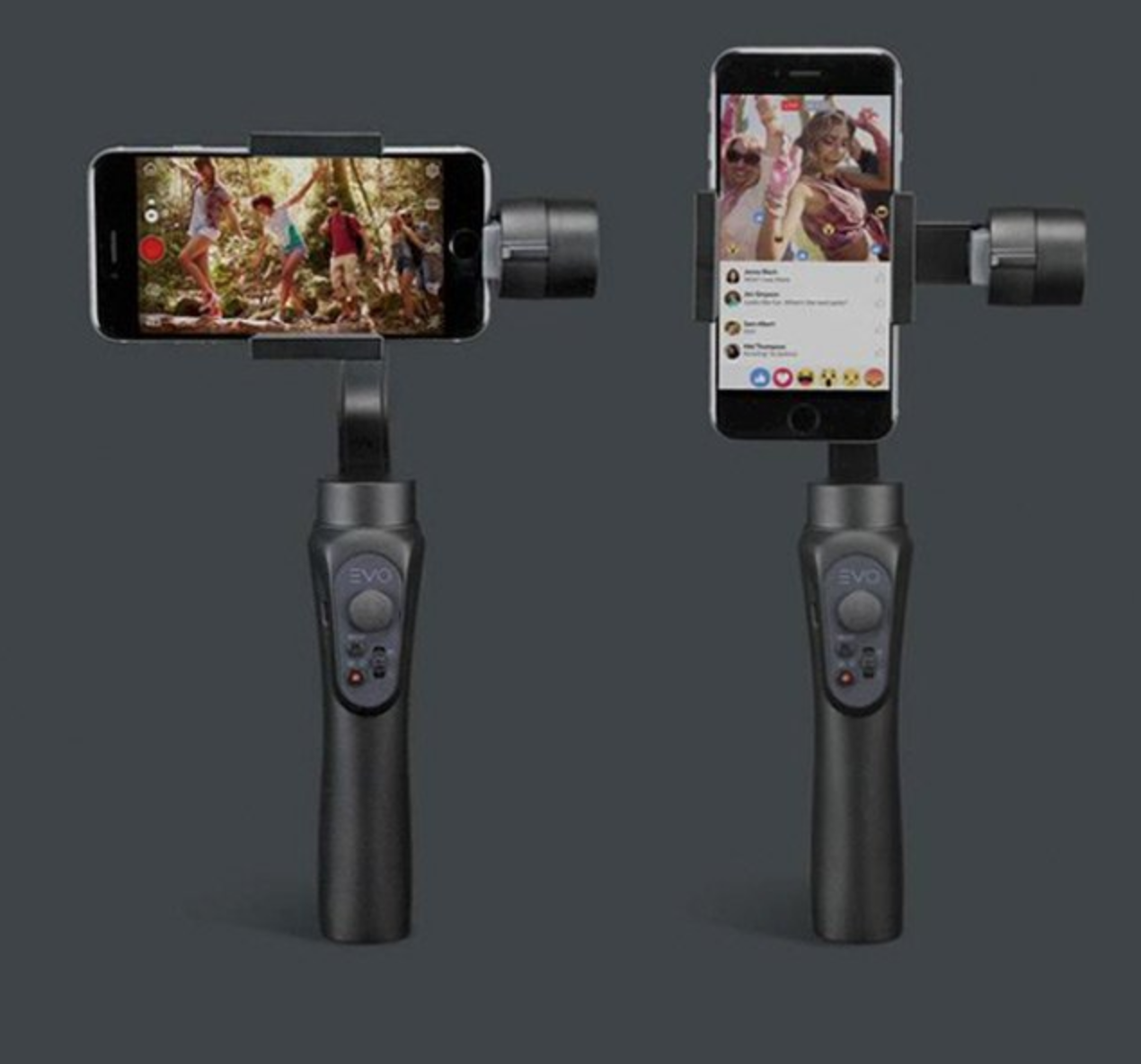 One of the most common complaints that we see from the smartphone user community when it comes to handheld gimbals is the poor build quality that often leads to a broken gimbal after a few weeks or months of purchasing the unit. Thankfully, if you are familiar with the Evo brand, their Rage handheld gimbal range for mirrorless and DSLR cameras has a reputation for being extremely robust and the same goes for their Evo Shift.
The Shift has a solid build quality with the majority of it being made from high-quality plastic that is both very tough while also being very lightweight. This ensures that your gimbal can take any knocks in your bag during transit without it adding much additional weight while carrying it either. As smartphone gimbals are often just put in a small backpack or bag rather than a reinforced case with foam cutouts, the robust nature of the Shift is great.
When it comes to the design of the gimbal, it pretty much follows the exact same design of the vast majority of other 3 axis handheld gimbals on the market right now. One thing that we would like to point out is that the Evo Shift allows you to quickly and easily switch between landscape and portrait orientation with ease giving it an edge over some compeating gimbals.
As many content creators like to upload their content to both YouTube and Instagram, this is a great little feature. YouTube videos tend to do better with landscape orientation where as Instagram tends to do better with portrait orientation, the shift allows you to quickly switch from one to the other to capture the footage you need for both platforms without having to waste your time.
FAQs
Question – Is the Evo Shift gimbal waterproof?
Answer – No, although it tends to be fine in rain, it is not waterproof and should never be submerged.
Question – Can you use larger cameras with the Evo Shift?
Answer – No, it has a maximum load capacity of 0.48 pound meaning that even the lightest point and shoot cameras will likely be too heavy. The Evo Shift is best used with a smartphone or an action camera for optimal image quality.
Question – Can you use action cameras other than the GoPro range with the Evo Shift?
Answer – Although they are not officially supported, many cheap GoPro alternatives essentially rip off the GoPro dimensions and duplicate their form factor. Additionally, there are a number of third-party mounting plates available for different action cameras.
Question – Can you use this smartphone with the Evo Shift?
Answer –  This is one of the most commonly asked questions we see by far and there are a bunch of variables. The Shift does support the majority of smartphones on the market right now and covers all of the popular ones. It has not been designed for use with the larger phablet style smartphone/tablet hybrids but we have seen people post that they use it with ease. If you are using an iPhone or a phone from the Samsung or Google Pixel range, we would imagine that you would be fine.
Our Verdict
That brings our Evo Shift gimbal review to an end and we really are big fans of the gimbal. It is very cheap considering what you get while offering some excellent performance and functionality and on top of this there are a large number of additional reviews online that you can read if you wish.
That said though, we just feel that the Zhiyun Smooth 4 is a better smartphone gimbal choice and will make a better addition to your collection of camera accessories. It is without a doubt the most popular smartphone gimbal on the market right now while offering superior performance than the Evo Shift for only $20 more. It provides better image stabilization and has a build quality and interface system just as good as the one on the shift.