The Ultimate Flycam HD 3000 Review!
With the success of our other Steadicam reviews, we have noticed a fair few people reaching out for a Flycam HD 3000 review each month so we have decided to publish this article to help any of our readers looking to add the HD 3000 to their collection of camera accessories. Now, Flycam is essentially a more budget-friendly brand to the popular Glidecam range but the days of the Flycam meaning lower levels of image stabilization and performance are thankfully gone.
Flycam has really upped their game and their products are able to outperform most of the completing Steadicam units at their price points in the market while also competing against higher price point units. The Flycam HD 3000 has one of the best reputations within the community amongst the budget-friendly manual stabilizers and it just keeps getting more and more popular as time goes on.
That said, if you are able to stretch your budget to the Flycam Redking over the HD 3000, we would highly recommend it. The Redking is not that much more expensive than the HD 3000 but its performance is absolutely outstanding and the Redking has one of the best reputations out of all the manual stabilizers on the market right now.
Performance And Functionality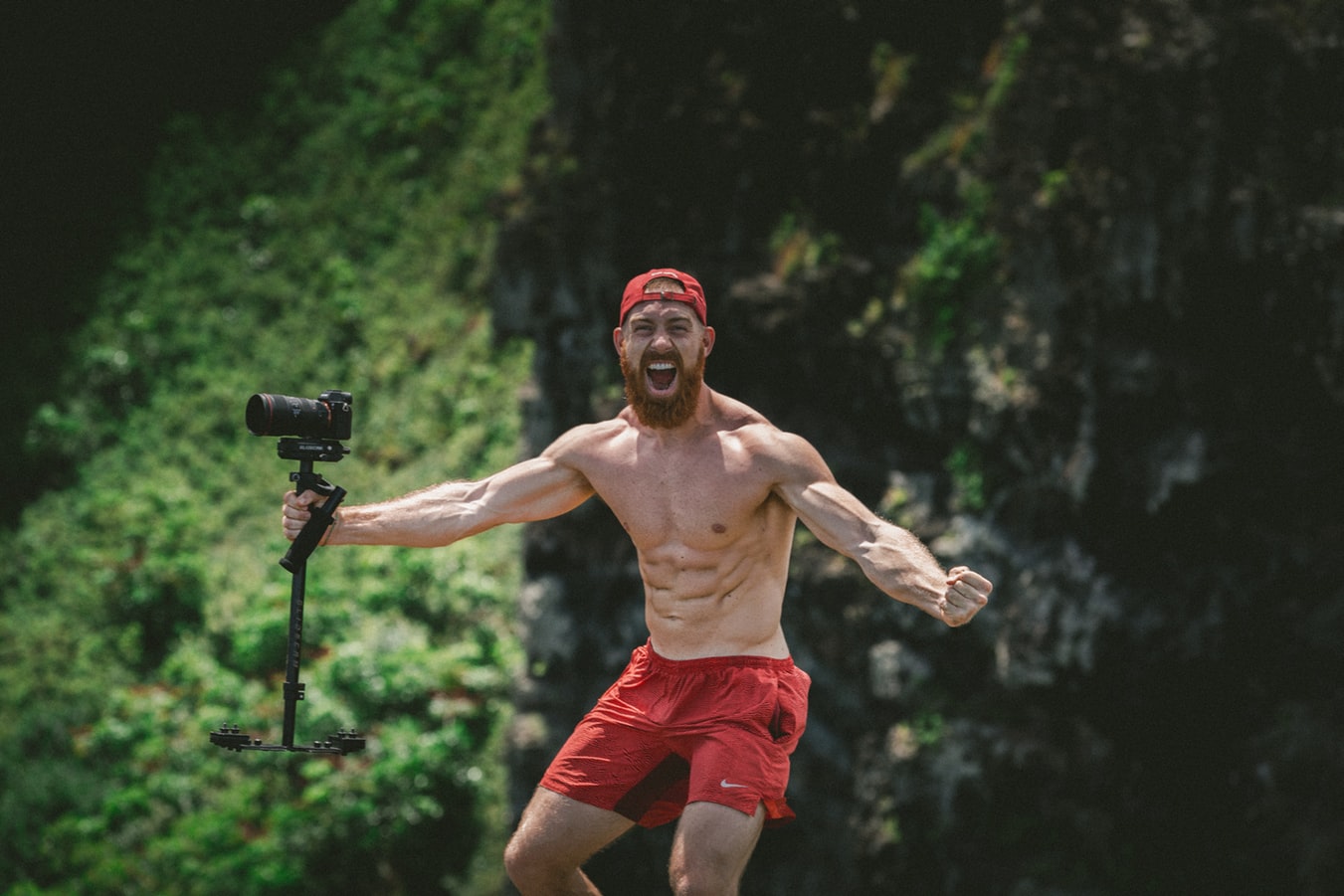 Now, getting into what actually matters, the performance of the Flycam HD 3000. Considering that the HD3000 comes in at around $100 at the time of writing, it has an impressive maximum load capacity of eight pounds that can ensure it can support even some of the heaviest DSLR camera rigs. That said though, if you are using a professional level heavy DSLR rig, you should be looking towards adding the
Glidecam
or an electronic gimbal like the
DJI Ronin S
.
That said, if you are an entry-level videographer looking to get some budget-friendly, cost-efficient image stabilization then the HD 3000 can definatley get the job done. The HD 3000 is able to provide that natural looking panning when your camera rig is mounted on it that the electronic gimbals at this price point in the market are simply unable to provide you.
You are definatley able to see the difference in image stabilization in your video footage that is captured with your camera mounted to the HD 3000 when compared to your video footage captured with you holding your camera rig by hand. The sample video footage in the video below was recorded using the HD 3000 with a mounted to it.
As you can see from the video footage, the
Flycam HD 3000
does a surprisingly good job of keeping the camera rig stable and smooth when recording, especially when you factor in that it is an entry-level image stabilizer that comes in at around the $100 mark! This level of performance is why its
reputation in the community
is so good, especially when compared to the reputation of other stabilizers at this price point in the market.
The 3 axis gimbal control at the joint of the handle to the central column ensures that the HD 3000 is smooth to maneuver during use too. This helps you pan and tilt your camera with ease to adjust its angle as required to meet the needs of your session. Additionally, the 3 axis gimbal joint on the HD 3000 uses sealed ball bearings meaning that there is no need to perform any regular maintenance on the gimbal or lubricate it up helping to make the system easy to maintain while still getting maximum performance.
Click Here To Check Prices And Availability!
User Interface And Control System
Being a Steadicam, there is no real user interface to speak of like there is on an electronic gimbal stabilizer. That said, there are a few parts of the HD 3000 that you will have to be interacting with during use for optimal performance. The first is the base plate of the gimbal shown in the image above, as you can see, it is a hollow bottom design with the gaps to keep the overall weight of the unit as low as possible.
Now, some people prefer hollow bottom stabilizers while others prefer seal bottom, in reality though, it doesn't really matter. Chances are, the additional weight that a hollow bottom stabilizer design saves you by having gaps in it will end up having to be readded to your stabilizers during the balancing process via the counterweight plates anyway. This single point is able to pretty much put all discussions between the hollow bottom and sealed bottom stabilizers to rest as neither side can argue with it.
Anyway, the base plate of the HD 3000 is extremely easy to use and we feel that Flycam has done a great job with it. Even if this is your very first stabilizer, we are confident that you will be able to take it out the box, mount your camera rig, balance it, and be out and about recording your video footage within fifteen minutes.
Now, fifteen minutes may seem like a large amount of time but keep in mind, this is based around the Flycam HD 3000 being your very first image stabilizer with you having minimal experience with the balancing process. As you go through the balancing process more and more, you will become more efficient with it and bring this time right down to a couple of minutes.
The second item on the Flycam HD 3000 that we would imagine that you would be using is the quick release plate shown in the image above. Now, one thing that we want to point out is that the quick release plate is included as standard with your purchase. The vast majority of competing brands will not include a quick release plate with your purchase meaning that you have to go off and purchase it as an additional camera accessory.
For those of you who are new to using a quick-release plate, you mount it to the base of your camera so you are able to quickly and easily mount or unmount your camera from your tripod or gimbal as required. This can end up saving you a whole bunch of time over the course of a videography session, especially if you know that you are going to have to switch between your gimbal and your tripod a few times.
Click Here To Check Prices And Availability!
Build Quality And Design
There is nothing special about the design of the Flycam HD 3000 in all fairness, that vast majority of Steadicam style stabilizers all use a very similar design to each other as the basic design performs so well and is very cheap to produce. That said though, the build quality of the HD 3000 is another area where the gimbal starts to shine over the completing gimbals on the market as in our opinion at least, Flycam go above and beyond for the price point of the stabilizer.
Not only is the HD 3000 very lightweight ensuring that you are able to hold it with your camera rig mounted on it for long periods of time without your hands cramping but it is also surprisingly robust and tough. When it comes to the entry-level stabilizer line, you usually either get a lightweight build quality or a robust build quality but rarely both at this price range.
The grip on the HD 3000 is also very comfortable too making your job even easier for those long videography sessions where you will be required to capture footage for long periods of time. The actual grip on the handle is texturized too not only helping to increase comfort levels during use but to also allow you to get a better grip with heavier payloads.
Click Here To Check Prices And Availability!
FAQs
Question – Can the Flycam HD 3000 be inverted for low angles?
Answer – No, and to our knowledge, none of the competing stabilizers at this price point offer any inverted functionality either.
Question – Will the Flycam HD 3000 work with my camera?
Answer – This is definatley the most commonly asked question that we see when it comes to gimbals and it is a difficult question to answer. Your regular camera body may work fine with the HD 3000 but then you may end up mounting a heavy lens to your camera that may cause issues. There are just too many variables to take into account. What we will say is that provided that your total camera rig comes in under the eight-pound maximum load capacity, you should be fine.
Question – Is the Flycam HD 3000 compatible with any of the arm and vest rigs?
Answer – Yes, there are a few that the HD 3000 will work with but we would recommend this comfort arm setup.
Our Verdict
That brings our Flycam HD 3000 review to an end and w know that it is short but in reality, it is an entry-level Steadicam so there really is not much to say. For its price tag, the Flycam HD 3000 performs very well and can provide you with some great image stabilization requirement minimal effort on your part. If you are on a tight budget then this really could be the optimal stabilizer for you and is definatley worth adding to your collection of camera accessories.
Click Here To Check Prices And Availability!
Click Here To Read Independent Reviews!