The Best Gimbal For Canon SL2 Cameras!
We have seen a steady number of people reaching out each month regarding the best gimbal for Canon SL2 cameras currently available on the market. Now, as the Canon SL2 is a DSLR camera people usually instantly think of the DJI Ronin S that is in our opinion, the best gimbal on the market for the vast majority of DSLR cameras without a shadow of a doubt. Now, as the SL2 is such a lightweight DSLR camera coming in with a payload weight of almost exactly one pound, we feel that the best gimbal specifically for the SL2 is the Zhiyun Weebill Lab over the Ronin S.
It offers almost identical performance to the Ronin S while being cheaper, smaller, lighter, and newer. As the SL2 is so lightweight, we feel that the Weebill Lab is the better option and feel it will meet the needs of our readers better than the Ronin S. Since the Weebill Lab has been released onto the market, it has managed to quickly earn an excellent reputation within the community and establish itself as the dominant gimbal in the mirrorless camera and light DSLR space.
Many of the completing brands to Zhiyun and DJI have released their attempt at an answer to both the Weebill Lab and the Ronin S and none even come close. Due to this, we feel that both of these gimbals will maintain their top spots for the foreseeable future with each making an excellent option for your Canon SL2. As we personally feel that the Weebill Lab pulls out ahead of the Ronin S for the Canon SL2, we will be taking a more in-depth look at the gimbal for the rest of the article.
Our hope is that the in-depth look at the Weebill Lab will help get more of our readers to realise that they can get excellent image stabilization for their SL2 from the Weebill Lab without having to spend anywhere near as much as they would for the Ronin S. Additionally, there are also a large number of reviews online for the Weebill Lab from independent videographers and vloggers who use it as their go-to gimbal of choice. If you have the free time available then they can be well worth spending a few minutes skimming over them as they offer an excellent insight into the performance of the gimbal.
Performance And Functionality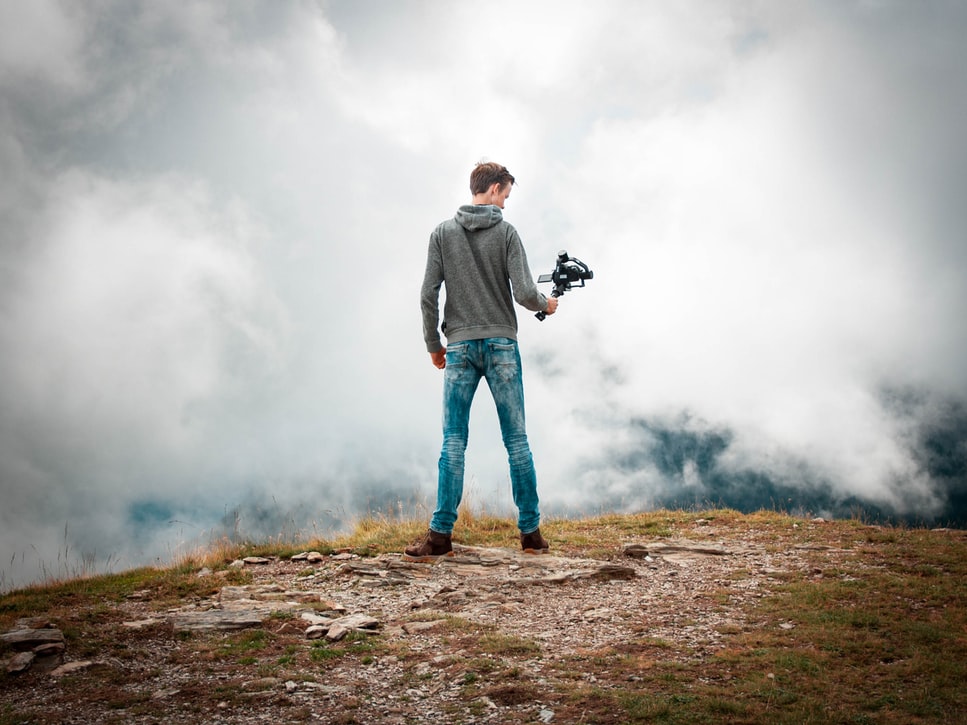 Now, as we mentioned, the Canon SL2 is a lightweight DSLR camera that comes in with a camera body payload weight of only one pound. The maximum load capacity of the Weebill Lab of 6.6 pounds is easily able to support the vast majority of SL2 camera setups for both vlogging and videography with our issue. Additionally, the high load capacity also helps to offer you some future-proofing in your gimbal purchase in case you decide to upgrade to a heavier DSLR camera in the future or start using a heavier camera lens.
This is one of the main strengths of the Weebill Lab as although it has been designed for use with the mirrorless and lightweight DSLR camera weight classes, it is able to support a large number of common setups with plenty of load capacity spare. This makes it a popular choice for people who know they will be upgrading their kit to heavier items in the future but don't want to have to upgrade their gimbal too.
The Weebill Lab also comes in with a respectable battery life of up to and including ten hours per full charge of its battery. This will be plenty for the vast majority of our readers who are able to recharge their gear at the end of the working day but it is a reduction in battery life over the sixteen hours the older Zhiyun Crane Plus is able to provide. This is due to gimbal brands seeing the trend of videographers and vloggers adding high capacity USB power banks to their accessories to charge their gear while on the go. Being able to use a smaller battery allows better gimbal motors to be used as well as smaller and lighter gimbals to be build.
The gimbal also comes with the newer quick charge technology that really is excellent. It allows you to recharge the gimbal back to full from empty in just over three hours minimising any down time that you may have. If you do use a USB power bank then recharge times will vairy depending on the output capacity of your power bank but the quick charge system can help the gimbal recharge as quickly as possible with most high output power banks.
The cinematic sample video above is one of our favorite set of clips recorded using the
Zhiyun Weebill Lab
and as you can see, the 3 axis gimbal stabilizer makes light work of the user's camera rig and delivers some butter-smooth image stabilization without issue. If you are doing paid client work or if you are wanting to improve your image quality to build up your YouTube channel or social media profiles then the Weebill Lab is the ideal gimbal for the Canon SL2.
Being the latest gimbal from Zhiyun designed to dominate the mirrorless camera and lightweight DSLR weight class, it comes with the latest Zhiyun gimbal motors and balancing algorithm as standard. Both systems have been designed to work flawlessly with each other to ensure that you, the user get the best experience possible. In our opinion, both the Zhiyun and DJI balance algorithms are in a league of their own compared to the competition and provide rapid correction to any movement the gimbal sensors detect. The high torque, powerful gimbal motors then rapidly correct any movement to keep your Canon SL2 stable while recording.
The Weebill Lab also comes with a large number of popular gimbal modes too. In addition to what you would expect from its gimbal modes, it also supports the new vortex mode that gets the gimbal head to do a barrel roll with your camera and although we initially thought this would just be a meme mode, it is surprisingly popular. The point of view mode on the Weebill Lab is second to none in our opinion and it does an excellent job of providing you with natural-looking image stabilization that until a few years back was restricted to manual stabilizers.
Zhiyun also have the best intelligent object tracking system available at the time of writing too and the Weebill Lab fully supports it although the Zhiyun smartphone app is required for optimal performance with the intelligent object tracker. It really is easy to see why the Weebill Lab has become so popular within the community so quickly with so few compeating gimbals being able to challange it. Judging by the number of  third-party reviews of the Weebill Lab that have been posted by independed users of the gimbal, we can only see it becoming more and more popular as time goes on.
Click Here To Check Prices And Availability!
User Interface And Control System
The user interface system on the gimbal shown in the image above with the additional smartphone mount fixed to the gimbal handle is excellent. The system is sleek and easy to use ensuring that anyone, even if you have no prior gimbal experince will be able to take the Weebill Lab out of the box and get it working quickly. This means that you are not required in invest hours into learning the basics of the gimbal and can get out and about doing your think quickly. Additionally though, one of the best features of the system is that it also offers a ton of advanced customization for advanced videographers too. We absolutely love this approach that caters to the needs of entry-level and professional level videographers all with the same interface.
The LCD panel is bright, clear, and very easy to see in low light conditions whereas the buttons and joystick are responsive in wet or cold conditions too. This ensures that no matter where you are recording, you will have optimal control over the Weebill Lab and the movement of your Canon SL2 no matter the conditions. The joystick is extremely responsive to touch to making it very easy to adjust as required meaning you have maximum control over your gimbal head when in manual and point of view modes.
Zhiyun really has done an excellent job with the control system for the Weebill Lab and outside of implementing some form of a touchscreen, we really can't think of anything we would want them to do differently. We are confident that you will be able to get to grips with the interface quickly and work your way around it within minutes and then learn the rest on the job while recording.
Smartphone App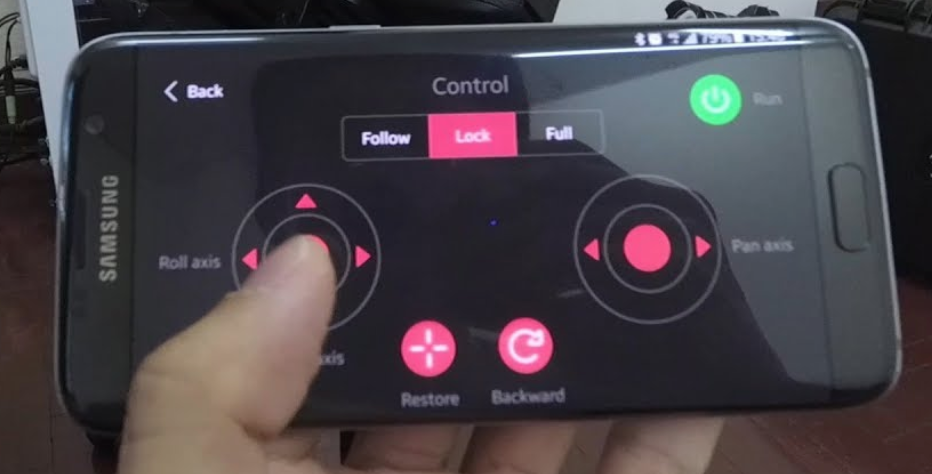 Now, it is a well-known fact that until a few months back, the Zhiyun smartphone app was in a really bad state and pretty much unusable. You would have a nightmare just syncing the app with your gimbal after you finally managed to get a sync it would randomly disconnect half the time, and the action navigation menu was a nightmare. Thankfully though, as we mentioned above, the Zhiyun intelligent image tracking system heavily relying on the app for optimal use so Zhiyun needed to overhaul their app and also corrected these issues.
The app is quick and easy to sync now and it is very rare that you will get a random disconnect. Additionally, the app has been giving a facelift making it really easy to work your way around and tweak anything you want. It is a great little gimbal accessory and is well worth downloading to your smartphone, especially considering that it is free. The app also has the ability to provide you with some additional wireless remote control functionality as well as a quick and easy way to change gimbal settings as required to meet the needs of your session.
Build Quality And Design

We absolutely love the design of the Weebill Lab as the handheld gimbal stabilizer space has lacked any serious innovation until now. Unlike all other handheld gimbals on the market right now, you can fully detach the gimbal handle as shown in the image above and mount it to the rear mounting plate on the Weebill Lab to switch to underslung mode. Not only does this offer a quick and easy way for you to capture some low angle video with your Canon SL2 but it is also comfortable when using the gimbal in this mode.
With other gimbals on the market right now you will have to purchase a gimbal cage or any number of other gimbal accessories to get this same functionality but Zhiyun has included it as standard. This means that the same small, lightweight handle on the gimbal also works as your handle for underslung mode meaning you don't have to bring a cage with you if you are having to travel with your gear for your videography or vlogging work.
Zhiyun has done a great job with the build quality of the Weebill Lab too and it is at a similar level to what the DJI Ronin SC has offered a very robust yet lightweight gimbal. If you are working in any niche where you have to travel around a whole bunch this is excellent as it can take plenty of hits during transit and its lightweight doesn't take up much baggage allowance either. If you are a travel vlogger then the Weebill Lab is way out ahead of any competing gimbal on the market right now for your Canon SL2 simply because of its small size and lightweight.
Although more and more people are starting to realize that a comfortable handle on a gimbal is important, we still see so many videographers and vloggers overlook this simple feature. If you are working some long, extended sessions then having a comfortable gimbal handle helps to reduce the risk of getting any hand cramps ensuring you can hold the gimbal for as long as possible. Zhiyun has put a higher priority on having a comfortable handle on their gimbals for a few years now and the Weebill Lab is no different.
Our Verdict
This concludes our article on what we feel is the best gimbal for Canon SL2 cameras on the market right now. We really do feel that the Zhiyun Weebill Lab is the best addition to your camera accessories that you can make to meet your image stabilization needs and improve your image quality when it comes to using an SL2. You can also skim over some of the independent reviews of the gimbal that have been posted online by independent videographers and offer some excellent insight into its performance. All in all, Zhiyun have done an excellent job and produced one of the best handheld gimbal stabilizers that we have ever seen to date.