The Ultimate Glidecam HD4000 Review!
So after starting to review a number of Steadicam brands a few weeks back, we have noticed a number of people reaching out about reviews for different brands with a consistent number of people reaching out about a dedicated Glidecam HD4000 review. Due to this, we have decided to post our review of the Glidecam HD4000 in the hope that it is able to help any of our readers who are considering purchasing it and adding it to their collection of camera accessories.
Now, we have made no secret of the fact that we feel that the whole Glidecam range is overpriced and dated with some of their best selling stabilizers being almost five years old at the time of writing. Glidecam used to be the brand of innovation and moving forward making the increased price tag worth it but they have definatley started to drag their heels in recent years. This has enabled their competition to take large amounts of the market share with products like the Flycam Redking growing a massive customer base and excellent reputation amongst the community..
With the majority of the Glidecam range being more than twice the price of the Redking, it is no surprise that it is such a popular option amongst videographers as it offers excellent performance and image stabilization at a massively reduced price. That said, the Glidecam HD4000 does edge out ahead of products like the Redking ever so slightly but only you are able to decide if it is worth paying more than double the price of the Redking.
Additionally, the community is starting to notice the lack of innovation coming from Glidecam and their manual stabilizer range becoming stagnant while their price tag remains high. This is directly reflected in the reputation of the Glidecam HD4000 amongst the community that is distinctly average.
That said though, we will still be going over our full review of the Glidecam HD4000 for any of our readers who are still considering purchasing it. We just wanted to be clear about our thoughts on the camera stabilizer at the start of the article rather than have you read the full review only for us to recommend you seriously consider the Flycam Redking if it is able to meet your needs.
Performance And Functionality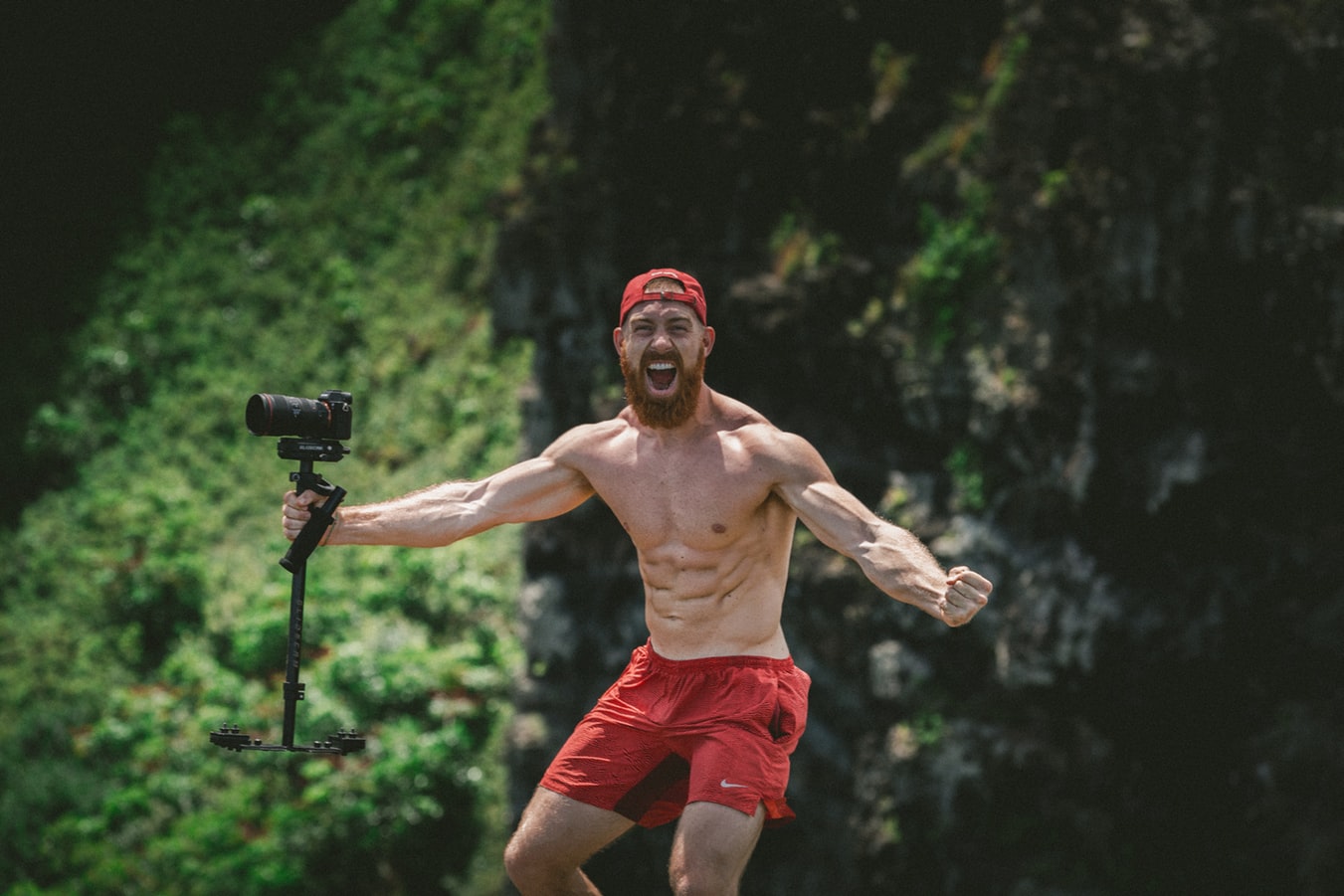 Although we do feel that the innovation coming from Glidecam has definatley tapered off over the last few years, the performance of the Glidecam HD4000 is outstanding in all fairness to them. The HD4000 offers you some of the absolute best performance available on the market at the time of writing but as we mentioned earlier, you can get a similar level of performance out of the
Flycam Redking
for less than half the price.
The correct option for you is likely going to come down to what you will actually be using your Steadicam for. If you are a professional level videographer doing high end, professional-level recording and have the budget available then the Glidecam HD4000 is the obvious choice. That said, if you are a professional level videographer and most of your gigs are wedding videography then there is a good chance that the Redking will be able to provide you with the image stabilization you need while saving you some cash too.
The Glidecam HD4000 has a minimum load capacity of four pounds and a maximum load capacity of ten pounds meaning that it can easily support the vast majority of DSLR camera setups along with most heavy mirrorless camera setups too. That said though, with mirrorless camera rigs becoming more and more popular while their weight becomes lighter as the technology gets better, you may have to use stabilizer counterweights on the lighter mirrorless camera setups that are less than the four-pound minimum load capacity.
Another workaround that we have seen videographers implement with various gimbals and stabilizers if their regular camera rig is just shy of the minimum load capacity is to simply mount a flash unit to their camera to increase the weight even if they know they will not be using it for that session.
The video embedded above was recorded using the
Glidecam HD4000
and as you can see, it can easily provide you with effortless, butter smooth, professional-level image stabilization for your video sessions. The HD4000 has that natural-looking image stabilization that manual stabilizers are well known for too helping you ensure that your video footage looks as natural as possible.
That said though, the latest motorized gimbal stabilizers like the Zhiyun Crane 3 for DSLRs or the DJI Ronin SC for mirrorless camera rigs have some excellent manual gimbal modes. These offer a quick and easy way to get the natural-looking image stabilization that manual stabilizers are known for while having all of the additional advantages of a motorized gimbal too.
The gimbal handle on the Glidecam HD4000 is very comfortable to hold ensuring that you are able to use the HD4000 for those long videography sessions without your hand cramping up too. This is one of the main advantages that it has over the cheaper manual stabilizers and if your videography business is at a level where you are looking to add a premium Glidecam to your collection of camera accessories, there is a good chance that you will have a number of extended sessions on the books where this works to your advantage.
When it comes to the performance and functionality of the HD4000, we really can't fault Glidecam as they have done an excellent job. We just wish that the stabilizer would receive a price reduction to allow it to stay more competitive with the competing gimbals being released by Glidecams competition that has the latest technology and materials as standard.
Although there have been rumors of a price reduction coming, there is no official word on it yet but you can click here to check the latest prices for the Glidecam HD4000 to see if it has had a price reduction by the time you read this. At the time of writing, the HD4000 is around the $500 mark depending on the retailer you purchase it form. If you are able to get it at the $300-$400 price point then it is well worth the purchase in our opinion.
Click Here To Check Prices And Availability!
User Interface And Control System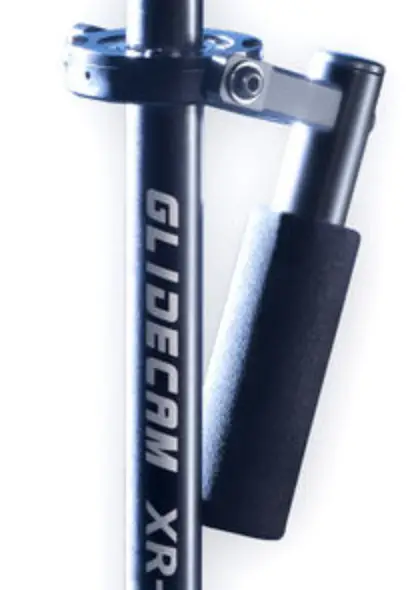 With the Glidecam HD4000 being a traditional manual camera stabilizer, it has a very basic control system based around the gimbal handle that attaches directly to the central column of the stabilizer. As we mentioned earlier, the handle is comfortable to hold and ensures that you are able to easily hold the HD4000 without any discomfort for extended periods of time.
The Glidecam HD4000 comes in with a weight of 3.3 pounds without any of the counterweight plates mounted to it. Each of the included counterweight plates is 0.272 pounds and if you require all of the plates to balance your rig then you are looking at around 3.264 pounds of additional weight. This is on top of whatever your camera setup weights too and with a maximum supported load capacity of ten mounts, the weight really can add up.
Speaking of the balancing system, we feel Glidecam has done a decent job with the HD4000s balancing base plate but personal preference will come into play for this. We personally prefer systems based around counterweight plates that are all the same weight as it makes the process easier overall in our opinion. That said, there are some videographers who prefer to have two different counterweight plates that have different weights but in our opinion, it is an overly complicated balancing system and we are pleased to see that it is gradually being phased out.
The central column on the HD4000 is also fully adjustable too allowing you to use the stabilizer starting at twenty inches at its shortest up to a maximum of twenty-eight inches at its longest. Although twenty-eight inches may seem too short for any serious professional level stabilizer, we feel that Glidecam has done a great job of pulling it off and ensuring that you are still able to get the maximum performance out of the unit.
The gimbal system in the handle uses a sealed environment too helping to drastically reduce the amount of stabilizer maintenance that the Glidecam HD4000 requires. This allows you to focus on capturing the best possible video footage for your clients rather than having to waste a bunch of your time maintaining your head.
Build Quality And Design
As you would expect from Glidecam, the HD4000 has one of the best build qualities that you are going to get for any stabilizer as Glidecam pride themselves on being made in the USA and offering the best build quality possible. Although the HD4000 is a little dated now and newer compounds are available that are just as lightweight and robust as the majority of the stabilizer with a lower price tag, the HD4000 has been put together extremely well.
If you know for a fact that you are going to be traveling around a whole bunch with your videography gear in your luggage, having the peace of mind of knowing that your stabilizer is robust enough to take a few knocks is well worth the money. We have lost count of the number of videographers who have been unable or unwilling to individually store their gimbal or stabilizer for transit only for it to end up breaking. Thankfully, with the Glidecam HD4000, this is not an issue and its lightweight ensures it is easy to add to your luggage and not risk topping your baggage allowance, just be sure to plan ahead and only take the counterweight plates you will need.
FAQs
Question – What mounting setups does the Glidecam HD4000 have?
Answer – The stabilizer mounting plate has bother 1/4 inch and 3/8 inch mounting holes.
Question – Does the Glidecam HD4000 base plate have mounting holes?
Answer – The base plate of the stabilizer has standard 1/4 inch mounting holes to allow you to mount additional camera accessories like an LCD field monitor to your rig if required.
Question – Where is the Glidecam HD4000 made?
Answer – The stabilizer is made in the USA.
Our Verdict
That concludes our Glidecam HD4000 review and just like we said back at the start of the article, the HD4000 really is an excellent bit of kit and can make a great addition to your collection of camera accessories. That said though, it really does have a hiked up price tag and although it does offer better overall performance and image stabilization than something like the Flycam Redking we do not think the improvement is worth paying more than double what you can get a Redking for at this time.
If you have to have the absolute best image quality possible for your clients and have the budget available then the HD4000 is an excellent stabilizer to pickup. That said, we honestly feel that many of our readers who do regular event videography will easily be able to use the Redking and have all of their needs met while also saving themselves a few hundred dollars too.
As we touched on in the article earlier, this is all based on the current price tag for the HD4000 being around $500 at the time of writing. If you are able to source it for $300-$400 then we feel it would be hard to beat at that price point and you can click here to check the current prices for the stabilizer to see if its price tag has been reduced since we published this article.