The Ultimate Moza Aircross 2 vs Ronin SC Comparison!
So the Moza Aircross 2 has only just been released onto the market and we are seeing more and more people starting to reach out about it. We are seeing a whole range of questions about the gimbal but the focus of today's article is going to be our direct Moza Aircross 2 vs Ronin SC comparison as it seems to be a popular question that we are seeing asked.
Now, the mirrorless camera weight class gimbal space is very competitive with brands always trying to outdo the competition but in all honesty, we feel that DJI has actually dropped the ball on this one. We have always said that we feel that the Ronin SC has been overpriced by a fair bit for what you actually get out of the gimbal and in our opinion the Moza Aircross 2 absolutely blows it out the water in every way.
Although we are massive fans of DJI, we are so happy to be able to say that the Moza gimbal beats the DJI gimbal as it was becoming a little tiresome with the gimbal space pretty much being a two-horse race between the latest DJI gimbal and the latest Zhiyun. Moza really has come along way and managed to up their game with the Aircross 2 and it is an outstanding bit of kit.
That said though, the Zhiyun Weebill S has just been released onto the market around two weeks ago and in our opinion, it is slightly better than the Aircross 2. Both are great gimbals and have slight advantages over each other but the slightly better performance, smaller size, lighter weight, and native underslung functionality of Weebill S push it ahead of the Aircross 2.
That said, both gimbals are better than the DJI Ronin SC in our opinion and we would not recommend the SC to our readers. There are just better options to add to your collection of camera accessories available on the market that offer you so much more bang for your buck. Additionally, both the Aircross 2 and the Weebill S are from the latest generation of gimbals whereas the SC is from the previous generation with older technology too.
That said though, we will still be going over our thoughts on the Moza Aircross 2 vs Ronin SC to back up our opinion. As usual, we have our comparison table below with a quick overview and then the rest of the article is a more in-depth look at both of the featured gimbals.
Comparison Table
Image


Winner!
Image

Last update on 2023-09-02 / Images from Amazon Product Advertising API
As you can see from our comparison table above, the Moza Aircross 2 clearly beats the DJI Ronin SC on paper. In addition to this, the Aircross 2 also beats the Ronin SC in the level of image stabilization that it is able to provide you too. Later in the article, we have some sample video footage that clearly shows this as it is difficult to show the difference in performance in a comparison table.
Performance And Functionality
Now, until the previous two generations of handheld gimbal stabilizers designed for the mirrorless camera weight class, the usual load capacity for the gimbals was usually around the four pounds of payload mark. Even after brands like Moza and Zhiyun, we increasing this towards the six and seven-pound mark DJI saw fit to release their entry into space with 4.4-pound maximum load capacity.
Although this is still enough to support a large number of popular mirrorless camera rigs, it may struggle with some heavier setups. On top of this, it offers little to no future-proofing for you against any potential kit upgrades such as a heavier lens or even to a mirrorless camera. The Moza Aircross 2 comes in with a maximum load capacity of 7.05 pounds of payload weight pretty much guaranteeing it will be able to support any possible upgrades to your setup.
As videographers are wanting maximum versatility out of their camera accessories these days, this helps score the Moza Aircross 2 a bunch of points over the DJI Ronin SC. The massive load capacity makes it a very versatile gimbal whereas the Ronin SC is pretty much restricted to point and shoot cameras and light to mid-weight mirrorless camera rigs.
Now, when it comes to battery life, both of the gimbals offer enough to capture all the footage you require between chances to recharge your gimbal. The Moza Aircross 2 comes in slightly ahead with twelve hours per charge where as the Ronin SC comes in with eleven hours. Some videographers use a high output USB power banks to recharge their cameras and gimbals on the go if needed too. This allows you to extend the battery life of either gimbal for as long as possible if you are involved in something like travel videography or travel vlogging where you may not have access to a power outlet for days.
Both of the gimbals come in with a recharge time of three hours from empty to full making them pretty even in this area too. That said though, the three hours of recharging do provide you with the additional hour of battery for the Moza Aircross 2. When it comes to using a high output USB power bank to recharge either gimbals, the time required to recharge them will depend on the output level of the power bank so we are unable to give any estimates.
The clips above have all been recorded using the
Moza Aircross 2
and offers some excellent sample video footage of what you can expect from the gimbal. As you are able to see from the footage above, the image stabilization from the Aircross 2 is butter smooth and unlike some competing gimbals, the stabilization is just as good all the way up to its maximum load capacity.
Moza really has outdone themselves with the Aircross 2 and have developed on the original Aircross in every single way. They have also put a whole bunch of work into their detection and correction system and we love it. The gimbal sensors are lightning-fast at picking up even the slightest movement of the gimbal head before having the Moza balancing algorithm work out how to counter it. The high torque gimbal motors then quickly kick in and make the required correction to keep the gimbal head stable.
This gives your video footage that professional level look and feel helping keep any videography clients happy with the work you do for them. If you are looking to purchase a gimbal for vlogging then the image stabilization from the Aircross 2 will help ensure that you are gtting the best image quality possible and help your content stand out.
The clips above have all been recorded with the
DJI Ronin SC
and as you can see, it is still able to knock out some solid image stabilization but the main drawback is that the load capacity of the gimbal can be pretty restrictive in this day and age. The DJI system is solid and even though the gimbal sensors and motors on the Ronin SC are older than the ones on the Aircross 2, they are still able to perform very well.
As we mentioned back at the start of the article, we feel that the Ronin SC is actually overpriced when you factor in what you are actually getting. Although the Moza Aircross 2 has the higher price tag, you get so much more for your money. Additionally, the Weebill S is only a little higher in price than the SC but the Weebill S absolutely blows the SC out the water. Even the Weebill Lab, the predecessor to the Weebill S is better than the Ronin SC in our opinion making it a better addition to your camera accessories.
User Interface And Control System
When it comes to the user interface and control system for the gimbals, we feel that the Aircross 2's system shown in the image above blows the DJI system out the water. It is based around the traditional interface system of a joystick, LCD panel, magic wheel, and a few buttons offering maximum control during use. The whole interface comes together perfectly ensuring that the user has maximum control over the gimbal no mattery what mode they are using it in to get perfect footage every time.
Although the DJI system is still based around the joystick based interface, the Moza system offers more control as well as being easier to use in our opinion. The Moza joystick and magic wheel are also very sensitive and just as responsive in wet or cold conditions as they are in ideal conditions too. If you plan to do a whole bunch of manual work with your gimbal then the Moza is the obvious option.
Additionally, the LCD panel is bright and clear, even in low light conditions too ensuring that you are always able to see what you are actually doing during your session. Now, the functionality of the magic wheel as a manual focus motor control will depend more on if you have a compatible camera and lens than anything else but the vast majority of popular setups are covered.
Smartphone App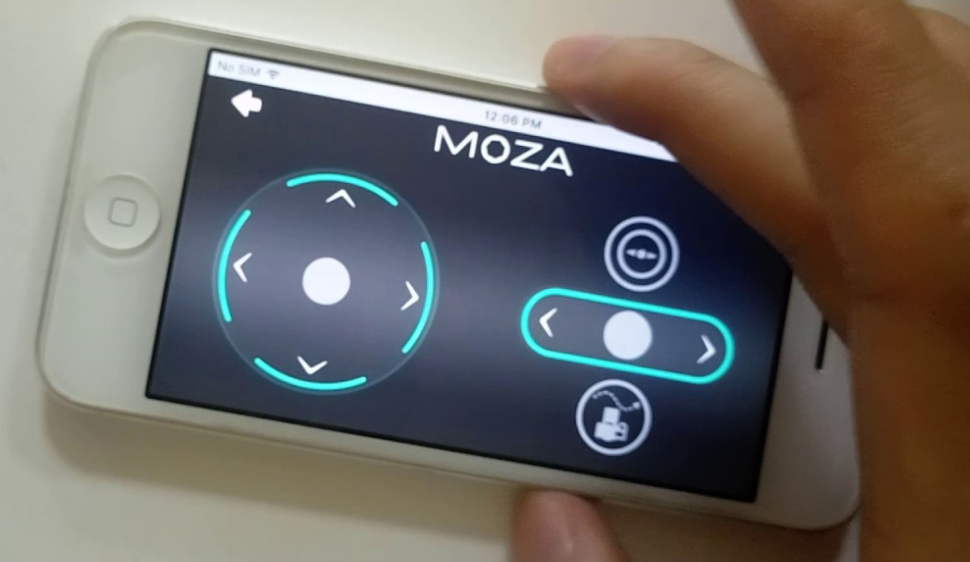 Another area where we will be calling a draw between both gimbals is with their smartphone apps. Both Moza and DJI have always put the work in when it comes to their apps to ensure that they are working and in a serviceable order for their users. Most gimbal brands still cut corners when it comes to their apps releasing a low-quality product that simply doesn't work. Thankfully, this is not the case for the Aircross 2 or Ronin SC.
Both apps offer very similar functionality as you would expect including wireless remote control features as well as a quick and easy way to tweak your gimbal settings. In our opinion, the best feature is the quick access to your gimbal settings as both apps allow you to make changes within seconds whereas they can take minutes via the physical interface.
If you are a professional level videographer then over the course of a longer gig this can actually end up saving you, your client, and any models on-site a fair amount of time over the course of a day depending on what you are doing. Considering that both of the apps are free, they are well worth downloading as they are solid gimbal accessories.
Build Quality And Design
Both of the gimbals stick to the standard handheld design and this is commonplace in this day and age. There is only really Zhiyun with their
Weebill S
doing any kind of innovation these days with their hot-swap system between handheld and underslung mode. As the regular handheld gimbal design is commonplace, we will be calling a draw between the Aircross 2 and the Ronin SC for their designs.
Although both gimbals also have a very similar build quality that ensures that the gimbals are as robust as possible, we feel that the Moza Aircross 2 pulls out just a tiny little bit due to it being the lighter gimbal. This makes it easier for you to pack the gimbal in your luggage for air travel without having to take up much of your luggage allowance. This can actually be a pretty big factor if you are working in the travel niche as camera accessories can take up a large amount of your luggage weight so every little bit of saved weight helps.
Our regular readers will probably know that we always preach about how important and overlooked a comfortable handle on a gimbal is. Thankfully, both featured gimbals offer you excellent comfort levels in their handles ensuring that you are able to hold them for hours on end if needed without cramps or aches.
Our Verdict
That brings our Moza Aircross 2 vs Ronin SC comparison article to a close and just as we said back at the start of the article, we would actually recommend that our readers add the Zhiyun Weebill S to their camera accessories over either of the featured gimbals. Although we have no doubt that the Moza Aircross 2 is the better gimbal when compared to just the Ronin SC, we do feel that the Weebill S beats the Aircross 2 ever so slightly.
That said, if you are still yet to make your mind up, you can click here to read independent reviews of the Weebill S, click here to read independent reviews of the Aircross 2, or click here to read independent reviews of the Ronin SC. We also have our own dedicated Moza Aircross 2 review online that we published a while back that you can read too if you wish.