The Ultimate Moza Mini Mi Review!
After publishing so many articles based on the various smartphone gimbals on the market over the last few months to try and help as many of our readers as possible, we have noticed more and more people reaching out with various questions for various gimbals. One 3 axis gimbal stabilizer that we feel is underrated and we see so many questions based around is the Moza Mini Mi so we have decided to make it the subject of today's article.
Our hope is that by publishing our own dedicated Moza Mini Mi review we will be able to help any of our readers who are considering adding it to their collection of camera accessories. On top of this, we are hoping to cover all of the key points for the gimbal to try and also help the people that we see reaching out with various questions about the Mini Mi too.
Now, there is a strong argument to be made that the DJI Osmo Mobile 3 is actually a better gimbal for your smartphone than the Moza Mini Mi but both gimbals are able to provide you with some excellent quality image stabilization. Although the technology on the DJI Osmo Mobile 3 is newer, it also comes with the higher price tag being around $40 more than the Mini Mi depending on the retailer.
That said though, we would imagine that the vast majority of our readers will be able to have their needs met by purchasing the Moza Mini Mi and just saving the additional $40 for something else. It is a great little gimbal that has managed to earn itself a great reputation amongst the community that just keeps on getting better.
Although a few years back, the gimbal space was pretty much a two-horse race between DJI and Zhiyun, we are pleased to say that Moza really has come on a long way with some of their latest products like the Moza Aircross 2 DSLR and Mirrorless camera gimbal actually being better than its DJI counterpart in our opinion. As far as we are concerned, the Moza Mini Mi is a great camera accessory for any vloggers or social media influencers who want to capture their content on their smartphones with some of the best and cheapest image stabilization possible and it offers very similar performance to the more expensive Osmo Mobile 3 without the higher price tag.
Performance And Functionality
Now, at the time of writing at least, the Moza Mini Mi actually has the highest maximum load capacity of all smartphone gimbals available on the market. It is able to support total payload weights of just over 0.66 pounds with ease and as the latest and heaviest iPhone and Android smartphone in at between 0.45 and 0.52 pounds, the Mini Mi is easily able to support them. In addition to supporting your smartphone, there is also plenty of load capacity free for you to mount
a decent smartphone lens
to help improve your image quality even further if needed.
Although the vast majority of modern smartphones have great quality microphones on them as standard, some vloggers do prefer to purchase an external microphone to use with their phones to further improve the audio quality that they are able to capture while vlogging. Although the usefulness and comparability of the various external microphones will depend on the actual smartphone you use, they are usually around 0.6 pounds of payload weight meaning the Moza Mini Mi has the load capacity to support a microphone with your smartphone and external lens too if needed.
Moving onto the maximum battery life of the gimbal and Moza have put a battery in the Mini Mi that is able to provide you with around ten hours of power per charge. We would imagine that this should be plenty for the vast majority of our readers who are looking for a gimbal for their smartphones to ensure that they are able to capture all the footage they need. Additionally, the Moza Mini Mi also supports two way charging including wireless phone charging if your smartphone supports it allowing you to charge your smartphone from your gimbal's battery too.
Once empty, you are then able to recharge the Moza Mini Mi back to full in as little as three hours helping to minimize your downtime. Now, depending on the niche you are working in as well as what you will actually be doing with your smartphone and gimbal you can potentially add a USB power bank to your camera accessories too. This allows you to jack the power bank into one of the gimbals two 5V USB charging ports to charge it while out and about away from a power outlet.
For example, say you are a travel vlogger and you are out hiking to a remote waterfall, you can record as much as you like with your smartphone while using your gimbal and then charge your devices from your USB power bank. This ensures that you can stay out and about away from a power source for as long as needed without running out of battery and having to risk missing any footage that you would have liked to record.
The video above has been recorded using an iPhone XS Max and the
Moza Mini Mi
and does a great job of showing of the potential of this great little gimbal stabilizer. As you can see, the footage is excellent and the stability is outstanding allowing the user to capture some super smooth video footage with minimal effort required on their part.
This is largely due to the excellent balancing algorithm that Moza has developed over the years and uses for their Moza Mini Mi. It is extremely quick and able to process information at a lightning-fast pace to ensure that the gimbal provides you with fast and snappy image stabilization no matter what you are doing. In addition to this, both the gimbal sensors and gimbal motors on the Moza Mini Mi are outstanding in our opinion and do a great job of helping with the detection and correction of motion.
The gimbal head on the Mini Mi offers a full 360° rotation from all 3 axes too and is rare for a smartphone gimbal, especially at this price point in the market. The Mini Mi also offers a maximum Yaw axis of ±360°, a maximum pitch of ±165° and a maximum roll of 310° meaning that no matter the angle of your smartphone or how you are holding the gimbal, it will be able to provide you with its great image stabilization.
As you would expect from a modern smartphone gimbal, the Moza Mini Mi also comes with a bunch of popular gimbal modes to ensure that the stabilizer is able to make your life as easy as possible. These include the Moza super follow, Inception, Motion Timelapse, Tracker, and manual modes to ensure that no matter your situation, you can get the effect that you want.
If you are working in a niche such as travel vlogging then these modes can also allow you to quickly and easily add some excitement to your footage for locations that have been recorded hundreds if not thousands of times before. Simple features like this and a little creative thought can really help your content stand out against the competition and help your YouTube channel or social media accounts grow.
When you factor all of this in, it is really easy to see how the Mini Mi has managed to earn so many great reviews from the community in the short time since it was released. As we mentioned, with its recent price reduction we fully expect its sales to increase as it is the best budget-friendly smartphone gimbal stabilizer on the market at the time of writing in our opinion.
User Interface And Control System
The image above shows off the control interface that Moza has put on the Mini Mi and as you can see, it is very straight forward and maximizes ease of use for the user. If this is your first ever gimbal then the Mini Mi is a great option due to how simple everything is and the fact that you will be able to get great mage stabilization out of the gimbal with minimal experience. This allows you to get the gimbal out the box and get out and about with your new toy capturing all the video footage that you could ever want.
If you are more of an advanced gimbal user the Mini Mi offers independent controls for each supported axis. This allows you to control the roll, yaw, and pitch of the Mini Mi independently as required to create some unique movements of your smartphone's camera. It is a great way to add some professional-level functionality to the gimbal without having to make the interface confusing and difficult to learn too and we feel that Moza has done a solid job of implementing the system.
That said though, we would imagine that the easy to use gimbal modes that we touched on above are much easier to use for the majority of our readers looking to pick up a smartphone gimbal stabilizer at this price point. The eight individual follow focus modes also take this a step further allowing you to easily capture some smooth, cinematic footage without having any prior experience too.
The actual design of the control system is flawless in our opinion and everything has been positioned ergonomically to ensure that you can quickly and easily reach everything from the handgrip without sacrificing control or loosening your grip. Your thumb is able to easily reach both the joystick and dial wheel for the gimbal too as well as the various ISO, shutter speed, exposure, focus, and zoom controls too.
All of the buttons and the joystick on the Moza Mini Mi are very responsive too, even if you have cold hands. One of the main drawbacks of most entry-level smartphone gimbal stabilizers is that their buttons can drop in responsiveness if you are cold or wet. Thankfully, Moza has uses the same professional level technology on their professional DSLR camera gimbals on their Mini Mi to ensure that the control interface is always responsive no matter the conditions.
Smartphone App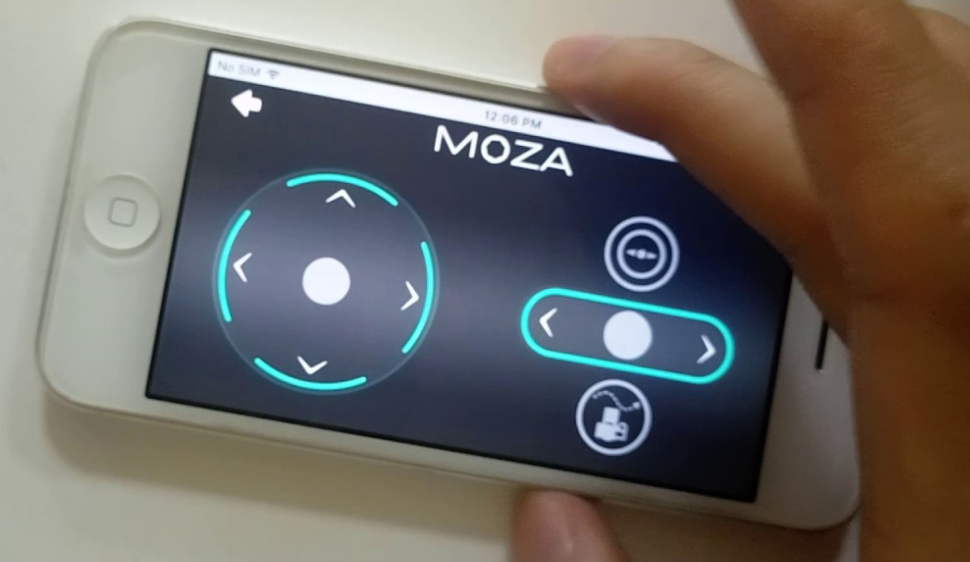 Now, one of the main drawbacks of many of the smartphone brands is that their apps are in a bad state and need a ton of work before they are worth the download. Thankfully though, the Moza app is up there with the DJI app and has always had some great functionality for users of the Moza gimbal range. As the app is free to download, we feel that it is well worth putting your on your.
The main problem with a smartphone app for a smartphone gimbal is that the majority of the time, your smartphone is actually going to be mounted to the gimbal anyway. This means that if you are close enough to the gimbal to use the app, you are close enough to use the physical interface. This renders the wireless remote control functionality useless in many cases but it can still be used on an old phone to allow you to remotely control your gimbal with your main phone on it if needed.
The main advantage of downloading the Moza app for the Mini Mi is that it offers quick access to the settings on the gimbal allowing you to tweak them as required. Now, the majority of our readers will be perfectly fine with the default gimbal settings that come on its shipping config but we know that some people love to tinker and customize their settings.
Moza has totally overhauled the user interface and navigation menu on the app too making it much easier to follow and use with the timelapse modes on their gimbals. Although the previous design was fine, this new layout does seem to flow better and be much easier to navigate through if you have not used a gimbal before.
Balancing
One of the main worries that we see from people looking to purchase their very first gimbal stabilizer is the balancing process for the actual gimbal. Thankfully though, modern 3 axis gimbals have come a long way in the last five years or so and they are now much more user-friendly. Moza has done a great job of ensuring that the Mini Mi is as easy to balance as possible and we are confident that the vast majority of our readers will be able to go through the process with ease and free from issues.
The included user manual offers a great walkthrough but the process is very simile and can be completed in under a minute with a little practice. On top of this, unlike the larger gimbals designed for DSLRs, the Mini Mi has been designed for use with much smaller payload weights such as smartphones or even action cameras further simplifying the process too.
Build Quality And Design
Moza are well known for always knocking out gimbals with an outstanding build quality for their price tag and the Moza Mini Mi is no different. You can really see that Moza has put the time and effort in to ensure that the Mini Mi is as light yet robust as possible to ensure that you have the best possible gimbal. As the vast majority of people who are interested in a smartphone gimbal usually want something that is small enough to easily pack in a regular-sized bag, the Mini Mi has been designed to come in at only 143mm by 107mm by 290mm and 1.2 pounds making it very easy to store when not in use.
If you are involved in the YouTube or Social Media space then you will likley know that different platforms tend to do better with different orientations of your smartphone for optimal content. Thankfully, Moza have implemented a quick and easy way to switch between portrait and landscape with the Mini Mi to ensure you can always maximize the effects of your content without wasting time.
Say you have just hiked to a beautiful waterfall that you want to share with your followers and have your smartphone mounted on the Moza Mini Mi in Landscape orientation for optimal YouTube dimensions. Once you have captured the footage you can quickly turn the gimbal heads mount through ninety degrees to capture the same location again but in portrait for optimal dimensions for platforms like Instagram without having to waste time yet still having optical image stabilization.
A great touch with the Moza Mini Mi is that they have added two quarter-inch mounting threads to the actual gimbal body to allow you to quickly and easily mount an external light or microphone to the gimbal body. This allows you to mount additional camera accessories to the frame of the gimbal without them having to take up any of the load capacity on the gimbals head. This ensures that you are able to use the best possible external smartphone lens to your smartphone camera for the best possible image quality.
The actual handle grip on the Mini Mi is also very comfortable and easy to grip too no matter the conditions that you are recording in. This ensures that you can also get a firm and steady grip of the gimbal to keep it and your smartphone safe even in wet conditions. Additionally, so many cheaper gimbals use low-quality handle grips that are a total pain as they can be uncomfortable but this is not an issue with the Mini Mi as Moza has used a great little grip.
Our Verdict
That brings our Moza Mini Mi review to an end and as you can probably guess, we love this gimbal and feel that Moza has done a great job. The Mini Mi can offer some excellent image stabilization for your smartphone that is very similar to the more expensive smartphone gimbals without you having to shell out on the price tag. This allows you to keep the money you save on the Mini Mi and use it for other camera accessories to improve the image quality you can capture.
We would highly recommend that any of our readers who are looking to pick up a solid little gimbal for their smartphone seriously consider the Moza Mini Mi as it can make an excellent addition to your camera accessories. If you are still on the fence about the gimbal then you should really check out some of these independent reviews that have been posted by independent users of the Mini Mi. They offer some great insight into its performance and what you can expect from it if you do decide to purchase the gimbal.