The Ultimate Vimble 2 vs Smooth 4 Gimbal Comparison!
Due to the camera sensors on modern smartphones becoming better and better with each passing year we are seeing more and more content creators ditching their large, bulky point and shoot or mirrorless camera in favor of their smartphone. As the saying goes, the best camera to use is the one that you have with you and the vast majority of people almost always have their smartphone to hand to meet their content needs.
With each new generation of smartphone trying to not only beat its own predecessor but also beat the latest smartphone from compeating brands, we can only see the camera sensors on future smartphones becoming better and better. This leads us to believe that the number of content creators switching over to just using their smartphone for their content creation needs will continue to grow at an exponential rate as time goes on.
Due to this, it is not surprising that we have noticed a rapidly increasing number of people reaching out with various questions about smartphone gimbals over the last few months. One particular question or request that we have noticed is people asking for a dedicated article going over a Vimble 2 vs Smooth 4 comparison. As we always try to help as many of our readers as possible, we have decided to make this the subject of today's article to try and offer the best advice possible for anyone considering purchasing either of these smartphone gimbals.
Now, at the time of writing, the Zhiyun Smooth 4 is probably the best smartphone gimbal stabilizer ever made and it really is not surprising that it has an absolutely massive customer base and an excellent reputation to match. Zhiyun has built itself up over the last few years to be the dominant brand in the gimbal space and they have compiled all of their experience and knowledge into the Smooth 4 to produce an excellent little gimbal.
On the flip side of this, Feiyutech has definatley lost their way and although they were once one of the top three gimbal brands going, their last few gimbal releases have had a ton of problems and their latest flagship gimbals from their AK range have a bunch of problems. The Feiyutech Vimble 2 is in a similar situation too with a number of issues that hold it back and it's not surprising that it has a controversial reputation and a much smaller customer base than the Smooth 4.
Comparison Table
Product
Best Option!
Zhiyun Smooth 4
Image


Best Option!
Image

Image

Last update on 2023-11-13 / Images from Amazon Product Advertising API
Although the two featured gimbals do look similar on paper in our comparison table above, we would always recommend the Zhiyun Smooth 4 to our readers over the Feiyutech Vimble 2 any day of the week. One thing that is hard to show in a comparison table is the actual performance and image stabilization and the Smooth 4 blows the Vimble 2 out the water in our opinion.
We will also be taking a more in-depth look at the two featured gimbals below going over some key points and where each stabilizer either scores or drops points over the other. If you are short on time, just go with the Smooth 4 and be done with it. If you do like to know as much as possible then feel free to keep reading as we go over our deep dive on these two smartphone 3 axis gimbals.
Performance And Functionality
As we touched on above, on paper, both of the featured gimbals look like they are very similar when it comes to their performance and functionality but in reality, they are very different and the Zhiyun option leaves the Feiyutech gimbal for dust. Although both of the gimbals are able to support a maximum load capacity of up to and including 0.46 pounds of payload weight, the Vimble 2 can have some issues with vibrations the closer you get to its maximum load capacity while the Smooth 4 is still butter smooth.
This is down to the gimbal motors used in each gimbal that we will touch on later but in all fairness, we always recommend that you never use more than eighty percent of a gimbals listed maximum load capacity anyway. That means, in this case, you would ideally only be using smartphones that are 0.37 pounds or less although the Smooth 4 is fine with everything right up to its 0.46-pound load capacity anyway.
With some of the larger smartphones on the market being over the 0.46-pound load capacity of the two featured gimbals there are also alternative options that you can take. The is an excellent smartphone gimbal that is actually arguably just as good, if not better in some areas than the Smooth 4 but has a maximum load capacity of 0.66 pounds, the highest of any smartphone gimbal at the time of writing and can easily support those heavier smartphones.
One area where the Zhiyun Smooth 4 absolutely smashes the Feiyutech Vimble 2 is in its maximum battery life. The Smooth 4 offers a pretty constant maximum battery life of around twelve hours per charge no matter what you have mounted to it or what you are doing. The Feiyutech Vimble 2, on the other hand, has an advertised maximum battery life of around ten hours but we have seen reports from people saying they are getting as low as only five hours if they are using up a large amount of the gimbals load capacity.
As you can imagine, this can be a total pain, especially if you are planning a day of capturing a ton of content and are expecting ten hours of battery but only get five hours! This can throw a spanner in the works and potentially cause you problems with your footage, especially if you are in a travel vlogging niche and are unable to revisit the locations you were going to. This is just another reason to go with the Smooth 4 over the Vimble 2.
Once your gimbal does run out of battery the Smooth 4 can be charged back to full in around three hours whereas the Vimble 2 takes around four hours. Although this looks close you have to factor in the potential maximum battery life that you can get from your gimbals when used. With the Smooth 4, you get a pretty consistent twelve hours for your three hours of charging whereas you might only get five hours out of your four hours of charging your Vimble 2.
The clips above have been captured using an iPhone mounted to a
Zhiyun Smooth 4
and as you can see, the image quality is flawless. The level of image stabilization provides from the gimbal ensures that everything is butter smooth and that the footage is the best it can be. If you are a vlogger or social media influencer then this can be a great way to help ensure that your content stands out against what the competition is uploading as superior image quality can help convert your viewers into subscribers and followers.
On the flipside, the clips above show what the
Feiyutech Vimble 2
can provide for you in ideal conditions. As you can see, the 3 axis gimbal is definatley capable of providing the user with some solid, smooth image stabilization but the main issue comes when getting close to its maximum load capacity. The problems with its maximum battery life also hold it back pushing the Smooth 4 further and further ahead in the comparison.
If you are involved in a niche with a large amount of movement and need fast and snappy image stabilization then the Smooth 4 is a no brainer as its detection and correction system blows the Feiyutech system out the water. The Zhiyun gimbal sensors on the Smooth 4 are extremely quick and sensitive and are able to detect even the slightest movement in the gimbal.
This data is then sent directly to the Zhiyun balancing algorithm that is probably the best available at the time of writing to work out how best to correct the detected motion. The algorithm then sends the relevant data to the high torque gimbal motors that Zhiyun uses in the Smooth 4 to ensure that it is able to correctly compensate for the detected movement. This whole process happens at an extremely fast pace and is essentially seamless providing the user with some of the absolute best image stabilization that we have ever seen.
When you take all of this into account it is easy to see how the Smooth 4 has managed to grow such a massive customer base and earn so many excellent, independent reviews from the community while the Vimble 2 has struggled to get off the ground. If you do have a few minutes spare then we would highly recommend that you check out some of those reviews from third-party videographers as they offer some excellent insight into how well the Smooth 4 performs in a number of situations.
User Interface And Control System
In all fairness, the interface and control systems on both of the featured gimbals are very similar and although they look slightly different to each other, they have the same setup based around a few buttons, a joystick, and an adjustable wheel. Everything on the control system of both gimbals is responsive and easy to use even if you are in cold or wet conditions helping to ensure you can use your gimbal no matter the situation.
If you are looking at either of these gimbals as your very first gimbal then they are both very easy to learn but as you can probably guess, we would recommend the Smooth 4 over the Vimble 2 to our readers due to the points we have mentioned above though. On top of this, if you have used gimbals previously or are planning to do some of the more advanced things with your smartphone gimbal then the Smooth 4 is definatley the better option due to it supporting more of the advanced features.
Smartphone App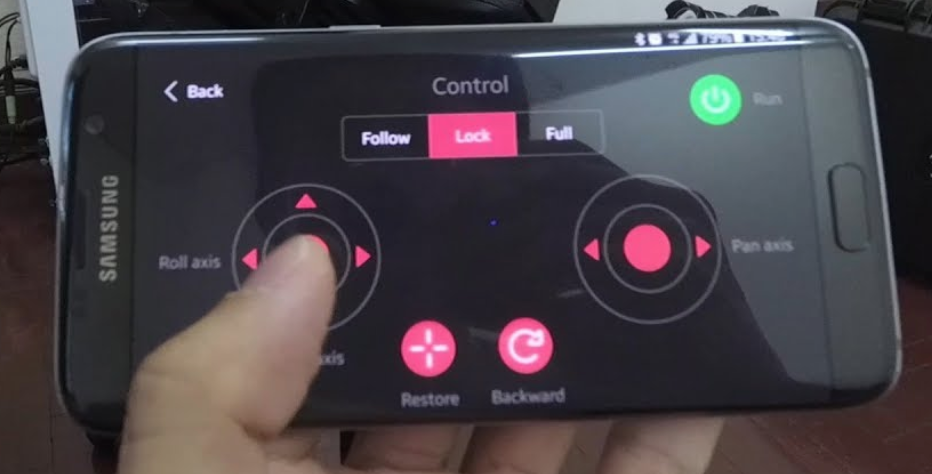 When it comes to the smartphone apps for the gimbals, Zhiyun win by default due to the simple fact that their app works whereas the Feiyutech app is having a number of issues ranging from poor connectivity to random disconnects as well as a confusing layout and interface too. The Zhiyun app has previously had these issues but thankfully was totally overhauled them a year or two back to fix the problems and make it a valuable gimbal accessory.
Now, the app is definatley not required but if you are planning on using some of the more advanced features on your new smartphone gimbal then it is a solid little addition to your kit. It offers a quick and easy way to access and tweak your gimbals settings within seconds rather than minutes. The other main function of the app is the wireless remote control setting but it is pretty much useless with a smartphone gimbal due to the fact that if you are close enough to use the app you can use the physical controls anyway.
Build Quality And Design
Both of the featured gimbals stick to the regular design of a modern 3 axis gimbal and to be fair, this is commonplace with pretty much every single brand doing this, especially for their smartphone gimbal range. This is largely due to the simple fact that the traditional 3 axis gimbal stabilizer design works too well and that so many videographers are already familiar with it.
Both of the featured gimbals are also pretty robust for their price tags as well as pretty lightweight for their sizes too. If you are doing something like travel vlogging or are working in some other niche where you know that you will have to be traveling around on a regular basis, especially by plane then this can really help. The lightweight of the gimbals allows you to take it with you without having to worry about going over your luggage allowances.
One area where we feel that Zhiyun score points over Feiyutech is with their gimbals handle grip. The Smooth 4 is more comfortable in our opinion and allows for a firmer grip over the Vimble 2. As smartphones can cost hundreds of dollars a firm grip is essential as the last thing that you want is to accidentally drop your gear during use. Additionally, if you are going to be recording for long periods of time the added comfort on the Smooth 4 can help prevent aches and pains in your hands too.
Our Verdict
That brings our ultimate comparison between the Vimble 2 vs Smooth 4 to a close and as you can probably tell, we would highly recommend that our readers go with the Zhiyun Smooth 4 over the Feiyutech Vimble 2. It is just an all-round better gimbal and can make a great addition to your smartphone camera accessories and help ensure you get the best image quality possible due to its excellent image stabilization.
If you are yet to make your mind up then we would recommend that you check out some of these independent reviews as they offer a great insight into the performance of the gimbal. Additionally, we also have our own dedicated Smooth 4 review but in all honesty, we have covered the vast majority of points in this article already anyway.