The Ultimate Zhiyun Crane M2 Review!
Although a very popular camera weight class, for some reason there are very few gimbal stabilizers on the market in the sub-two pound of payload weight class that are actually worth your time. There are plenty of options from the three pounds and up weight class but the point and shoot and lightweight mirrorless camera rigs are in a bit of a bind. Time was, you had to either go with the Feiyutech G6 Plus or the original Zhiyun Crane M and be done with it.
Thankfully, with Zhiyun being Zhiyun and not really being a fan of competition in a gimbal niche, they have decided to upgrade pretty much everything on the original Crane M and release the Zhiyun Crane M2. The new M2 has only been available on the market space for a matter of months at the time of writing but it is already dominating the sub-two pounds of payload weight class market and has managed to earn itself an outstanding reputation amongst videographers.
We are fully aware that we have a number of videographers, vloggers, and social media influencer readers who love their point and shoot and lightweight mirrorless camera rigs we have decided to publish our own, full Zhiyun Crane M2 review. Our goal is that we will be able to help any of our readers who are considering adding this great little 3 axis gimbal to their camera accessories. In reality, though, we have seen so much chatter about the M2 with the vast majority of it being positive that there is a high chance that you are aware of how great this little gimbal actually is.
In addition to the excellent performance, build quality, and user interface, Zhiyun has also recently put the Crane M2 through a price reduction due to Feiyutech lowering the price tag on their G6 Plus to try and keep is competitive against the M2. This is good new for any potential buyer of the Crane M2 as it is now fifty to seventy dollars cheaper than it was at launch depending on the retailer presenting a right little bargain for you.
On top of this, the new versions of the two leading point and shoot cameras on the market, the Canon G7X III and the Sony RX100 VII have also just been released onto the market. We have already noticed an absolute ton of people reaching out for advice on what gimbals they should be considered for each of these outstanding little cameras and as you can probably guess, its the Zhiyun Crane M2. It is almost as if Zhiyun had inside information on the release of these new cameras and timed the release of the Crane M2 to coincide with their release.
Performance And Functionality
Moving on with the review and getting into the performance and functionality of the Crane M2, as you would probably expect from a modern Zhiyun gimbal, the Crane M2 is absolutely outstanding in all fairness and they have done an excellent job of putting this great little stabilizer togeather. They have managed to stick to their small, compact, and lightweight design principals while ensuring that the gimbal is able to easily provide its users with some of the best possible image stabilization available for the weight class.
The Crane M2 is able to support a maximum load capacity of 1.58 pounds of total camera payload weight meaning that it is easily able to support all variants of the Canon G7X and Sony RX100 range with ease while having plenty of load capacity free. As the latest additions to both cameras ranges come with an external microphone input jack the Crane M2 also has the load capacity available for something like the Rode Video Micro too without sacrificing the image stabilization it can provide you.
If you are more of an intermediate level videographer, vlogger, or social media influencer and have upgraded from a point and shoot camera to a mirrorless camera body like the Sony a6400 or the Canon m50 then the Zhiyun Crane M2 is also able to support a number of popular camera setups. That said though, and mid to heavy mirrorless camera rig will be pushing the gimbals 1.58 pound maximum load capacity and can lead to some vibration in the level of image stabilization it can provide for you.
If you are planning on using a mirrorless camera body with your gimbal on a regular basis then we would highly recommend that you seriously consider going with the Zhiyun Weebill S over the Zhiyun Crane M2. It is a much better gimbal stabilizer for mirrorless and DSLR cameras and in our opinion is one of, if not the best 3 axis gimbal stabilizer made to date. That said though, if you know that you will only ever be using the lighter point and shoot cameras then the Crane M2 is ideal and the perfect gimbal in our opinion.
One thing that we have noticed some reviews miss out on is that the Zhiyun Crane M2 also has a minimum load capacity where it will not be able to balance anything under this threshold. Depending on what you are looking for in your gimbal and what you will be getting up to, the 0.29-pound minimum load capacity of the Crane M2 can actually work in your favor. It is perfect for allowing you to mount the vast majority of smartphones available on the market right now.
This allows you to hot-swap between your point and shoot camera and smartphone as required to change up the type of video footage you are capturing. That said though, if you are planning on exclusively using a smartphone with your Zhiyun Crane M2 then we would recommend that you just go with something like the Zhiyun Smooth 4 instead. Without the need to support the higher weight of a point and shoot camera you would be better going with a cheaper, dedicated smartphone gimbal like the Smooth 4 over the Crane M2.
Unfortunately, with the minimum load capacity of the Zhiyun Crane M2 being 0.29-pound you may struggle to mount some action cameras to it due to the majority of action cameras coming in under its minimum load capacity. If you do own an action camera and want to use it with your Crane M2 in addition to your heaver camera bodies you can sometimes increase the weight of your action camera by putting it in its waterproof case prior to mounting it to your gimbal to get it over the minimum weight threshold. That said though if you are looking for a gimbal exclusively for an action camera, something like the Hohem iSteady Pro 2 is definatley a better option as it is a great little action camera gimbal stabilizer.
The clips in the sample video above have all been captured with a camera mounted to the
Zhiyun Crane M2
and in our opinion at least offer a great example of showing off exactly what the gimbal is able to provide for you. As you can see, the image quality is outstanding due to the great professional level of image stabilization that gimbal is able to provide for you. This can help ensure that no matter what you are up to, you are capturing your adventures as best you can without having to break the bank with an expensive gimbal.
If you are a videographer then this can really help keep your clients happy but if you are involved in something like vlogging or social media then the Crane M2 can also help you here. As you probably know, both the vlogging and social media influencer spaces are becoming more and more competitive with each passing month. The image stabilization provided by the gimbal can help your content stand out amongst the competition as well as help convert a viewer into a subscriber or follower too helping your channel grow at a faster pace.
Moving on with the functionality of the Crane M2, we come to the battery life of the gimbal. Now, this is probably the only feature on the gimbal where the original Crane M outperforms the Crane M2 but it is for good reason. Although the original Crane M has a maximum battery life of around twelve hours and the Crane M2 supports around seven hours, this is by design to try and keep the size and weight of the M2 as small as possible.
The main goal behind the gimbal was to make it the perfect travel gimbal so using a smaller, lighter battery was an obvious option. On the flip side of this though, even with the newer technology, a smaller battery results in a lower maximum battery life. In addition to this though, more and more content creators have started to add a decent USB power bank to their collection of camera accessories too.
Provided the output level of your power bank is high enough you are able to charge your camera and gimbal while out and about away from a regular power outlet. More and more gimbal brands are starting to reduce the maximum battery life in their gimbals across their whole range to reduce size and weight due to so many people investing in these high output power banks.
Once your Zhiyun Crane M2 does run out of juice, you can charge it back to full from a wall-based power outlet in only two hours. This is around half of the recharge time of the original Crane M so it is a bit of a trade-off depending on your needs. If you do decide to go down the USB power bank route the recharging time of the gimbal will depend on the output of your power bank but the quick charge technology on the M2 helps to ensure it is as fast as possible.
In our opinion, the Zhiyun correction and detection system is the best system available at the time of writing. Although the DJI system is solid and the Moza system has come on leaps and bounds over the last few years to make it into the top three, we feel that the Zhiyun is ever so slightly ahead still. Although the gimbal sensors and motors on the Crane M2 are smaller than the ones used on their higher load capacity gimbals, it still uses the same, lightning-fast balancing algorithm.
Zhiyun has chosen to use smaller motors and sensors in the M2 to keep it as small as possible but they still work perfectly and are ideal for lightweight cameras. The sensors are extremely sensitive and are able to rapidly detect even the slightest movement in your gimbal and send the relevant data to the Zhiyun balancing algorithm to be processed. The algorithm then works out how the gimbal is best able to correct the detected movement and sends the correct commands to the gimbal motors.
As we mentioned above, the gimbal motors are smaller than the ones on their higher load capacity gimbal stabilizers but they are still extremely high torque for their size. This is why the image stabilization provided by the M2 is so quick and able to support some light mirrorless camera rigs in addition to the point and shoot camera range without being large and bulky.
Being one of the latest 3 axis gimbal stabilizers to be released onto the market at the time of writing, the Crane M2 supports all the popular gimbal modes that you would expect. This includes the traditional modes found on most gimbal stabilizers such as pan follow, full follow, and lock as well as some new modes such as point of view, vortex, and go.
Although the vortex and go modes are a little gimmicky and may never be used by most of our readers, the point of view mode on the Zhiyun Crane M2 is excellent and offers some of the best manual control of a gimbal head that we have seen to date. It also helps to mitigate one of the few disadvantages of a motorized gimbal over a manual stabilizer. As you may know, manual camera stabilizers are usually considered to have a more natural-looking image stabilization but the point of view mode on the Zhiyun Crane M2 makes your footage look as natural as possible while also having all of the traditional benefits of a motorized gimbal.
What you take all of this into account, it is easy to see how the Zhiyun Crane M2 has managed to become the dominant gimbal in its weight class in only a matter of months while earning itself an excellent reputation amongst videographers. On top of this, over the last few months, the Crane M2 has also managed to earn itself some excellent, independent reviews from the community that offer some great insight into its performance. With the gimbal performing so well and being around the two hundred dollar mark at the time of writing depending on retailer we doubt that it will lose the top spot any time soon to a competitor while serving you well for many years to come.
User Interface And Control System
Zhiyun have always been at the forefront of innovation when it comes to the actual control system and user interface of their gimbals and they have made a few tweaks the system used for the Zhiyun Crane M2 to try and make it even better. For the most part, they have actually done a great job and the gimbal is very easy to use making it ideal for any first-time gimbal owner purchasing their very first stabilizer. In addition to this though, the
Crane M2
also supports the majority of advanced features that any advanced videographers may be looking for on their gimbal too.
As you can see from the image at the start of this section, the control interface for the gimbal is based around the standard design of an LCD panel, a joystick, and a few buttons. One thing that Zhiyun has added to the Crane M2 to make the whole system easier is the push slider seen to the left of the main interface on the image above. This offers some quick and easy zoom control without having to have a clunky magic wheel and adding size to the gimbal.
The LCD screen on the gimbal is very bright and easy to see ensuring that you are able to see all of the relevant information even if you are out and about in low light conditions with ease. The push slider and joystick are also very sensitive and easily register your commands even if your hands are wet or cold too but one thing that we would like to point out is that some people have reported that their joystick cover is removable.
To our knowledge, this is not intended as other people are reporting that their joystick cover is fixed to the gimbal and it is only a small number of people reporting it. Our current thinking is that this is simply a small error made in the build of some of the initial Crane M2 batches that were shipped to retailers but we wanted to point it out.
The M2 also uses the standard, easy to navigate Zhiyun gimbal navigation menu to ensure that you are able to quickly and easily navigate your way around the options menu with ease. If you use a modern smartphone then we are confident in saying that you will have no issues working your way around the system on the Zhiyun Crane M2 as it has been designed to be as simple and straight forward as possible.
The gimbal also comes with some additional control functionality from the grip controls for supported cameras to make your life as easy as possible. At the time of writing, these additional features will work seamlessly with the following camera bodies:-
Sony

ILCE – 5100, 6000, 6300, 6400, 6500
Sony DSC – RXO, RXOM2, RX100M4, RX100M5, RX100M6, WX500, HX90, HX99
Panasonic DMC – GX85, ZS110GK, LX10GK, GF10KGK
Panasonic DC – GX9KGK, GX9GK, GF9KGK, GF9XGK, ZS70GK, ZS220GK, LX100M2GK
Canon – M50
GoPro – HERO 5, 6, 7
Please also note that if your camera body of choice is not listed, the Zhiyun Crane M2 will still be able to provide you with some excellent level image stabilization but some of the features controlled via the gimbals handgrip such as auto-zoom will not be available. Zhiyun is releasing firmware updates on a regular basis to increase the number of supported cameras so by the time you read this it is likley that the list above will be out of date.
Smartphone App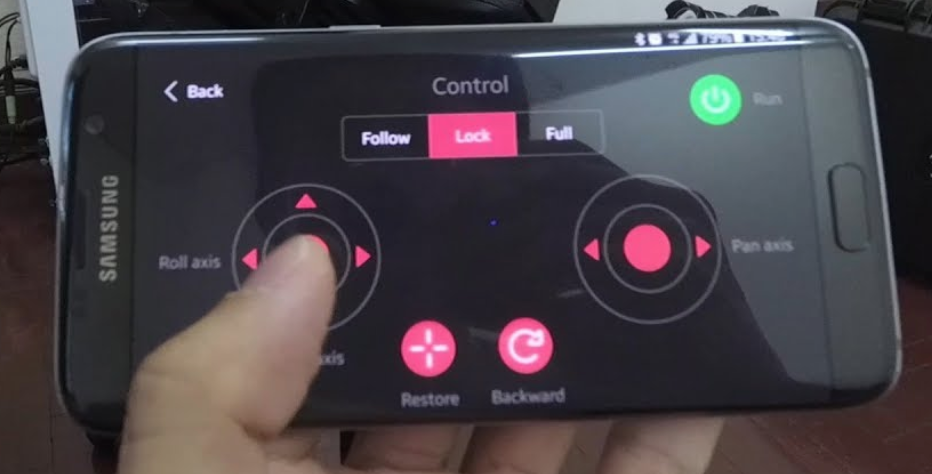 It is common knowledge that the Zhiyun smartphone app has had its issues in the past and was pretty much unusable until around a year ago due to a number of connectivity issues. Thankfully though, due to the release of the Weebill range, Zhiyun totally overhauled their app to add the additional functionality required for the tracking systems on their latest gimbals. They also took this opportunity to fix all of the issues in the app as well as make its navigation menu much easier to follow too.
At the time of writing, the Zhiyun is in a very good place and performs very well making it a great free gimbal accessory that is well worth downloading if you do choose to purchase the Zhiyun Crane M2. It provides some solid functionality such as being able to be used as a wireless remote control for your gimbal as well as providing you with some quick and easy access to the settings of your Crane M2 too.
Although the default shipping config on the gimbal should easily be able to meet the needs of the vast majority of our readers, if you are one of those videographers who love to tinker or will be wanting to customize your gimbal settings then the app is a real asset. It allows you tweak settings within seconds rather than within minutes and if you are on a long session where you will be tweaking your settings on a regular basis this can actually end up saving you a surprising amount of time.
Balancing
One thing that we often see people new to using a gimbal worry about is the balancing process but thankfully, Zhiyun gimbals have had one of the easiest balancing procedures for years now and the Zhiyun Crane M2 is no different. The gimbal is extremely easy to balance and the included user manual offers a very easy to follow tutorial on how to best balance the gimbal when you get it. Additionally, Zhiyun has the video above on their official YouTube channel going over how to balance the gimbal but it really is an easy process and we doubt that anyone will run into any issues.
Build Quality And Design
Although the Crane M2 sticks to the same traditional design of a handheld 3 axis gimbal stabilizer, Zhiyun has put the work in during the design phase to make sure that the gimbal is as small and compact as possible. To our knowledge, at the time of writing at least, it is definatley the smallest and lightest gimbal available for the sub-two pounds of payload weight class while offering outstanding performance.
If you are involved in a niche like travel vlogging or travel videography then this allows you to easily add the Crane M2 to your kit bag without taking up much space. In addition to this, the lightweight of the gimbal also helps to ensure that you can stay within your baggage allowance while traveling too and not get charged any heavy luggage fees.
Zhiyun has also done a solid job of making sure that the Crane M2 is as robust as possible to ensure that any bumps coming its way while being used or during transit will not cause any long term damage. With the gimbal space becoming more and more competitive as more and more people look to add some image stabilization to their camera accessories gimbal brands are doing everything they can to make their gimbals as robust as possible without hiking the price tag up or adding too much weight to their products.
After proving so popular with the Weebill range, Zhiyun have also decided to add their locking pin system to the Crane M2 as it is a great little feature that is cheap to add yet highly effective. Essentially, it adds a number of locking pins to the gimbal at various locations and allows you to lock all of the three-axis in place.
If you are putting your gimbal in your kit bag for transit then this prevents the axis from rotating and potentially being damaged. Additionally, it also allows you to lock the axis in place while holding your gimbal to prevent your camera from randomly rotating around freely too. The system also comes with a balance lock so in theory, after releasing the pin locks, your gimbal should still be balanced and ready to go too.
The Crane M2 also supports the following axis ranges during use too:-
Tilt Mechanical Range: 310° / Roll Mechanical range: 324°

Mechanical range: 360° unlimited rotation / Tilt Adjustable angle: -45°~ 260°

Roll Adjustable angle: -70° ~ 70° (Switch from landscape mode to portrait mode with a 40° angle)

Adjustable pan angle: -180° ~ 180°
As you can see, no matter what you need from the gimbal, it has you covered with an excellent range of movement. Unlike some compeating stabilizers on the market, the Zhiyun Crane M2 offers the same range of movement even if you are using a mirrorless camera with a longer lens too ensuring that you can always move freely while getting the superior image stabilization from the gimbal too.
Zhiyun has also managed to cut a few inches off the dimensions of the gimbal with it coming in at only 10.5 x 2.7 x 5.4 inches meaning that it can easily be put in a handbag, backpack, or even your pocket if needed while out and about. With it only being around 1.1 pounds of weight you really don't notice the additional weight either making the gimbal very easy to carry.
The final point that we want to make about the Zhiyun Crane M2 is that the handle grip is excellent. It is comfortable to minimize aches and pains during use for those longer sessions while also being very easy to grip even if your hand is wet or cold. This makes sure that you always have a firm hold of your gimbal and minimizes the risk of you accidentally dropping it when in use.
Our Verdict
That brings our ultimate Zhiyun Crane M2 review to an end and as we mentioned back at the start of the article, this really is an excellent bit of kit and we would highly recommend the Zhiyun Crane M2 to any of our readers who own a point and shoot camera. It will easily be able to provide you with all of the image stabilization that you need and make a great addition to your camera accessories. Although the gimbal can support some lighter mirrorless camera setups, we would recommend that you consider the Zhiyun Weebill S over the Crane M2 for mirrorless cameras as it is a more suitable gimbal.
If you are still undecided about the Crane M2 then you can click here to read a number of reviews that have been posted by third-party videographers who use the M2 as their gimbal of choice. Those reviews offer some great insight into the performance of the gimbal in a number of different situations from videographers and vloggers who have used it for a long period of time too.