The Ultimate DJI Osmo Mobile 2 Review!
Edit – Since publishing this article, the DJI Osmo Mobile 3 has been released that improves on what the DJI Osmo Mobile 2 has to offer in every way. Since its release, the DJI Osmo Mobile 3 has managed to quickly establish itself as the dominant smartphone gimbal on the market and earn an outstanding reputation for itself within the community. Due to this and the fact that it is retailed at the same price point as the Osmo Mobile 2 at most vendors, we would highly recommend that you go with the Mobile 3 over the Mobile 2.
As the camera sensors on smartphones are becoming more and more advanced with each new generation, more and more people are starting to switch over to using their smartphones for vlogging and capturing their video footage. Due to this, we are seeing more and more people reaching out and asking for a dedicated DJI Osmo Mobile 2 Review as this great little 3 axis gimbal stabilizer really has managed to take the market by storm.
Now, we have absolutely no doubt in our mind that the DJI Osmo Mobile 2 is an excellent bit of kit and has proven to be very popular within the community since its release. It has quickly managed to earn its place as one of the leading gimbals available while having quickly earned itself a great reputation that just keeps growing.
Now, at the time of writing, we feel that the DJI Osmo Mobile 2 is actually tied as the best smartphone gimbal along with the Zhiyun Smooth 4. Both of the gimbals offer very similar performance, a very similar build quality, and come in at a very similar price point. The Smooth 4 has also managed to earn itself a great reputation within the community and due to being on the market longer than the Osmo Mobile 2, a larger core customer base.
We really can't choose a winner between them as they are so similar with each gimbal having an advantage over the other in different areas. As usual, we are going to have our comparison chart below where we compare the Osmo Mobile 2 to some of the other smartphone gimbals on the market right now. Below that, we will have our full DJI Osmo Mobile 2 Review where we will be going over our thoughts on the gimbal as well as why we feel it has managed to become so popular in such a short amount of time.
Smartphone Gimbal
Product
Joint First!
Zhiyun Smooth 4
Joint First!
DJI Osmo Mobile 2
Second Place!
Hohem iSteady
Joint Third!
Neewer Gimbal
Image





Last update on 2023-05-22 / Images from Amazon Product Advertising API
Our table above goes over some of the key features of the more popular smartphone gimbals on the market right now. As you can see, we have tied both the DJI Osmo Mobile 2 and the Zhiyun Smooth 4 top with the Hohem iSteady coming in at a surprising close second considering it is a more budget-friendly smartphone gimbal.
Now, although the Osmo Mobile 2 pulls ahead of the Smooth 4 when it comes to load capacity and battery life, the Zhiyun gimbal does have a few advantages of its own that we will cover throughout the article. Just a quick note on our table above, we just want to confirm that all of those featured gimbals support cameras from the Apple iPhone, Samsung Galaxy, Google Pixel, and Huawei Mobile range as well as a number of other brands too.
Performance And Functionality
As the vast majority of smartphones available on the market at the time of writing have a payload weight of around 0.35 pounds to 0.45 pounds, the 0.53-pound maximum load capacity of the Osmo Mobile 2 is plenty. It will likely have the support available to stabilize your phone even if you have it in a heavy case or use a
high-end removable lens
with your phone.
The ability to keep a high-end lens on mounted while recording using the Osmo Mobile 2 really does help you capture the absolute best image quality possible. As most people who purchase a gimbal for their smartphone are doing so to capture the best image quality possible for their social media profiles or YouTube channel, the better quality video can really help you stand out from the competition.
Due to having such a high maximum load capacity for a smartphone gimbal, the Osmo Mobile 2 also helps to future proof you against future upgrades to heavier units. On top of this, as the mounting unit on the gimbal is a fully adjustable width grip rather than a fixed length grip, it is able to mount the vast majority of regular-sized smartphones without issue.
With the gimbal providing you with a maximum battery life of up to fifteen hours of battery with each full charge, you can rest assured that it has all the power you need to keep going and ensure you capture the footage you require. The two-way charging system on the gimbal also allows you to charge your smartphone via the gimbal battery while mounted to helping to keep you going even longer.
On top of this, more and more people who use their smartphones for vlogging and capturing their video footage are starting to add USB power banks to their collection of camera accessories. This means that not only can you use your power bank to recharge your phone on the go but if its output is high enough, you can also use it to recharge your gimbal.
If you are involved in a niche like travel vlogging where you may not have access to a regular power outlet for days at a time then this can be a great way to keep your devices supplied with juice. Additionally, the quick charge system on the Osmo Mobile 2 makes sure that you can recharge your gimbal as quickly as possible to minimize downtime too.
When using a regular power outlet on the wall, you can expect to recharge the gimbal in around three hours. If you are recharging it via a power bank then the output power will come into play and recharging times will vary depending on the power bank so we are unable to provide you with a specific recharging time via a power bank.
Now, in our opinion, the best way to show off exactly what you are able to expect from a gimbal is to show some sample video footage. All of the clips in the footage above have been recorded using the 
DJI Osmo Mobile 2
and give a great, accurate representation of the level of image stabilization you can expect from the gimbal. As you can see, it does a solid job of helping improve the image quality the user is able to capture with their smartphone.
Our regular readers will know that we have been saying that both the DJI, Moza, and Zhiyun balancing algorithms are the best available at the time of writing for some time now and it really shows with the Osmo Mobile 2. Although it is only supporting a light payload due to the camera being a smartphone, the image stabilization is extremley quick and smooth.
This is due to both the gimbal sensors and gimbal motors being custom build for the Osmo Mobile range offering optimal detection and correction. The sensors are extremely quick to pick up any movement, the balancing algorithm then works out how best to correct it and the gimbal motors apply to required counter movement. The whole process is lightning fast and results in some extremley smooth video footage for the user even when taking part in activities with a whole bunch of movement.
Although the Osmo Mobile 2 is a smartphone handheld gimbal, it also comes with a number of popular gimbal moders from the higher end, professional level gimbal stabilizers as standard. The manual mode offers some excellent control of the gimbal head and allows you to aim your smartphone as needed while mounted to the gimbal.
As we mentioned back at the start of the article, the Osmo Mobile 2 is tied joint top of the smartphone gimbal market with the Zhiyun Smooth 4 with both units leaving the competition for dust. It is no surprise that the Osmo Mobile 2 has managed to rapidly grow its market share at the speed it has or that it has managed to earn so many excellent independent reviews from people who use it as their gimbal of choice.
User Interface And Control System
You can see the control system for the gimbal in the image above and as you can see, it is extremely simplistic and although this basic approach has had a little criticism, we are actually big fans of it. Some of the reviews of the Osmo Mobile 2 comment on its lack of advanced customization but you have to keep in mind, this is not a professional level videography gimbal for mirrorless and DSLR cameras like the
DJI Ronin S
. It is a smartphone gimbal designed for use with people who have probably never owned or even used a gimbal previously.
This simplistic interface ensures that the target market for the gimbal is able to quickly learn what they need to do without having to invest much time. This allows pretty much anyone to order the stabilizer, mount their smartphone and go out and capture some super smooth video footage without having to waste time learning an in-depth control interface. If you are an advanced level videographer then you are able to get quick and easy access to the gimbal settings via the smartphone app that we will cover below.
All in all, we feel that DJI has done a solid job of coming up with an easy to learn the system and that if you have never actually used a gimbal before, we are confident that you will be able to quickly and easily get to grips with the Osmo Mobile 2. More and more gimbal brands are starting to add complicated interface systems to their entry-level gimbals and there really is no need.
Smartphone App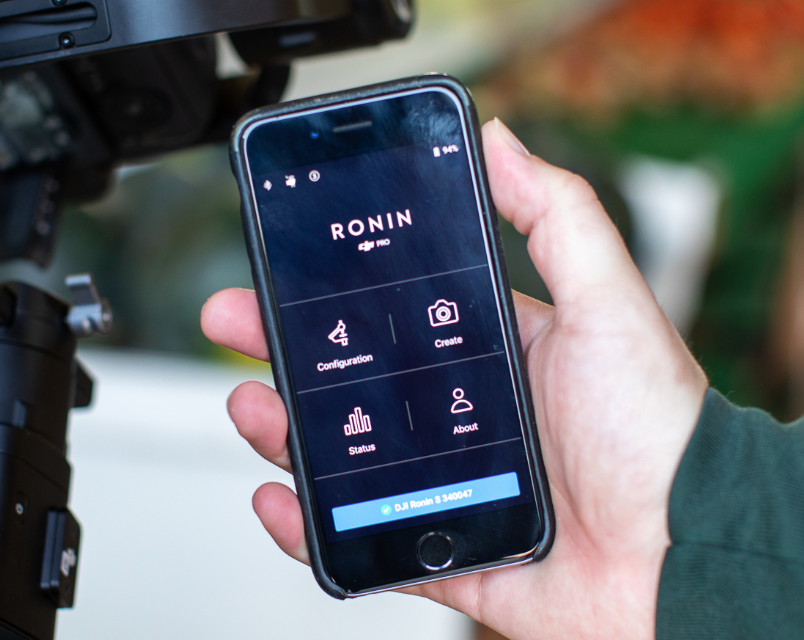 Now, DJI has always put a large emphasis on keeping their smartphone app up to date and serviceable, unlike some competing gimbal manufacturers. It was only a few months back when the Zhiyun app was a total nightmare and essentially useless until they totally overhauled it for the release of their latest gimbal range.
We feel that DJI has seen how popular their smartphone app for their drone range and wanted to keep their gimbal app top of its game. The app is free to download and offers some great functionality such as wireless remote control as well as quick and easy access to your gimbal settings. As we mentioned above, if you are an advanced gimbal user and purchase the Osmo Mobile 2 for your smartphone, you are able to make some tweaks and customization to its settings via the app.
That said, our favorite part about the app is that it actually works! We know that sounds simple but out of all the gimbal brands there are only three smartphone apps that we would class as fully serviceable at the time of writing and the DJI app is one of them. It offers quick and easy syncing, it has no issues with random disconnects and its navigation menu is very easy to follow and use. In our opinion, the app is a great free gimbal accessory that is well worth downloading.
Balancing
As we touched on earlier, many of the people who purchase the Osmo Mobile 2 and add it to their smartphone camera accessories will likely have never actually used a gimbal before. We see so many entry-level gimbal users worrying about balancing their gimbals but the DJI system is very simple and easy. Although we used to type up the balancing systems for gimbals, it is much easier to just embed the official YouTube video above.
It goes over the balancing procedure for the Osmo Mobile 2 as well as the initial set up. As you can see, it is all very user-friendly and quick. If you are having any worries about balancing the gimbal then fear not. Additionally, the lightweight of modern smartphones makes the process even easier as the gimbal motors are able to help you a whole bunch.
Build Quality And Design
DJI probably has the best reputation going when it comes to the build quality of their gimbals and although Moza is catching up with their range, we would still say DJI are ever so slightly ahead of them. As the Osmo Mobile 2 is designed for use with smartphones it only has to be small and DJI has also tried to make it as lightweight as possible. This ensures that it makes a great smartphone travel gimbal as it doesn't take up much size or weight in your luggage.
DJI has also done a great job of keeping the Osmo Mobile 2 as robust as possible so it can take any knocks coming its way during use. This is pretty rare for a gimbal that is so light helping to score it some points against the competition. If you are involved in a travel niche then the gimbal is also able to take any knocks during transit to give you some peace of mind that your gear will be whole when you get to the other end.
Another thing that we like about the Osmo Mobile 2 is that its handle is very comfortable. This coupled with its lightweight means that you are able to hold it for hours at a time if needed without your hand, arm, or shoulders getting any aches or cramps as you can with heavier gimbals. So many brands overlook the importance of a comfortable handle when it comes to their gimbals but we are glad to see that DJI have not overlooked it.
Now, when it comes to design, there has not really been much innovation in the handheld gimbal space for smartphones for years. Pretty much all brands just stick to a variant of the same handheld design and then add their own features to it as they see fit. This is not a negative for the Osmo Mobile 2 as everyone is doing this but it's just an area where is could have scored some additional points but just stayed with the competition.
Our Verdict
That brings our DJI Osmo Mobile 2 review to a close and we really do love this gimbal. We are confident in saying that it can make an excellent addition to your smartphone camera accessories if you are wanting to add some image stabilization to your kit. It really isn't difficult to see how the Osmo Mobile 2 just keeps becoming more and more popular as time goes on and expanding its market share.
If you still haven't made your mind up, you are able to read some third-party reviews of the gimbal from people who use it as their gimbal of choice on a regular basis. This allows you to get an excellent insight into the performance of the gimbal as well as how highly people feel about it. If you have a few minutes spare, we would highly recommend that you check some of them out to help you make your mind up about the gimbal.