The Ultimate Evo Rage 3 Gimbal Review!
So, Evo has recently released the latest version of their Rage gimbal range and we have noticed a number of people reaching out for a dedicated review of the handheld gimbal stabilizer but we have been really busy since its release. Thankfully, a few things have fallen into place meaning that we have the time available to sit down and type up our dedicated Evo Rage 3 gimbal review.
With the Evo SS pretty much dominating the wearable gimbal market, there has been a whole bunch of hype surrounding the new Evo Rage 3 with many people expecting it to be a serious challenger for the dominant handheld gimbal market too. Although there is a whole bunch of tough competition on the market in the handheld gimbal space such as the DJI Ronin S, the Zhiyun Weebill Lab, and the Zhiyun Crane 3, we feel that Evo has put in a solid effort and produced another excellent gimbal.
They have overhauled a ton the tech for the Rage 3 including a brand new, next-generation balancing algorithm that performs brilliantly, high torque gimbal motors with a rapid response speed, and a massive reduction in motor sound to the level of being almost silent preventing any audio track contamination. Although the Evo Rage has not been on the market for long it has some pretty solid reviews from independent videographers that are likely to set it up to be a big hit within the community.
As you would expect from Evo, they have stuck to their reputation of producing some really robust gimbal stabilizers with the Rage 3 being a solid bit of kit. If you are working in a niche where you know that there is a decent chance of some punishment coming your gimbals way with during use or during transit, the Rage 3 is a solid option.
Anyway, as per usual, our hope is that this article will help any of our readers who are considering purchasing the Evo Rage 3 and adding it to their collection of camera accessories. As we mentioned competition is tough and to date, many gimbals have tried to take DSLR gimbal top spot from the DJI Ronin S and until the release of the Evo Rage 3, none have really come close but the Ronin S finally has some solid competition for the top spot.
Performance And Functionality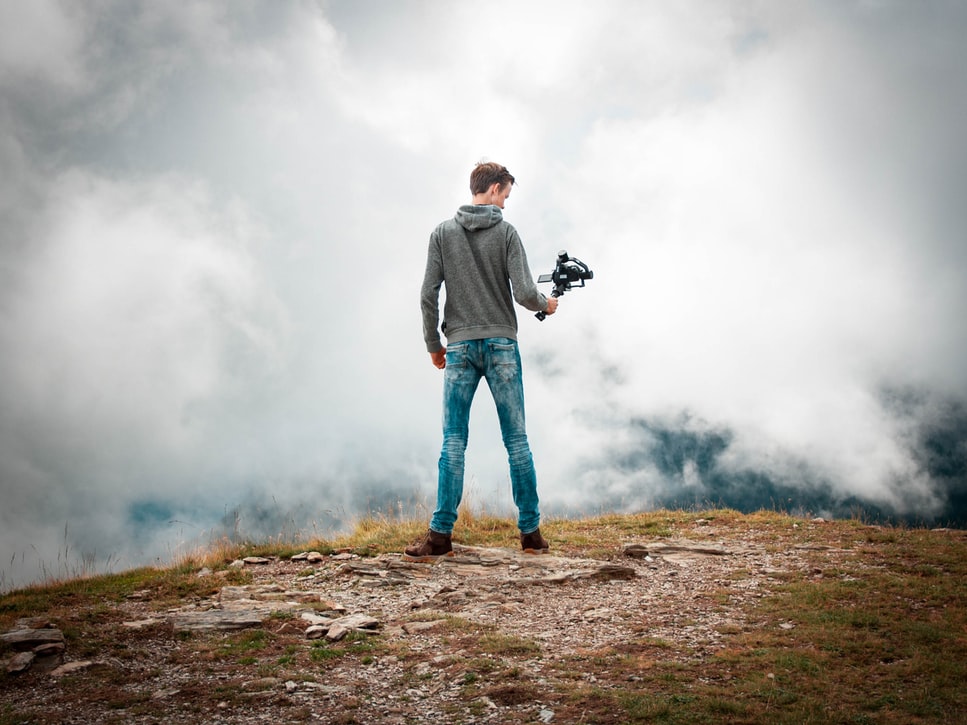 When it comes to the performance and functionality of the Evo Rage 3 it really does stand up againsts the leading DSLR weight class gimbals and offers a massive improvement over what the
Evo Rage 2
could offer. The overhauled balancing algorithm plays a massive part in this as in our opinion, the balancing algorithm on the Rage 2 was one of the main things that held the gimbal back against the competition.
When it comes to the load capacity of the gimbal, the Evo Rage 3 is able to support a maximum camera payload of seven pounds meaning that it is able to support the vast majority of DSLR camera setups and pretty much all mirrorless camera setups that we can think of. If you do need more payload weight due to using a super heavy camera rig for your videography, the then Zhiyun Crane 3 with over ten pounds of load capacity is the only decent heavy lifting motorized gimbal on the market right now.
That said though, we are confident that seven pounds of load capacity on the Rage 3 will be plenty for most of our readers even if you do use a heavier camera setup. Additionally, this is seven pounds of effective load capacity with full image stabilization support. A small number of gimbal brands will list the technical maximum load capacity for their gimbals where in reality, the gimbal can only support around seventy-five percent of the listed payload without having problems with image stabilization. Thankfully, Evo has held themselves to their high standards and not tried to use this trick and have clearly stated the seven-pound load is with full, optimal image stabilization.
Now, this next feature is definatley going to depend on the niche that you are working in but as our regular readers may know, we are usually interested in gimbals for travel videographer and travel vlogging. In these niches, you may be without access to a regular power outlet for a large period of time so the eighteen-hour maximum battery life of the Evo Rage 3 is excellent.
To our knowledge, at the time of writing, it is tied with the Zhiyun Crane Plus for the longest battery life of all gimbals available on the market right now. Although it may not sound like much, being able to charge your gimbal to full and have enough juice to cover you for a few days of regular usage while traveling can be a godsend.
Additionally, when the gimbal does run out of power, it can be charged back to full in around four hours. On top of this, we have also seen a few reports from people saying that they take a high power USB power bank with them when traveling to top their gimbal and camera up when possible to further extend the battery life of the gimbal too.
Another great feature is the two-way charging of the Evo Rage 3 then allows you to use the power in the gimbals batteries to charge a large number of Canon and Sony cameras too. If you are a user of the Canon or Sony camera range then this can be a great feature to help keep your camera topped up during use.
The video footage in the clips above has been recorded using the
Evo Rage 3
and as you can see, the gimbal is an excellent bit of kit. As we mentioned earlier, the overhauled balancing algorithm paired with the new high torque Evo gimbal motors ensure it delivers rapid image stabilization even if your camera rig is sitting close to the seven-pound load capacity mark.
The Rage 3 is a great investment if you are a professional level videographer as it helps ensure that you are able to capture the best image quality possible for your clients with minimal effort required on your part. As we mentioned earlier, you can also use the Rage 3 for vlogging but in our opinion, if your main goal for your gimbal is to vlog then something like the Zhiyun Weebill Lab will be a much better and cheaper vlogging gimbal.
The focus ring on the Rage 3 is definatley one of the best systems available on the market right now too. It offers support for a large number of cameras from Sony, Panasonic, Canon, and Nikon allowing you to tweak your cameras focus directly from the magic wheel on its control system. In our opinion, Evo have done an excellent job with the Rage 3 when it comes to performance and functionality and we are very impressed. It is a massive improvement over the Evo Rage 2 and the Rage 3 really is a top challanger for the DSLR gimbal niche.
Click Here To Check Prices And Availability!
User Interface And Control System
Now, we fully expected DJI to be the first brand to produce such a solid control interface for their gimbals but Evo has definatley beat them to it. As you can see in the image above, the control system on the Evo Rage 3 is clean, easy to use, and very responsive. If you are looking to purchase your very first gimbal stabilizer then the Rage 3 is a great option due to how simple its control system is and the fact that anyone can pick it up quickly without investing much time.
On top of that, the system also ensures that the gimbal has all of the advanced customization available for its users that an advanced videographer may require for their work too. This all in one solution that meets the needs for videographers of all experience levels is really taking off and we feel that Evo are the first to actually perfect the system.
The joystick is very responsive and weather-sealed too meaning that you have just as much control over your gimbal head in wet and cold conditions as you would with dry hands too. This can be a solid feature in some videography niches as you may be required to capture video footage in all weather conditions.
The high-quality OLED display panel on the gimbal is clean and precise and does an excellent job of displaying the relevant information for the gimbal too. It is also bright enough to be seen clearly in low light conditions that are often an area traditional LCD panel displays can be problematic. The magic wheel offers some excellent manual focus control cos your set up too and although there are some solid systems available from other brands, the Evo system on the Rage 3 can definatley hold its own with the best of them.
Smartphone App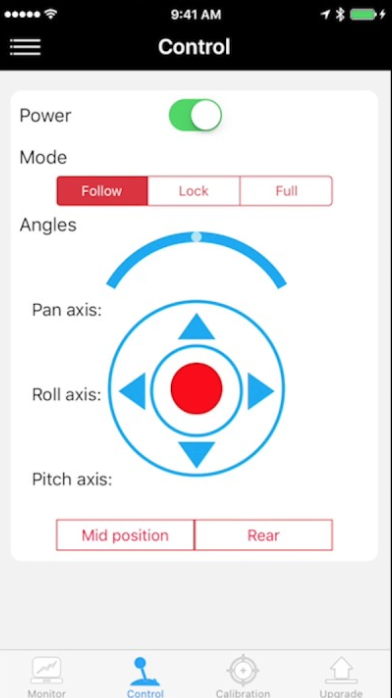 The Evo smartphone app is probably the weakest area of the gimbal at the time of writing but on the flipside of this, it is not essential for optimal gimbal use and we would expect an overhaul of their app in the coming months anyway. After Zhiyun totally overhauled their smartphone app and with DJI and Moza always having led the way when it comes to gimbal apps, Evo are lagging behind the curve.
That said, even in its current state, the app is able to provide you with some wireless remote control performance as well as allow you to quickly and easily tweak various settings for your gimbal. Although you are able to tweak the gimbals settings via the onboard system, it is definatley much quicker to use the app. If you are on location with a client then time is everything and you can tweak your gimbal for optimal performance within seconds via the app rather than minutes with the onboard system.
Considering that the app is free to download to your smartphone, it is well worth the download even if Evo don't overhaul the navigation system to make it easier to use or correct the few connectivity issues it has. We feel it is better to have something and not need it than need it and not have it and modern smartphones have plenty of space available for apps.
Build Quality And Design
As we mentioned back at the start of the article, Evo has a solid reputation for producing some of the most robust gimbal stabilizers on the market right now and the
Evo Rage 3
is no different. It is a very tough gimbal and although it is a little heavy, it is a very similar weight to the current market-leading gimbal in the DSLR camera weight class, the
DJI Ronin S
. As gimbals can take a fair few bumps during transit or while in use, it is good to know that your Rage 3 is able to take the punishment coming it's way.
Additionally, Evo have used the Manfrotto quick release plate system on the gimbal to ensure that you are able to quickly and easily hot-swap between camera rigs or mount and unmount your camera as quickly as possible. With so many popular camera accessories using the Manfrotto quick release plate system, this also ensures that you can unmount your camera from your gimbal if required and quickly mount it to your tripod within seconds.
The handle on the Rage 3 is also extremely comfortable and we know that a few users felt the handle on the Rage 2 was a bit of a pain to use for extended periods of time but it seems Evo has corrected this in the Rage 3. If you are going to be using a heavy camera rig for a long session then this really can make your life easier by preventing your hand from cramping or aching during use too.
Our Verdict
That brings our Evo Rage 3 gimbal review to an end and as you can probably tell, we are pleasantly surprised by what Evo has managed to deliver. Now, there is no denying that the image stabilization from the Rage 3 is able to help improve your image quality when recording video footage but the Rage 3 is currently priced around $100 more than the DJI Ronin S, its main competitor.
The Ronin S provides slightly better image stabilization in our opinion as well as offers much better gimbal modes than the Rage 3. On the flip side of this though, the Rage 3 has the better control system and manual focus control for a mounted camera rig. When it comes to handheld gimbal stabilizers, the main thing videographers care about is the price and performance of the 3 axis gimbal and due to this, we still feel that the Ronin S is the kind of DSLR gimbals.
If you are a mirrorless camera user then the Zhiyun Weebill Lab is the obvious choice over the Rage 3. It is much cheaper coming in around $400 cheaper than the Rage 3 at the time of writing while offering very similar performance but it does have a much lower load capacity as it has been designed for use with mirrorless cameras rather than DSLRs. If you are using a super heavy DSLR setup that is over the seven-pound load capacity that the Rage 3 is able to support then the Zhiyun Crane 3 maybe your best option as it can support over ten pounds of camera payload.
Evo really have done an excellent job with the Rage 3 and it is a solid gimbal and although it has its advantages, we feel it needs a price reduction to be able to outright beat the Ronin S. We hope that you have found our review of the Evo Rage 3 helpful and hope that we have managed to point out its strengths as well as alternative gimbals that can cover its weaknesses.