The Ultimate Flycam Flowline Review!
Although manual, Steadicam style camera stabilizers have always been pretty popular amongst the videography and cinematography community but we have seen a sudden increase in the number of people reaching out for advice on manual stabilizers. From what we can tell, a few popular YouTube filmmakers have posted videos going over their gear lists and many of them have a Glidecam or some other brand of manual stabilizer so the number of people reaching out for advice has gone through the room.
Our regular readers will probably know that we are huge fans of the Flycam brands and feel that they offer a number of products that come with an entry-level/intermediate price tag while offering close to the professional level performance. We recently published our review of the Flycam Redking and absolutely love it with it now being out go-to recommended manual stabilizer due to its excellent performance and low price tag. After publishing that review, we have seen a number of people reach out about various other Flycam camera accessories with a bunch of people asking about the Flycam Flowline reach month.
Due to loving the Redking so much and seeing so many people reaching out for advice on the Flycam Flowline we have decided to publish our own, dedicated Flycam Flowline review. We are hoping that we will be able to help as many of our readers as possible who are considering adding the Flowline to their collection of camera accessories.
Although the shoulder mount does not have a massive customer base, it has managed to earn a solid reputation amongst the videographers and cinematographers who have decided to purchase it. In addition to this, it also offers some excellent performance and functionality relative to its current price tag so let's get stuck into our review of the Flycam Flowline.
Please note, although there are multiple models in the Flycam Flowline range, we will be focusing on the base model as from what we can tell, it is the one we are seeing the majority of people asking about. After a little research, it would seem that all of the variants of the Flowline have a great reputation amongst the communities so we would expect similar levels of performance no matter the variant you purchase.
Performance And Functionality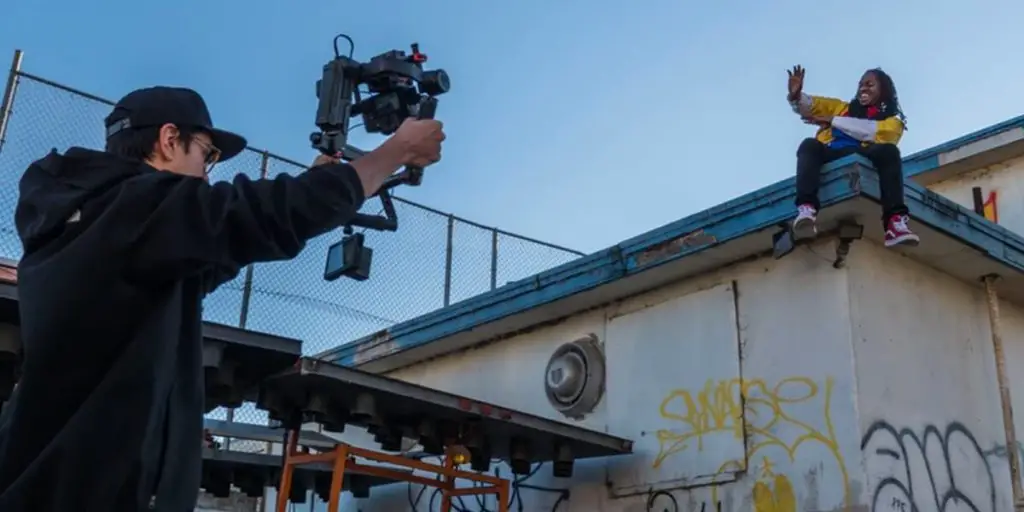 Now, one of the most common things that we see videographers and cinematographers overlooking when it comes to these shoulder mount rigs is that they all have a minimum load capacity required to allow you to get optimal performance out of them. Although most of them will still provide you with assistance in getting the best image stabilization possible with a rig lighter than their minimum load capacity, we would always recommend that you try to meet it, even if this means that you have to mount some additional counterweight plates to your manual stabilizer.
When it comes to the Flycam Flowline the minimum load capacity is only 6.61 pounds of payload weight with its maximum load capacity coming in at 16.5 pounds of payload weight. Now, we know that many people instantly see the 6.61-pound minimum and think that is high but when compared to many compeating shoulder-mounted rigs it is actually on the lower end.
This is largely due to the fact that by the time videographers or cinematographers start looking to add a shoulder rig for their manual stabilizer to their collection of camera accessories they are using professional-level DSLRs or cameras like the Red One, Red Epic, a Blackmagic, or even a Arri Alexa to capture their video footage. These professional-level camera bodies alone are heavier than their entry-level and intermediate level counter-parts never mind the weight of the additional professional-level camera accessories you will be mounted to them. You will likley find that you will easily get to the 6.61-pound minimum advised load capacity for the Flycam Flowline without running into any trouble at all.
When it comes to the actual performance of the Flowline, it is an excellent bit of kit in all fairness and does a great job of helping to assist you to get optimal image stabilization with those heavier rigs without getting aches and pains. Even if you do load up a super heavy rig and get close to the 16.5-pound maximum load capacity, the Flycam Flowline is still usually able to easily assist you with supporting your camera rig with ease.
As the majority of the strain is taken away from your arms and placed on stronger areas of your body, the Flowline makes it easy for your to support a heavy camera rig for long recording sessions without issue too. If you are a professional level videographer or cinematographer then you may be rigged up for hours at a time working and the Flowline distributing the weight of your camera rig makes your life much easier.
You can also take this one step further if you are looking to build the ultimate stability rig for your camera set up and also add the Flycam Flowline Placid Two Axis Stabilizing Spring Arm into your set up too. It mounts seamlessly to the Flycam Flowline to further improve its performance and make your life even easier. That said though, the value of adding something like a stability arm will definatley depend on what you are doing and the niches that you work on.
Even without the optional stability arm, the Flowline camera support is likley able to offer some great improvements to the image quality that you are able to capture. The easily adjustable cable length allows you to adjust your cameras positioning instantly without having to waste time to ensure that you are always able to capture the video footage you need from multiple angles.
One thing that we would like to point out and this is not specific to just the Flycam Flowline to all wearable camera supports is that low angle video footage can be a total pain to capture. A manual Steadicam style stabilizer is much better for any type of low angle work but other than that, wearable support can be a solid investment in your camera accessories.
With such a low price tag while offering some excellent image stabilization it's not surprising that the Flowline has such a positive response from the community so far. With so few compeating wearable camera stabilizer units on the market at this price point that is worth their money, we doubt that this will change any time soon making the Flycam Flowline the obvious option for the foreseeable future.
User Interface And Control System
Flycam has done a great job of ensuring that the Flowline is as simple, straight forward and easy to use as possible allowing anyone to add it to their camera accessories and not run into issues when using the wearable camera stabilizer rig. Although we would imagine that most of our readers who are considering purchasing something like the Flycam Flowline will likley be experienced videographers or cinematographers who have used various stabilizing rigs in the past.
That said though if you are brand new to using a wearable camera stabilizer, Flycam has done a great job of coming up with a system that it as easy to use as possible and we would imagine that the vast majority of people can use the Flowline without running into trouble. If you do encounter a problem then the user manual that comes with the unit is very detailed and offers some excellent advice for a number of different situations that you may find yourself in.
The balancing adjustment dial on the rear of the Flowline is also very easy to adjust to offer quick and easy balancing of the rig. That said though, it can be a bit of a pain to reach yourself when wearing it so you may need the help of someone else to adjust the balance of the rig while it is being worn.
The Flycam Flowline is also fully adjustable and allows you to tweak the setup to pretty much meet the needs of people of all shapes and sizes working in all niches performing all types of tasks. Some of the key information for the stabilizer is as follows:-
Mounted height – 39.4 inches.
Folded length – 23.6 inches.
Minimum load capacity – 6.6 pounds.
Maximum load capacity – 16.53 pounds.
Suspension line max length – 60 inches.
Minimum hip strap length – 32 inches.
Maximum hip strap length – 49 inches.
All of the adjustable parts of the Flycam Flowline are very easy to change to allow you to adjust from the minimum height or length up towards the maximum height or length with ease as required. All in all, in our opinion at least, we feel that Flycam has done an excellent job of putting such an easy to use control interface on the Flowline that we are confident that most of our readers will be able to learn and get to grips with very quickly.
Build Quality And Design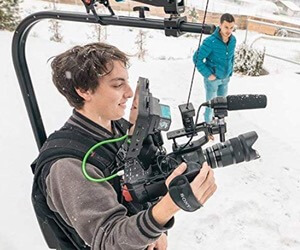 Now, Flycam has managed to earn themselves a solid reputation amongst the community as being able to charge an entry-level price for their products that come with an intermediate level build quality while providing near professional-level performance. We are pleased to say that the same rings true for the Flowline too and that in our opinion at least, it has the best build quality available from any of the other compeating wearable camera stabilizers at this price point in the market.
Not only is the rig very comfortable to wear and easy to customize to fit your shape better but it is also slightly lighter than some of the other products out there too. In the grand scheme of things, this doesn't matter much as it's only around one pound lighter and when you mount your camera rig to the stabilizer one pound won't matter much during use but it can help you come in under any airline luggage allowances if you have to travel for work.
Additionally, when de-built, the Flycam Flowline is small and easy to pack away in your luggage or videography bag without it taking as much space up as you would think. This also helps to ensure that your life is as easy as possible when traveling around with the rig making it easy to fit in regular sizes airline luggage bags. That said, most people who are at a level where they need a wearable camera stabilizer will likley be packing their gear into Pelican cases anyway for the added protection for their gear.
Flycam has also used a number of high-quality fabrics and materials for the actual build of the stabilizer to ensure that it will last and be more of a long term investment in your collection of camera accessories rather than something you will have to replace soon. Everything has been put together well and is sturdy and tough so we see no reason that you will run into any issues with the Flowline anytime soon provided that you are careful with it and use it as it was designed.
Our Verdict
That brings our Flycam Flowline review to a close and we feel that adding the Flycam Flowline to your collection of camera accessories could be a great long term investment in your camera accessories and easily be able to provide you with some great image stabilization without you having to break the bank to do so. As we mentioned earlier, although the Flowline currently only has a small core customer base, it does seem to b slowly building up a great reputation for itself and the initial indepndent reviews for the stabilizer have all been positive. All in all, the Flowline is a great wearable stabilizer that offers great performance, is very easy to use, and has a solid and robust build quality too all for a low price making it a great option in our opinion.