The Ultimate Flycam Redking Review!
We always see people reaching out for advice on the various brands of handheld manual camera stabilizers available on the market but until recently, it was mainly based around the Glidecam range. Flycam was largely disregarded by the community as a budget knock off brand until they released their Redking that changed everything for them.
The Flycam Redking managed to change the way the community viewed the Flycam range changing them from a budget knock off-brand to a brand that delivered the best possible quality for the lowest possible price. Since the release of the Redking onto the market, we have only seen it go from strength to strength due to its excellent build quality and performance. It is not surprising that the unit has managed to quickly earn itself a well deserved excellent reputation within the community.
Although the low price tag of the Redking makes it an ideal entry-level handheld gimbal, the performance that it is able to provide can also make it a great camera accessory for professional-level videographers too. Due to seeing so many people reaching out about the Redking since its release onto the market, we decided that we would publish this review to try and help as many of our readers as possible who may be thinking of adding it to their collection of camera accessories.
Performance And Functionality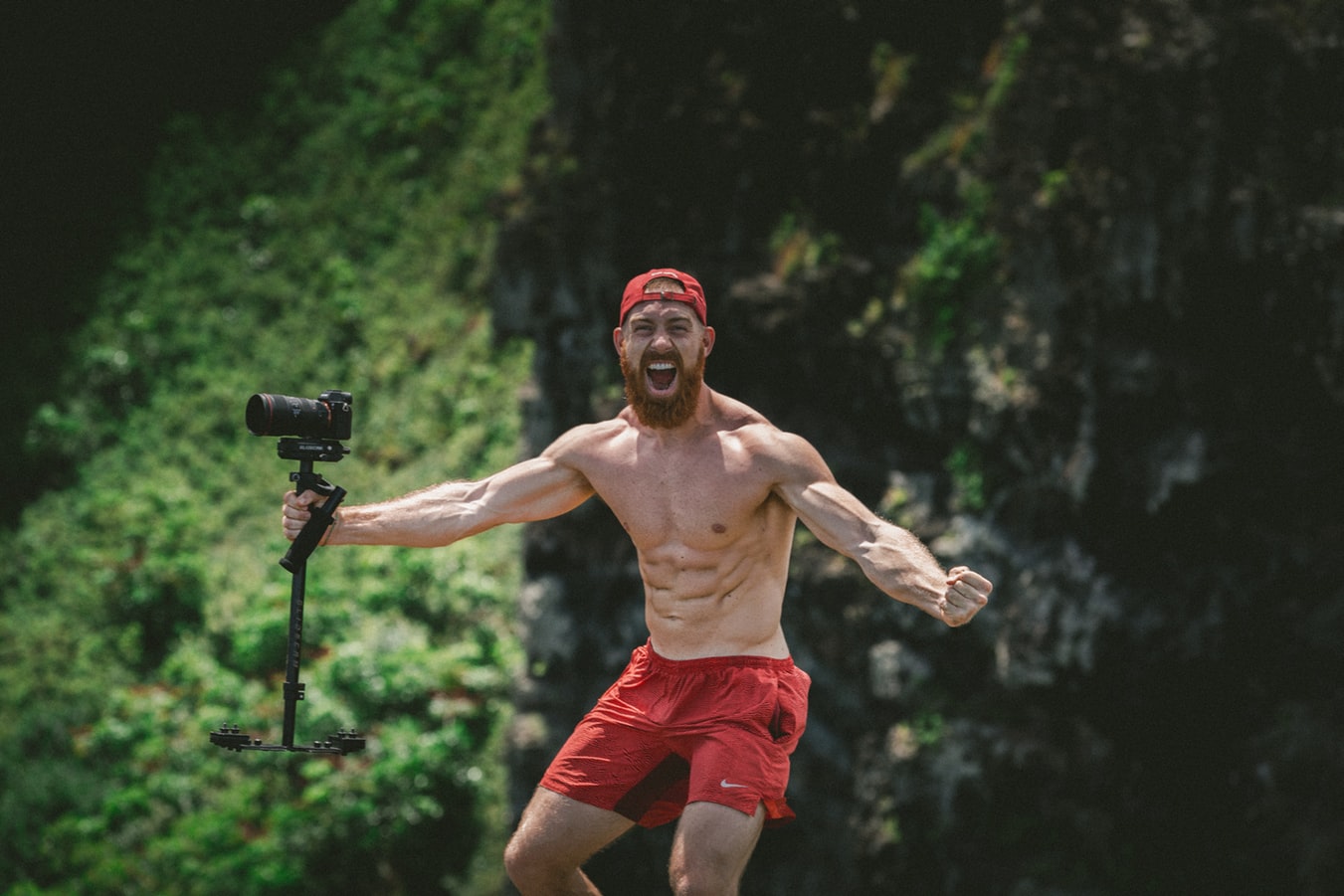 Now, one of the big things that the Flycam Redking has going for it over the competing Steadicam units on the market is that it has a low price tag with a large load capacity of 15.4 pounds. This ensures that no matter what camera setup you are running, there is a good chance that the Redking will not only be able to mount it but also provide the image stabilization that you require for your rig too.
Although the electronic 3 axis gimbals on the market like the DJI Ronin range have definatley managed to gain ground when it comes to providing more natural-looking image stabilization. Some of the lower price point electronic gimbals on the market, around the price point of the Redking still give that robotic feeling to their image stabilization.
This is where the Redking comes in and dominates. With its natural-looking image stabilization and smooth panning with your camera rig mounted, the Redking is able to outperform many of the more entry-level electronic gimbals on the market while also supporting a larger load capacity. The lack of electronics on the Flycam Redking also give it an advantage when it comes to using in all weather conditions too that help to score it even more points.
The sample video footage above was recorded using the
Flycam Redking
with a 
Canon 80d
and a
Sigma 18-35mm F1.8 lens
. We feel the video footage does a great job of showcasing exactly what the Redking is able to provide your heavier DSLR camera rigs when it comes to image stabilization and how it can help to improve your overall image quality.
With the standard manual 3 axis gimbal design, the Redking provides you with full 360 degrees panning with fully adjustable and customizable convergence. This ensures that no matter what your videography session requires from you, the Redking is able to deliver and help you get the best possible image quality for your job.
Now, we have seen a few people directly compare the Flycam Redking with the Glidecam Devin Graham Signatur and as the Glidecam stabilizer comes in at around four times the price of the Redking, you would feel that the side by side tests would be totally one-sided with the Redking outright losing. Well, we are happy to say that the Redking managed to hold its own in the vast majority of test situations.
Although there are a few things when it comes to build quality where the much higher price point Glidecam pulls away, for the most part, the cheaper and more budget-friendly Redking does a great job of standing its ground. We really can't fault Flycam when it comes to the performance of the Redking and we feel that they have created an excellent little gimbal that performs at the same level as units that sell at much higher price points.
Click Here To Check Prices And Availability!
User Interface And Control System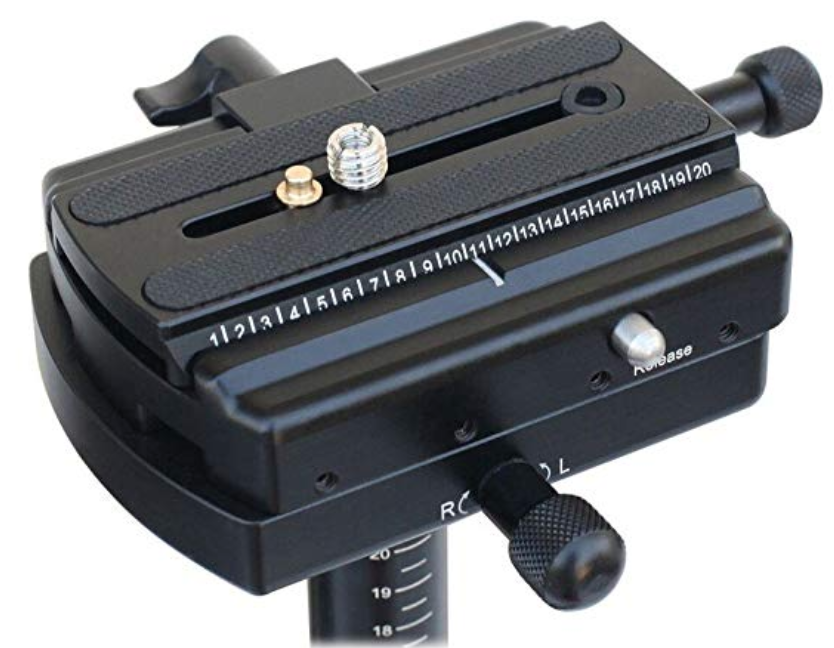 As you can see in the image above, the Flycam Redking uses the standard Manfrotto dovetail quick release plate that allows you to quickly and easily mount or unmount your camera rig from the stabilizer as required during your session. As it is the standard Manfrotto plate design, a large number of tripods and electronic gimbals also use the design so if required, you can quickly hot-swap between your Redking and your tripod or electronic gimbal as required.
Additionally, if you run a setup with multiple camera rigs, you can quickly and easily source additional quick release plates for the Redking so you can quickly hot-swap between your actual camera bodies as required during your session. The vast majority of Steadicams from other brands at this price point in the market, and even once that cost double what the Redking costs will not support quick release plate functionality. This helps to push the Redking out even further from the competition, especially the other manual gimbals at this price point in the market.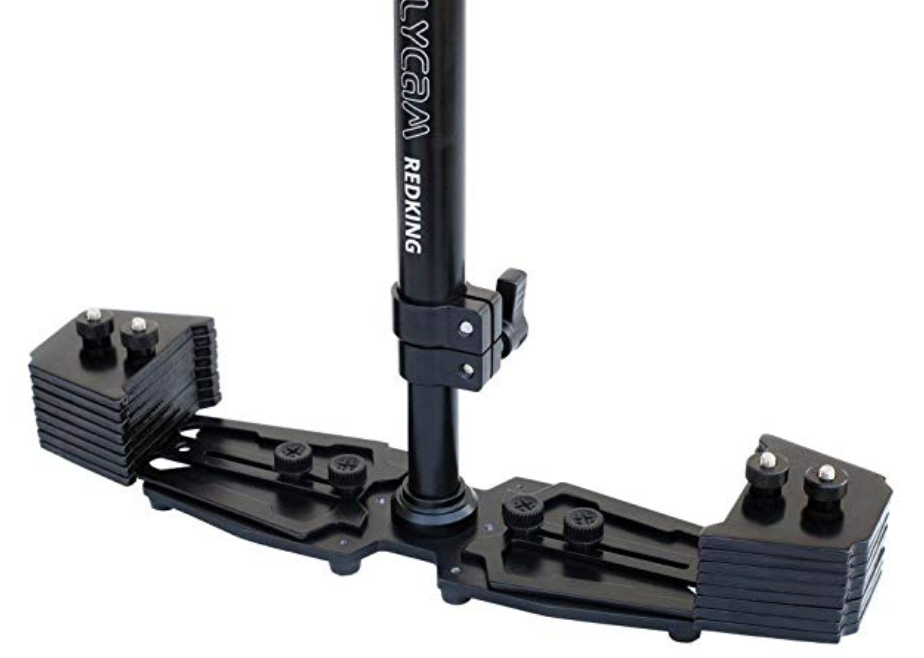 The counterweight plate shown in the image above did get a little criticism when the Redking was initially released due to its closed bottom design. Most other brands will use an open bottom design where there are gaps between the supports on the bottom plate and people were saying with the Redking used a close design without the gaps, you have to carry around one pound of additional weight with you.
In our opinion, this is a totally moot point as you are going to have to mount your counterweight plates anyway. When it comes to balancing the Redking, we can't think of a single camera rig that the additional pound of base weight will matter to. On the flip side of this though, having that additional pound of weight means that you have to carry fewer counterweight plates with you when you travel so it ends up being an advantage for the Redking.
Another thing that Flycam have done with the Redking that help to score it points over the competition is that the gimbal feet are actually screwed into the base plate, not just glued on. In our experience, this makes a large amount of difference as they seem much more robust and sturdy whereas the ones that are just glued on seem to randomly fall off during use.
Overall, we feel that Flycam has done an excellent job with the Redking when it comes to its user interface and control system. Everything is as easy to use as possible and if this is your first manual handheld gimbal stabilizer then we are confident that you will be able to pick it up and use it efficiently without running into any problems.
Click Here To Check Prices And Availability!
How To Balance The Flycam Redking
Now, we have tried to explain how to balance a few gimbals in our reviews now and we have come to realize that it is probably much easier for our readers to understand if we show a video of the process rather than type it out. Due to this, we have decided to share the independent video tutorial on how to balance your Flycam Redking above.
Rest assured though, the process is very simple, it is based around the X-Y adjustments for horizontal balance and the central column. Even if you are brand new to using a manual 3 axis gimbal, we are confident that you will be able to quickly and easily balance the Redking and prep it for use with your camera rig.
Build Quality And Design
Build quality is another area where Flycam has smashed it out the park and in our opinion, the Redking has a better build quality than all the other units at its price point as well as competing units that are almost double its price. Now, you have to realize that this is the first big hit from Flycam so they are still learning and there are a small number of issues but in general, its build quality is great.
Unlike an electronic gimbal, the lack of electronics means that the Redking is perfect for use in poor weather conditions. Come rain or shine, you can be out and about with your Redking and it will keep providing your camera rig with all the image stabilization that you could ever require.
The majority of the gimbal body is made from high-quality CNC machined aluminum that ensures the gimbal is both lightweight and robust. This is perfect as there is no doubt in our mind that the stabilizer will end up either taking bumps during use or during transit but it is nice to know that it is robust enough to take them and not be phased.
The telescopic central post of the gimbal is sturdy and solid and gives you plenty of confidence that it is able to support the weight of your gimbal and that your camera rig won't end up crashing to earth due to it giving way. Although rare on these manual stabilizers these days, some of the cheaper units around the price point of the Redking can still feel a little flimsy. Thankfully though, this is not an issue with the Flycam rig and it feels solid and stable.
The actual stabilizer comes in at around 3.7 pounds of weight without any of its counterweight plates mounted on it. Each of the counterweight plates come in at 0.25 pounds meaning that the overall weight of the rig with a DSLR or mirrorless camera mounted on it is still pretty light. With the light overall weight and comfortable handle on the Redking, we are confident that our readers will easily be able to hold the rig without issue, even when working longer sessions.
Now, onto the first thing that we would love to see changed with the Redking. The head of the stabilizer has to be manually screwed on and off as required every time. Although this is not really a big deal and until a few years back, all manual stabilizers we like this. It just becomes tedious and annoying having to waste a few minutes each time when you have to mount or unmount the head of the stabilizer to the body.
Now, if you don't think that you will have to be traveling around much with your Flycam Redking then this really is not an issue as you can just mount your head once and then leave it mounted indefinitely. Just on future stabilizers from Flycam, we would love to see a machined system where you can just twist the head-on and have it securely mounted, although this would result in a price increase, we feel that it would be worth it.
The only other issue we have with this stabilizer is that the handle grip is not very secure and until you get used to it slightly slipping around during use, it sometimes feels like the gimbal is giving way and that your camera is falling to the ground. Although this can feel a little unnerving at times, from our experience, you can easily get used to it after a few sessions of using the Redking.
Just in any future products from Flycam, we would love to see a molded handle grip that does not slip when held. This definatley seems to be the main point of constructive feedback from the community on the Redking and we really hope Flycam take it on board for their next stabilizer.
Other than those two points though, we feel that Flycam has done an excellent job with the stabilizer when it comes to its build quality. You have to remember that the Redking goes for around the $200 mark while having better performance, design, control systems, and build quality than units more than double its price.
Click Here To Check Prices And Availability!
FAQs
Question – Will it work with my camera rig?
Answer – This is without a doubt the most commonly asked question that we see asked about the Redking and it totally depends on your camera setup and payload weight. Provided that your setup comes in at less than the 15.4 maximum load capacity of the Redking, we are confident that your camera rig will work with the stabilizer.
Question – Can you mount a field monitor to the Redking.
Answer – Just like the vast majority of other gimbal stabilizers, you are unable to natively mount a field monitor but it is possible via a cold shoe mount or an L-bracket.
Question – Is there a steady support system available for the Redking?
Answer – Yes, the Flycam Yoko 2 works as a steady grip/steady support for the stabilizer.
Our Verdict
As you can probably guess from our review, we feel that the Flycam Redking is a great little stabilizer that will make an excellent addition to the camera accessories of anyone who chooses to invest in it. It is easy to see why the stabilizer has managed to quickly earn an excellent reputation for itself that shows no signs of slowing down its growth.
The massive 15.4-pound maximum load capacity of the Redking also gives us confidence that it will provide the image stabilization that most of our reader's camera setups required for optimal image quality too. Even without its budget-friendly price tag, we would recommend that anyone interested in purchasing the Redking gives it a go as it is a great bit of kit, the fact that it is budget friendly is just a bonus.
Click Here To Check Prices And Availability!
Click Here To Read Independent Reviews!