The Ultimate Neewer Vision5 Review!
There has been a steady increase in the number of people reaching out about the Neewer Vision5 outdoor studio flash strobe over the last few months and although we have been busy, we have finally had the free time available to site down and publish our full, dedicated review of this great little professional, studio-level, outdoor flash unit. Our hope is that our article will be able to help as many of our readers as possible who are looking to add a solid outdoor flash to their camera accessories or anyone who is just looking for more information on the Vision5.
At the time of writing, we would say that the Godox AD200Pro is probably the closest rival to the Neewer Vision5 on the market. That said though, when you factor in the reputation of the Vision5 and the AD200Pro it becomes clear that the community prefer the Neewer option over the Godox flash. On top of this, Neewer have also released a newer version of the Vision5 and although it does offer slightly better performance we don't actually feel that the additional cost at the time of writing make it a better option than the regular Vision5 for the additional cost.
Having been designed from the very start to dominate the outdoor strobe light niche the Vision5 offers some of the best possible performance and meets the demands of and outdoor flash. It offers some of the best versatility that we have ever seen from a flash unit and is ideal for capturing your subject with excellent image quality for both fast-moving objects as well as stationary models too.
Although the TTL function of the Vision5 will work with all cameras, additional wireless functionality is also available with the a large number of Nikon, Canon, Sony, Panasonic, Fuji, Pentax, Olympus as well as various multi-rig wireless flash triggers too. This means that no matter what rig you are using, you should easily be able to incorporate the Neewer Vision5 into it to help improve the image quality that you are able to capture for your clients with your flash photography.
Performance And Functionality
The main reason that we feel that the Neewer Vision 5 has been so much more popular than the Godox AD200Pro is the fact that when it comes to performance and functionality, you simply get more bang for your buck by going with the Neewer unit over the Godox offering. Not only does this help to improve the image quality that you are able to capture by adding the Vision 5 to your camera accessories but it also increases the versatility of your overall rig too.
As we touched on earlier, the Vision 5 comes with full, build-in 2.4G wireless remote control functionality as standard. This ensures that you are to integrate the flash strobe into a multi-flash setup with ease and the eight individual wireless channels available on the Vision 5 allows you to come up with some pretty creative multi-flash setups to meet the needs of your clients.
Boasting great TTL functionality, a high guide number of 68, and high-speed sync, the Vision 5 can meet the needs of a number of common situations across most photography niches with ease ensuring that it is able to deliver exactly what you need. Getting the most out of one single flash purchase not only helps to keep your costs down but also keeps the size and weight of your camera accessories as low as possible if you need to travel for work too.
One of our favorite features of the Neewer Vision 5 is the fact that you are able to get around five hundred full power flash activations from each full set of batteries used. This puts the majority of the competition to shame and the excellent power management of the outdoor flash strobe really sets the Neewer technology apart from the competition.
The excellent power management also transfers over to the 13w fully dimmable LED modeling bulb on the Vision 5 as well as when you run the flash strobe at 400d at 1/8000s. Where many compeating outdoor flash units can have problems with overheating or run out of battery rapidly, the Vision 5 just keeps on going without issue.
Another area where the Neewer power management technology comes in to play is with the fast flash recycle time too. Usually, the quicker the recycle time frame on a flash unit, the quicker the battery will deplete and although doing as low as 0.01 seconds on your Vision 5 will deplete the batteries energy quicker than using recycle times up towards if 2.8-second limit, it does not actually deplete as quickly as you would expect.
The Vision 5 also delivers a 5600k color temperature with plus or minus 200k variations to allow you to get that natural sunlight feel out of the flash when needed. This can be a great way to improve the overall lighting on an outdoor photography session while keeping your lighting as natural looking as possible.
For those of you working in photography niches where you will need the fastest possible flash duration, the Neewer Vision 5 boasts a range of 1/650 up to 1/10000 although shorter flash durations with a rapid recycle time can sometimes lead to some issues with overheating unless regular breaks are taken.
When you take all of this into account as well as the fact that the Neewer Vision 5 comes in at a relatively low price point considering what you are getting for your money, it's easy to see why it is such a popular outdoor flash strobe. Additionally, if you skim some of the many excellent, independent reviews that the Vision 5 has earned since its release, it is obvious to see that the community absolutely love it too.
User Interface And Control System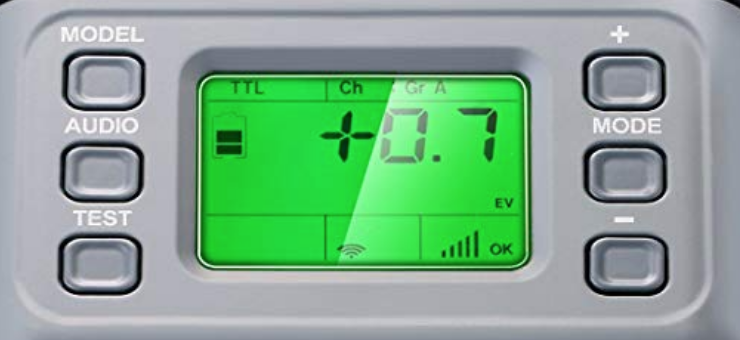 Although the user interface and control system on the Vision 5 looks dated due to the plastic finish, it actually performs very well and allows you to quickly and easily tweak the various settings on the strobe flash with ease. This coupled with the very easy to follow navigation menu on the flash allows you to save a surprising amount of time during a session where you are having to tweak your flash settings on a regular basis.
As you can see from the image above, the interface is based around a standard LCD panel and a few buttons. It also follows the standard Neewer philosophy of being as easy to use as possible allowing anyone who has never used a strobe flashlight before to easily get to grips with the Vision 5 without having to put too much time into learning the system.
On top of this, due to the Vision 5 using a Bowens mounting system, you are also able to easily adjust a large number of additional camera accessories to your flash strobe with ease. That said, unlike some other outdoor flash units, the Vision 5 does not come with a softbox included but the a decent Neewer softbox is cheap enough to pick up if you feel that you will require it.
Build Quality And Design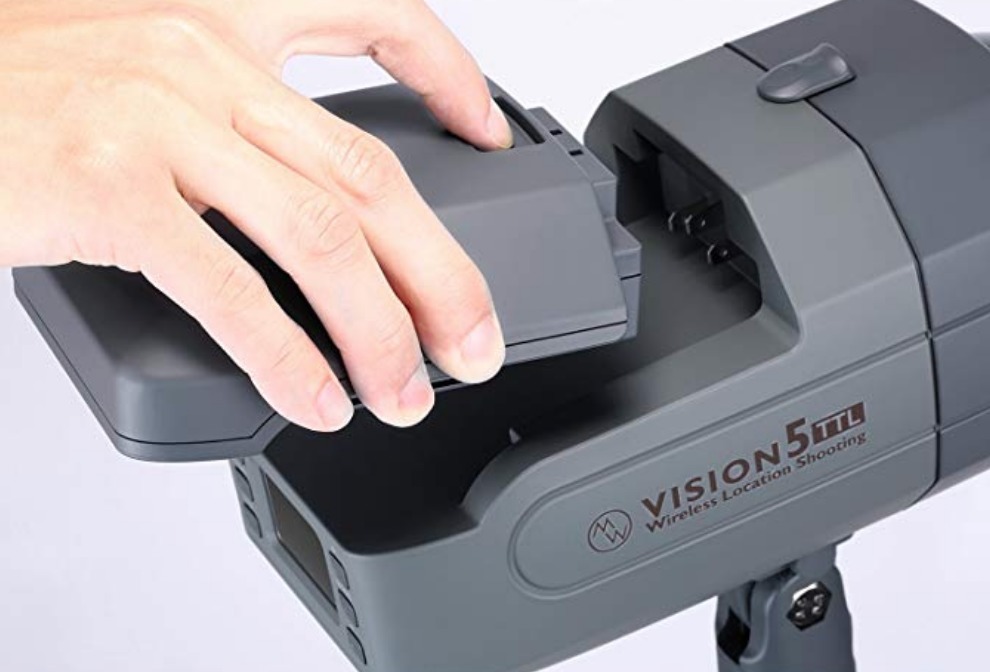 Now, as you would expect for a modern outdoor flash strobe, the
Neewer Vision5
has an absolutely outstanding build quality that ensures that it is tough and robust enough to deal with the inevitable bumps and knocks coming its way during use and while in transit. Although Godox has also managed to produce a very robust outdoor strobe in their
AD200Pro
, the Vision 5 is slightly lighter helping to score it some minor points in the matchup. Coming in at only 3.69 pounds with a diameter of only thirty inches, the Vision 5 is very easy to pack away in your luggage if you have to travel via plane on a regular basis for work too without going over your luggage allowance.
Thankfully, Neewer has put a fair bit of work into the actual design of the Vision 5 over the Vision 4 to help optimize the heat dissipation of the flash unit during use. As we touched on earlier in the article, if you are using the quicker flash recycle times as well as a very short flash duration, you may run into some overheating issues but pretty much every other situation should be smooth sailing without problems.
If you are a professional-level photographer or videographer then this is an excellent feature as the last thing you want is to have a client and models on site for the session only for your gear to start overheating. Even with the quicker, higher output settings on the Vision 5 for your flash activations, provided you give the unit time to cool down when possible, you may still be able to get through hundreds of flash activations without running into issues too but keep an eye out for overheating warnings with the quick recycle and shorter flash durations.
Our Verdict
That brings our ultimate Neewer Vision5 review to a close and we know that it is a little short compared to most of our other reviews but there is only so much you can say about an outdoor flash strobe, especially one as good as the Vision 5. If you are looking to expand your lighting rig and want to add some outdoor capabilities to it then the Vision 5 can make a great addition to your collection of camera accessories.
That said though, if you are still on the fence about picking up the Neewer Vision 5 then there are a bunch of additional, independent reviews online from the community that you can read. We would highly recommend that you are least skim over a few of them if you are still on the fence as they offer a great insight into the performance of the unit.