The Ultimate Zhiyun Smooth 4 Review!
There is an old photography saying that goes "the best camera is the one you have with you" and in this day and age, it is rare that someone will be without their smartphone. With the latest smartphones getting better and better cameras with each subsequent release, more and more people are turning to their smartphones as a quick, easy, and convenient camera for their photography and videography.
Due to this increase in smartphone use for videography, especially for things like vlogging and social media videos, we have also seen a large increase in the number of people reaching out about how they are able to get the best image quality possible. In our opinion, the best camera accessory to help improve the video quality of your smartphone is a good, smartphone gimbal.
There is no denying that the Zhiyun Smooth 4 is probably the most popular smartphone gimbal stabilizer on the market right now with its absolutely massive customer base and well-deserved reputation within the community that both keep growing as time goes on. We are constantly seeing people reaching out for a Zhiyun Smooth 4 review too so we have decided to publish this article to help any of our readers in this same position.
Comparison Table
Product
Joint First!
Zhiyun Smooth 4
Joint First!
DJI Osmo Mobile 2
Second Place!
Hohem iSteady
Joint Third!
Neewer Gimbal
Image





Last update on 2023-09-11 / Images from Amazon Product Advertising API
Our comparison table above shows the  Zhiyun Smooth 4 going up against its top five competing gimbals on the market right now comparing some of the key features of each gimbal. Now, although some of the smartphone gimbals in the table may look like they beat the Smooth 4 on paper, the Zhiyun gimbal blows them out of the water when it comes to its performance.
In fact, the only other gimbal for smartphones on the market at the time of writing that even comes close to the level of performance of the Zhiyun Smooth 4 is the DJI Osmo Mobile 2 that you could consider to be joint top. Every other gimbal is lacking when it comes to the actual performance and image stabilization that they are able to provide for your smartphone.
Considering that the price difference between the Zhiyun Smooth 4 and our bottom-placed gimbals in the table above is only $40, we would imagine that the vast majority of our readers, especially those with an expensive smartphone, are able to spend the additional money to get the best image stabilization possible for their videos.
Performance And Functionality
As we mentioned, when it comes to performance, the Zhiyun Smooth 4 is in a league of its own with only the
DJI Osmo Mobile 2
even coming close to the image stabilization that the gimbal is able to provide for you. This is due to Zhiyun being one of the dominant brands in the gimbal space for almost a decade now and having more experience, data, and feedback than the majority of the competition out there.
This has ensured that Zhiyun is able to use all of this to always stay ahead of the competition to ensure that their gimbals are the best they can be while also having the lowest possible price tag on the market. The Smooth 4 is no different to this and Zhiyun have built on the constructive feedback of their previous gimbals of produce this little gem.
It is able to support a maximum load capacity weight of 0.46 Pounds meaning that at the time of writing, the gimbal can easily support all of the latest Apple iPhone and Andriod devices with ease. Additionally, depending on your smartphone type, there is often a fair bit of spare load capacity weight leftover that you can use for additional accessories like a smartphone camera lens to help further improve the image quality you can capture.
The Smooth 4 is also able to provide you with up to twelve hours of battery life per charge ensuring that you have all the juice needed for a day of recording before you plug it back into the mains and recharge the gimbal. If you are looking to pick up this gimbal for anything like vlogging then twelve hours should be enough for niches like travel vlogging where you may not be able to recharge the gimbal for a few days at a time.
That said, when you do plug it into a mains power outlet, you can take the Smooth 4 from totally empty to full in around three hours of charging. On top of this, due to the handheld gimbal stabilizer having a USB C input, you are also able to recharge the gimbal on the go while away from a power outlet with a power bank. This should ensure that you have all the power you need to keep your gimbal going for as long as your session required without issue.
On top of this, the Smooth 4 also has two-way charging meaning that you are able to charge your gimbal and then use your gimbal to charge your phone while out and about. This can really extend the during that you are able to stay away from main power outlets so if you are a travel vlogger or are involved in something like hiking vlogging, this is an excellent feature to have.
The cinematic video footage above was recorded using a smartphone mounted to the
Zhiyun Smooth 4 gimbal stabilizer
and does a great job of showing you how well it can perform for you. As you can see, the levels of image stabilization that the gimbal provides for you are absolutely second to none! Additionally, it is effortless for the gimbal motors to provide these levels of stabilization ensuring that the gimbal is quick to correct any movement that it detects to ensure the best image quality possible.
As you would expect from a modern Zhiyun gimbal stabilizer, the Smooth 4 also has all of the latest gimbal modes to ensure that you are able to get the most out of the gimbal with minimal effort. This includes the time-lapse mode, manual mode, point of view mode, and the excellent intelligent object tracking mode. You are able to use these to your advantage to help improve the quality of your footage and capture some natural-looking, smooth image stabilization for your video footage.
The time-lapse mode on the Smooth 4 has been totally overhauled too making it even better than it previously was. It now has a number of sub-modes and settings including freestyle time-lapse, motion lapse, hyper-lapse, and slow-motion. This allows you to capture some unique looking video footage with ease to help give your videos a unique look and feel.
We also want to touch on the totally overhauled intelligent object tracking feature. If you are using your gimbal to record footage of a subject then this makes your life so much easier. You simply open the Zhiyun smartphone app, select the object that you want to gimbal to track by touching it on your phone screen and then the gimbal will do its best to keep your camera focused on the object or subject while both you and it are moving.
Click Here To Check Prices And Availability Of The Zhiyun Smooth 4!
User Interface And Control System
Now, the Zhiyun Smooth 4 has one of the best control interfaces currently available for any handheld smartphone gimbal stabilizer on the market. It is so easy to use that we are confident that anyone will be able to pick the Smooth 4 up and quickly get it working and capture some excellent video footage even if you have never used a gimbal before.
As most smartphone-based videographers are at the hobbyist videography level, we would imagine that many of our readers have never used a gimbal before and maybe a little worried about having to learn how to use on. Thankfully, Zhiyun has ensured that the Smooth 4 is as user-friendly as possible and we are confident that you will easily be able to get it working.
It is based around the standard control system of an LCD panel, a joystick, and a few buttons with a rear trigger. If you have previously used a gimbal then you will be familiar with the majority of this but for those new to using a gimbal, essentially, this offers you the most control of the gimbal and your smartphone possible while requiring the minimal effort from you.
Additionally, the vast majority of the control system can be controlled using just your thumb. This allows you to keep the rest of your hand firmly wrapped around the gimbal handle to ensure that the rig is fully supported at all times. Now only can this help to save you time when tweaking a setting but it also ensures that your gimbal and phone are as safe and secure as possible while doing so.
The hotkey buttons on the control panel can also be programmed for additional functionality too. On top of this, there are dedicated buttons on the gimbal for its vertigo shot mode, its point of view orbital shot mode, and its roll angle time-lapse mode too. Although we will touch on the design of the gimbal in more detail later in the article, we just feel that Zhiyun has really put the time and effort in when it comes to the Smooth 4 to ensure that everything is as quick and easy to use as possible.
Now, although this may seem like a tiny little feature to those who have never used other smartphone gimbals before but the Zhiyun Smooth 4 actually tells you how much battery life it has left directly on its LCD panel. We love this as rather than getting a random blinking low battery LED with no additional information as you do on some competing gimbals, you get your low battery warning on the Smooth 4 but then you can check how much battery you have left and plan accordingly.
All in all, we can't fault Zhiyun at all when it comes to the interface system for the gimbal and feel they have done an excellent job. It is quick and easy to learn making it ideal for anyone who has never used a gimbal before while also offering all the advanced features and customization for an advanced user too.
Smartphone App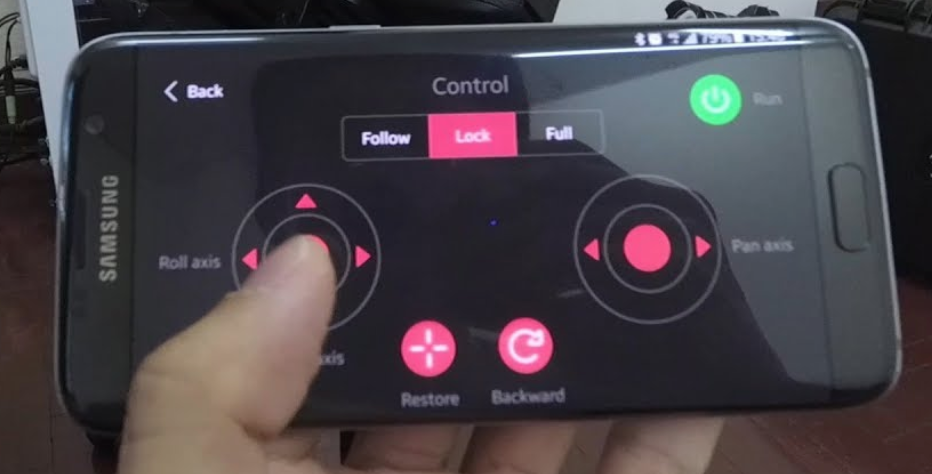 The ZY play smartphone app is the official Zhiyun app for the Smooth 4 that offers you a bunch of additional features. If you are an advanced gimbal user and you want to get into the customization settings of the gimbal then the app also has you covered and lets you pretty much do anything you want to your gimbal settings.
The app is clean and easy to use while also having some solid connectivity. The older Zhiyun smartphone apps used to be a total nightmare and were a pain to connect to your gimbal while also randomly dropping their connection. Thankfully, these seem to be a thing of the past as the newly updated app seems to have corrected these issues.
Although the app has a bunch of settings and pre-programmed modes that you can tweak and use, we would imagine that most of our readers will only use a small number of the features it offers. This is fine as we know many smartphone videographers are entry-level gimbal users and just want some quick, easy, and cheap image stabilization for their videos.
Although the ZY Play app does offer some advanced functionality for our more advanced readers, the Smooth 4 also has functionality with the very popular Filmic Pro app too. Filmic Pro is an extremely popular premium app within the photography and videography communities with many people loving it. Although you do have to pay for the app, if you are an intermediate or advanced videographer then it is well worth the investment for its stand-alone features, never mind its functionality with the Smooth 4.
Click Here To Check Prices And Availability Of The Zhiyun Smooth 4!
Build Quality And Design
The Smooth 4 is based around the standard 3 axis gimbal design that is the most popular handheld gimbal design these days due to it being so efficient while also being very easy to use. Additionally, the Smooth 4 has specifically been designed for use with a rectangle smartphone rather than any type of actual digital camera. Then ensures that the gimbal is able to offer your phone a full range of motion when in use without having any issues due to your phones rectangle shape.
Another design feature of the Zhiyun Smooth 4 that we love is the axis locks on the gimbal head. This allows you to quickly and easily lock the head of the gimbal in place so it is unable to freely rotate when not powered up. Not only does this make the gimbal easier and safer to carry with you while powered down between shots with your phone still mounted to it but it also makes transporting the gimbal in your bags much easier.
We have lost count of the number of reports from videographers where the head of their gimbal rotated during transit resulting in some form of damage. Thankfully, all of the latest Zhiyun gimbals come with axis locks to prevent this and make your life much easier. Another design feature that we love on the Smooth 4 is that you are able to quickly and easily rotate the head between landscape and portrait use within seconds.
Although landscape video footage is better for sites like YouTube, it is generally agreed that Instagram video footage is better when recorded in portrait due to the way Instagram display your videos. The adjustable gimbal head allows you to record something in landscape for your video clips for YouTube before quickly switching it to portrait to quickly record it again for optimal Instagram image quality.
Now, moving on to the build quality of the Smooth 4, Zhiyun has really outdone themselves in our opinion while also pushing the Smooth 4 well ahead of the competition when it comes to build quality. The majority of the gimbal is made from high-quality plastics that not only ensure that the gimbal is as lightweight as possible but also ensuring that it is tough too.
This ensures that you are able to put the Smooth 4 in your day bag to take it out on your adventures for the day without even realizing the additional weight. On top of this, the robust nature of the gimbal also ensures that you can rest assured that any bumps coming its way while in your bag will not have much of an effect on the gimbal too.
The lightweight of the gimbal also makes it very easy to hold for extended periods of time during use. So many smartphone gimbals on the market these days are heavy and can end up causing your hand to ache if you hold them for any period of time. This helps to push the Zhiyun Smooth 4 even further ahead of the competing gimbals and we are confident that you will be able to hold its lightweight for as long as you need without getting aches or cramps.
Click Here To Check Prices And Availability Of The Zhiyun Smooth 4!
Balancing Process
Now, if you are a first-time gimbal user, you may be a little worried about balancing your gimbal for use with your smartphone. Thankfully, the process has been made to be as easy as possible but we know that some people may still have mixed feelings about the unknown so we have decided to include this section in our review.
Now, in our opinion, the video above is a better way to learn how to balance your Zhiyun Smooth 4 as it actually shows you what to do. We are big believers in the saying, if a picture paints a thousand words then a video paints a million. The video is less than five minutes long but does a great job of explaining how you should be balancing your Smooth 4 for use with your smartphone.
That said, here is a quick text-based overview of the process. First up, slide your smartphone as close as you can to the tilt axis motor on the gimbal head. Next up, flip the gimbal over to loosen the thumbscrew for the roll axis on the back of the head to adjust the center of gravity as required by sliding the horizontal arm. You know that you have your center of gravity set correctly when your smartphone will stay level without assistance when the gimbal is powered off. Relock the thumbscrew to secure the horizontal arm and you are done.
If this is the very first gimbal that you have ever used then it may take a few minutes for you to learn how to balance the Smooth 4 at first but once you have gone through the process a few times, it takes less than a minute. As the Smooth 4 does have a minimum load capacity of 0.165 pounds, you may have to use some counter weights but this should not be needed for modern smartphones due to their weight.
Our Verdict
That brings our Zhiyun Smooth 4 review to a close and it is easy to see why the gimbal has such an excellent reputation within the smartphone videography community with so many excellent independent reviews. At the time of writing, its only real competition within the smartphone gimbal space is the DJI Osmo Mobile 2 with everything else lagging well behind the two front runners.
We have no doubt in our mind that adding the Zhiyun Smooth 4 to your collection of smartphone accessories will be a great investment and help you quickly and easily improve the image quality that you can record. The image stabilization that the camera provides is second to none and it is well worth the money in our opinion.
Click Here To Check Prices And Availability!