3 Of The Best 35mm Lenses For Pentax K1000 Cameras!
When it comes to vintage cameras, it can be a total nightmare to source decent quality lenses that are still in a serviceable condition while also being cost-efficient. Not only have many of these old school lenses broken or been damaged enough to provide poor image quality but many of them that do remain are often sitting unused in a spare room making finding them for sale a total nightmare.
Now, we know that many photographers and videographers do tend to frequent thrift stores but again, this can limit the pool of available potential lenses to a very small area so we would always recommend that you go with an online vendor to offer maximum exposure and drastically increase the odds of you finding the lens you are looking for. Although we feel that Amazon have definatley taken the lead when it comes to the more modern camera lenses, in our opinion at least, eBay is definatley leading the way when it comes to the vintage lenses and can provide a quick and easy way to source vintage lenses for as cheap as possible.
That said, we have noticed more and more people reaching out with each passing month and asking for advice on the best 35mm lens for Pentax k1000 camera bodies so we are going to be focusing on three 35mm lenses for today's article. Our hope is that we will be able to help any of our readers looking to pick up a new 35mm lens for their k1000 while helping them avoid some of the common problems photographers run into while hunting for a vintage lens.
Now, as we touched on above, eBay is definatley the way to go in our opinion and we have seen some suitable lenses go for as little as $20 on the platform! That said though, this is going to come down to luck so we have settled on three different lenses below that can commonly be found on eBay that are popular amongst k1000 users. That said though, before we go any further and get into what you should be looking for, we just quickly want to go over one lens type that we see Pentax k1000 users purchase that should be avoided.
Although the k1000 is a Pentax K mount camera body that will mount the majority of the K mount lenses on the market right now, the Pentax K mount DA range WILL NOT WORK with the Pentax k1000. In addition to a small number of other things, this is due to the fact that the lens range does not have an aperture ring and the k1000 not having any internal aperture control to use the lens.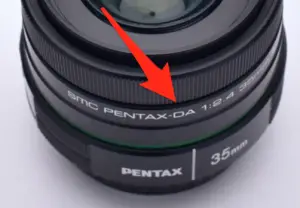 Thankfully though, the Pentax DA range is clearly marked as shown in the image above makes it easy to avoid accidentally adding one to your collection of camera accessories when you know to avoid them. We just wanted to point this out to our readers before going any further as we have seen countless k1000 users fall foul to this and accidentally purchase a K mount lens that will not work with their camera body.
We will not be moving on to take a look at the three 35mm camera lenses that we do recommend for your Pentax k1000. We will be covering them in order of what we feel can provide you with the best possible image quality and have options available for all budgets too.
The SMC Pentax 35mm
First up, we have the SMC Pentax 35mm that we feel is probably going to be your best option when looking for a 35mm lens for the Pentax k1000 as it offers excellent image quality, great control, and mounts natively to your k1000 camera body. It is one of, if not the most popular option from the 35mm range for the k1000 at the time of writing and is often available for purchase on sites such as eBay allowing you to quickly and easily add the lens to your collection.
Now, there are actually two variants of the lens available with different apertures and price tags so there will have to be a little decision making on your part. First up, we have the SMC Pentax 35mm F3.5 that is the cheaper and more common variant of the lens they are readily available and often have a number of sellers offering them. They offer some great image quality for your Pentax k1000 for with the 35mm focal range and are a great little lens to add to your camera accessories.
If luck is on your side then they can sometimes be found for under $75 making them an absolute bargain and well worth picking up in our opinion. That said, they are usually priced in the sub-$100 range and are still worth purchasing at that price point if they are available.
Next up we have the second variant of the lens, the SMC Pentax 35mm F2 that is probably the best possible 35mm lens that you will be able to find for your k1000. It has the better aperture offering optimal low light performance and the best image quality of all of the featured lenses. On the flip side of this though, they are rarer than the f/3.5 variant of the lens while also having a higher price tag. That said though, the image quality is better so if you have the budget available then they can make an excellent addition to your camera accessories.
The SMC Pentax 35mm F2 will usually be found for under $150 but if luck is on your side then you may be able to find them for under $100. Due to the popularity of the lens, finding them for under $100 not only presents a great bargain for you but can also potentially be relisted and sold quickly at a higher price point to turn a profit.
The Asahi Takumar 35mm f/3.5
Next up we have one of the most popular 35mm lenses for the Pentax K1000 and usually the cheapest, the Asahi Takumar 35mm f/3.5. Although the image quality of the lens is nowhere near what the SMC Pentax 35mm covered above is able to provide for you, it is a solid option and very budget-friendly. The Asahi Takumar 35mm f/3.5 can sometimes be found for as little as $20 making it a solid option to add to your camera accessories but realistically is usually around the $40 price point.
Now, although the cheap price tag may seem attractive, the Asahi Takumar 35mm f/3.5 is an M42 mount lens rather than a native K mount. This means that you will also have to purchase an M42 to K mount convertor that can usually be found for under $5 allowing you to mount the lens directly to your Pentax k1000.
That said though, not only does the Asahi Takumar 35mm f/3.5 have a lower image quality than the SMC Pentax 35mm but the converters can often lower this even further. This is why we would always recommend that you consider the SMC Pentax 35mm over the Asahi Takumar 35mm f/3.5 but if you are on a tight budget or like that retro, vintage image quality style then it can be a solid 35mm lens for your k1000.
The Chinar 35mm f/2.8
The final 35mm lens for the Pentax k1000 that we want to be covering is the Chinar 35mm f/2.8 but in all honesty, we would recommend that our readers go with either of the options above over the Chinar 35mm f/2.8. Even back when the lens was originally released it had issues with its build quality meaning that they have aged poorly and not stood up to the punishment they have taken over the years well.
Although a fully serviceable Chinar 35mm f/2.8 in good quality can be a great 35mm lens for your K1000 and provide you with some great image quality for cheap, they are an absolute nightmare to find due to the flimsy build quality. They can usually be found for under $50 but be sure to double-check the condition of the lens to ensure that it has been looked after well.
If you are lucky, some of the more reputable vendors on eBay who sell fully refurbished lenses may have them in stock (click here to check for current availability) presenting an excellent buying opportunity. Not only does this offer you the peace of mind that the lens has been checked and has been fully refurbished but it also usually comes with some form of refurbished warranty from the vendor if you do run into issues with the lens after your purchase.
Wrapping It up
So there you have it, we know that the Pentax k1000 is still a popular vintage camera body with a dedicated user base who love their camera. With the 35mm focal range being so popular and versatile too its not surprising that we see so many people reaching out for 35mm lenses for the k1000 either. We just hope that our advice has helped some of our readers source a great little lens that you can get out and about and capture some solid photographs with.
Again, we would highly recommend that you go with the SMC Pentax 35mm over either of the other two lenses due to its superior image quality but the budget that you have available, as well as your look with the sellers listing the lenses, will dictate the options available to you. Good luck in your search and we hope that you are able to source a great little 35mm lens for your k1000!