The Best Gimbal For Nikon D3400 Cameras!
The Nikon d3400 is an extremely popular entry-level DSLR camera body that has a massive customer base of both photographers and videographers all over the world that just keeps on getting bigger and bigger as time goes on. Just like all of the other popular camera bodies on the market, we often see people reaching out with various questions about how they are able to expand their collection of camera accessories to improve the level of image quality that they are able to capture with their d3400.
With a number of videographers, vloggers, and social media influencers using the d3400 as their camera body of choice, it's not surprising that we have noticed an increasing number of people reaching out and asking for advice on the best gimbal for Nikon d3400 cameras. Thankfully, due to a few new releases over the last year or so, there are actually a number of excellent quality gimbal stabilizers on the market that you can pick up to improve your image stabilization.
As we always want to help as many of our readers as possible, we have decided to focus today's article around gimbals that are suitable for the d3400. We are hoping that this will help as many of our regular readers who use the Nikon d3400 as possible as well as any other videographers who find our article via Google or social media too.
Now, in our opinion, the absolute best handheld gimbal stabilizer for the d3400 is the Zhiyun Weebill S and we would highly recommend that any of our readers who are in the market for a 3 axis gimbal seriously consider adding it to their camera accessories. In our opinion, it is the best gimbal made to date and this shows with the rapid increase growth of its customer base as well as the large number of excellent reviews that the review has received from the community since release.
That said though, we know that our readers all have different budgets available for their camera accessories so we also want to quickly touch on a more budget-friendly that we would consider the best cheap gimbal for the Nikon d3400. The Weebill Lab is actually the predecessor to our primary recommendation the Weebill S and is an excellent gimbal stabilizer that offers some solid image stabilization. Due to the release of the newer Weebill S, the Weebill Lab recently received a price reduction of just over one hundred dollars depending on the retailer making it an absolute bargain if you are on a budget.
With that out of the way, we will be focusing the rest of the article exclusively on the Zhiyun Weebill S as it is our primary recommendation for the Nikon d3400 and feel that it should be your primary consideration should you have the budget available. We will be taking a more in-depth look at the gimbal and going over why we feel this way to try and help any of our readers who like to know as much as possible about any potential new addition to their camera accessories.
Performance And Functionality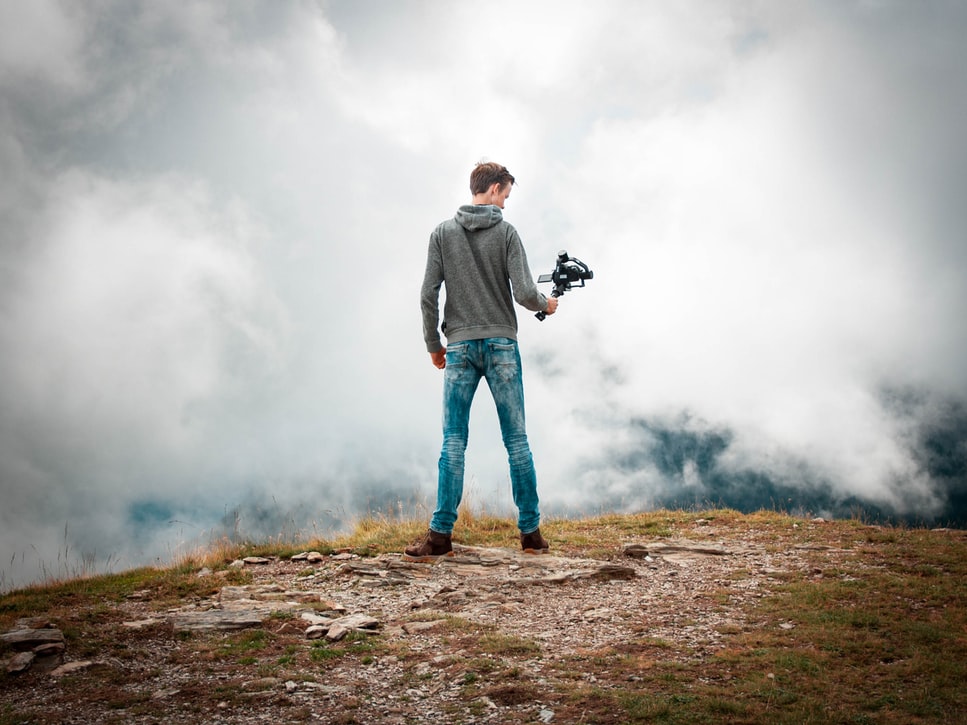 Thankfully, the Nikon d3400 is a very lightweight DSLR camera coming in at only 0.9 pounds of payload weight without any of your other camera accessories mounted to it. That said though, even with your lens, microphone, flash, and other gadgets, the 6.61-pound maximum load capacity of the Weebill S will make light work of the vast majority of popular d3400 setups, even if you are using a long and heavy lens.
Unlike some other compeating gimbals on the market right now that can have a number of problems with their image stabilization the close you get to their maximum load capacity, the Weebill S remains smooth all the way up to, and including the 6.61-pound limit. This ensures that you are getting the best possible image stabilization no matter what you have mounted to your camera body to allow you to get the best possible image quality for your clients and content.
The Zhiyun Weebill S also comes with an excellent maximum battery life of around fourteen hours ensuring that it has plenty of juice for you to capture all the content you need before having to recharge it. This ensures that you should easily be able to go about your day without having to worry about your gimbal running out of battery and you missing out on any potential content.
The gimbal can also be recharged from empty back to full in around three hours when plugged into a regular wall base power socket. If you are working in a niche where you may be away from civilization for days at a time such as wildlife videography or travel vlogging then you may also look to invest in a solid, high output USB power bank to allow you to recharge all of your devices while on the go too.
The clips above were captured using the
Weebill S
and offer some great real-world footage that shows how good the image stabilization on this gimbal actually is. As you can see, the camera is kept perfectly stable at all times during use even though the videographer is moving around over rough terrain at times. In our opinion, the clips serve as a solid example of the type of image quality you are able to capture for yourself should you add the Weebill S to your camera accessories.
The gimbal performs so well due to the various improvements that Zhiyun has made to their detection and correction system over the years to ensure that they hold their dominant edge over the competition. This starts with the new sensors that Zhiyun has been developing for the gimbals in their Weebill range that have some of the highest sensitivity that we have ever seen to date and are able to detect tiny movements that other gimbal sensors would likley miss.
The motion data from the gimbal sensors is then processed by the Zhiyun balancing algorithm that is side by side with the algorithms from DJI and Moza at the top of the pack at the time of writing. This quickly works out the best way to stabilize the detected motion in the gimbal head before sending the information on how best to stabilize your camera to the gimbal motors. At the time of writing, the gimbal motors in the Weebill S are the best available on the market and use next-generation technology to ensure that they are as small, lightweight, and power-efficient as possible while also being able to provide you with all of the torque required for heavier camera rigs.
This results in butter-smooth video footage that helps you capture the best possible image quality possible. If you are doing paid videography work or looking to record videos for sites like YouTube or to post on your social media pages this really adds that professional edge to your footage. It really is easy to see how the Weebill S has managed to get so many videographers and vlogger to post so many excellent independent reviews of the gimbal in the short time that it has been available for sale.
User Interface And Control System
Zhiyun has always been innovating with the control interfaces for their gimbals with each new generation of gimbal being better than the last and the Weebill Lab is no different. The image above shows the interface for the gimbal with the optional smartphone mount attached to the handle but depending on what you are planning to use your gimbal for with your d3400 you may never actually need the smartphone mount.
As you can see, the basics of the system is based around the joystick, a handful of buttons, and the LCD panel and is essentially a very similar control system to the other gimbals on the market right now. The main advantage of the Zhiyun system over the competition is that it is very easy to use so if you are looking to purchase your first stabilizer and have never actually used one previously, you should easily be able to get to grips with the Weebill S without having to put a large amount of time into learning how to get the most out of your gimbal.
On the flip side of this though, if you are an experienced videographer and have been using gimbals previously then the advanced features of the Weebill S allow you to pull off a number of advanced movements with your Nikon d3400 with ease. This can really help your content stand out from what the competition is able to provide their clients and help you push ahead of the compeating videographers in your area or other vloggers in your niche.
One of our favorite things about the control interface that Zhiyun has decided to use on their Weebill gimbal range is that the joystick is excellent. It is one of the most responsive and sensitive joysticks on any gimbal that we have seen to date offering some of the best manual control that we have ever seen. No matter what niche you are working in, there is a high chance that you will be using your gimbal in manual mode with your d3400 mounted to it and the responsiveness of the joystick really shines.
Smartphone App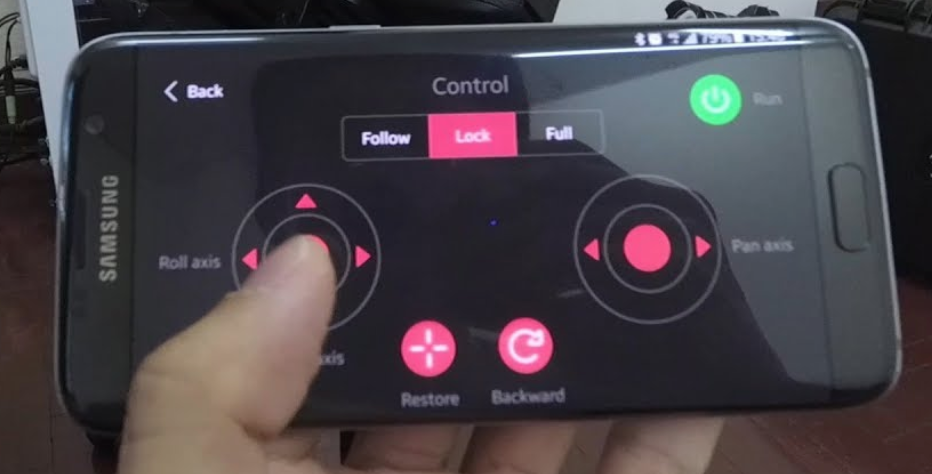 Next up we have the Zhiyun smartphone app that has most definatley been through bad periods previously with a number of issues but at the time of writing, it is actually a pretty solid gimbal accessory that is well worth downloading to your smartphone if you do pick up any of the Zhiyun gimbal range. Zhiyun have overhauled their app a few times and finally managed to fix all of the bugs that were causing problems with connectivity as well as improved its navigation menu to make it much easier to use.
Now, the usefulness of the wireless remote control mode from the app is definatley going to depend on the niche that you are working in with your d3400 but in all honesty, it is surprisingly useful and tends to see more use than we would have initially expected. That said, our favorite feature on the app is the ability to tweak your settings on the gimbal within a matter of seconds helping you save a whole bunch of time while out and about.
We are fully aware that some of our readers will never have to tweak the default config that the Zhiyun Weebill S comes shipped with it due to having been optimized for mirrorless cameras and lightweight DSLRs like your Nikon d3400. We also know that some videographers love to tweak with their gadgets and although you can tweak its settings via the physical interface and by plugging the gimbal into your computer, the app is so much quicker.
Build Quality And Design

The image above shows the new direction that Zhiyun are taking their new Weebill range gimbals in and in addition to natively providing videographers with the ever-popular handheld gimbal functionality, they have also included a quick and easy native underslung mode too. This allows you to go from upright handheld to undersling within seconds while keeping your Nikon d3400 mounted to the gimbal throughout. There is no need to purchase additional gimbal accessories or waste time with complicated processes, the Weebill range does it right out the box.
In addition to this major design change, Zhiyun has also made the Weebill gimbal range as small and as light as possible and make their popular compact gimbal design even smaller! This makes the Weebill S the perfect travel gimbal for your Nikon d3400 if you are working in a niche where you have to travel around on a regular basis, especially via a plane. The small size and lightweight of the Weebill S ensuring that you can easily pack it without taking up too much space or adding too much weight.
Our Verdict
That brings us to the end of our article going over why we feel that the Zhiyun Weebill S is the best gimbal for Nikon d3400 cameras and should definatley be considered. It offers excellent performance with a solid build quality and can make a great addition to your camera accessories without having to break the bank. On top of this, the gimbal has managed to earn a number of glowing independent reviews from the community that shows other videographers are big fans of the gimbal too. On top of this, we also have our own review of the Weebill S but most of the points have already been covered in this article.
If you are on a tight budget or are looking to purchase a cheaper gimbal for your Nikon d3400 then the older Zhiyun Weebill Lab is still a solid option and performs almost as well as the newer Weebill S. It also has a number of solid independent reviews and we also have our own dedicated review of the Weebill Lab too that you may find helpful.