The Ultimate GoPro Karma Grip vs DJI Osmo Pocket Comparison!
Over the last few years, all in one gimbal unit like the DJI Osmo Pocket have become more and more popular within both the action sport and vlogging niches. Previously, the best option was to purchase an action camera like a GoPro and then pick up an action camera gimbal like the Karma Grip to capture your adventures but now, action sports enthusiasts have an option.
Both methods have their advantages over each other and arguably the DJI Osmo Pocket with its excellent reputation is the top all in one solution on the market right now and the GoPro Karma Grip with its excellent reputation is one of the best action camera gimbals right now. Due to this, we are constantly seeing people reaching out for a dedicated GoPro Karma Grip vs DJI Osmo Pocket article so we have decided to make that the focus of today's article.
Our hope is that this article will be able to help any of our readers who are considering purchasing either of these stabilizers and adding them to their collection of camera accessories. Now, before we actually get into the article, we just want to say that both of these handheld gimbals are great bits of kit and either can make a great addition to your camera accessories. Both products have also been designed for slightly different roles within action sports too and are not actually direct competition to each other.
In our opinion, no matter what the specs of the units are the winning gimbal stabilizer for your situation will likely come down to your needs. If you want a small, very lightweight handheld gimbal that is very easy to use but not very versatile then the DJI Osmo Pocket is a solid option. On the flip side of this though, the GoPro Karma Grip offers a ton of versatility as your action camera is fully detachable. This means that you can capture footage from the Karma Grip, then capture footage holding your camera in your hands then use a wearable gimbal to meet the needs of your situation.
As the action camera is sold separately for the Karma Grip we often see that as the more popular option for people who have been involved in their action sport of choice for longer and have more of a budget available for their accessories. If you are on a tighter budget, new to your sport, or more of a vlogger then the Osmo Pocket can be considered the better option due to its lower overall price tag when you factor in the cost of the actual action camera in addition to your Karma Grip.
Performance And Functionality
Moving onto the performance and functionality of the gimbals and as you would expect from two of the industry giants, both gimbals offer some excellent performance that has helped them establish their position at the top of their respective niches. We have some sample footage that has been recorded using both of the gimbals below and as you will be able to see, the levels of image stabilization provided and the improvements to the image quality that you are able to capture are very close to each other.
Now, as the DJI Osmo Pocket camera is permanently mounted to the gimbal body, there is no need for a maximum load capacity as everything is permanently mounted to the unit. On the flip side of this, the GoPro Karma Grip has a load capacity of around 0.3 pounds allowing you to quickly and easily mount all of the current GoPro action cameras on the market to it without issue. We have noticed some people mention that future action cameras on the GoPro range may be heavier in the future but in all honesty, we doubt it, GoPro has stuck to the sub-0.3-pound weight mark and we don't really see this changing in the future with new additions to their range.
When it comes to the maximum battery life of each unit, the GoPro Karma Grip comes in at around one and a half hours of battery per charge whereas the DJI Osmo Pocket comes in at around two and a half hours of power per charge. For battery life, we have to give it to DJI as the battery life on the Karma Grip can fall even more if you use its two-way charging system to top up the power in your action camera while mounted to your gimbal.
All of the clips in the sample video above have been recorded using a GoPro Hero mounted to the
GoPro Karma Grip
and shows a realistic representation of the levels of image stabilization that you are able to expect from the gimbal. We feel it offers a number of different types of clip in a few different situations to show off the capabilities of the gimbal as well as how it is able to help improve the levels of image quality that you can capture.
Although there is a very small amount of hand with a touch of lag in some of the clips, this is simply due to the age of the Karma Grip and the technology within it. Although the the tech in the Karma Grip was solid for back when it was initially released, it is a fair few years old now and starting to show its age. If you do want the best possible technology thn something like the DJI Osmo Mobile 3 with the third-party action camera mounting plate to actually mount your camera may be a better option when it comes to the performance, image stabilization, and image quality it can provide but it is not as tough and robust as the Karma Grip so there is always a trade off.
All of the video footage in the clips above have been captured using the
DJI Osmo Pocket
and do an excellent job of showing off the capabilities of the Osmo and what you are able to expect from it during use. As you can see, the image stabilization is butter smooth and the setup can provide you with some of the best image quality available for the price at the time of writing.
As we mentioned earlier, this is largley due to DJI putting a perminantley mounted camera sensor on the Osmo Pocket meaning that they always know the payload weight of the camera that will be mounted to the gimbal. This offers a number of advantages starting with the balancing process taking seconds and being extremley easy to do. Then we have both the gimbal sensors and gimbal motors knowing exactly what payload to expect meaning they offer some of the best detection and correction on the market right now.
Finally we have the actual DJI balancing algorithm and in all fairness, we feel that DJI, Zhiyun, and Moza are all way out ahead of the competition at the time of writing whn it comes to their balancing algorithms. They work flawlessley and the DJI algorithm on the Osmo Pocket knows the exact payload on the camera allowing it to be hard coded so the gimbal sensors don't have to take the time to work it out.
This results in some very snappy image stabilization that is very rapid, free from lag, and has zero hang too. If your action sport of choice has a large number of short vibrations in rapid succession then this plays to your advantage as the detection and correction system on the DJI Osmo Pocket is extremley quick that the image stabilization will be flawless.
As we mentioned earlier though, the main strength of the DJI Osmo Pocket over the GoPro Karma Grip is also its main weakness. The fact that you can remove the camera from your Karma Grip and use it in other ways is just not possible with the Osmo Pocket. Additionally, say the next range of GoPro action cameras offer a massive resolution update, you are able to keep your Karma Grip and just update your actual action camera to get the improvement to the frame per second and maximum resolution.
Both of these handheld gimbals do offer solid performance but as we mentioned at the start of the article, your own personal situation and what you will be using them for is going to play a major part in the unit that is better for you and your needs. Although the fact that you can mount different action cameras to the Karma Grip does have some disadvantages, it also offers advantages over the DJI system as we have tried to explain in this section.
User Interface And Control System
Now, in our opinion, both the DJI Osmo Pocket and the GoPro Karma Grip have a great interface and control system for their target audience. Both brands have realized that their target audience for each gimbal are unlikely to be a professional level videographer and simply need a quick to learn, easy to use interface for their products. Thankfully, both brands have done a solid job of implementing a system that achieves these goals and it definatley makes life easier for their customers who have never used a gimbal prior to either of these products.
Both systems are very easy to use and ensure that you are able to get the most out of the gimbal without having to invest hours into learning it. They also offer some decent manual control over the gimbal head during use too ensuring that you are also able to tweak what you are recording mid-session without having dramas or having to go through some lengthy process.
Now, we feel that the system on the DJI Osmo Pocket is ever so slightly harder to use than the system on the GoPro Karma Grip due to it being smaller and more compact. On the flip side of this though, the Osmo Pocket also has its LCD panel that shows you what you are recording. Although the GoPro action cameras have an LCD panel to their rear to do the same, once mounted to the Karma Grip this can be a bit of a pain to see.
Both interface systems on the gimbals are so close to each other that we are just going to call a tie in this area. If you are brand new to using a 3 axis gimbal stabilizer then we are sure you will be able to quickly and easily learn the systems on either gimbal without issue with minimal time needed to be invested on your part.
Smartphone App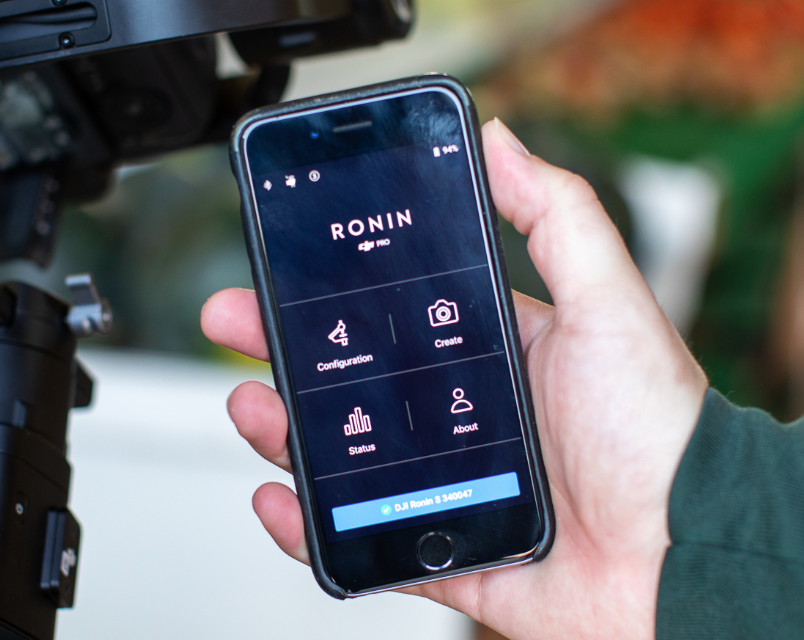 Smartphone apps are increasing in popularity amongst gimbal users as they are actually able to provide you with some solid functionality and additional features. Both GoPro and DJI have a solid app available for their device that offers very similar functionality so again, we are going to have to call a tie in this area. Both apps offer some wireless remote control functionality for their respective gimbals while also offering some quick and easy access to the gimbal settings while on the go.
If you are a more advanced gimbal user with experience using gimbal stabilizers that have been designed for use with mirrorless or DSLR cameras then the simplicity of the physical control interface covered above may be a little limiting to you. This is where the app can come in and offer you some quick and easy advanced customization to tweak the performance of the gimbal to meet the needs of your session.
On the flip side of this, if you are brand new to gimbals, we just want to say that the default shipping config in both of the gimbals will be fine for the majority of our readers who choose to use them anyway. We just don't want anyone new to using a gimbal to think that they have a whole bunch of customization that they have to do prior to use, this is totally optional and will not be needed for the vast majority of people.
Build Quality And Design
When it comes to the build quality of the gimbals we feel that the
GoPro Karma Grip
does come out ahead of the
DJI Osmo Pocket
if you are actually planning on using the gimbal for any type of extreme sports. It has a very robust build quality and can definatley take its fair share of bumps and knocks during your sport of choice. Although the Osmo Pocket is a solid bit of kit, the joint between the gimbal head and body is definatley a weak point that the Karma Grip doesn't have.
On the flip side of this though, the Osmo Pocket is smaller and much lighter than the Karma Grip offering advantages in this area. If you are involved in regular vlogging or an action sport with a low risk of you bailing on a regular basis then the lightweight and smaller size of the Osmo Pocket can be beneficial. If you have to travel around via plane a whole bunch for your sport of choice it can also help keep your gear within your luggage allowance to offering you additional benefits there over the GoPro gimbal too.
One thing that both gimbals have absolutely nailed in our opinion is the handles on their gimbals that many competing brands fall short on. Both stabilizers have a solid, easy to grip, yet very comfortable handle that allows you to hold it for hours at a time without getting any aches, cramps, or discomfort in your hand during use.
Our Verdict
That brings our GoPro Karma Grip vs DJI Osmo Pocket comparison to a close and as we mentioned back at the start, both gimbals are excellent and can be great additions to your camera accessories. They are so similar in so many areas and we have tried to go into the sections where they differ from each other and have advantages over each other but the best gimbal is going to come down to you and what you need out of it.
If you need verstility and a tough gimbal for an action sport then the GoPro Karma Grip is probably better. If you need a small, lightweight, smooth gimbal then the DJI Osmo Pocket will probably come out on top. On top of this, you can also read independent reviews of the Karma Grip and independent reviews of the Osmo Pocket to get additional insights from people who use them as their go to gimbals of choice.