The Best Selfie Stick For Sony RX100 Cameras!
Although the Sony RX100 was already a very popular camera, especially amongst the vlogging and social media influencer crowd the recent release of the latest variation, the Sony RX100 VII has spiked popularity in the camera. After publishing our article on what we feel is the best gimbal for the Sony RX100 a few weeks back, we have noticed a large number of people reaching out about the best selfie stick for Sony RX100 cameras.
Although we focus most of our content on gimbals and manual camera stabilizers, we have decided to make selfie sticks for the RX100 the focus of today's article to try and help any of our readers who are looking to add a selfie stick to their collection of camera accessories. Now, as the Sony RX100 is a point and shoot camera, a traditional selfie stick will simply be too weak to support its weight, this is why we feel the Kusky Selfie Stick is the best option currently available on the market.
It is a versatile and robust next-generation selfie stick that can easily support the weight of your Sony RX100 with ease. Its quick and easily adjustable head allows you to mount point and shoot cameras to it via their 1/4 inch mounting thread while also being able to mount smartphones and action cameras when required too. This has made it a very popular stick within the community that has a customer base that is growing at an almost exponential rate while its reputation amongst the community just gets stronger and stronger.
If you are in the vlogging or social media space then the Kusky Selfie Stick is a great option for you as you can quickly switch from your Sony RX100 to your smartphone to your action camera and then back to your RX100 if needed. This ensures that you are able to quickly and easily capture the selfies or video footage that you need without having to waste your time.
In addition to this, if you choose to upgrade from your RX100 to a mirrorless camera in the future then the Kusky Selfie Stick is also able to support many popular mirrorless camera bodies too. There are a large number of people who use the stick with the Sony Alpha range without issue due to the excellent build quality of the stick. Although the selfie stick is cheap enough anyway, this offers you some future-proofing for future upgrades to your kit to help improve your image quality.
Performance And Functionality
Now, as we mentioned earlier, at the time of writing, there are currently seven different variants of the Sony RX100 with the RX100 V and RX100 VII being the most popular right now. Depending on the variant of the RX100 that you own, your camera body alone will have a payload of between 0.5 and 0.6 pounds meaning that the Kusky Selfie Stick is easily able to support it. The RX100 VII also comes with an external microphone input to meaning that you may be using a rig with a decent external vlogging mic like the
Rode Video Mic GO
adding another 0.16 grams of payload weight but still coming within the maximum load capacity of the Kusky Selfie Stick.
This means that you are able to mount your Sony RX100 rig to the selfie stick and go about your business as required capturing excellent audio and image quality while also having the benefit of a selfie stick. If you are involved in something like travel vlogging this can be a great way to quickly and easily share your experiences of your travels with your subscribers while capturing your surroundings in all of their glory.
As we mentioned earlier, the unique twist to adjust head on the selfie stick also ensures that you can quickly and easily switch from your RX100 to an action camera within seconds. This allows you to go from vlogging your surroundings to capturing yourself doing some action sports while out and about without having to either waste time or keep your RX100 on the stick. This versatility of the Kusky Selfie Stick ensures that your subscribers and followers are able to see everything you get up to while out and about to help build your authenticity.
As shown in the image above, the handle of the Kusky Selfie Stick can be released to turn it into a mini-tripod as shown in the image above. This offers you some solid image stabilization in locations where you may not have that option and gives the stick a solid advantage over the competition. Although on paper the tripod is just as stable with a point and shoot or mirrorless camera mounted to it as it is with a smartphone or action camera, we would advise caution when using the mini-tripod with your Sony RX100.
Although we have not seen any reports from owners of the Kusky Selfie Stick about it blowing over, we always have that worry when using mini-tripods over a traditional traditional travel tripod. We know that we are often paranoid when it comes to things like this and that chances are the selfie stick will perform fine we just wanted to ensure that our readers are as careful as possible. If you are in a location that is windy, we would double-check that the mini-tripod is set up correctly and that the wind will not be able to randomly blow it over.
With a maximum length of just under 27 foot, the Kusky Selfie Stick allows you to capture some excellent selfies that includes as much of your background as possible. The 225° rotatable head also ensures that you can adjust the position of your Sony RX100 as required to ensure that you can comfortably hold the stick in any situation while having your RX100 point in the desired direction. The 33-foot wireless remote control included as standard with the Kusky Selfie Stick also allows you to capture even more of the landscape in your selfies while still having you in the frame too.
When you take all of this into account, it's not surprising that the Kusky Selfie Stick is as popular as it is and is the dominant next-generation selfie stick on the market right now. It has an absolute ton of excellent third-party reviews online from independent users of the stick that offer some great insights into its performance too.
User Interface And Control System
Now, although the Kusky Selfie Stick is just a simple selfie stick, it actually has a solid user interface and control system that is the best we have seen to date. The image above shows the base of the stick as well as the BlueTooth wireless remote control and its housing. As you can see, the remote control fits into its own snug storage area on the stick to reduce the chances of it going missing when not in use.
Although a number of competing sticks have tried to pull this off, the majority of them have not designed their product well enough to ensure that the remote will actually stay in its housing when not in use. This results in the remote control disappearing when the stick is in your bag and you losing out on the remote control functionality.
The actual section lockers are also very easy to lock in place and undo as required too meaning that you are able to quickly and easily change the length of the stick while you have your Sony RX100 mounted to it. This means you can switch between maximum length to capture great selfies with as much of the landscape in frame as possible to a more close up angle for any video footage where you are talking to the camera within seconds.
All in all, we feel that Kusky has done a great job with the interface on their selfie stick and have absolutely nailed it. We have lost count of the number of reports from people who use competing sticks saying how they have lost the remote after thinking it was placed safely in its housing. With the Kusky Selfie Stick, this is not an issue.
Build Quality And Design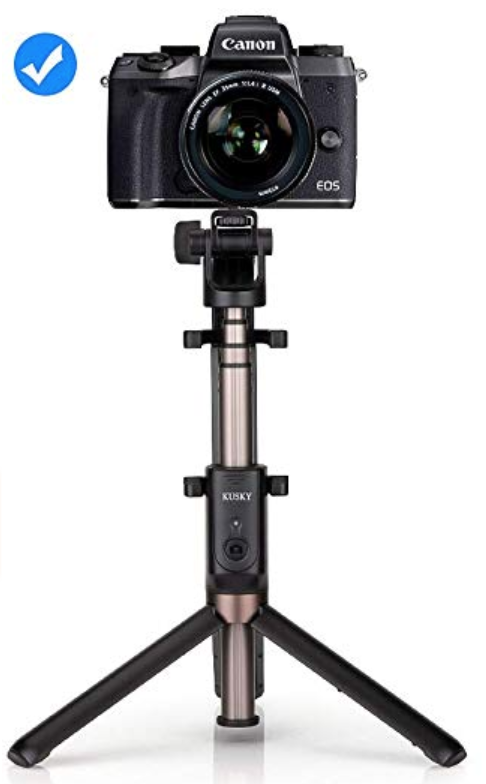 Kusky have also done a great job of actually putting the stick together to ensure that they deliver a robust yet very lightweight selfie stick for their customers. This means that if you are involved in a niche that needs you to travel a whole bunch that you can quickly and easily add the stick to your photography kit bag without having to risk knocking it over your luggage allowance.
Although probably not as useful with your Sony RX100, the robust nature of the stick also means that you are able to use it for your action sports when required too. If you carry a GoPro as part of your kit then this can be handy as so many selfie sticks can break after only a few knocks. The robust nature of the stick also means that it keeps its strength after being bumped around a bit making sure that its load capacity is able to support your RX100 too.
The last point that we want to make about the Kusky Selfie Stick under its build quality is that it has a very comfortable handle. You have to keep in mind that your Sony RX100 is a pretty heavy camera body to carry on something like a selfie stick and so many sticks have an uncomfortable handle. This means that your hand can ache or cramp with ease after holding it for a long period of time. The comfortable handle on the Kusky Selfie Stick prevents this and helps to ensure that you can hold the stick for as long as needed.
Our Verdict
That brings our article on what we feel is the best selfie stick for Sony RX100 cameras to a close. The Kusky Selfie Stick is without a doubt the dominant next-generation selfie stick on the market right now and is the only selfie stick that we would trust with an expensive point and shoot camera like the Sony RX100. There are an absolute ton of independent reviews online for the stick that you can read too if you like to get a more in-depth insight into its performance in various situations.