The Ultimate Moza Mini Mi vs Osmo Mobile 2 Comparison!
Over the last few weeks, we have noticed an exponential increase in the number of people reaching out for advice on smartphone gimbals. Apple has just confirmed the specs on their latest iPhone and the camera sensor on it is outstanding, especially for video recording so we feel that this has encouraged more and more people to start using their smartphone for their recording needs. The popular saying goes that the best camera is the one that you have with you and almost everyone carries their smartphone with them everywhere these days.
In addition to this, many vloggers and social media influencers are also starting to realize that the quality the latest smartphones are able to offer is very similar to the quality of a high-end point and shoot camera like the Sony RX100 range. We have seen countless vloggers confirm that they are making the switch over to just using their smartphone and the trend is really catching on.
It is not surprising that with people switching over to their smartphones, we are seeing people look for ways to further improve their image quality by adding a gimbal to their collection of smartphone camera accessories. We have published a few articles previously going over a few smartphone gimbals and we just keep seeing more and more comparison requests. Due to this, we have decided to make today's article all about our ultimate Moza Mini Mi vs Osmo Mobile 2 gimbal comparison.
Now, the successor to the Osmo Mobile 2, the Osmo Mobile 3 has just been released onto the market and within a few weeks, it has managed to establish itself as the dominant smartphone gimbal. It has managed to earn itself an excellent reputation amongst the community that just keeps growing as more people purchase the gimbal. Due to this, we would highly recommend that our readers go with the Osmo Mobile 3 over the two featured gimbals as it is at the same price point but with newer and better technology.
That said, we are not sure if it is just because the Osmo Mobile 3 has only been on the market a few weeks but we still see so many people asking about the Osmo Mobile 2, especially in comparison to the Moza Mini Mi. Due to this, we are still going to be going over our comparison table below followed by our full break down of both gimbals in the article to try and help any of our readers considering adding either product to their camera accessories.
Comparison Table
Image


Gimbal Type
3 Axis Handheld Smartphone Gimbal
3 Axis Handheld Smartphone Gimbal
Winner!
Image

Gimbal Type
3 Axis Handheld Smartphone Gimbal
Last update on 2023-11-14 / Images from Amazon Product Advertising API
Our comparison table above shows off some of the key features of the two featured gimbals to offer a quick comparison between the two. As you can see, each gimbal has an advantage over the other in different areas but one thing that is hard to show in a comparison table is the actual performance and level of image stabilization provided.
We will be sharing some sample video footage later in the article to show these off and you will see how the Osmo Mobile 2 sneaks out ahead of the Mini Mi with its quicker, smoother levels of image stabilization. This ends up resulting in a better image quality for your videos and helps to make it the better handheld gimbal stabilizer in our opinion and that's why we declared it the winner.
Performance And Functionality
Now, in our opinion, unless you are on a very strict budget, the most important factor of a gimbal is its performance and functionality and in all fairness, both the DJI Osmo Mobile 2 and Moza Mini Mi do a solid job for their relative price points. In our opinion, the main issue for the Moza gimbal is that the price difference is only between $20 and $30 depending on retailer meaning that it is easy for most people to find the additional budget and get the better performance of the
DJI Osmo Mobile 2
.
On top of this, the main advantage of the Moza Mini Mi over the Osmo Mobile 2 is that the larger load capacity really isn't needed on a smartphone gimbal. The majority of products from the current Apple iPhone, Samsung Galaxy, and Google Pixel ranges tend to come in between 0.3-0.45 pounds depending on the model.
This means that although the Osmo Mobile 2 has a maximum load capacity of 0.53 pounds coming in less than the 0.66 pounds of the Moza Mini Mi, the DJI gimbal can still support the premium level smartphones at the time of writing. On top of this, if you want to keep your phone in a heavy case as well as mount an aftermarket smartphone lens for even better image quality, the DJI gimbal can still provide the stabilization with its load capacity for most smartphones.
On the flip side of this though, outside of the quicker and better image stabilization, one of the main advantages of the Osmo Mobile 2 over the Moza Mini Mi is its maximum battery life of fifteen hours over the Mozas ten hours. Although on paper, this looks like a massive advantage for DJI, in reality, we would imagine that the ten hours offered by the Moza will be plenty for most people anyway.
If you are a serious vlogger or social media influencer who uses their smartphone for capturing their content, chances are that you have invested in a decent USB power bank anyway. These are very common for keeping your smartphone topped up with juice in your downtime but if your power bank has a high enough output level, they can also be used to charge your gimbal too. This pretty much keeps both your smartphone and gimbal going as long as needed without issue.
Speaking of recharging your smartphone, both the Osmo Mobile 2 and the Mini Mi support two-way charging. This means that you are able to charge your smartphone from your gimbal's battery when mounted. If you record a whole bunch of 4K video footage then it can really drain your battery quickly so being able to charge from the gimbal can really help you.
When it comes to recharging your gimbal stabilizer from a wall-based power outlet they are both very close with the DJI coming in with a three hour recharge time and the Moza taking around four hours to fully recharge. If you are using a USB power bank to recharge your gimbal then the time required will depend on the output level of your power bank so we are unable to give an estimated recharge time for this.
As we mentioned earlier in the article, the easiest way to show the differences in the performance that each handheld gimbal is able to provide for you is to show you some sample footage. All of the clips above have used the
DJI Osmo Mobile 2
for the image stabilization and as you can see, the image quality is flawless ensuring that your footage is as best it can be.
The butter-smooth image stabilization of the Osmo Mobile 2 is rapid due to the DJI gimbal sensors and gimbal motors being excellent. Although after Moza updated their balancing algorithm a while back to bring it up to standard with the DJI and Zhiyun algorithm, the difference in the sensors and motors stand out.
It helps ensure that both the detection and correction of any motion in the gimbal head is stabilized as quickly as possible without any hanging or lag. If you are wanting to purchase a smartphone gimbal to improve the image quality you capture for your YouTube channel or social media pages then super quick detection and correction helps. It ensures that your footage is as good as it can be and quality can help your content stand out against the competition and help your channel grow.
The sample footage in the video above has all been recorded using the
Moza Mini Mi
and shows off what the Moza offering is able to provide. Now, as many people who look to purchase smartphone gimbals are entry-level gimbal users, you may not see the slight delay in the stabilization at times. Depending on the niche that you are vlogging in this may not matter and going with the Mini Mi can also save you $20-$30 too.
For years the gimbal space has been based around the products released from DJI and Zhiyun but Moza is doing everything they can to make it a three-horse race. They are coming closer and closer with each new generation of their products but we just feel that the Mini Mi falls ever so slightly behind the DJI and Zhiyun offerings for this generation of gimbals.
User Interface And Control System
Although the image above shows the control interface for the Osmo Mobile 2, the system on the Mini Mi is actually very similar in almost every way. Both 3 axis gimbals use a traditional joystick and button-based control system to offer the user great control over the gimbal head. Additionally, both of the systems have joysticks that seem to be about as responsive and sensitive to each other too. Due to this, we are going to call a draw for both gimbals when it comes to their control systems.
The simplicity of both of the gimbals is perfect for the target audience as most people who purchase a smartphone gimbal are not professional level videographers and do not need a control system to that level. They tend to want something simple, that gets the job done, and is very quick and easy to learn. In our opinion, both DJI and Moza have done a great job of identifying these needs and making an interface that is great for their target market.
That said though if you are a more advanced gimbal user and know you will be wanting to use advanced features and customize the gimbal settings then the Zhiyun Smooth 4 is probably the better smartphone gimbal for you. It offers some great advanced customization but on the flip side of this, it does take a little longer to learn over the Osmo Mobile 2 and Mini Mi that can pretty much be used effectively right out the box.
Smartphone App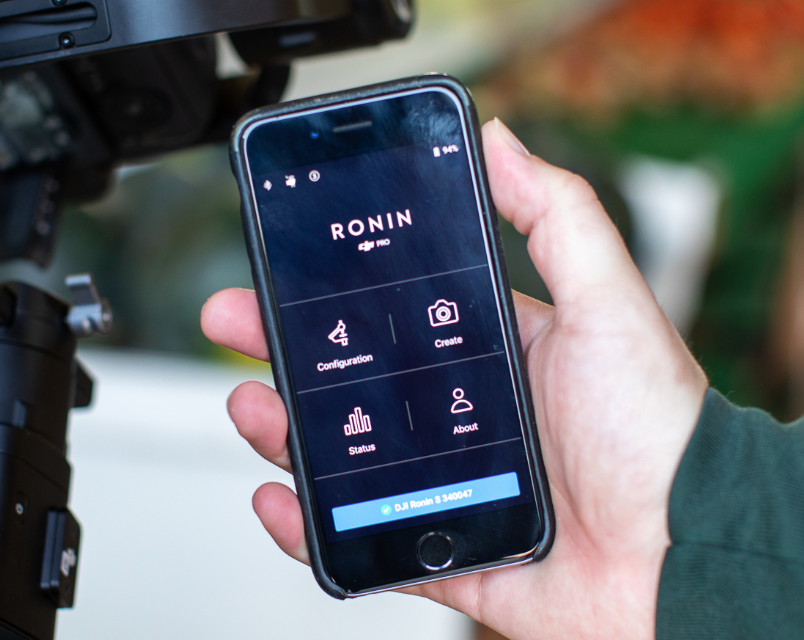 Another area where we are going to have to call a draw between the two gimbals is when it comes to their smartphone apps. Both brands have done a great job of keeping their apps serviceable and free from issues while offering some solid functionality and performance for their users. So many gimbal brands put out low-quality apps that have problems with initially syncing, random disconnects, as well as confusing navigation menus but both DJI and Moza, have managed to avoid these issues.
Although the apps can provide you with some wireless remote control functionality, it is pretty pointless on a smartphone gimbal in our opinion. As your phone will be mounted to your gimbal of choice most of the time, if you are close enough to use the app then you are close enough to use the gimbal.
On the flip side of this though, the main advantage of using both of the apps is the quick and easy access to the gimbal settings. As we mentioned above, it can be hard to tweak the settings on the gimbals due to the simplicity of the control interface. The apps offer some advanced tweaking if needed to allow you to change the performance of the gimbal to meet your needs.
Build Quality And Design
There really is not much innovation going on in the handheld smartphone gimbal space as the current design just works so well for what you need out of the gimbal. Both of the featured gimbals stick with the standard design so this is another area where we are going to call a draw between both the Osmo Mobile 2 and the Mini Mi. One thing that helps both gimbals stick out against their competition is the ability to quickly and easily switch the gimbal head from landscape to portrait mode though.
Although this may not be too useful for you depending on what you are planning to record with your smartphone, this can be a great little feature if you are a vlogger or social media influencer. Different platforms tend to do better with different orientations such as YouTube with landscape and Instagram with portrait. Being able to easily switch between the two allows you to save time while recording footage for multiple platforms helping make your life easier.
Even in this day and age, there are still some smartphone gimbals being released on to the market that has a clunky system to switch between portrait and landscape. Both DJI and Moza have avoided this problem with their quick and easy gimbal head helping both product score points over some of their competition.
When it comes to the build quality of the gimbals, we are going to have to call another draw as there really is not much between them. Both of the gimbals are tough while also being pretty small as well as lightweight. This ensures that you are able to pack the gimbal in your luggage without having to take up too much space or weight if you are a travel vlogger or something like that.
Our Verdict
That brings us to the end of our Moza Mini Mi vs Osmo Mobile 2 comparison article and like we said back at the start of the article, we feel that the newer Osmo Mobile 3 is better than both featured gimbals. We would highly recommend that you consider adding it to your collection of camera accessories as it has all the latest technology while also being priced at a similar price to the featured gimbals.
Now, we feel that the DJI Osmo Mobile 2 does sneak out ahead of the Mini Mi due to having slightly better performance. The gimbal has managed to earn plenty of solid reviews from the community since its release. That said though, the Moza Mini Mi is a little cheaper meaning that it could be a solid more budget-friendly option depending on how much you are wanting to spend.