The Ultimate Moza Mini S vs Zhiyun Smooth 4 Comparison!
So the smartphone gimbal market space is growing at an almost exponential rate right now due to the latest flagship phones from brands like Apple, Samsung, Google, and Huawei having some excellent camera sensors on them. This means that more and more content creators in both the vlogging and social media influencer spaces are switching over to using their smartphones for their content needs rather than a point and shoot camera like a Canon G7X or in some cases even a mirrorless camera like the Sony A6000.
Now, due to this, we are seeing a massive uptick in the number of smartphone gimbal questions being asked and our regular readers will probably know that we have been doing our best to keep up with the influx of questions. One of the most popular requests we have started seeing is for a dedicated article going over a Moza Mini S vs Zhiyun Smooth 4 comparison. Due to this, we have decided to make this the topic of today's article as we feel this article will be able to help a bunch of our readers.
Now, before getting into the article, we just want to quickly get something out the way rather than have you read the whole article just to mention it at the end. In our opinion, the DJI Osmo Mobile 3 is the kind of the smartphone gimbals at the time of writing and beats both of the feature gimbals in this article. It has only been on the market for a few weeks and has all of the latest technology offering you the best performance possible. Additionally, it has managed to earn a bunch of excellent independent reviews from the community since its release and is well worth purchasing in our opinion.
Now, with that out the way, we will still be going over our Moza Mini S vs Zhiyun Smooth 4 comparison article as we are seeing so many people directly asking about it. Now, out of these two gimbals, we feel that the Zhiyun Smooth 4 definatley comes out on top and outperforms the Moza Mini S in almost every way making it our go-to recommendation out of the two gimbals.
As usual, we have our short, quick and easy to read comparison table showing off some of the key stats for both featured gimbals below with a short break down and then throughout the rest of the article we will be taking a more in-depth look at both stabilizers. We will be showing off the strengths and weaknesses of both as well as why we feel that some apparent strengths on each gimbal are not actually as important as they may seem.
Comparison Table
Image


Gimbal Type
3 Axis Handheld Smartphone Gimbal
3 Axis Handheld Smartphone Gimbal
Winner!
Image

Gimbal Type
3 Axis Handheld Smartphone Gimbal
Last update on 2023-12-10 / Images from Amazon Product Advertising API
Performance And Functionality
Now, kicking off with probably the most important factor for any would-be handheld gimbal owner, the performance and functionality. Thankfully, both of the featured gimbals actually offer some solid functionality for their price points in the market and offer a great, quick, easy, and cheap way for any smartphone-based content creator to get some excellent quality image stabilization into their video footage.
Depending on the brand of smartphone you are using as well as if it is an entry-level or professional level device, you are probably looking at anywhere between a 0.3 pound and 0.4-pound smartphone payload. On top of this, many people will keep their phones in their cases when mounting them to their gimbals and in addition to this, more and more people are starting to mount an aftermarket smartphone lens to improve image quality even further. This all adds up but thankfully, both the Smooth 4 and the Mini S have the load capacity to handle it.
The Moza Mini S comes out on top on paper with a maximum load capacity of around 0.56 pounds of total payload weight whereas the Zhiyun Smooth 4 comes in with a 0.46-pound load capacity. Both will likely be plenty for your smartphone setup and ensure that you are able to capture all the video footage you need when out and about without issue. Now, the issue is, although on paper, the Mini S has the higher load capacity over the Smooth 4, in reality, it's not really needed on a smartphone gimbal.
The Smooth 4 is able to support the vast majority of smartphone rigs that we can think of so any additional load capacity is just taking up space, weight and battery life that could have been used to make the actual gimbal body smaller or lighter. The old argument of needing a larger load capacity on your gimbal in case you wanted to use a third-party action camera mounting plate so you can mount a GoPro or other action camera to the gimbal is invalid too. The majority of the newer premium level action cameras are sub 0.3 pounds meaning even with the mounting plate the total payload will only be around 0.32 to 0.35 pounds anyway.
We have a similar situation when it comes to battery life too but this time is the Zhiyun Smooth 4 coming out ahead of the Moza Mini S. The Zhiyun has a maximum battery life of around twelve hours and the Moza an eight hour battery life for each full charge but again, we doubt that most of our users will ever need the additional battery life on the Smooth 4. We would imagine that eight hours of power per full charge is plenty for most people to capture the video footage they need between opportunities to recharge their gear anyway.
The argument could be made that with both of the gimbals supporting two-way charging allowing you to charge your smartphone from your gimbals power supply, the additional four hours of battery on the Smooth 4 can help with that. Although this is a valid point, the majority of serious and established smartphone vloggers or content creators carry a high output USB power bank with them when recording anyway. The majority of the modern power banks are easily able to fully recharge a smartphone multiple times with many of them having the output level to recharge your gimbal in your downtime too.
One solid advantage that the Smooth 4 does have over the Mini S is its recharging time coming in at three hours over the Mozas four hours. Now, you may just be thinking that this is just one hour of recharging but you have to factor in what you are actually getting for that hour. With the Zhiyun Smooth 4, each hour charging provides you with around four hours of battery life for your gimbal whereas the Moza Mini S only gives two.
If you don't carry a USB power bank with you and have forgotten to recharge your gimbal this allows you to spend a shorter amount recharging the Smooth 4 and get much more usable battery life from the time than you can get from the Mini S. As you probably know, time is one of the most important resources we have in our lives and being able to reduce the amount of time we have to spend recharging our gear can help you get out and about with a usable gimbal quicker.
Now, in our opinion, the main advantage of the Smooth 4 over the Mini S is the quicker and better levels of image stabilization that it is able to provide for the user. The sample video above has been captured using the
Zhiyun Smooth 4
and shows exactly what we mean. As you can see, the Smooth 4 is able to provide butter smooth video footage that has no lag or hang when in use ensuring that your footage is as smooth as possible. Image quality is becoming more and more important as time goes on to help your content stand out from the competition and the Smooth 4 definatley offers better image quality than the Mini S in our opinion.
This is due to the fact that the Zhiyun balancing algorithm is probably top of its class alongside the DJI technology and although the new Moza balancing algorithm on their Moza Aircross 2 for mirrorless and DSLR cameras is definatley up there with Zhiyun and DJI, it is, unfortunately, not compatible with their Mini S. This makes all the difference as the Zhiyun algorithm is lightning fast and extremely good at what it does.
Although the gimbal sensors on both the Smooth 4 and Mini S are at a similar level and detect even the slightest movement on the gimbal, the Zhiyun balancing algorithm is better at working out how best to correct it as quickly as possible. The Zhiyun gimbal motors are also slightly better than the ones on the Mini S even though the Moza motors support a higher load capacity, the Zhiyun motors are able to adjust quicker helping everything stay as smooth as possible.
That said though, at the time of writing and depending on the retailer that you purchase your gimbal from, the
Moza Mini S
is around $40 to $50 cheaper than the
Zhiyun Smooth 4
so its level of performance is expected to be lower. That said, the footage above has been captured using the Mini S and does a solid job of accurately displaying the level of image stabilization and image quality that you are able to expect from it. As you can see, at times, the gimbal does slightly hang before stabilizing and although this is a minor thing, it is noticeable and does have a negative effect on the overall video quality.
When it comes to the overall performance and functionality of the gimbals, we feel that the Smooth 4 is out ahead and takes this category with ease. It is not surprising that the Smooth 4 is probably the most popular smartphone gimbal ever produced to date and even though the DJI Osmo Mobile 3 is a better option, it still has a growing customer base. On top of this, it has hundreds of independent reviews online from third-party smartphone-based content creators sharing their thoughts on the Smooth 4. In our opinion, those reviews are well worth skimming as they offer some excellent insight into the gimbal and what you are able to expect from it.
User Interface And Control System
In our opinion, when it comes to the user interface system for the gimbals, it is another clear win for the Zhiyun Smooth 4 with its interface shown in the image above. Although it may look a little intimidating if you are looking to purchase your very first gimbal and have zero prior experience using a stabilizer, it is actually surprisingly simple and easy to learn. As the majority of people who we see asking for advice on smartphone gimbals have not used a gimbal before, the simplicity of the Smooth 4's interface can really help. On top of this, Zhiyun has done a great job of breaking everything down in their user manual that is included with the gimbal but we doubt that you will need it unless you want to use some of the more advanced functionality.
Now, this is one of the best things about the system on the Smooth 4, even though it is very easy to use and can be picked up and understood by people with little to no time investment needed, the system also offers some great advanced customization options too. This means that if you are an advanced level gimbal user and know that you will be wanting access to quick and easy customization or the advanced features of the gimbal, the system on the Smooth 4 is perfect. Although the interfaces on both gimbals are decent and pretty easy to learn, the system on the Moza Mini S does lack any advanced functionality but again, it is a more budget-friendly gimbal at a lower price tag.
Both of the systems are based around the tried and tested joystick system that is very popular for 3 axis gimbals as it offers some great control in manual mode. On top of this, both gimbals also have some excellent sensitivity levels ensuring you have some great control over the gimbal head once you mount your smartphone to aim it as needed to capture the footage that you want. Although the Moza system is decent, we definatley have to give the win to the Zhiyun control interface as the advanced functionality has been implemented very well without making it confusing or hard to use for first-time gimbal owners.
Smartphone App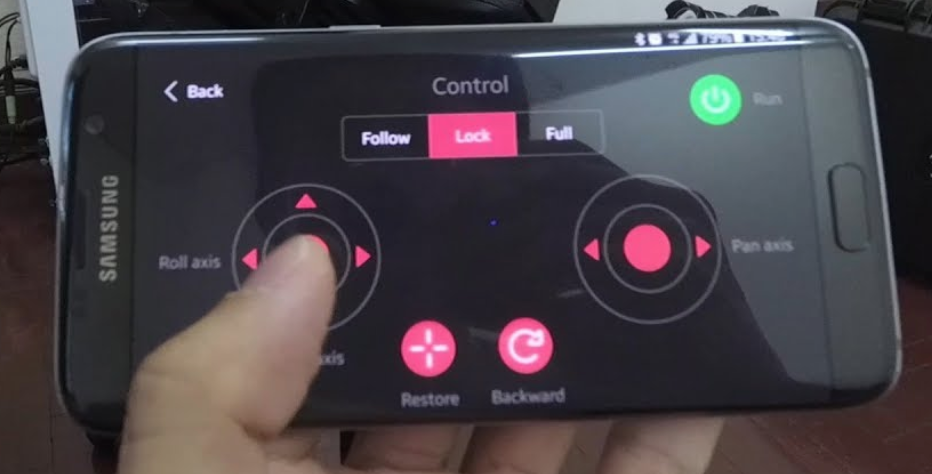 Although the app in the image above is the Zhiyun smartphone app, we are actually going to call a draw between the two as they are both solid gimbal accessories. This is rare as many gimbal brands have apps that barley work or even sync but both the Zhiyun and Moza apps are solid. They pair up with their respective gimbals with ease, they don't randomly disconnect, they have an easy to use menu and offer some solid functionality. No matter if you go with the Smooth 4 or the Mini S, the respective app for the gimbal is worth downloading to your phone.
When it comes to the functionality that the apps provided, it is basically the standard gimbal app features. This included quick and easy access to the gimbals settings to make any tweaks or customizations as required. Additionally, you are also able to gain wireless remote control of the gimbal via the app too due to the BlueTooth connectivity but in all honesty, on a smartphone gimbal, this is a bit of a waste. The majority of the time your smartphone is going to be mounted in the gimbal anyway meaning that you can just use the physical interface on the gimbal rather than the app if you are close enough to use it.
Build Quality And Design
There really hasn't been much innovation in the handheld gimbal space over the last few years, especially in the smartphone gimbal space as there really isn't much need to mix things up. The standard design that the majority of brands use including the Smooth 4 and Mini S offers everything that you need to get the most out of the gimbal while keeping it as small, compact, and lightweight as possible too. Due to this, there isn't much between the two gimbals when it comes to the design front. Due to this, we will be calling another draw when it comes to design as most smartphone gimbals on the market right now use a slight variation of each other.
We also have to call a draw when it comes to the actual build quality of the gimbals too as both of them are tough and lightweight. Many vloggers and social media influencers who use their smartphones to capture their content are involved in the travel space so the lightweight of either of the gimbals is an excellent feature. This ensures that you are able to pack your new gimbal in your luggage without having to risk tipping over your luggage allowance as you could with some competing smartphone gimbals.
Our Verdict
That concludes our ultimate Moza Mini S vs Zhiyun Smooth 4 article and as we mentioned back at the start of the article, we feel that the DJI Osmo Mobile 3 is the best smartphone gimbal on the market right now. It is better than both of the featured gimbals and will make a much better addition to your collection of camera accessories and provide you with the best image quality possible.
If you are set on purchasing either of the featured gimbals then we feel that the Zhiyun Smooth 4 is the better option and offers the better image stabilization for your videos. That said though, if you are on a tight budget then the Moza Mini S is a solid budget friendly smartphone gimbal but you can definatley tell the difference in performance.
If you are yet to make your mind up yet then there are a number of independent Smooth 4 reviews as well as a number of independent Moza S reviews that you can read. They offer a solid insight into how both gimbals perform and we also have our own dedicated Smooth 4 review on that you can use for additional reading.