The Ultimate Smove Pro Mobile Review!
Welcome to our ultimate Smove Pro Mobile review that we have seen requested time and time again over the last few months so we finally decided to type this article up as we have some spare time available. Our hope with this article is that we will be able to help any of our readers who are considering purchasing the gimbal and adding it to their collection of smartphone or action camera accessories.
That said, as we know that our readers time is valuable, we want to get something straight right out of the gate rather than you reading the whole article only to get to the end for us just to recommend that you do with another gimbal. In our opinion, the Zhiyun Smooth 4 absolutely blows the Smove Mobile out the water and its not even a close comparison. We would highly recommend that our readers go with the Smooth 4 or at least seriously consider it as an option. The Smooth 4 has literally hundreds of independent reviews that you can read for a real insight into the gimbal and you can easily see why it is such a popular option.
Additionally, not only does the Smooth 4 outperform the Smove Pro Mobile in every way but it is almost a third of its current price! Now, you may be thinking, but the Zhiyun Smooth 4 is just a smartphone gimbal, and the Smove Pro Mobile also supports action cameras. Well, you are correct but you can purchase the action camera mounting plate for the Smooth 4 to add the action camera functionality. Even if you do purchase this additional mounting plate the Smooth 4 is still less than half of the price of the Smove Mobile while offering excellent Zhiyun performance.
In our opinion, the Smove team are just much better at actually marketing their products and this is why we see so many people reaching out about it. That said, we will still be going over our full review of the Smove Mobile for any of our readers who are still interested in it to share our thoughts and opinions.
Performance And Functionality
The Smove Pro Mobile smartphone and action camera gimbal have a maximum load capacity of 0.46 pounds meaning that it can easily support all smartphones and action cameras currently available on the market. That said, the mounting device for use with action cameras with the gimbal has been designed for use with the GoPro action camera range. This means that if you are using an action camera with a different form factor like the Sony action camera range, you will need to try and find a third-party mounting unit to attach it to the gimbal.
Thankfully, many of the cheap GoPro alternative options on the market right now do match the GoPro action camera dimensions. This means that some products from more budget-friendly action camera brands such as Akaso and Dragon Touch will fit the mount designed for the GoPro.
One of the main letdowns when it comes to action cameras designed for use with smartphones or action cameras is often the maximum battery life of the unit. Thankfully, Smove has managed to ensure that their gimbal is able to provide you with around eight hours of power per full charge of the unit. That said though, the Zhiyun Smooth 4 has a maximum battery life of around twelve hours per charge and is around a third of the current price of the Smove Pro Mobile.
Recharging can be another issue with many gimbals for smartphones but both the Smove Pro Mobile and the Zhiyun Smooth 4 take around three hours to recharge once empty. In all fairness to both gimbals, this is a pretty solid recharging time considering the maximum battery life potential for the units and helps minimize any potential downtime.
The video footage above shows exactly what type of image quality you are able to expect when using the Smove Pro Mobile as your go-to handheld gimbal stabilizer of choice. Now, there is no denying that it offers some excellent image quality and does a great job, like we keep mentioning, our main problem with the Smove Pro Mobile is its price tag. The
Zhiyun Smooth 4
can provide image stabilization just as good as the, if not better but its price tag is much cheaper.
The Smove Pro Mobile also has a number of popular gimbal modes just like you would expect from any modern gimbal. The motion lapse feature is particulalry good and can be used in a large number of situations to ensure that you are getting the best possible image quality while preprogramming the gimbal so you are able to be in the frame of the footage.
Although the automatic face detection and following technology does work, it can be a little slugging and is lacking to what something like the DJI Osmo Mobile 3 is able to provide for you. That said though, the Osmo Mobile 3 has literally just been released onto the market at the time of writing and offers the latest gimbal technology available so is hard to beat.
Click Here To Check Prices And Availability!
User Interface And Control System
The user control system for the Smove Pro Mobile is very straight forward and we would be surprised if any of our readers struggled with it. Unlike some of the professional level gimbal stabilizers like the
Zhiyun Crane 3
that are designed for professional-level DSLR camera videographers, the Smove Pro Mobile is for a totally different market. Smove are well aware that a large portion of their user base will be first-time gimbal owners so their product is as easy to use as possible.
Everything from balancing to mounting your camera to the actual navigation menu in the gimbals settings are straight forward and easy to use. Even the switch between landscape and portrait orientation for the gimbal head is super easy. As we are sure you know, when using your smartphone to capture your video footage, the landscape orientation is usually better for platforms like YouTube but portrait orientation is usually better for Instagram.
The Smove Pro Mobile allows you to quickly and easily switch between the two within a second so you are able to quickly and easily capture optimized video footage for multiple social media platforms. Additionally, unlike some of the earlier smartphone gimbals from a few years back, the level of image stabilization that the Smove Pro Mobile gimbal can provide you does not change between use in landscape or portrait. This ensures that you are getting the best possible image quality at all times for all social media platforms.
Smartphone App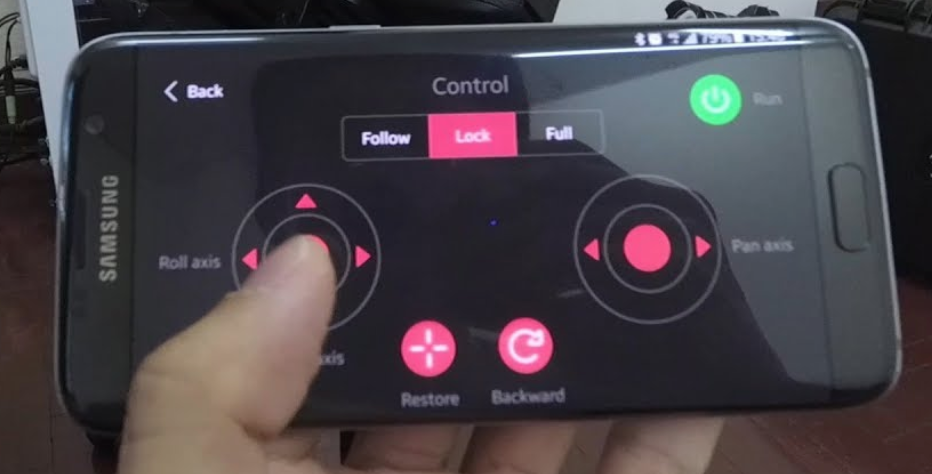 The Smove smartphone app is actually really good and the features it provides are better than we were expecting so credit where its due. As you would expect, the app allows you to tweak some key settings on the gimbal with ease saving you time when compared to doing it manually. It also offers you a little bit of wireless remote control functionality for the gimbal during use too.
Unlike some of the other smartphone apps from the major gimbal brands on the market right now, the Smove does not have any connectivity issues from what we can see. This is a nice breath of fresh air as so many of the more established apps on the market are a nightmare to pair your phone to your gimbal. Additionally, some of the apps will just randomly disconnect while you are in the middle of something making the whole experience really frustrating. To date, we have not seen any reports of issues like this with the Smove app so it just keeps scoring itself points in the app department but we don't feel that it is good enough to justify the massive price tag.
Also, depending on what you are actually going to be using your Smove Pro Mobile for, it also has a bunch of different filters that you are able to apply to your smartphones camera during use. Although this will be useless for any professional videography work, if you are a vlogger or just using the gimbal for fun then some of the filters can be surprisingly useful.
Build Quality And Design
In this day and age, the majority of the gimbals in both the smartphone and action camera market follow the exact same 3 axis gimbal design due to it offering great performance while also being as easy to use as possible. The Smove Pro Mobile is no different in this regard and the gimbal is very similar to most other competing gimbals on the market right now when it comes to its design.
As we mentioned earlier in the article, the Smove Pro Mobiles design ensures that all popular smartphones and GoPro action cameras will natively mount to it without issue too. Also, just like we mentioned earlier, many of the third-party cheaper action cameras that essentially duplicate the Gopro will also mount too.
What we do like however is the great build quality of the gimbal. Although we would still say that the Zhiyun Smooth 4 and DJI Osmo Mobile 3 have a better build quality with a much lower price tag, the Smove Mobile is a solid third place at the time of writing in our opinion.
The gimbal is not too heavy while it is also pretty tough meaning that it is lightweight enough to take out and about with you while also being robust enough to take any bumps that may be coming it's way too. Although it is rare these days, a few years back most of the smartphone gimbals were delicate and could break easily so we are pleased to see things are changing.
Now, onto the main issue that we have with the Smove Pro Mobiles design and if you are one of our regular readers and have read some of our other reviews, you may know what's coming. The gimbals low battery warning is LED-based with no additional information provided to you. We really don't like this system and prefer a percentage based readout or even a set of three LEDs that each represent ten minutes of power or something and go off one by one.
This allows you to plan to rest of your session and know if it is worth trying to capture this last bit of video footage or if ending the session and charging the gimbal will be more beneficial. This is a common problem and although both DJI and Zhiyun are moving over to a percentage-based system, the compeating brands definatley seem to be dragging their heals.
All in all though, a standard design that offers great performance and ease of use with a solid build quality that will be ideal for any amateur videographer who wants a gimbal they can store in their purse or backpack until they need it.
Balancing
Now, just like most other handheld gimbal stabilizers on the market, explaining how to balance and do the initial calibration in text form is a pain and can be surprisingly difficult to follow along with. Thankfully, the video above shows you exactly how you should be balancing and calibrating your Smove Pro Mobile to ensure that you are able to get the best possible performance available.
FAQs
Question – Is the Smove Pro Mobile waterproof?
Answer – No, it is not advised that you submerge the gimbal in water although some light rain should be fine.
Question – Can you mount your smartphone or action camera to the Smove Pro Mobile with a protective case on?
Answer – For your smartphone, this will actually depend on the style of protective case you are using. The smaller ones should be fine as they don't add much weight or size to your actual phone but the action camera cases will probably cause problems.
Question – Does the Smove Pro Mobile have any vibration issues during use?
Answer – Nothing that you wouldn't expect from any other competing gimbal. To our knowledge, there are no reports of vibration bugs with the gimbal either.
Our Verdict
That brings our Smove Pro Mobile review to an end and as you can probably guess from what we said back at the start of the article, we feel that it is a solid little 3 axis gimbal but the Zhiyun Smooth 4 is better and cheaper so gets our recommendation. We feel that the Smooth 4 is just a better addition to your camera accessories and will provide an image quality just as good if not better than what the Smove Pro Mobile can provide for you.
Click Here To Check Prices And Availability!