The Best Steadicam For Canon 6D Cameras!
The Canon 6d is a very popular DSLR camera body that just keeps on growing its customer base with each month that passes. Due to this, we are always seeing people who already own the 6d as well as those who are considering adding it to their collection reaching out with various questions. Over the last few weeks, we have noticed a number of people reaching out and for advice on the best Steadicam for Canon 6d cameras on the market is right now.
Due to this, we have decided to make Steadicams for the 6d the focus of today's article in the hope that we are able to help any of our readers who are also curious. Now, our regular readers are probably going to know what's coming next but for anyone new to our content we will say it again. Although the Glidecam range has a great reputation and will probably be the better option for some of our readers, we feel that the quality of their manual camera stabilizers has definatley dropped off over the last few years.
This has opened the market up for some solid competing brands to come in and take advantage of developments in both materials and technology to release much cheaper Steadicam style stabilizers that offer very similar performance to brands like Glidecam without you having to break the bank. This is why we feel that the Flycam Redking is definatley worth considering if you are in the market for a Steadicam for your 6d.
It really is an excellent bit of kit that has grown at an exponential rate since its release onto the market and just keeps going from strength to strength. It has managed to take a large market share away from brands like Glidecam as it offers excellent performance at a much cheaper price point. This is why the Redking has managed to earn itself such an excellent reputation amongst videographers in such a short space of time with no signs of slowing down.
Now, depending on what you are planning on doing with your Canon 6d, you may have to go with something from the Glidecam range but we would highly recommend that you check out and seriously consider the Flycam Redking. We are confident in saying that it will be able to meet the needs of a large number of our viewers while potentially saving you hundreds of dollars.
Performance And Functionality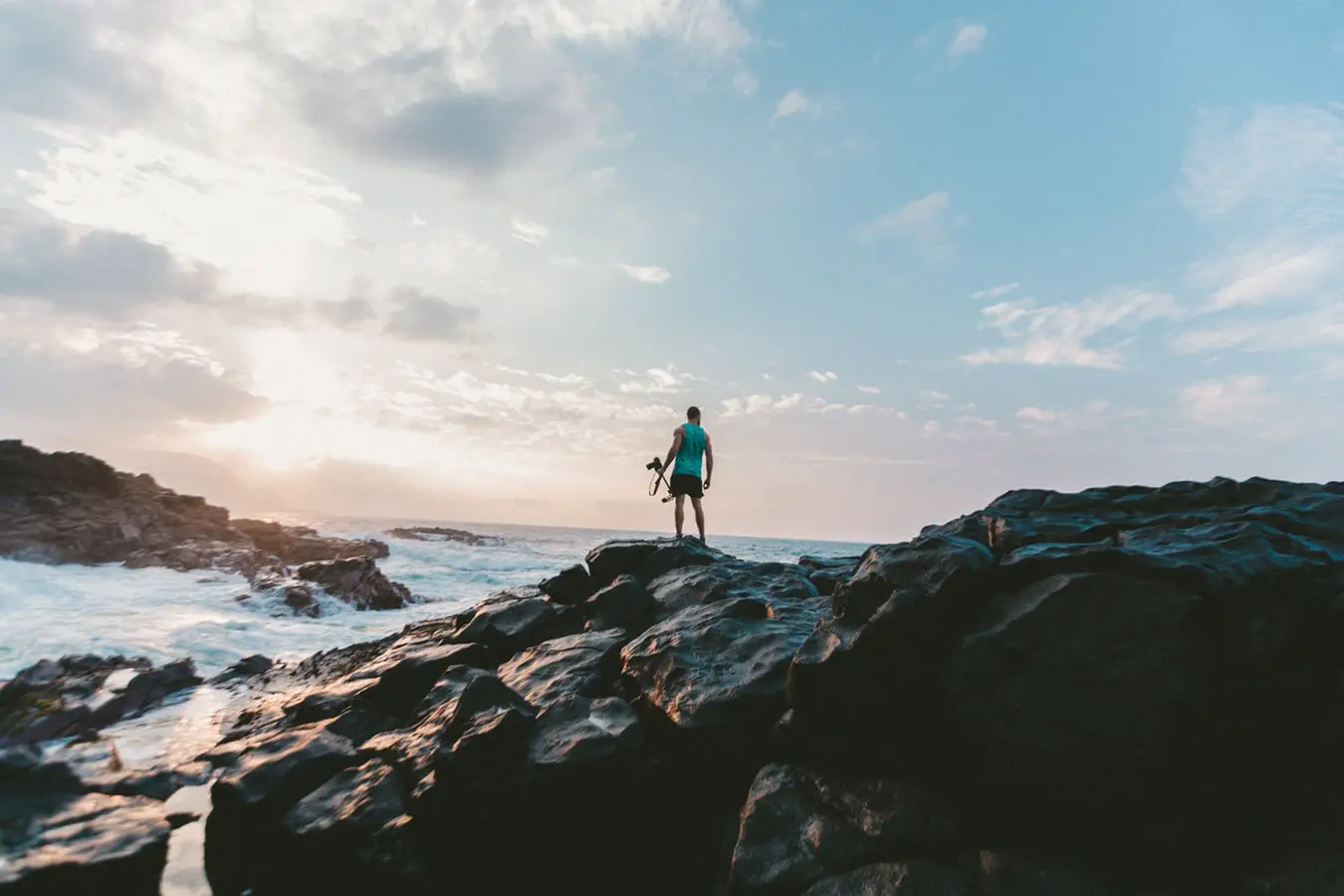 Now, the Canon 6d camera body comes in at around 1.7 pounds bringing it in at around the middle of the pack but when you start to add on the weight of your camera accessories, especially if you are using heavier camera lenses then the total payload weight can really getting heavy. This was one of the problems for the 6d with motorized gimbals but thankfully, newer units like the
DJI Ronin S
and the
Zhiyun Weebill S
have a massive load capacity so are able to support the 6d.
Moving back to the Redking, it offers a maximum load capacity of 15.4 pounds meaning that it is easily able to support the vast majority of Canon 6d rigs that we can think of. Even if you are working in a specialist niche that needs a very heavy camera setup, it is likely that the Redking will be able to support the payload weight of your camera without issue. This ensures that no matter what camera accessories you are having to use to get the footage you need, you always have a great source of natural-looking image stabilization available to you.
Additionally, the design of the Flycam Redking also means that you are able to use some of the heavier and longer lenses with your Canon 6d while mounted to the Redking without causing problems with its center of gravity. Using a longer lens with your camera can be an issue with some completing manual Steadicam style stabilizers, especially at the price bracket of the Redking but thankfully, Flycam identified the issue and were able to tweak their design to avoid it.
We love sharing sample video footage with our readers as in our opinion at least, it is the best way to show off the capabilities of the products that we recommend. All of the clips in the video above have been captured with the
Flycam Redking
stabilizing the camera and although the footage was recorded on an 80d, we feel it provides a solid example of what the Redking can provide for your Canon 6d.
As you can see from the footage above, the Steadicam is able to provide some great, super smooth stabilization that can easily help improve the overall image quality that you are able to capture. Now, most people who use the Canon 6d tend to be in the videography and cinematography space rather than the vlogging space but the Redking can be suitable for all three depending on what you need.
That said, in our opinion, a motorized gimbal like the Zhiyun Weebill S would be a better option than a Steadicam style stabilizer for your Canon 6d if you are involved in the vlogging side of things. It is just smaller, lighter, and offers a whole bunch of gimbal modes that make your life much easier as most vloggers are not professional level videographers and don't have the time to learn how to use a Steadicam style unit effectively.
That said, although the latest gimbal ranges with units like the Weebill S do have an excellent point of view modes providing some excellent natural-looking image stabilization, many of the older gimbals still have that robotic feel to it. This is where units like the Redking are able to capitalize as it is essentially a specialist stabilizer for natural, non-robotic looking video footage.
Flycam really has done an excellent job with the Redking and we are not surprised that the unit has become as popular as it is in such a short amount of time. We doubt that this is going to change any time soon as the Redking just keeps on earning more and more excellent reviews for itself from the community too helping to keep its growth rate up earning it more and more of the market.
User Interface And Control System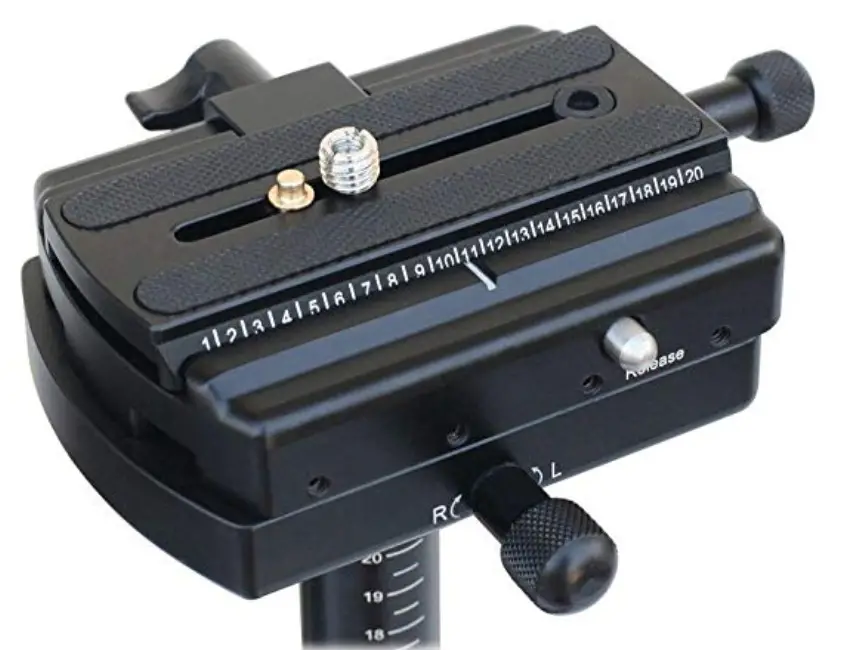 Now, you probably know that the manual, Steadicam style camera stabilizers like the Redking don't really have much in the way of an interface due to the nature of the product. Something like a motorized gimbal like the
Zhiyun Weebill S
can do a whole bunch of stuff so needs a solid interface for the user to operate the stabilizer efficiently. The manual Steadicam style units have all been designed to do one job to the best of their ability and that is to provide you with the best possible, natural-looking image stabilization so there's not much to interface with for the operator.
The mounting plate, counterweight base plate, and central column are all adjustable to meet your needs but that's pretty much it and that's not specific to just the Redking but pretty much all units that use the Steadicam design. All of these are very easy to tweak as needed meaning that is the Redking is your very first Steadicam then you should have no problems customizing it to your needs.
The dovetail quick release plate on the Redking is also the officially licensed Manfrotto design too meaning that you may have already used it on other camera accessories too. In addition to that, if you do have any other camera accessories in your collection that use the same Manfrotto quick release plate design then you can quickly and easily hot-swap your Canon 6d between them. It is highly likely that you may have to capture your footage on a tripod, gimbal, and Steadicam throughout longer sessions and being able to quickly switch between them via the quick release plate can actually save a surprising amount of time.
Flycam really has done a solid job with the interface on the Redking and even though there are very few things that you have to actually adjust, the process is quick and extremely easy. So many brands have tried to achieve the simplicity that Flycam has achieved yet Flycam is the only one who have totally nailed it in our opinion.
Balancing
As you can probably imagine for a modern Steadicam style stabilizer, the balancing procedure for the
Flycam Redking
is very simple and easy to do. It follows the same philosophy of the rest interface system prioritizing ease of use as much as possible to ensure that anyone is able to easily balance the unit. Now, we used to type out the balancing processes for the various stabilizers that we would cover but we have since taken to just sharing videos like the one above as it is much easier to follow along with.
In addition to that, the user manual that actually comes with the Redking is very detailed and offers an easy to follow explanation of how to best balance your Redking ready for use. Additionally, the Canon 6d, even with a heavier setup is closer to the lower end of the load capacity range for the stabilizer making your job even easier anyway so we doubt you will have any issues.
Build Quality And Design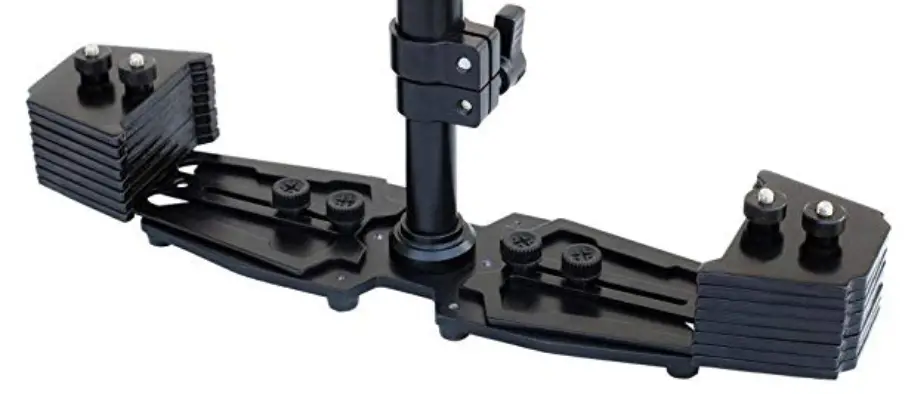 As we touched on earlier in the article, the design space in the Steadicam space is pretty stagnant these days without much innovation happening. This is very common amongst all brands and not just with Flycam with everyone basically using slight variants of the same product design for their own camera stabilizers. Due to this, the Redking doesn't really stand out from the crowd when it comes to design but on the flip side of this, neither does any of the competition.
One area where it does stand out is in its actual build quality though. As we mentioned back at the start of the article, the more established brands such as Glidecam have basically stopped innovating and releasing products on a regular basis meaning most of their range is showing its age. Flycam has taken advantage of the latest developments in CNC machined aluminum construction to products the lightest, toughest, cheapest product possible and they pass the savings on to you.
Depending on the niche you are working in and the type of video footage that you need to capture with your Canon 6d, your Steadicam may actually be at risk of taking a fair few knocks so the robust nature of the Redking can really offer you peace of mind that it's not going to break on you anytime soon. If you are working in a niche where you know that you will have to travel with your Canon 6d camera accessories on a regular basis then knowing that it can take the bumps during transit offers additional peace of mind too.
On top of this, the lightweight due to the aluminum construction on the Redking also ensures that it is able to easily be added to your videography kit without pushing you over your luggage restrictions for airlines too. Another tip to further improve on this is to only take the counterweight plates that you need with a few spares to balance your 6d rather than take them all when traveling via air. Even to this day we still see established videographers take all of their counterweight plates with them when they only need half of them.
Now, the only real problem that we have with the Flycam Redking is that the handle grip on it can rotate around the actual handle sometimes when using a heavier payload with the Steadicam. This can take a little getting used to as it can feel like your camera rig is falling to the ground but it can easily be corrected by adding some glue to the top and bottom of the handle grip. On top of this, most popular Canon 6d rigs at the time of writing are pretty lightweight so this issue may not actually occur for you anyway.
That said though, the actual handle grip on the Redking is very comfortable meaning that you can easily grip it for those longer sessions without issue. Time and time again we preach the importance of ensuring that your gimbal or manual stabilizer has a comfortable handle as it is often overlooked. Thankfully Flycam has put a solid grip on the Redking and we doubt it will give you any issues with cramps or aches during use.
Our Verdict
That brings our article going over what we feel is the best Steadicam for Canon 6d cameras to an end. As we mentioned back at the start of the article, some of our readers may have to go with something from the Glidecam range to meet their needs but we are confident that most people will be able to get everything they need from the Flycam Redking without having to break the bank.
If you are still on the fence about the Redking then there are a bunch of independent reviews of the stabilizer online that offer an excellent insight into its performance. On top of that, we also have our own dedicated Flycam Redking review but our own review covers much of the information that we have already covered in this article anyway in all honesty.