The Ultimate Zhiyun Crane 3 Review!
With the Zhiyun Crane range of handheld gimbal stabilizers being the dominant force in the gimbal space for almost a decade now, it's not surprising that we are seeing more and more people reaching out for a dedicated Zhiyun Crane 3 review with each passing month. To date, every variation of the Zhiyun Crane has quickly managed to establish itself as the dominant gimbal for its target market and although the competition has always tried, they have never actually managed to knock one off the top spot.
Zhiyun have actually decided to go in a slightly different direction with the latest addition to the lineup, the Zhiyun Crane 3 and rather than continuing their dominance in the mirrorless camera weight class, the Crane 3 is designed to work with rigs all the way up to the super heavy DSLR cameras. Now, you may already know that the DJI Ronin S has been the dominant DSLR camera to date and the Crane 3 is the very first serious release at taking any market share from DJI.
As the Ronin S is a few years old now the gimbal is definatley starting to show its age too meaning that Zhiyun has had a much easier time coming into the DSLR weight class to get the Crane 3 established. Our regular readers will know that we are massive fans of the Ronin S and the Zhiyun mirrorless camera range so we have been keeping an eye on the performance of the Crane 3 since its release.
Now, in our honest opinion, when it was initially released onto the market, the Zhiyun Crane 3 was a little overpriced and this had a direct effect on its sales but thankfully, Zhiyun issued a price reduction for the Crane 3 a few months back and it changed everything. At the time of writing, the Crane 3 is seeing almost exponential growth due to its excellent performance and it is absorbing more and more of the DSLR camera weight class market share with each passing month.
Although we feel that the Zhiyun Weebill S is the best mirrorless camera gimbal ever made, we have seen a number of reports from mirrorless camera users saying that they have chosen to go with the Crane 3 over the Weebill S due to its massive load capacity offering solid future-proofing for future camera updates too. With sales of the gimbal growing with each coming month as well as the excellent reputation it has managed to earn within the community in such a short space of time, we can only seeing the Crane 3 continues to cement its position as time goes on.
Performance And Functionality
As you would expect from a Zhiyun flagship gimbal, the Crane 3 has everything that you would expect when it comes to performance and their first real attempt at taking the DSLR market from DJI. Zhiyun really has built upon all of the experience, knowledge, and feedback that they have gained over the last decade to knock out an outstanding gimbal.
On top of this, even though the Crane 3 is marketed as a regular DSLR gimbal Zhiyun has included their highest torque gimbal motors to date as standard resulting in a maximum load capacity of 10.14 pounds of camera payload weight. This means that the Crane 3 is also a general-purpose DSLR gimbal stabilizer as well as a heavy lifting gimbal stabilizer too for those super heavy rigs. To date, the Crane 3 has the highest maximum load capacity of any motorized 3 axis gimbal too and as we mentioned earlier, there are also a number of mirrorless camera users who use the Crane 3 as their gimbal of choice.
Depending on what you are doing, the future-proofing factor of the massive load capacity on the Crane 3 can push it ahead of the competing gimbals as it almost guarantees that it will be able to support all future camera setups you will need without having to purchase additional gimbals too. For example, say you are starting off with something from the Sony Alpha mirrorless camera range and are planning to work your way up to something like a Canon 1DX over the years with a number of cameras in between, the Crane 3 offers everything you need in one gimbal without you having to upgrade it with each camera upgrade along the way.
Now, moving onto the maximum battery life of the Zhiyun Crane 3 we do feel that Zhiyun fell a little short of the bar and that this is probably the weakest area of the gimbal. At the time of writing, the officially listed maximum battery life per full charge of the gimbal is seven and a half hours being pretty low for this day and age where other Zhiyun gimbals like the Zhiyun Crane Plus can last for eighteen hours per charge.
Now, we have seen a number of people comment on this and Zhiyun has stated that this is the officially listed battery life due to the high torque motors requiring higher power to balance the super heavy load capacity rigs. If you are using a lighter camera rig with the Crane 3 then there is a solid chance that you may be able to get more than seven and a half hours per charge.
On top of this, Zhiyun has previously released firmware updates for some of their other gimbals that have improved the way the gimbal works and resulted in an increase to the maximum battery life potential for the gimbal. Although there is a good chance that seven and a half hours of juice per charge is plenty for a large number of our readers, we are hoping for a firmware update in the future to help improve this.
On top of this though, with USB power banks becoming available with higher and higher output levels more videographers and vloggers are taking to carrying a high output USB power bank with them in their camera accessories. As long as the output level is high enough you are then able to use your power bank to top up the juice in both your camera and gimbal in your downtime to extend the battery life as long as needed.
Speaking of firmware updated, Zhiyun has recently pushed out another update for the Crane 3 so if you do decide to purchase it be sure to update it to the latest firmware build as soon as possible. This latest firmware update added to the camera models that are officially supported via their grip and app control system as well as their image transmission technology. At the time of writing, these systems officially support the following camera models:-
Canon: 1D X Mark Ⅱ, 5DS, 5DS R, 5D Mark Ⅳ, 5D Mark Ⅲ, 5D Mark Ⅱ, 6D Mark Ⅱ, 6D, 80D

Panasonic: GH4, GH5, GH5S

Sony: A9, A7R3, A7M3, A7R2, A7S2

Nikon: D850
Now, we know that there are a large number of popular camera models not included in that list but keep in mind that those are the cameras that support both the Zhiyun grip and app control system as well as their image transmission technology. The Crane 3 is able to provide a much wide range of cameras with its excellent image stabilization provided the total camera payload comes in at under the gimbals 10.14-pound maximum load capacity. Its just additional functionality is available for the camera models above and we fully expect additional models to be added in future firmware updates.
In our opinion, the best way to show off the performance and image stabilization that a gimbal is able to provide is by sharing some sample clips. All of the clips in the video above have been recorded using the
Zhiyun Crane 3
and show off exactly what you are able to get when it comes to its image stabilization. As you can see, the Crane 3 performs flawlessly and with its butter-smooth image stabilization, it is obvious to see why it is growing its customer base at such a rapid pace.
On top of this, the detection and correction system in the Crane 3 is two generations ahead of the system used in the DJI Ronin S making everything even smoother than its closest competitor. Now, just to be clear, we feel that the balancing algorithm from Zhiyun, DJI, and Moza are all excellent and well ahead of anything the competition has right now, the physical systems such as the gimbal sensors and gimbal motors on the Crane 3 have had more development time put into them to ensure they blow the Ronin S tech out the water.
As you can see in the video clips above, the footage captured using the Crane 3 is free from lag and hang with the gimbal head being stabilized at lightning speed. This all starts with the industry-leading Zhiyun gimbal sensors that can detect even the slightest variation and movement possible. From there, the gimbal sends that data into the balancing algorithm to work out how best to correct the movement to keep your camera stable and then the next generation high torque Zhiyun gimbal motors on the Crane 3 correct it as required.
The sheer power of the gimbal motors on the Crane 3 also ensures that the whole process works just as quickly for small, lightweight mirrorless camera rigs mounted to it all the way through to the heaviest DSLR setups that it can support. This consistency through the various payload weight classes is perfect for videographers who use multiple cameras on their sessions as you always know the level that you are going to get.
As you would expect, the Zhiyun Crane 3 also supports all of the latest gimbal modes to make your life as easy as possible when recording. That said though, in all honesty, chances are you will only really be using three or four of the available modes but we would like to say that the point of view mode that Zhiyun has on their latest gimbals including the Crane 3 is excellent. It allows you to capture some beautiful, natural-looking footage free from that robotic look that looks like it has been captured using a manual Steadicam style stabilizer. Even to this day, some competing brands are releasing gimbals that still have that robotic feel to the footage but thankfully, Zhiyun is leading the way to make that a thing of the past.
On top of this, the Crane 3 also allows full 360° roll and pan range with a 273° tilt range even on heavier camera setups with long lenses mounted to your camera body of choice. This range of movement from the gimbal head ensures that you can capture anything you needed all with the great stabilization provided from the gimbal without issue during your sessions too keeping that natural feel to the footage.
It's no secret that gimbal brands are trying to offer you the best possible intelligent object tracking system possible as it can make your life so much easier in many popular videography and vlogging niches. Although this does come down to personal preference, we feel that Zhiyun is leading the way although the new Moza system is very close to what Zhiyun is offering. Although the video above shows the system working on the
Crane Plus
, the
Crane 3
uses the same system although it is a little better on the Crane 3 due to a few tweaks that Zhiyun have made.
As you can see from the video above, the Zhiyun intelligent object tracking system is very effective and very easy to use helping you easily focus your gimbal on a subject to allow you to move while ensuring your camera keeps the focused on the subject. Depending on the niche that you are working in, this may be something you use every day or never at all but we love the tech and just wanted to show it off to our readers.
When it comes to raw performance, it's not surprising that the Zhiyun Crane 3 is doing so well with the gimbal community and quickly starting to dominate the DSLR camera market. The only real option for videographers over the last few years for DSLR cameras has been the DJI Ronin S but the Crane 3 really has shaken things up and its not surprising to us that it has managed to quickly earn so many excellent reviews from independent videographers.
User Interface And Control System
You have to keep in mind that the Crane 3 has always been intended to be a professional level handheld gimbal stabilizer and offer all of the advanced control and customization that an experienced gimbal user needs out of their equipment. Due to this, the gimbals control system can take a little getting used to if you have no prior experience using a gimbal but in all fairness, Zhiyun has done a great job of creating a system that is as easy to learn as possible while also offering all of the professional level control features needed.
The image above shows the main control handle for the Crane 3 the actual joystick for manual control being located on the other handle. In our opinion, Zhiyun really have done an excellent job with the interface and the only two gimbals that rival it is the one on the Zhiyun Weebill S and the one on the Moza Aircross 2. We are really happy to see that brands are actually moving forward with the interfaces on their professional level gimbals and offering more and more control for the user rather than just sticking with the same old basic system that we had been lumbered with for the last few years.
Now, one of our favorite things about the system on the Crane 3 is that it has been designed to be just as responsive all throughout the -10℃ to 45℃ operating temperature of the gimbal. This ensures that the joystick is just as sensitive to touch at the lower end as it is at its higher-end ensuring that you get superior control of the gimbal head no matter the conditions. Most gimbal brands really struggled with this until this last round of gimbals and the responsiveness of the gimbal control joystick would drop off to be almost unusable in some cases if your hands we cold so we are glad to see this is not an issue for the Crane 3.
As we mentioned earlier, the Zhiyun intelligent object tracking system is second to none at the time of writing but can be made much easier if you have quick and easy access to it from the smartphone app. The image above shows the control system for the Crane 3 with the optional
smartphone mount
fitted that can make your life much easier depending on what you plan to use the gimbal for. Although the smartphone mount is available in a number of bundles of the Crane 3, if you purchase the stand-alone gimbal, it will have to be purchased separately.
The gimbal also offers full 1080p wireless image transmission as standard meaning that you can stream the image data from the list of supported phones we shared earlier in the article directly to the smartphone mounted to the gimbal. This ensures you can quickly glance down to your smartphone to check what you are recording without wasting time. On top of this, the Zhiyun wireless image transmission system can also stream to tablets, field monitors, and many traditional monitors too.
One thing that many professional-level videographers hate about the entry-level and intermediate level gimbal stabilizers on the market is that their external follow focus systems really aren't up to scratch for professional-level work. Thankfully, Zhiyun has put a ton of work in with the tech for their latest generation of gimbals and is currently supporting external follow focus for more camera bodies than they ever have before.
Although the system does perform very well, we have not seen any Zhiyun Crane 3 bundles than include the relevant external follow focus motors meaning they do have to be purchased separately if you do want to use this functionality. At the time of writing, the  and the  are fully supported by the Crane 3 and offer support for a large number of camera bodies too.
The last point that we want to make about the interface for the Zhiyun Crane 3 is that some people report having issues with the base plate of the gimbal not locking in place. This is not actually a fault but simply due to Zhiyun using a lift and adjust locking system rather than their traditional direct to lock unit. There are a number of videos on YouTube showing you how to correct the issue within seconds but we feel that the one embedded above is best as it is straight to the point and clearly shows you the lift you have to do to lock your gimbal base plate.
Once you are used to the system it is extremely easy to use and you are able to lock your base plate in place within seconds. On top of this, the lift adjust locking system offers increased protection for you to ensure that your base plate will stay in place as set even with heavier camera loads mounted to the gimbal. The video above does a great job of showing how simple it is to operate and how quickly you are able to lock it in place without issue.
Smartphone App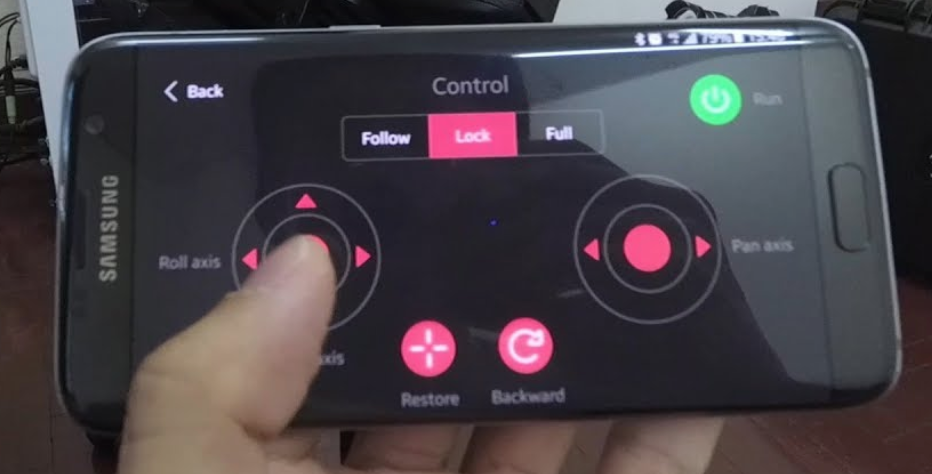 Its common knowledge that the Zhiyun smartphone app has had its issues in the past but thankfully, due to the additional functionality for the Crane 3 and the Weebill range that the app offers, Zhiyun totally overhauled their app when updating it with their new functionality. We are pleased to say that the syncing issues have been fixed and the bug that caused the app to randomly drop connection with your gimbal has also been fixed. On top of this, Zhiyun has essentially given their app a facelift to make it much easier to use with a better navigation menu that is easy to follow.
As you would expect from a gimbal app, you can control your gimbal head remotely via the Bluetooth system on the app that syncs to your Crane 3 and it also has a very easy to use interface for the intelligent object tracking system too. In our opinion though, the best feature of the app is its quick and easy access to your gimbal settings to make any tweaks on the go as quickly as possible. Although you can do this via the actual gimbal, it can take a while and over a full day of recording, the amount of time the app can save you really does add up.
We know that a large number of videographers, cinematographers, and vloggers still don't use the apps for their gimbals but they are becoming better and better offering more and more functionality. As the Zhiyun smartphone app it's free to download, we feel it is well worth getting even if you only try it out for a few days to see if you like it.
Balancing
If you are an experienced gimbal user you will probably know that the balancing process for the better gimbals has improved drastically over the last few years. Zhiyun, DJI, Moza, and Evo have put a whole bunch of effort into simplifying their balancing systems to make it as quick and easy as possible for their users. Thankfully the Zhiyun Crane 3 system is one of the easiest yet and it is covered fully in the short video above.
As you can see, you can quickly and easily balance the gimbal for optimal performance without you having to waste any time. If you do use different cameras or switch your lenses out on a regular basis while recording the Zhiyun system minimized downtime to get you back to work as quickly as possible. Again, this is just another little tweak that can end up saving you a fair amount of time over the course of a day that would otherwise be wasted.
Build Quality And Design
Zhiyun has always had a well-deserved reputation for their gimbals having an excellent build quality and although they seemed to have stopped innovating for a few years, they seem to back into their old stride with the
Crane 3
and
Weebill range
breaking the mold. As we mentioned earlier the only real competition for the Crane 3 at the time of writing is the
Ronin S
and it just sticks to the standard handheld gimbal design helping the Crane 3 score even more points over it.
The innovation and addition of the adjustable, multi-functional handle on the Crane 3 really does score it a ton of points for professional-level videographers, cinematographers and to some extent vloggers who use a ton of b-roll. The ability to quickly and easily switch from traditional handheld mode to underslung mode within seconds allows you to quickly and easily capture low angle video footage when needed.
The dual handle approach also means that you are able to hold the gimbal and support your rig with both hands when needed. As we mentioned earlier, many mirrorless camera users choose to use the Crane 3 and will likely be fine holding their rig with one hand at a time, that said for those longer sessions or for those heavier DSLR rigs being able to split the weight between both arms at once really does help.
Both of the handles on the Zhiyun have comfortable hand grips too allowing you to comfortably hold the gimbal even with a heavy camera rig mounted to it for long periods of time without issue. We are sick of even long-established gimbal brands pushing out gimbals that have poor quality handle grips that are uncomfortable to hold causing cramps and aches. Being a market leader, Zhiyun has been quick to adapt to customer feedback and their last few gimbals including the Crane 3 have had great handle grips on them.
As we touched on earlier, the build quality of the Crane 3 is absolutely excellent in our opinion. The gimbal has been made from the highest possible materials available to ensure that it is not only as robust as possible but also relatively light for its size and maximum load capacity. Now, to be clear, we just want to clarify that the Crane 3 is far from lightweight so if you are wanting a compact and super light travel gimbal we would recommend that you check if the Weebill S can meet your needs. What we are saying is considering the Crane 3 offers so much with such a great design, it is surprisingly light.
Now, if you are a professional level videographer or cinematographer and do have to travel a whole bunch for work, you can often ask your airline for trade rates on your videography kit bag. Most airlines in North America and Europe do this now and it can allow you to take a gimbal like the Crane 3 with you as well as the rest of your kit at much cheaper rates. This can help offset the heavier weight of the Crane 3 when compared to gimbals like Weebill range.
One thing that we absolutely love is the locking nuts on the different moving axis' of the gimbal to help keep them in place. This is such a simple, cheap, and easy to add a feature that can make so much of a difference and we honestly can't believe that no one has implemented it sooner. This great little feature essentially allows you to lock all of the moving parts of the gimbal in place for transit helping to prevent damage.
Our Verdict
That concludes our Zhiyun Crane 3 review and as you can probably tell, we are big fans of this great gimbal stabilizer that is taking the community by storm. If you are looking for any type of DSLR gimbal or even a mirrorless camera gimbal knowing that you will be upgrading to a DSLR in the future then the Zhiyun Crane 3 is a great option and can be an excellent addition to your camera accessories.
Although a bunch of people are still purchasing the DJI Ronin S for their DSLR gimbal needs, we feel that this is simply due to the reputation the Ronin S has managed to earn over the years. In our opinion, the Crane 3 is definatley the better gimbal and with it growing both its reputation and market share at such a fast pace we are confident that the Crane 3 will overtake the Ronin S as the dominant DSLR gimbal soon.
If you are yet to make your mind up on the Zhiyun Crane 3 then there are a large number of third-party reviews online that you can read. They offer some great insight into the performance of the gimbal from independent videographers who use it as their go-to gimbal of choice on a regular basis. In our opinion, they are well worth skimming even if you only have a few minutes spare after reading our review.