The Best Gimbal For Canon T6i Cameras!
After publishing more and more articles based around gimbal recommendations for various popular camera bodies we have noticed that a number of people have been asking for recommendations for a gimbal for Canon T6i cameras. Due to this, we have decided to make the Canon T6i the focus of this article to try and help as many of our readers as possible who own the T6i and are looking to add a gimbal stabilizer to their collection of camera accessories.
Now, the actual best gimbal for Canon T6i cameras is going to depend on your own personal circumstances and what you are using your camera for as well as the niches you are working in. In our opinion, we feel that the Zhiyun Weebill S is the best general-purpose gimbal for the camera currently available on the market and will suit your T6i very well and provide some excellent image stabilization.
That said, if you are on a tighter budget then the older Zhiyun Crane Plus can be more of a budget-friendly recommendation that still offers some great levels of image stabilization but can save you some cash. Although very rare, if you are using a T6i camera setup with a total payload weight of over 6.61 pounds and the Weebill S is unable to support your rig, the DJI Ronin S is probably the way to go.
As we feel that the Weebill S will be the best option for the vast majority of our readers who own the T6i, we will be featuring it and going over it in more detail throughout the rest of the article. After the gimbal space has been pretty stagnant and stifled when it comes to innovation for the last few years, Zhiyun really has done a great job with their Weebill range and set the bar for their competition to try and meet.
Since the release of the Weebill S, it has only gone from strength to strength managing to quickly grow its customer base and establish itself as the dominant gimbal for mirrorless and lightweight DSLR cameras. Its customer base is growing at a rapid pace and its reputation amongst the community is second to none lading us to think that the Weebill S will be a mainstay in the gimbal space for many years to come.
Performance And Functionality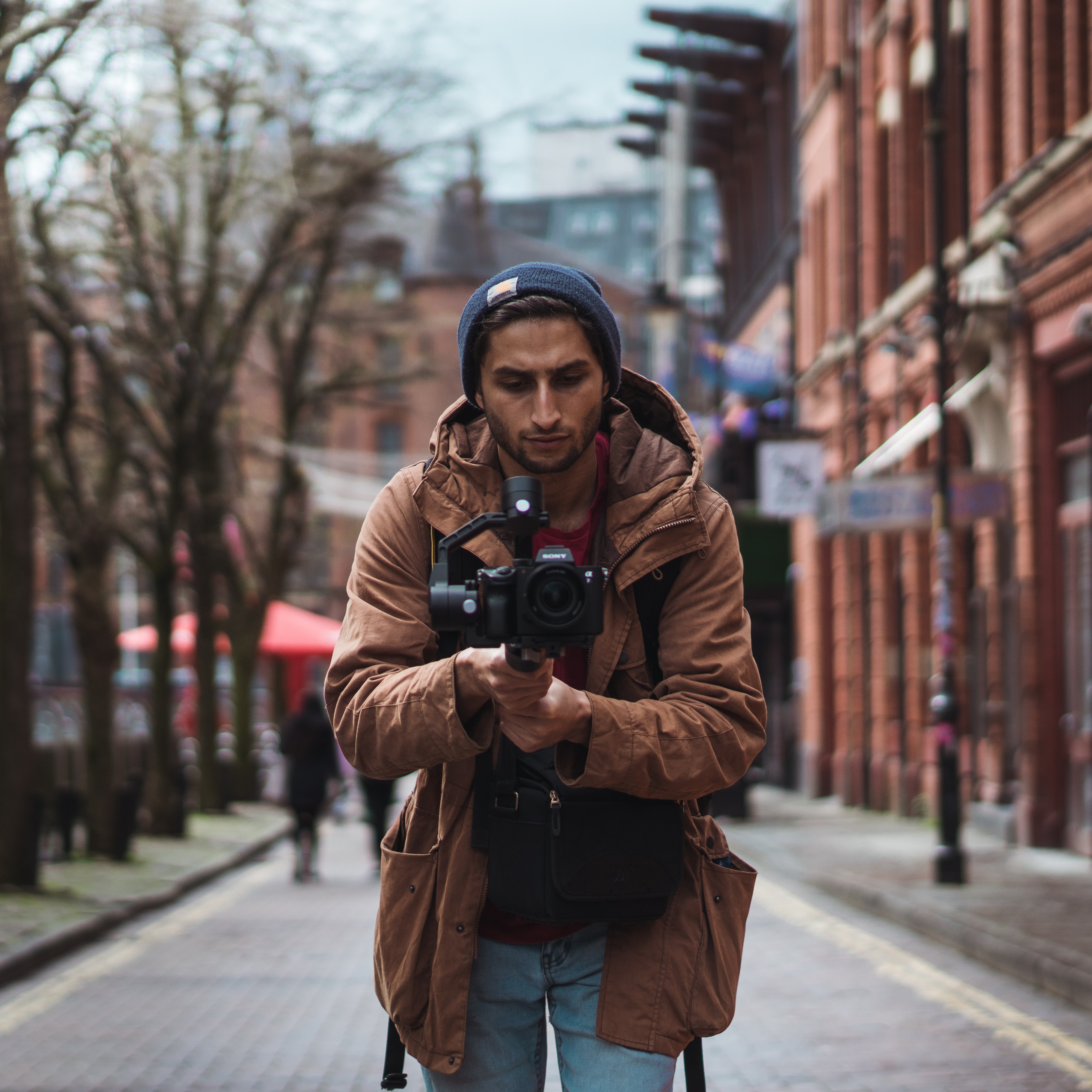 With Zhiyun always being at the front of the gimbal market pushing their products forward and striving for innovation, they have managed to integrate a number of upgrades into their Weebill gimbal range to help ensure that you are able to get the absolute best performance and functionality possible. These upgrades range from improvements to the gimbals detection and correction system, its interface, its design, and it's build quality while still keeping its price tag as competitive as possible.
Now, starting us off is the 6.61-pound maximum load capacity of the Weebill S that is easily able to support the 1.22-pound camera bodyweight of your Canon T6i. Although the T6i is a DSLR camera, it is relatively lightweight compared to many of the other popular DSLR cameras on the market right now and the high maximum load capacity of the Weebill S ensures you can get the best possible image stabilization even with some heavier setups.
Another advantage of this is that you can mount some of the heaviest possible camera lenses to your Canon T6i without even coming close to the gimbal load capacity keeping your video footage as smooth as possible. This can also leave plenty of spare load capacity available for other popular camera accessories such as an external microphone and flash unit if required too. Unlike some competing gimbals in this weight class, you can even use longer camera lenses without having any restriction on the range of motion available while mounted to the gimbal.
The Zhiyun Weebill S also boasts an impressive fourteen-hour maximum battery life too ensuring that you should be able to get all the juice you need for a full day of recording with each charge of its battery. Although we would imagine that fourteen hours of battery will be enough for many of our readers if you are involved in the travel videography or travel vlogging niches you may not have access to a power outlet each night.
Depending on what you are actually doing with your Canon T6i and gimbal, you may be able to stretch the fourteen-hour battery life out until your next charging opportunity but many videographers carry high output USB power banks with them in these niches. This ensures that you can top your Canon T6i and Weebill S up as well as any other devices as required without access to a power outlet.
Now, at the time of writing, the Weebill S has only been available for a few weeks but to date, the clips in the video above are our favorite examples of what you can achieve when you use the
Zhiyun Weebill S
as your go-to gimbal of choice. You can see its butter-smooth image stabilization that is flawless and totally free from lag and hang and see how it can help to improve the image quality of the footage you can capture using your Canon T6i.
Although we recommended the Zhiyun Crane Plus earlier as as a solid budget gimbal for Canon T6i cameras, if you are doing any type of paid client work or are using your footage for an established YouTube channel or other social media platforms, the Zhiyun Weebill S really is the way to go. Although the Crane Plus is a solid budget gimbal, it is two generations older than the Weebill S and is starting to show its age.
Zhiyun have updated their detection and correction system in a number of ways since the Crane Plus and the Weebill S has their latest system. For example, the latest Zhiyun sensors are outstanding and can detect the slightest movement on the gimbal extremely quickly. This data is then pushed into the Zhiyun balancing algorithm to work out how best to counter the detected movement before the high torque Zhiyun gimbal motors carry out the correction.
The whole process is executed at lightning speed ensuring that you are the user gets the best and quickest possible image stabilization possible. Although we do feel that the new Moza system on the Aircross 2 very close to what Zhiyun have with the Weebill S, there really is nothing else even close to it available on the market at the time of writing. This puts the Weebill S at the top of the pile and leaves the majority of the competition other than the Aircross 2 a whole lot of catching up to do.
When you take all of this into account as well as the very fair price tag Zhiyun retail the Weebill S at it is not surprising that the gimbal has managed to become so popular in such a short amount of time. The number of excellent independent reviews that the gimbal has managed to earn from the community in such a short space of time really is testament to how well Zhiyun has done with the Weebill S and the level of performance that it can provide you and your Canon T6i.
User Interface And Control System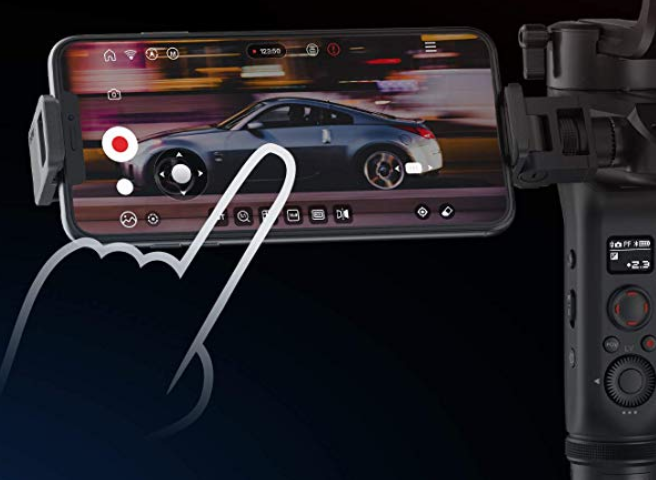 Bing one of the newest gimbals to market at the time of writing, the design team at Zhiyun has had the time to develop their latest control interface to ensure that it is good as can be and we are pleased to report that they have not dropped the ball! The image above shows the control system for the Weebill S with the smartphone mount attached to the gimbal handle. Although the system can work fine without the smartphone mount, if you plan to use the Zhiyun app or their intelligent object tracking technology it is much easier to have your smartphone mounted to your gimbal.
Now, as you can see, the interface on the Weebill S is based around the standard system of a joystick, a few buttons, and an LCD panel. This has pretty much been the standard interface for 3 axis gimbals for the last few years and although some brands have started to include touchscreens on their gimbals, they can be very hard to effectively use in even the lightest of rain.
Zhiyun has chosen to stick with a more traditional system for their Weebill S and left the touchscreen off their latest gimbals and focused on keeping the sensitivity and responsiveness of their interfaces as high as possible. Thankfully, as you would expect from Zhiyun, they have managed to absolutely nail it and the joystick on the Weebill S is just as responsive in wet or cold conditions as it is in ideal conditions.
This ensures that if you are using the manual or point of view mode with your Canon T6i to capture a more natural-looking image stabilization that you have superior control over your gimbal head and direction of the camera. The joystick on the Weebill S is also very sensitive and allows you to quickly, yet accurately aim your T6i as needed to ensure you capture every moment for your clients.
As we mentioned earlier, we feel that the only competition that the Zhiyun Weebill S has right now is the Moza Aircross 2 but this is just another area where Zhiyun come out ever so slightly ahead of Moza. They have done an excellent job with the gimbal interface and even if you are brand new to using a handheld gimbal stabilizer we are confident that you will be able to quickly and easily get to grips with the interface with minimal time investment needed on your part.
Smartphone App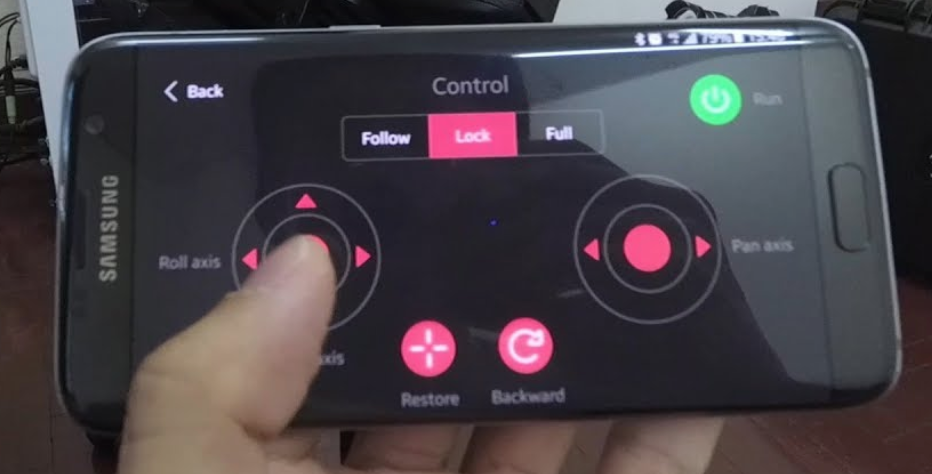 Thankfully, Zhiyun totally overhauled their smartphone app last year prior to releasing their
Crane 3
and the
Weebill Lab
, the predecessor to the
Weebill S
. This was largely due to the additional functionality that their app is now able to provide for their new gimbals while also being used as a chance to overhaul the app and fix the bugs it had. Thankfully, the problems that the app previously had with syncing as well as random disconnects have now all been fixed.
The actual functionality of the Zhiyun smartphone app is also pretty solid in all fairness and it can definatley help to make your life easier while recording. Considering that the app is totally free to download, we would highly recommend that our users download it to their smartphone and get used to using it as a gimbal accessory.
Although the app does support the regular wireless remote control functionality that you would expect, it also does a great job of providing you with some excellent quick and easy access to your Weebill S gimbal settings. This means that you can quickly and easily tweak the performance of the gimbal to meet your needs as and when required. This can actually end up saving you a surprising amount of time rather than doing it manually if you like to customize the performance of your gimbal for optimal performance.
As we touched on earlier in the article, the Zhiyun intelligent image tracking system is excellent and the smartphone app is extremely helpful when it comes to using it efficiently. This is why we would recommend you mount the smartphone mount to your gimbal handle as it makes your job much easier. You can literally set the tracking system up in seconds via the app to make the gimbal focus your Canon T6i on a subject during use while you move.
Balancing
Although the Zhiyun balancing process for their Weebill range is very simple, we know that some people who are reading this may be brand new to using a gimbal. The video above goes over optimal initial set up and balancing for the Weebill S and may be helpful but in all fairness, we doubt that it will be needed as the system is so easy anyway. The user manual also offers a great breakdown on the process and although it may take a while the first few times you go through the process, after a little practice, you can usually balance your gimbal and be ready to go in under a minute.
Build Quality And Design

We love the innovation that Zhiyun have put into the design of their Weebill series, as you can see in the image above, you can quickly and easily switch it from traditional handheld gimbal mode, to underslung gimbal mode, to mini tripod mode. This ensures that no matter what you need out of the gimbal, you can quickly and easily get it and the underslung mode offers some very easy low angle video footage.
Zhiyun has also ensured that the Weebill S has its compact travel gimbal design and is their smallest and lightest gimbal to date. If you do know that you will have to be traveling around with your videography gear on a regular basis then the design of the Weebill S makes it very easy to pack. The lightweight of the gimbal also minimizes the chance that you may accidentally go over your luggage allowance for air travel too.
Another advantage that the Weebill S has over many competing gimbals is that it is also very tough and robust. So many gimbals are either lightweight or robust but rarely both. Zhiyun has nailed it with the Weebill S and its robust build quality ensures that it is easily able to take any bumps or knocks during use.
Our Verdict
That brings us to the end of our article going over what we feel is the best gimbal for Canon T6i cameras currently available on the market right now. We feel that the Zhiyun Weebill S can make an excellent addition to your T6i camera accessories and provide you with some of the best image stabilization that we have seen to date. That said, as we mentioned earlier in the article, if you are on a strict budget then the Zhiyun Crane Plus can be a solid option too but the Weebill S does offer better image quality.