The Ultimate Feiyutech G6 Max Review!
With the recent release of the latest version of the Sony RX100 range as well as the latest version of the Canon G7X range it is not surprising that we have noticed more and more people reaching out with questions about what we consider to be the king of the point and shoot gimbal range, the Feiyutech G6 Plus. Although the G6 Plus is still an excellent bit of kit, Feiyutech has just released its successor, the G6 Max.
Due to this, we have decided to focus today's article around our ultimate Feiyutech G6 Max review as we know for a fact a number of our regular readers are big fans of the G6 Plus and will likley want to know about the new G6 Max. On top of this, with the release of the new variants of both the Sony RX100 range and the Canon G7X range that are perfect for the new G6 Max, we expect a whole bunch of people to be reaching out for dedicated reviews of the gimbal.
Now, it's no secret that the recent Feiyutech gimbal released from their AK range has been plagued with problems and suffered from very poor sales. That said though, unlike most gimbal brands who prioritize the mirrorless and DSLR camera gimbal weight classes, Feiyutech has always been dominant in the point and shoot camera weight class and early indications seem to show that the new Feiyutech G6 Max will just cement their hold in this weight class.
It seems that Feiyutech has corrected all of the problems that their other recent gimbals have had to knock out a solid gimbal with the G6 Max. On top of this, they have gone above and beyond and improved on every aspect of the older G6 Plus to outright beat the Zhiyun Crane M2, that in reality was the only real competition to the G6 Plus.
In our opinion though, Feiyutech has definatley set the new standard for the competition to try and match with their G6 Max. Early indications also suggest that the videography and vlogging communities agree with use as the reputation of the G6 Max is already outstanding and just keeps on getting better as each new week comes and goes.
Performance And Functionality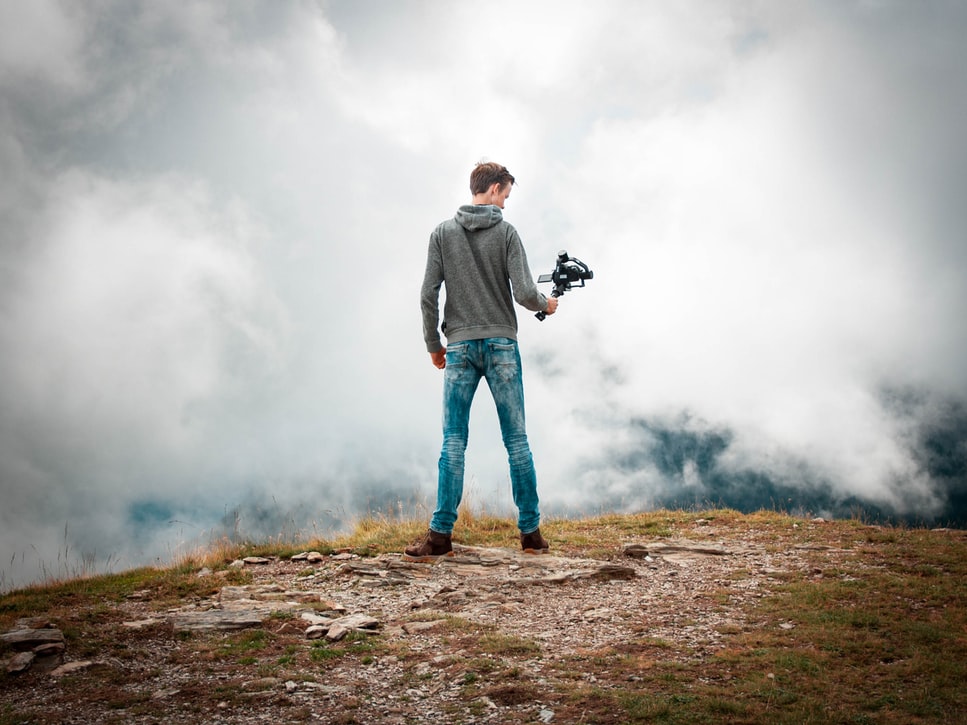 Although Feiyutech are marketing the G6 Max as being able to support point and shoot cameras, action cameras, smartphones, and mirrorless cameras it will likley struggle to support anything other than a super lightweight mirrorless camera rig. The gimbal only has a maximum load capacity of 2.65 pounds of total camera payload weight so if you are a mirrorless camera user, we would highly recommend something like the
Zhiyun Weebill S
over the Feiyutech G6 Max. That said though, in our opinion, the G6 is an excellent option for point and shoot cameras, action cameras, and smartphones.
The increase in the maximum load capacity of the G6 Max over the older G6 Plus of around 0.89 pounds of maximum load capacity while actually making the body of the gimbal lighter and smaller at the same time. Although there is not much use in having this increase in load capacity for any of the older popular point and shoot cameras on the market right now, the newest versions of these cameras do come with an external microphone input as well as a number of other mounting solutions.
This allows videographers and vloggers to mount additional camera accessories to their camera during use and thus increase the total payload weight of your rig. We expect the future generations of the Canon G7X and Sony RX100 range to further expand on this and potentially allow users to increase the weight of their camera rigs even further. It is highly likley that Feiyutech predicted this trend and is the main reason that that has increased the maximum load capacity of the G6 Max to help future proof it against future camera releases.
The gimbal is able to supply you with around eight hours of battery life for each full charge of the battery and should easily be able to provide plenty of juice for our readers who will likley be out and about for a full day of recording. If you are working in a niche such as wildlife life videographer or something like travel vlogging where you know you may be away from power outlets for days at a time then you can add a high output USB power bank to your camera accessories to top the gimbal up as you go throughout the day.
Feiyutech has also upgraded the recharging system on the G6 Max too allowing it to be charged back to full from being totally empty in only three hours. This three hour recharge time is for when the gimbal stabilizer is plugged into a regular 240v mains power outlet though, if you are charging via a USB power bank then the recharge time will depend on the power banks output level.
The 2200mAh battery in the gimbal is also powerful enough to support two-way charging meaning that you can charge your camera directly from the gimbal when in use too. Although using the gimbal in this way will reduce its maximum battery life, it will usually drastically extend the camera life of your camera during use.
Although the older Feiyutech gimbals have always dominated this weight class, Zhiyun made a solid effort to try and take some of the market shares away from Feiyutech with their recent
Crane M2
. This seems to have provided Feiyutech with the motivation required to up their game massively for their new
Feiyutech G6 Max
.
They have totally redesigned the gimbals detection and correction system and totally overhauled it to ensure that it will be as difficult as possible for any compeating gimbal brand to come in and challenge the dominance of the G6 Max. The sensors that Feiyutech has designed are simply outstanding and offer some of the quickest detection of movement that you are going to get at this price point and weight class.
The gimbal motors on the G6 Max are also excellent and not only provide more torque than the older gimbal motors used in the G6 Plus but they also require less power to provide their higher torque too. This helps to reduce the build-up of the head when working with a camera rig closer to the gimbals maximum load capacity and pretty much removes the chance of it overheating during use.
Although we personally feel that the actual balancing algorithm that is used by Zhiyun, DJI, or Moza is still better than the one that Feiyutech uses, Feiyutech have definitely improved their algorithm massively over the last year or so. On top of this, we would not class the Feiyutech balancing algorithm as a weakness for the G6 Max either as we still feel that it is better than what many of the other compeating gimbal brands are using right now.
Feiyutech has also increased the number of gimbal modes that is supported on the Feiyutech G6 Max too. It comes with the pan, lock, follow, and manual modes as standard just like you would expect but they have also added the selfie timer mode, vortex mode, and the motion timelapse mode. If you are a videographer, chances are the selfie mode will be useless to you but is surprisingly useful for any vlogger looking for a gimbal. The vortex mode causes the gimbal head to do a horizontal roll with the camera mounted and is surprisingly useful to capture any subjects or commonly recorded landmarks in a new way and is providing to be surprisingly popular amongst the community.
The timelapse mode as you may have guessed allows you to set up some great little time-lapses with your gimbal but this mode does require the Feiyutech smartphone app to work that we will cover later in the article. The mode actually performs very well and is extremely easy to set up whereas most other brands still have a confusing system that is not very user-friendly. We would actually like to see the likes of Moza, DJI, and Zhiyun take a leaf out of Feiyutech's book when it comes to timelapse mode on their gimbals.
The Feiyutech G6 Max comes in with a max tilt range of 280°, a max roll range of 330° and a complete pan range of 360°. This should easily be able to meet the needs of our readers no matter what they are planning on having to do with their camera range. It offers some excellent range of motion for your camera rig and allows the gimbal to provide you with some superior image stabilization no matter your needs.
With all of this for such a low price tag, it's not surprising that the Feiyutech G6 Max has proven so popular with the community. At the time of writing, the gimbal has only been publically available for little over two months and already has some great, glowing reviews from the vlogging, videography, and social media influencer communities. We really doubt that the compeating gimbal brands are going to be releasing anything that poses a serious threat to the dominance of the G6 Max anytime soon making it a solid investment in your camera accessories.
User Interface And Control System
Our side of the excellent performance of Feiyutech G6 Max we feel that Feiyu has also done an excellent job of upgrading the user control system that the G6 Max uses. Not only does its user interface maximize ease of use for any vloggers or videographers new to using handheld gimbals but it also offers some great advanced customization for any advanced gimbal users too. This ensures that no matter what level of experience you have with 3 axis gimbals, the Feiyutech G6 Max has you covered.
The OLED status screen on the G6 Max is excellent and one of the best that we have seen on any gimbal to date. Not only is it extremely bright, clear, and sharp making it easy to read, even if you are working in low light but it also offers a ton of information due to being much larger than most other screens on gimbals. It displays essential information such as various settings parameters, the current operating mode, the battery level, Bluetooth status, and a bunch of other information.
The magic wheel system to the left of the main control system seen in the image above is also multifunctional and offers a number of different functions depending on what you are needing out of the gimbal. We would imagine that both videographers and vloggers will likley be using the focus wheel functionality though as in our opinion it is definatley the best way to use the magic wheel in the majority of situations.
Now, the Feiyutech smartphone app is not in the best spot right now and has a number of problems with its connectivity but in theory, this is a relatively easy fix so we hope that Feiyutech pushes an update out soon. That said though, if you are able to get your smartphone app and gimbal to connect help you interface with the gimbal in a number of ways.
Not only does the app provide you some great wireless remote control functionality as well as easy access to your gimbal settings within seconds to tweak your settings but it also provides you with the motion of the gimbal timelapse mode too. The layout of the smartphone app is very easy to follow and it makes setting up the timelapse mode extremely easy and straight forward.
Build Quality And Design
Feiyutech has slightly tweaked the design of the G6 Max to try and make it as compact as possible and in our opinion, they have done an excellent job. If you are a travel vlogger or working in a niche where you have to travel with all of your gear on a regular basis, this new compact design can really work in your favor as the gimbal requires less space when packed in your luggage. Coming in at only 1.46 pounds of weight, the Feiyutech G6 Max is also very light too helping to keep your overall baggage weight under any airline luggage restrictions that you may have.
The gimbal is also made from a new next-generation aluminum alloy that ensures that the gimbal is also as tough as possible while also being so lightweight. If you are going to be traveling around on a regular basis this ensures that the G6 Max can take all the knocks and bumps coming its way without breaking and likley last you for many years to come without issue.
Feiyutech has also implemented the axes lock system that was first introduced by Zhiyun with their Weebill Range to allow you to independently lock the 3 axes of the gimbal in place. This is a great little feature of the gimbals build that we only expect more brands to implement in their own gimbals over the coming months. It essentially allows you to quickly and easily prevent your axes from randomly rotating when not required.
If you are traveling around with the gimbal in a bag or even just walking between locations with your camera mounted to your Feiyutech G6 Max this lets you lock the axes in place to prevent them spinning. This helps to reduce the uncontrolled wear and tear on the gimbals motors when not powered up while your camera is still mounted while also reducing the chance of the gimbal's axes moving while packed away that may potentially have resulted in damage.
As the G6 Max has been designed to support the use of action cameras with the gimbal, Feiyutech has brought their build quality for the gimbal up to splash-proof but note that the gimbal is NOT fully waterproof and should never be totally submerged in water. This also offers some nice protection against rain if you are a videographer who will be out in wet and rainy conditions for your work too.
One of the main weaknesses of the older G6 Plus was that its quick release plate system was a little sloppy but Feiyutech has worked on the system for the G6 Max and in our opinion it is flawless. This allows you to quickly and easily mount or unmount your camera as required without wasting time when out on your adventures.
The ergonomic handle design also ensures that the G6 Max is very comfortable to grip if you are out for a whole day and that you can easily hold the gimbal while capturing your video without footage. Even in this day and age, so many gimbal brands release low-quality gimbal handle grips that are a pain or end up causing your hand to cramp up during use. Even Feiyutech's own AK gimbal range from last year had a ton of issues with their handle grip but it seems that they have learned their lesson and put a solid handle grip on the Feiyutech G6 Max.
Our Verdict
This concludes our Feiyutech g6 max review and we really do feel that Feiyutech has gone above and beyond with this gimbal and managed to beat all expectations. They have totally smashed it out the park when it comes to gimbal performance in our opinion and we are confident that the G6 Max will dominate the point and shoot camera market for the next few years.
That said though, we do not agree with some other people who have reviewed the G6 Max that it is a good gimbal for a mirrorless camera user as its load capacity is very restrictive for heavier camera loads. If you are a mirrorless camera user then we would strongly recommend that you consider the Zhiyun Weebill S as it is better suited for heavier camera rigs.
If you are still on the fence and undecided about how good the Feiyutech G6 Max actually is then you can check out the rapidly increasing number of independent, third-party reviews of the gimbal posted by the videography and vlogging community. They offer some great insight into how well the handheld gimbal has performed for other users as well as a bunch of information that may be useful to you.