The Ultimate Feiyutech Vimble C Review!
Every single year the smartphone companies release new devices with better specs and over the last few generations of smartphone releases, the camera sensors have just kept on getting better and better. This has resulted in the image quality that these modern smartphones are able to capture for you to increase to a level where they can actually rival that of the leading point and shoot cameras.
Due to a smartphone being much smaller, lighter, and almost always in your pocket, more vloggers and social media influencers have simply switched over to use a modern smartphone for their content creation needs. On top of this, entry-level vloggers and social media influencers often don't have the budget available to invest in a standalone camera while they will already likley have a decent smartphone.
Due to this, over the last few years, more and more people have been reaching out with questions on various different smartphone camera accessories to try and help capture the best image quality possible. Both vloggers and videographers often invest in a gimbal early on as adding some image stabilization to their footage can be a quick, easy, and relatively cheap way to increase the quality of their content. Although we see a ton of questions about various smartphone gimbal stabilizers, we have noticed more and more people reaching out about the Feiyutech Vimble C over the last few weeks due to a few popular YouTubers mentioning that they use it.
Due to this, we have decided to publish our ultimate Feiyutech Vimble C review for today's article and want to get something out of the way before we go any further with the review. The Vimble C was released back in 2017 and even when released, the gimbal was a middle of the pack option and had nothing special about it. The gimbal is definatley showing its age and in all honesty, we would recommend that our readers actually go with something like the Moza Mini S over the Vimble C.
The Mini S was only released a few months back, has all of the latest technology, offers excellent performance, and retails at around the same price point as the Vimble C. Since its release, the Mini S just keeps becoming more and more popular while also growing a great reputation for itself amongst smartphone-based content creators.
We just wanted to mention this as early as possible in the article rather than have our readers go through our full Feiyutech Vimble C review only to get the end and have us suggest a compeating product. With all of that out of the way, we know that some of our readers will likley still want to go with the Vimble C as they want to have the same gear as their favorite content creators so we will still be going over our full review of the gimbal below.
Performance And Functionality
Although the Feiyutech Vimble C is able to mount the vast majority of smartphones from the iPhone, Samsung, and Huawei ranges, it still falls short when it comes to performance in our opinion compared to a more modern smartphone handheld gimbal like the
Moza Mini S
. The Vimble C is able to support a maximum load capacity of around 0.44 pounds of payload weight ensuring that it can mount most smartphone devices even with a removable
smartphone lens
mounted to it to improve image quality.
That said though, if you are using a larger device that comes in closer to the maximum load capacity of the Feiyutech Vimble C then there is a good chance that you may suffer from issues with vibrations during use. Double-check the weight of your smartphone and if it comes in at under the 0.37-pound mark you should be fine and not have these issues with vibrations. If your phone comes in at over the 0.37-pound mark then although the Vimble C may be able to support its weight, we would recommend you go with the Moza Mini S instead.
The maximum battery life of the Vimble C comes in at around five hours and although this was around the average battery life for a smartphone gimbal back when Feiyutech initially released the gimbal back in 2017, it falls short by modern standards. For around thirty dollars more, depending on the retailer, you can get the modern DJI Osmo Mobile 3 that can provide you with up to fifteen hours of battery life per full charge of its battery!
If you are a smartphone-based content creator then you may be involved in something like travel vlogging or travel social media influencing where you may be out and about for date at a time without the ability to recharge your gimbal. Although USB power banks have came a long way over the last few years and allow you to recharge your gimbal while on the go, something like the DJI Osmo Mobile 3 absolutely blows the Vimble C out the water when it comes to battery life and performance.
If you do choose to go with the Vimble C then it will take around three hours to recharge back to full when empty. This provides you with just over an hour and a half worth of battery per hour spend charging the gimbal up. As the Osmo Mobile 3 also takes around three hours to recharge but provides so much more battery life you get around five hours of usable battery per hour spent charging. This helps to minimize any downtime due to running out of battery and keep you going capturing your content as required.
Additionally, the latest smartphone gimbals like the DJI Osmo Mobile 3 also support two-way charging meaning that you can plug your smartphone into the gimbal to charge it while out and about directly from the gimbal battery. This helps to keep all of your devices topped off, especially if you are recording 4k video footage without you running into issues throughout the day.
As we mentioned back at the start of this section, back in 2017 when the Feiyutech Vimble C was actually released onto the market, it was distinctly middle of the pack with nothing particularly special about it. This is down to the cheap gimbal motors and gimbal sensors that Feiyutech seems to have designed for the Vimble C as well as the sub-par balancing algorithm that Feiyutech use in their gimbals too.
This just keeps on losing the Vimble C points to the competition and is why we would always recommend that our readers go with the  Moza Mini S if you want a modern similar price point gimbal or the DJI Osmo Mobile 3 if you can stretch your budget a little and want the best performance possible.
User Interface And Control System
The image above shows the user interface for the Feiyutech Vimble C and as you can see, it is very basic and user-friendly allowing anyone new to using a gimbal quickly and easily learn the basics of how to operate the gimbal while requiring minimal effort. That said though, the vast majority, if not all of the modern smartphone gimbals emphasize ease of use with the design of their interface to ensure that anyone purchasing their very first gimbal is able to learn what to do as quickly as possible.
Again though, the actual interface of the Vimble C is another area where it shows its age against the more modern smartphone gimbals on the market. For example, it comes with a traditional four way joystick for manual control whereas the latest smartphone gimbals come with an omnidirectional joystick offering superior control when used in manual mode.
If you are just looking for a smartphone gimbal to have fun with then this will probably not be an issue. If you are looking to capture the best image quality with a goal of growing your social media accounts then it really can hold you back as its manual control is a little clunky compared to something like the DJI Osmo Mobile 3. With any potential viewers or followers being so fickle ensuring that you are providing the best image quality possible to help your content stand out against the competition is a way to help increase the way of converting viewers into a follower or subscriber.
Another dated feature on the Feiyutech Vimble C that holds it back is the power button. Rather than being a more modern switch, the Vimble C uses a press and hold button that are a pain to use. You have to hold the button for five seconds and then release it when the power light switches to Red. Although this may sound simple, if you are out and about for a day vlogging having to power up and power down the gimbal in this way becomes very annoying very quickly.
Build Quality And Design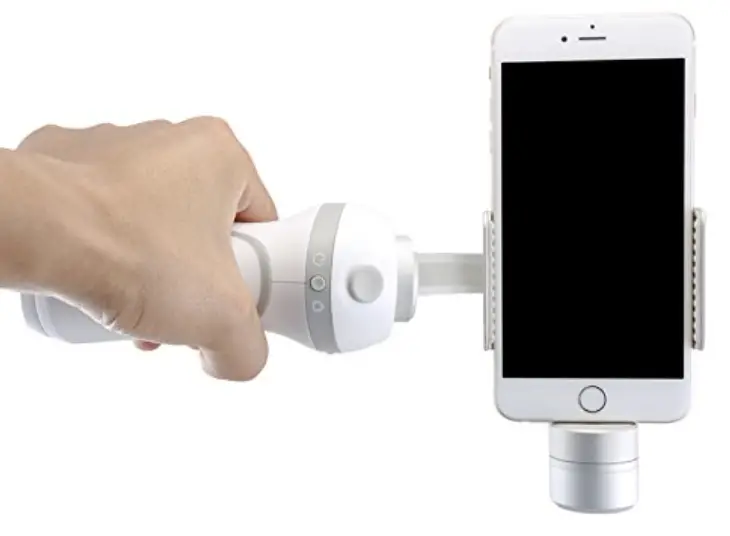 Feiyutech have gone with an ergonomic design with the Vimble C that makes it much easier to hold for longer periods of time. Additionally, the handle grip on the Vimble C is also easy to grip and has a great comfort level to ensure that if you are out and about vlogging for a full day, you can hold the gimbal without getting aches, pains, or cramps in your hand.
The gimbal is also pretty small and compact due to its design making it very easy to pack away in your bag or backpack when not in use. If you are a travel vlogger or working in any other niche where you will be traveling around on a regular basis this can work to your favor as the gimbal doesn't take up much space. Unfortunately, it is a little heavy compared to what we would expect for a gimbal of this size but in the grand scheme of things, this should not be an issue. As the Vimble C is made from tough, high-quality, ABS materials it is also very robust ensuring that it can easily take a bunch of knocks during use or when in transit.
Another area that Feiyutech fell short on that even made the Vimble C fall short back when it was released a few years back is that it offers no orientation control. Even back in 2017, the vast majority of smartphone 3 axis gimbal stabilizers would allow you to quickly and easily switch the gimbal head between portrait and horizontal orientation. The Vimble C is fixed forcing you to actually physically move your hand if you want to switch up the orientation of your smartphone as shown in the image above.
This can be a total pain making the DJI Osmo Mobile 3 or  Moza Mini S much better options than the Vimble C. Platforms like YouTube do better with landscape video footage whereas platforms such as Instagram tend to do better with portrait orientation. If you are involved in vlogging or social media influencing chances are the lack of being able to quickly and easily switch the gimbal head as required will become annoying extremely quickly.
The gimbal also comes with multiple quarter-inch mounting threads in its base to allow you to mount it to a tripod, monopod, or extension bar as required. Although handy, in our opinion this is simply too little too late to help score the Vimble C enough points to even come close to what the compeating gimbal brands are offering.
Our Verdict
That concludes our ultimate Feiyutech Vimble C review and as you can probably guess, we would not recommend that our readers add the Vimble C to their collection of camera accessories. It is too old and in our opinion was sub-par back when it was initially released onto the market. In this day and age something like the Moza Mini S is better in every way and offers much better levels of image stabilization while outperforming the Vimble C in every way.
The Moza Mini S has also managed to earn a large number of excellent independent reviews from smartphone content creators since its release. We also have our own dedicated review of the Moza Mini S online too if you are wanting to know more about the gimbal.