The Ultimate Moza Mini S Review!
Our regular readers will probably be aware that we have been posting an absolute ton of smartphone gimbal content recently due to a number of new releases from gimbal brands targeting the smartphone user. We only see this trend continuing in the future and the smartphone gimbal space becoming more and more competitive. More and more vloggers and social media influencers are starting to use their smartphones for their content creation as modern smartphones have excellent quality camera sensors on them.
Although Zhiyun and DJI have pretty much dominated the gimbal niche for a number of years now, Moza has really upped their game and are breaking the trend of the gimbal space being a two-horse race and have secured their place at the top of the tree. They have recently released two new smartphone gimbals and we have seen a large number of people reaching out about them over the last few months so we have decided to review both of them.
We recently published our review of the Moza Mini Mi a few days back and today we are publishing our ultimate Moza Mini S review. Now, in all honesty, both of these gimbals are very similar to each other with the Moza Mini S essentially being the little brother of the Moza Mini Mi. The Mini S has a lower price tag to serve the entry-level market but also has a lower maximum battery life, load capacity, and no wireless charging to help keep its costs down.
Although the Moza Mini S is a solid little gimbal that does a great job of meeting the needs of anyone looking for some budget-friendly image stabilization for their smartphone, we feel that our readers should try and find the additional $15 to $30 required to go with the Moza Mini Mi instead. It is generally a better gimbal with such a small increase in price that it is almost always going to be worth upgrading to the Mini Mi over the Mini S.
In our opinion, the only two situations where the Mini S will be the better option is if you are on the tightest possible budget and are unable to source the additional $30 for the Mini Mi or if you are working in a niche such as travel vlogging and like to travel light. The Mini S is slightly smaller with its compact design and a little lighter making it easier to pack too meaning it may be the better option if you travel a whole bunch with your geat via planes.
Since its release onto the market, the Moza Mini S has managed to earn itself a solid reputation amongst smartphone content creators and its reputation just keeps getting better with each passing month. If you are on a budget or do like to travel as light as possible then it can be a great addition to your camera accessories and we will be going into more detail on this solid little gimbal throughout the rest of the article.
Performance And Functionality
Now, as we mentioned above, the Moza Mini S does have a lower maximum load capacity of the Mini Mi and is only able to support payloads of up to 0.56 pounds. Although this does allow you to mount the majority of regular-sized smartphones currently available on the market to the gimbal, it can be restrictive and limit the larger-screened phones as well as any additional accessories like an
external smartphone lens
. This is why we would always recommend that our readers try to find the additional funds to allow them to purchase the
Moza Mini Mi
over the Mini S.
That said though, the Mini S can easily support the majority of phones under 0.56 pounds with a screen less than 3.5 inches. This includes the latest handsets from the iPhone, Samsung, LG, Google, and Huawei ranges as well as many other popular brands too. This covers the majority of the smartphone market share at the time of writing and with regular-sized smartphones still outselling the larger-screened smartphones we doubt that this will change anytime soon.
When it comes to the maximum battery life of the Moza Mini S it is able to provide you with a maximum of eight hours per charge. That said though, realistically, you can probably expect closer to the five-hour mark with a regular, modern smartphone mounted to the gimbal. In all honesty, we would expect a very short maximum battery life for this price point but it is just another reason to try and find the additional $30 to get the Mini Mi with its twelve-hour battery life rather than go with the Mini S.
Once your battery is empty on the Mini S, you can recharge it back to full in around three hours from a regular wall based power socket. If you are working in something like travel vlogging then you may want to also look into adding a decent USB power bank to your collection of camera accessories. This ensures that you are able to quickly and easily recharge your gimbal and smartphone while on the move without having easy access to a power outlet.
In a pinch, the two way charging on the Moza Mini S can be used to recharge your smartphone while out and about if needed but keep in mind that this can rapidly deplete your short maximum battery life. The Moza Mini S does lack wireless smartphone charging whereas the Moza Mini Mi fully supports it and with its larger battery it can deal with the additional load much easier.
The clips in the footage above have been captured using a smartphone mounted to the
Moza Mini S
and does a solid job of showing off how good this cheap little gimbal can actually be. As you can see, it can provide you with some solid, butter-smooth image stabilization without you having to break the bank. The performance and image stabilization of the
Moza Mini Mi
is very similar to the Mini Mi but it has the longer battery life and heavier maximum load capacity.
Although the gimbal motors in the Mini Mi are better than the ones in the Mini S with a higher level of torque, to our knowledge, both of the gimbals use the exact same gimbal sensors to enable the rapid detection and correction of motion in the gimbal head to keep your smartphone as level as possible during use. Both gimbals also offer full 360° rotation delivered via all three axes.
That said though, the individual axes on the gimbal do have the limitations of ±270° yaw, ±200° pitch, and 315° roll. In all honesty though, if you are in the market for a cheap, entry-level smartphone gimbal then we doubt that this will be an issue and are confident that the range of the available axes will be able to meet your needs without you running into any issues.
The Mini S also comes with a number of solid gimbal modes to help make your content creation as simple, easy, and seamless as possible too. You have the standard manual, lock, and follow modes that you would expect but these new Moza gimbals both come with their new inception mode that is essentially the vortex mode from the Zhiyun range that mimics a barrel roll movement at the press of a button. This allows you to spice up your vlogs and capture some commonly recorded locations in a new way to help ensure that your content can stand out.
Although the Moza Mini S definatley does have some limitations that the Moza Mini Mi does not, the Mini S has still managed to earn a decent market share since release. Many of the smartphone videographers who have purchased the gimbal have also decided to post their own independent reviews of the gimbal that offer some great insight into its performance that we worth reading if you have some spare time.
User Interface And Control System
Now, as you would expect from a modern, entry-level smartphone gimbal, the Moza Mini S has an extremely simple and easy to use control system as shown in the image above. This ensures that you can quickly and easily get to grips with using the gimbal and getting the most out of it even if you have prior experience using a stabilizer prior to picking up the Mini S. Ease of use has been heavily emphasized with the designed to ensure that you don't have to waste hours of your precious time learning the system and that you can just get out and about capturing the content you want.
The one-button zoom and focus control on the Mini S allows you to quickly and easily tweak what your smartphone is able to capture without having to waste time going through a long process either. This helps the Mini S score itself some points over some of the other entry-level smartphone gimbals from compeating brands too.
All of the buttons and joystick on the control system are very easy to use and very responsive too. This ensures that even if you are using the gimbal in cold or slightly we conditions, you have superior control over the movement of the gimbal head with minimal movement required on your part. This is one of the main problems that the cheaper gimbal stabilizers have as they can often lose the responsiveness of their control systems in cold or wet conditions but Moza have definatley nailed it with the Mini S.
Smartphone App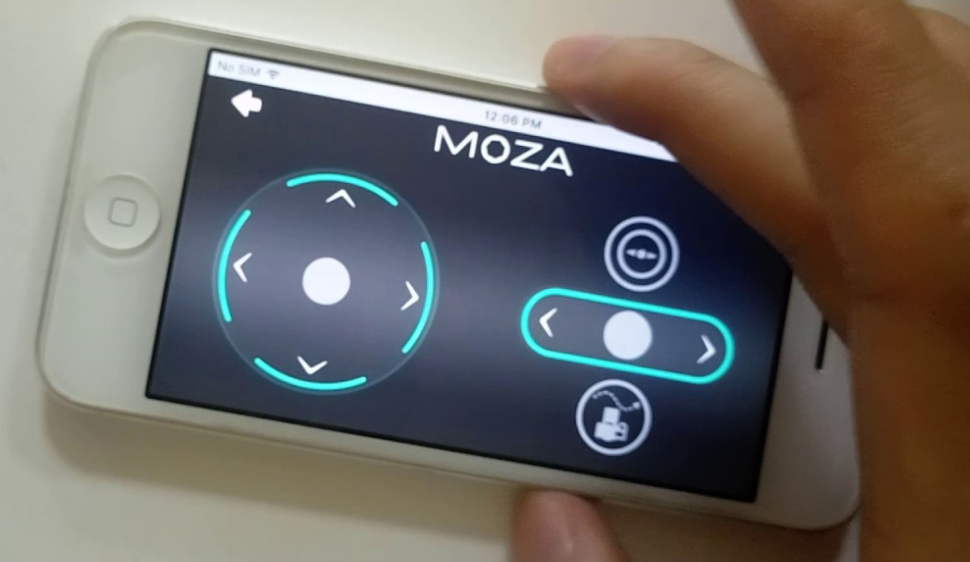 Until around a year ago, the vast majority of gimbal apps were a total waste of time with the Moza and DJI apps being the only apps that offered some solid functionality. The majority of the other apps had a number of issues ranging from poor connectivity to random disconnects to problems with the navigation menu itself. Thankfully though, the majority of the apps from compeating gimbal brands have corrected their issues and the app space is in a much better position at the time of writing.
Moza and DJI still lead the way with their apps in our opinion and not only have the best apps when it comes to ease of use but also functionality too. The Moza app is very easy to sync to your gimbal and the app menu is seamless allowing you to easily work your way through it as required. This allows you to quickly and easily take advantage of the wireless remote control settings on the app or adjust your gimbal settings as required without having to waste a whole bunch of time.
Build Quality And Design
The only real advantage that the
Moza Mini S
has over the 
Moza Mini Mi
when it comes to its build quality and design is the fact that it is smaller and has a compact foldable design making it slightly easier to travel with. If you are a travel vlogger and are into your one bag travel then this alone may be the main feature that you are interested in but in our opinion, the Mini Mi will be the better option for most of our readers.
Moza have been sure to make the Mini S as robust and lightweight as possible and they have done a pretty decent job of both considering the price tag that they are marketing the Mini S for. We are confident that the gimbal will easily be able to be placed in your luggage or backpack when needed and take any bumps coming its way without breaking too. Coming in at 5.12″*2.68″*7.68″ it is also small enough to be added to your camera accessory bag without having to take up much space too making it even easier to travel with.
The Moza Mini S also has a very comfortable handle too that allows you to easily grip the gimbal when needed without getting cramps in your hands too. This is another area that some entry-level, cheaper smartphone gimbals can struggle in but in our opinion, Moza has totally nailed it. This also ensures that you can grip the gimbals handle in wet conditions without dropping it to keep your smartphone safe in wet conditions.
Our Verdict
That brings our Moza Mini S review to an end and although we really do love what Moza has tried to do with the gimbal, we feel that it is better to just go with its big brother, the Moza Mini Mi for the additional $30. If you can afford a modern smartphone then chances are $30 will be nothing for your budget but the features, battery life, and load capacity that the Mini Mi offers for the additional money is well worth it and can present a right bargain for you.
You can also read a number of independent reviews for the Moza Mini Mi that have been posted by independent smartphone videographers too. They are well worth reading in our opinion and offer some great insight into the performance and functionality of the Mini Mi and what you get for the additional $30.