The Ultimate Zhiyun Crane M Review!
Although the gimbal space for DSLR and mirrorless cameras have an absolute ton of options available for videographers, the point and shoot space have little to nothing that performs well and is cost-effective. With point and shoot cameras being one of the main setups for entry-level to intermediate vloggers and social media influencers we see an absolute ton of people reaching out for advice and help on what gimbals they should be considering for their cameras.
The new versions of the Canon G7X and Sony RX100 has just been released onto the market so we have seen a spike in people reaching out with questions about gimbals for their new cameras. One of the main requests that we have seen over the last month or so is people asking for a dedicated article going over a Zhiyun Crane M review so we have decided to make this the subject of today's article.
Now, before going any further, we just want to point out that although the original Zhiyun Crane M was the king of the point and shoot gimbal space, the new Zhiyun Crane M2 is now available on the market. If you are able to find the additional thirty to forty dollars depending on the retailer to pick up the M2 then we would highly recommend it as it is an excellent gimbal that improves on the original Crane M in every way. Since its release onto the market, the M2 has managed to quickly build up a solid reputation amongst the community that just keeps on growing.
That said though, although from a previous generation of gimbals, we still feel that the original Crane M still has its place in the market. It offers similar levels of performance and image stabilization to the Feiyutech G6 Plus while being much cheaper. It is also thirty to forty dollars cheaper than the new Crane M2 and serves as a sort of cheaper, more budget-friendly point and shoot camera gimbal stabilizer.
Due to this, we are still going to go over our full review of the gimbal to try and help any of our readers who are on a tight budget but want some excellent image stabilization for their video footage. Just to be clear though, it is a much better option to wait a few weeks to try and save the additional funds to purchase the Zhiyun Crane M2 instead of just going with the original Crane M right now as the M2 has all of the latest technology and gadgets.
Performance And Functionality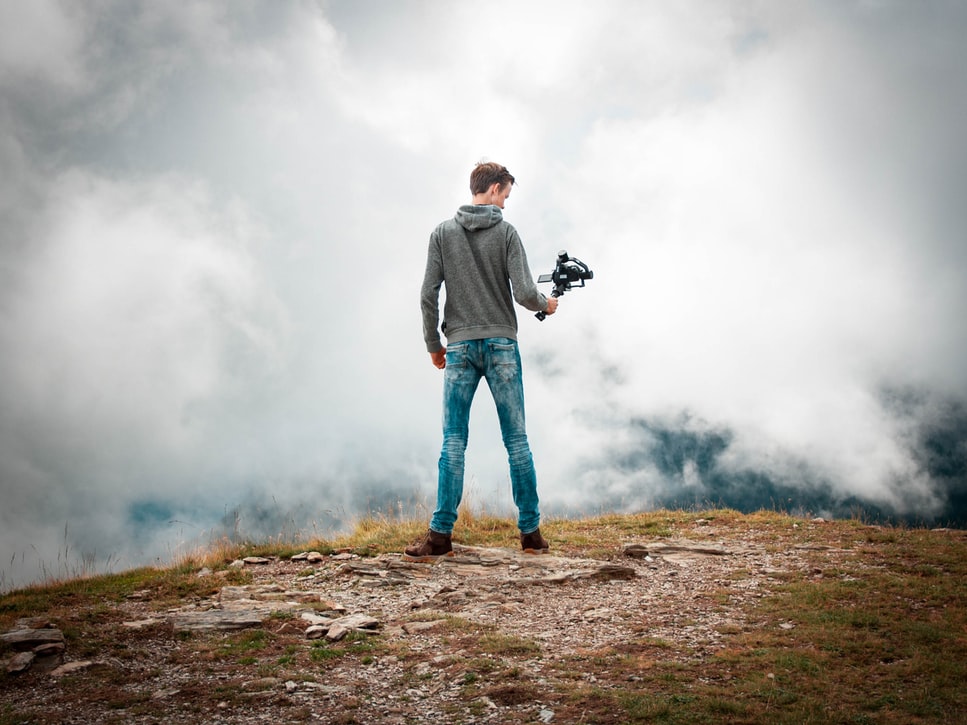 So first up let's go over the maximum load capacity of the Zhiyun Crane M and it comes in with a very respectable 1.43 pounds of load capacity. Although there are a few different versions of both the Canon G7X and Sony RX100 models these days, they usually come in at around the same payload weight with the G7X being around 0.7 pounds and the RX100 being around 0.54 pounds meaning that the Crane M is easily able to support the two most popular point and shoot cameras on the market with ease.
On top of this, the gimbal also has plenty of load capacity spare for various other camera accessories too. For example, both the Canon G7X III and the Sony RX100 VII come with an external microphone input jack allowing you to use an external microphone with your camera to improve your audio quality if you wish. The majority of vloggers who are using either of these cameras will likley use something like the Rode Video Micro as their go-to microphone of choice and they only come in at around 0.1 pounds of payload weight meaning that the Crane M is easily able to let you mount your microphone to your camera while recording too.
One great feature of the Zhiyun Crane M that works hand in hand with using an external microphone with your camera is that its gimbal motors are very quiet when adjusting the gimbal head. This ensures that there is no contamination of your audio track from your gimbal stabilizing your camera. This can be a problem with some compeating brands at this price point but Zhiyun has totally nailed it in our opinion and your audio track will be crisp and clean.
If you are more of an intermediate videographer, vlogger or social media influencer then you might have upgraded from the point and shoot camera range to a mirrorless camera like the Sony a6400. Due to the latest mirrorless cameras being extremely lightweight and small, camera bodies like the a6400 come in at only 0.89 pounds of payload weight meaning that the Zhiyun Crane M is able to support them provided that you have a lightweight camera lens and microphone mounted.
If you are using a mirrorless camera rig then we would highly recommend that you check out the Zhiyun Weebill S over the Zhiyun Crane M or even the Crane M2 as it is an amazing 3 axis gimbal stabilizer and in our opinion, at the time of writing, the best gimbal ever made. It is perfect for mirrorless cameras and can really help you step up your game and can support any mirrorless camera with some very heavy camera accessories mounted to it while the Crane M can be a little restrictive.
That said though, the sample footage above has been recorded using the
Zhiyun Crane M
and a
Sony a6300
and does an excellent job of not only showing off the image quality you can expect but also the levels of image stabilization the gimbal can provide with a mirrorless camera. As you can see, the footage is butter smooth and the Crane M performs flawlessly even with the heavier camera rig to ensure that the videographer gets some excellent quality footage that is absolutely butter smooth.
Another solid thing about the Crane M that sets it apart from some of the other gimbals targeting this weight class of cameras is that it has a maximum battery life of twelve hours! This is excellent for a gimbal of this price and should easily be enough for you to get out and about and capture all the video footage that you want without running out of battery life on your adventures between recharging it.
The Original Crane M also has almost double the maximum battery life of the newer Crane M2 but this is by design. More and more videographers are adding high capacity USB power banks to their collections of camera accessories to allow them to charge their devices while on the move. Due to this, gimbal brands have taken to adding smaller and lighter batteries to their newer gimbals to help ensure they are as small and light as possible.
When your Zhiyun Crane M does end up running out of battery you are able to charge it back to full in only three hours ensuring that you are able to get back out and about capturing footage as quickly as possible if needed. If you do plan to invest in a USB power bank then your recharging time via your power bank will depend on its power output levels.
One of the main reasons that the image stabilization that the Zhiyun Crane M provides is so good is down to the fact that Zhiyun has always been at the front of the pack when it comes to their detection and correction systems for their gimbals. Although compeating brands like DJI and Moza have caught up over the last year or so, they are yet to release a gimbal to compete in the sub 1.5 pound camera weight class that the Crane M sits in.
This ensures that the Zhiyun system is free to dominate and keep growing their market share in this steadily growing gimbal weight class. Although the gimbal sensors on the original Crane M are a few years old now, they still perform very well and are extremely rapid at detecting even the slightest movement in the gimbal. They then send the relevant information into the Zhiyun balancing algorithm that we still feel is the best available at the time of writing before the correct information to counter the movement is sent to the high torque gimbal motors.
This results in some of the smoothest yet fastest image stabilization available in this gimbal weight class and cements the position of the Zhiyun Crane M as the dominant gimbal stabilizer against the competition. Add in the fact that the Crane M also supports full 360° rotation along the pan, tilt, and roll axes and it is easy to see why it is so popular with so many independent glowing reviews posted by its users that you an read for some additional insight.
User Interface And Control System
The control system for the Zhiyun Crane M is very straight forward and easy to use as shown in the image above. If you are in the market for your very first 3 axis gimbal stabilizer then the Crane M is a solid option due to how easy it is to use and how quickly you can learn to use it efficiently. Some of the more professional level gimbals on the market can take a while to learn whereas the Crane M can be taken out the box, played with for a few minutes and you will have the basics down and be good to go.
As you can see from the image above, the system is based around the standard joystick with button system that has proven to be very popular amongst the community due to how simple and easy it is to use. The joystick and buttons on the Crane M are all very responsive and easy to use too, even if your fingers or thumb are cold and wet ensuring that you have great control over your gimbal no matter the conditions that you are recording in.
Smartphone App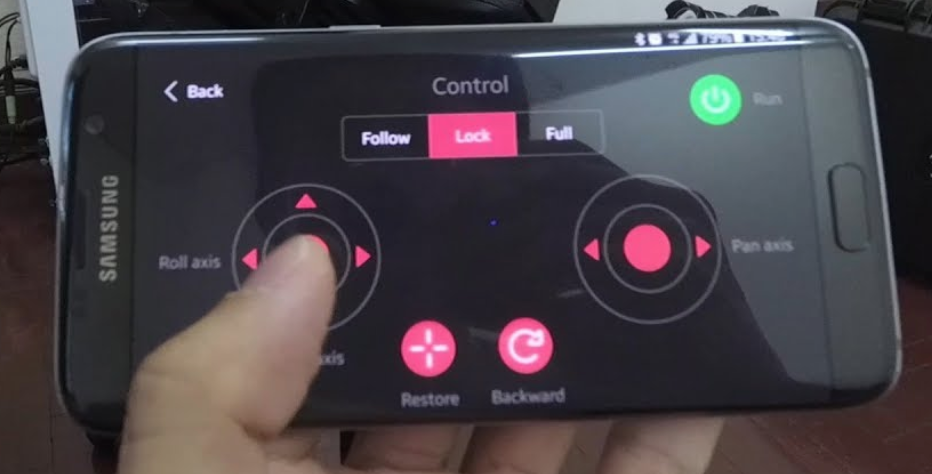 Although the Zhiyun smartphone app has had its issues in the past, it was totally overhauled around a year back and the current build for their app is a great, free gimbal accessory that is well worth downloading in our opinion. It is easy to navigate and very easy to sync with your gimbal and the problem with the random disconnects seems to have been corrected in the overhaul.
Not only does the app offer some solid wireless remote control functionality for anyone using it if needed but it also offers some quick and easy access to the gimbals settings. Although the default config that comes with the gimbal when shipped will be fine for the vast majority of our readers, we know that some of you guys will like to tweak your new gadget to get the most out of it and the app lets you do with ease. That said though, if you are brand new to using a gimbal stabilizer there is absolutely no need to tweak your gimbal settings for optimal performance if you don't want to.
Build Quality And Design
Over the years, Zhiyun has rightfully earned an excellent reputation for themselves when it comes to the build quality of their gimbals due to them being put together so well without having to hike their price tags up. The Zhiyun Crane M is not only pretty lightweight for the time it was released onto the market but it is also very robust too. Now, by the standards of the latest gimbals using the latest alloys and polymers, the Crane M is pretty heavy but when you factor in it is a few years old now, it is on the lighter side when compared to the compeating gimbals of its time.
If you are working in a niche like travel vlogging and you have to travel around via plane on a regular basis this can really help you due to being able to quickly and easily store the Zhiyun Crane M in your kit without taking up much space or adding much weight. This ensures that you don't accidentally go over your baggage weight allowance and have to pay fees with your airline while traveling.
The tough and robust build quality of the Zhiyun Crane M also ensures that it is easily able to take any bumps or knocks while in transit or during use too. As traveling on a regular basis can really start to take its toll on your gear this also helps to ensure that your new gimbal is going to last you for many years to come without issue too.
The Crane M also comes with a standard quarter-inch mounting thread in the base of its handle to allow you to mount it to a tripod if needed too. This allows you to quickly and easily mount your camera to your gimbal and then mount your gimbal to your tripod and then control it remotely so you can get in the frame. This allows you to capture some of the epic landscapes that you can see with you in the frame with ease.
The final thing that we want to comment on when it comes to the build quality of the gimbal is that the handle grip is comfortable and easy to grip too. Even to this day, some gimbal brands put low-quality grips on their gimbals that can end up making your hand ache or cramp for longer sessions. The grip on the Zhiyun Crane M is comfortable and easy to grip even if your hand is wet ensuring that your rig is safe in your hands during use.
Our Verdict
That brings our ultimate Zhiyun Crane M review to a close and we hope that our readers have found it helpful. As we mentioned back at the start of the review, if you can stretch your budget to purchase the new Zhiyun Crane M2 rather than the original Zhiyun Crane M then do it. The Crane M2 is a better gimbal than the original Crane M and well worth the additional money and you can check out our dedicated review of the M2 if you wish.
That said though, if you are on a strict budget then the original Zhiyun Crane M can be a solid gimbal if you are on a strict budget but need something to help improve the image quality that you are able to capture with your camera. It offers some excellent image stabilization and can make a great, cheap addition to your collection of camera accessories. If you are still undecided then we would highly recommend that you check some of these independent reviews of the gimbal out as they offer an excellent insight into its performance.