The Ultimate Zhiyun Crane M2 vs Feiyu G6 Plus Comparison!
At the time of writing, both the Canon G7X Mark III and the Sony RX100 VII have been available on the market for a number of months and just keep on going from strength to strength. Being the current kinds of the point and shoot camera range the people who are purchasing the cameras or picking up one of the older variants of each model due to their price reductions have been reaching out with a ton of questions on various camera accessories.
With both the G7X and RX100 range being very popular options for the vlogging and travel videography community, it should be no surprise that we have seen an absolute ton of questions based around the best gimbal for each camera. In our opinion, at the time of writing, the Feiyutech g6 plus and the Zhiyun Crane m2 are probably the best gimbal stabilizers on the market for point and shoot cameras with the g6 plus being ever so slightly ahead of the m2 while also being a little cheaper.
Due to this, we have decided to publish our own ultimate Zhiyun Crane m2 vs Feiyu g6 plus comparison article to go over these two great gimbals for any of our readers who are considering adding either of them to their collection of camera accessories. Adding a great source of image stabilization to your camera accessories like either of these gimbals is a great way to quickly and easily improve your image quality requiring minimal additional effort on your part.
As usual, we have our comparison table below where we go over some of the key features for each gimbal and offer a short break down for any of our readers who are short on time and in a rush. After the comparison table section, we also have our more in-depth look at both of the gimbals where we will be comparing a bunch of their more in-depth features to try and help any of our readers with a little more free time available who want to know as much as possible about any potential purchase.
Comparison Table
Product
Better Option!
Feiyutech G6 Plus
Image


Better Option!
Image

Image

Last update on 2022-05-29 / Images from Amazon Product Advertising API
As you can see from our comparison table above, the Feiyutech g6 plus not only has the lower price tag but it also has the better maximum load capacity as well as the better battery life over the Crane m2. On top of this, the g6 plus has proven to be a very popular 3 axis gimbal stabilizer amongst the community over the years and has managed to earn itself an excellent reputation amongst the vlogging and videography communities.
Although its battery life per charge can fluctuate wildly depending on the camera rig that you have mounted to it as well as the activities that you are taking part in, its recent price reduction, larger maximum load capacity, and solid battery life push it out ahead as the obvious option in our opinion that should easily meet the needs for the majority of our readers.
Although the Zhiyun Crane m2 has the better technology with more modern gimbal motors and sensors we just don't feel that it is enough to edge the Crane m2 out ahead of the g6 plus for most people. One area where the crane m2 is superior is if you are one bag traveling and absolutely have to keep the weight and size of your camera accessories as low and small as possible. It is 0.38 pound lighter than the g6 plus and although this may not sound like much, for a one-bag traveler it really does matter.
Anyway, the Crane m2 has also managed to earn itself a great reputation amongst both videographers and vloggers. Due to being the newer gimbal to market, its customer base and reputation are still growing at a rapid pace and getting stronger with each passing month two.
Although both of these great little handheld gimbals can make a decent addition to your camera accessories, we feel that provided the g6 plus is the slightly better option, especially if it is around fifty dollars cheaper than the Crane m2 like at the time of writing. Anyway, all that out the way, we will now be moving onto our more in-depth look at both of these gimbals for anyone who would like to know as much as possible about them and how they compare to each other.
Performance And Functionality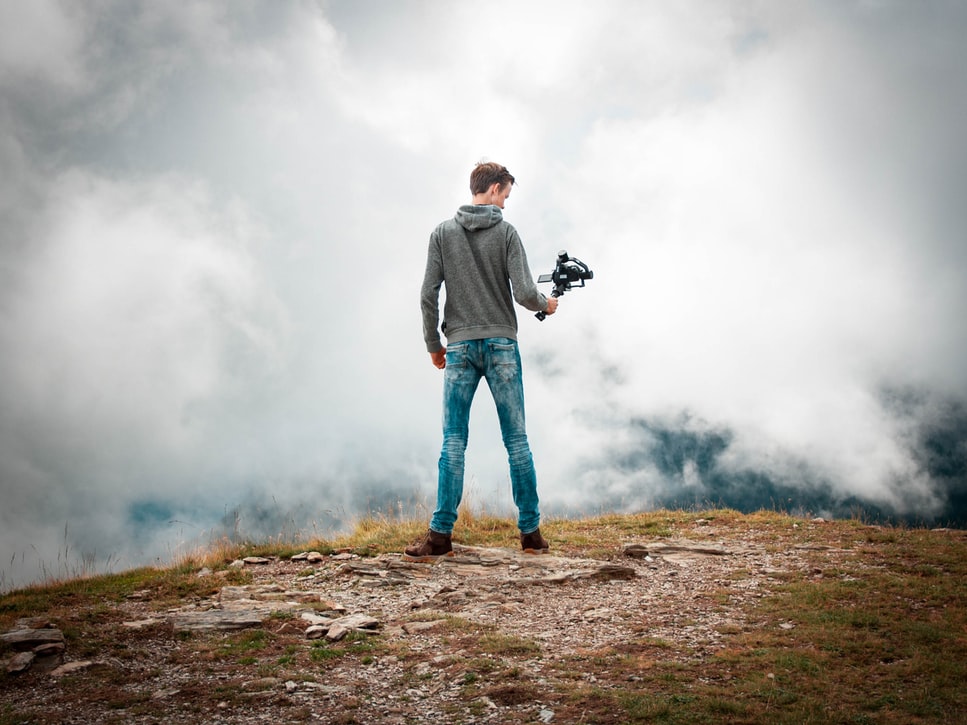 Now, when it comes to the point and shoot camera weight class gimbal, they have traditionally had a much easier time when compared to the gimbals designed for use in the mirrorless or DSLR camera weight classes. Historically, this has been down to the gimbal brand usually being able to predict the kind of payload weight that the gimbal will have to support and then work around this. The latest addition to the
Canon G7X rang
and
Sony RX100 range
offer an external microphone input jack as well as a few other things for additional camera accessories too.
This kind of mixes the game up a little bit as the point and shoot camera weight class gimbals now have variable payloads as vloggers and videographers switch out the camera accessories to meet the needs of their session. Although it is highly likley that the Crane m2 with its 1.58-pound maximum load capacity will still be able to support the vast majority, if not all point and shoot camera rigs, the g6 plus takes the lead with its maximum load capacity of 1.76-pounds.
Although an advantage of only 0.18 pounds over the Crane m2, this can actually equal the additional payload weight of something like a Rode VideoMic Go depending on what else you are using with your camera rig. Due to this, we have to give it to Feiyutech for any advanced videographers who like to use a heavier camera set up while recording. If you are looking for a handheld gimbal for something like vlogging then this will likley not be an issue as even with an external microphone your total payload weight should be much lower than what the Zhiyun Crane m2 is able to support.
The maximum battery life of the gimbals is another area where the Feiyutech g6 plus pulls out ahead as it is able to support a maximum battery life of between eight and twelve hours depending on what you are doing with your gimbal. If you are using something light with your gimbal like a G7X or an RX100 then its safe to assume that you will be getting closer to the twelve hours per battery charge mark.
The Crane m2 on the other hand only supports a maximum battery life of around seven hours with each full charge of its battery. Now, this is actually commonplace in this day and age as the Feiyutech g6 plus is a few generations older than the Zhiyun Crane m2 and was released back when gimbal brands were placing a higher priority on battery life.
The Crane m2 is from the latest generation of gimbals at the time of writing and the trend is to put a smaller and lighter battery in the modern gimbals to keep their size and weight down and seems to be what Zhiyun have gone for with the m2. As some modern USB power banks are able to recharge your camera, gimbal, and other accessories, while out and about, more and more videographers and vloggers are adding them to their camera accessories. This can help off-set the lower battery life of the Crane m2 if you want to go with it over the g6 plus yet want the longest possible battery life possible.
The clips in the video above have been captured using the
Feiyutech g6 plus
and show off the levels of image stabilization that you can expect when using the g6 plus yourself. The image stabilization that it provides you is excellent considering its price tag and in our opinion, it can be a great way to improve the image quality of your video footage with ease. If you are working in a niche where you don't have to travel around via plane often and be mindful of the size and weight of your camera accessories then the g6 plus is likley the way you should be going.
The clips above have been captured using the
Zhiyun Crane m2
and show off exactly what you can expect if you choose to take the Zhiyun option. As you can see, it is still an excellent little 3 axis gimbal stabilizer that can provide you with some great quality image stabilization. Its just a shame that its maximum load capacity and maximum battery life are not matching the Feiyutech g6 plus.
Both of the featured handheld gimbal stabilizers come with the standard gimbal modes that you would expect on them such as pan, lock, follow, and manual mode while the Zhiyun also offers a few more gimbal modes than the Feiyutech but they are not as useful as the main four and will likley never be used by most people anyway.
User Interface And Control System
Both of the featured gimbals offer a solid user control system that not only maximizes ease of use but also offers some quick and easy customization if required too. This makes both of the featured gimbals ideal for anyone looking to pick up their very first stabilizer as they are both very easy to learn and get to grips with. On the flip side of this though, the quick and easy customization on both gimbals also makes them ideal options for any advanced videographers or vloggers too.
Both the Feiyutech g6 plus and the Zhiyun Crane m2 are based around the standard gimbal interface featuring an LCD panel, a couple of buttons and a joystick. Both gimbals have a solid joystick that offers some great control over the head of the gimbal when being used in manual mode. This allows you to manually pan the gimbal head if needed when in manual mode to get a more natural-looking panning rather than that slightly robotic panning motion that both of the gimbals offer.
The navigation menus on both of the gimbals are different to each other but both equally easy to learn and navigate through when needed. This ensures that if needed, you can easily flick through the gimbals settings to get to specific functions that you need to tweak to maximize performance during use without having to waste time. On the flip side of this though, the default gimbal configs that come shipped with each stabilizer have been optimized for use with point and shoot and lightweight mirrorless camera rigs so will likley be fine for most of our readers right out the box.
Both of the gimbals also have very clean, sharp, and bright LCD screens allowing you to see the information that they are displaying no matter the condition that you are working in. This ensures that you can get the most out of the gimbal, even when using it in low light conditions without issue. This is a common issue with some of the older gimbals with their LCD screens being close to useless when used in low light but these more modern gimbals perform well due to having a backlit screen.
Smartphone App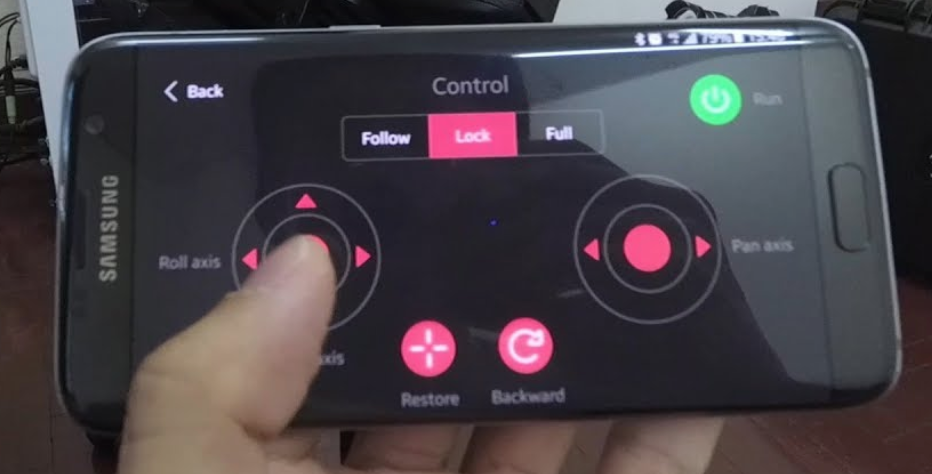 When it comes to the smartphone apps for each of the gimbals, Zhiyun takes this one with ease as their smartphone actually works well without any major issues. The Feiyutech app can be a right nightmare to use as simply syncing the app and your gimbal is a pain and can simply refuse to work. If you do manage to get the Feiyutech app synced with the g6 plus then it can also randomly drop its connection forcing you to have to start the whole process again. In our opinion, the smartphone app is the only weak area of the Feiyutech g6 plus and we really do hope that Feiyutech updates it soon and fix the various problems that it has and bring it up to standard.
The Zhiyun app is very straight forward and easy to use allowing you to access your gimbals settings right from your phone to make any tweaks that you want. If you are more of an advanced videographer who will be tweaking their gimbal settings then this single feature alone may be the reason to take the Crane m2 over the g6 plus. Over the course of a videography session, the time saved by being able to quickly tweak your camera settings via your app adds up and can end up being a surprising amount of time.
The apps also offer some wireless remote control features too but although they work well, remote control features on gimbals are usually used by videographers doing wedding gigs and things like that. If this is the case, chances are that your camera rig will be too heavy to be mounted to either of these featured gimbals anyway. This minimizes the realistic use of the remote control functionality outside of just messing around and having fun.
Build Quality And Design
When it comes to the build quality of both of the featured gimbals, they are both about as tough as each other allowing them to take plenty of punishment and not break. If you are planning on traveling around with your gimbal in a backpack or something like that then this is a solid feature as your gimbal will likley take a bunch of knocks or bumps so it needs to be as tough as possible.
When it comes to the actual size and weight of the gimbals then the Zhiyun Crane m2 definatley beats the Feiyutech g6 plus as it is smaller and lighter. This makes it ideal if you are a travel vlogger and planning on having to do a whole bunch of traveling while keeping your baggage as lightweight as possible. As we touched on earlier though, the lighter weight of the m2 is largely due to it having a smaller battery that provides you with a shorter battery life so there is definatley a trade-off.
In our opinion, when it comes to the gimbal sensors, gimbal motors, and balancing algorithm, Zhiyun also takes the crown here too. The thing is that most people who use a point and shoot weight class camera will likley be a vlogger or amateur/entry-level videographer meaning that the snappy response time to movement on the m2 is not as much of an advantage as it is on their heavy lifting gimbals.
When it comes to the actual handle grips of the gimbal, we personally feel that they are close enough to each other to call it a draw. That said though, we have seen some people say that the grip on the Feiyutech g6 plus is annoying and irritating. This is a minority of people who we have seen say this though so we would imagine that both of the handle grips on these gimbals are comfortable enough to hold for longer periods of time without getting aches or cramps in your hands.
Our Verdict
And with that, we bring our Zhiyun Crane m2 vs Feiyu g6 plus comparison article to a close. As we mentioned back at the start of the article, in our opinion, both of the gimbals can make solid additions to your camera accessories and provide great levels of image stabilization. The Feiyutech g6 plus sneaks out ahead due to its lower price tag, higher load capacity, and longer battery life but the Zhiyun Crane m2 does have some advantages of its own with it being smaller and lighter. We also have a dedicated review of the Feiyutech g6 plus as well as a review of the Zhiyun Crane m2 online but we have covered most of the points in those articles throughout this one anyway.