The Ultimate Glidecam For Sony A6300 Cameras!
Although modern motorized handheld gimbal stabilizers like the Zhiyun Weebill S are extremely popular, a large number of videographers still prefer to use the manual Steadicam style stabilizers for capturing their video footage. Although we personally feel that the Glidecam manual stabilizer range has dropped the ball over the last few years and they are no longer worth their premium price point as their competitors offer cheaper stabilizers with similar levels of performance.
Due to the Glidecam brand still holding so much power amongst the videography community, we often see a large number of people reaching out each month asking for advice on what Glidecam model they should be purchasing for their specific camera body. One popular question that we have seen with increasing frequency is based around the best Glidecam for Sony a6300 cameras. Due to this, we have decided to focus this article around what we feel is the best Steadicam for the a6300 to try and help as many of our readers who own the a6300 and are looking to add a Glidecam to their camera accessories as possible.
Now, if you are deadset on going with a manual camera stabilizer from the Glidecam range then something like the Glidecam Devin Graham Signature Series will definatley meet your needs. It will easily be able to support the payload weight of all popular Sony a6300 setups and provide you with some excellent levels of image stabilization. That said though, as we mentioned, we feel that Glidecam's advantage of its great build quality and innovation has faded meaning that their premium price tag can often be a waste of money.
In our opinion, we would highly recommend that our readers seriously consider the Flycam Redking over anything from the Glidecam range for their Sony a6300. The Redking is an excellent bit of kit that provides some absolutely outstanding levels of image stabilization for its users. Additionally, the Redking is almost a quarter of the price of the Glidecam above while having managed to quickly grow its customer base and earn a great reputation for itself. due to it offering better image stabilization than units more than double its price.
Due to this, we are going to be taking a more in-depth look at the Redking throughout the rest of our article as we feel it should be the primary recommendation of our readers and presents an excellent opportunity to save yourself some cash. As we mentioned, its performance is outstanding in our opinion and it is worth every cent. Additionally, although it is priced towards the lower end of the intermediate level manual camera stabilizer range, it easily outperforms the competition at its price point as well as units at higher price points in the market too.
Performance And Functionality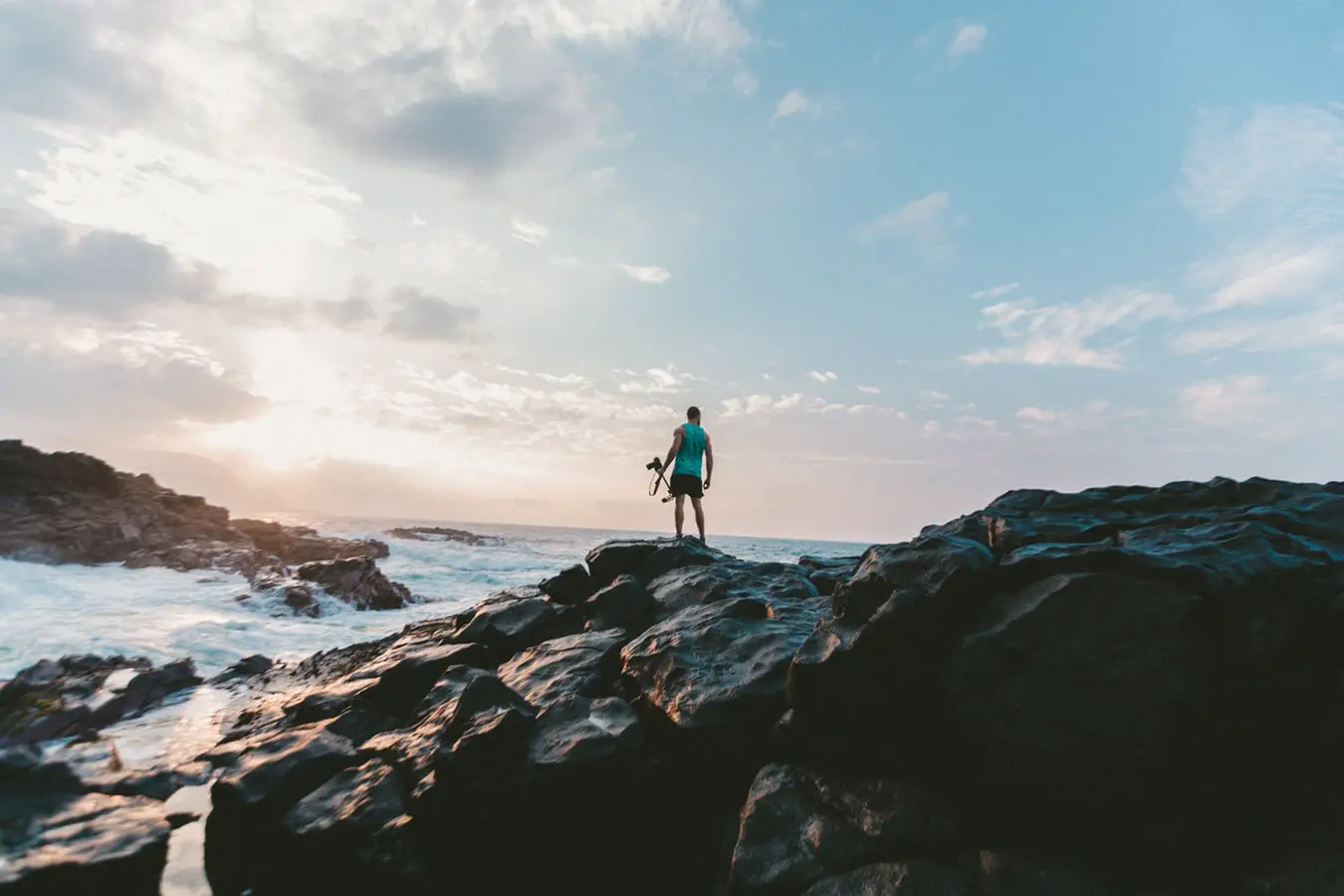 As the Sony a6300 is a part of the lightweight Sony Alpha mirrorless camera range, its camera body free from any camera accessories comes in at only 0.89 pounds. This means that even with some of the heavier popular a6300 rigs on the market right now, the 15.4-pound maximum load capacity of the Flycam Redking can easily support your setup. On top of this, the base plate allows you to quickly and easily balance the full stabilizer even if you have a long, heavy telephoto lens mounted to your Sony A6300.
Many of the cheap, more budget-friendly manual stabilizers on the market right now have issues with maintaining their center of gravity with any longer or heavier lenses but thankfully, Flycam has done a great job of ensuring that this does not happen with the Redking. Additionally, as this is a manual counterweight based stabilizer, there is no need for a battery either meaning that you are not constrained by the limitations of battery life allowing you to go out and not have to worry about a gimbal draining its battery mid-shoot.
Another excellent feature of the Redking is that it allows you to capture some of that beautiful, natural-looking panning video footage that many motorized gimbals still have issues with even today. Although the more expensive Glidecam range do have an excellent reputation for this, Flycam has ensured that the Redking performs very well too for almost a quarter of the price of a Glidecam depending on the retailer that you purchase it from. Although there are some excellent new gimbals like the Zhiyun Weebill S that offer some great manual mode control for this natural-looking panning, the manual cam stabilizers still have the advantage over the gimbals for the time being.
The actual central column of the Flycam Redking also has the guide scale markings down it to ensure that you are able to quickly and easily adjust your vertical balance for optimal performance. This ensures that you are getting optimal image stabilization during use and thus the best possible image quality available without having to waste your time to make tweaks.
The clips in the video above show off the level of video footage that you can expect from the
Flycam Redking
if you do choose to take it over a more expensive
Glidecam stabilizer
. As you can see from the sample clips, it performs flawlessly and provides the user with some of the best, butter-smooth image stabilization available at this price range in a number of common situations. If you are a professional level videographer doing paid videography work then the Redking is a great way to get some excellent image stabilization to deliver the best possible image quality for your clients without breaking the bank.
Additionally, the Redking is also fully adjustable allowing you to take it from a working length of 11.5 inches at its shortest setting up to 15 inches at its longest setting. Although this is not the largest adjustable range available on the market, relative to its price point, build quality, ease of use, and performance, we feel that it is a great little addition. This allows you to quickly and easily tweak the height of your Glidecam alternative to meet the needs of your situation quickly and easily without having to waste excessive time.
With all of this factored in, it really is easy to see why the Flycam Redking has proven to be such a popular manual camera stabilizer amongst the videography and to some extent vlogging communities. It offers some excellent performance and blows the compeating Glidecam style stabilizers at this price point in the market out the water. We can definatley see why so many videographers who use the Redking as their stabilizer of choice have chosen to post so many excellent independent reviews online sharing their own insights into the performance of the stabilizer and how it meets their needs.
User Interface And Control System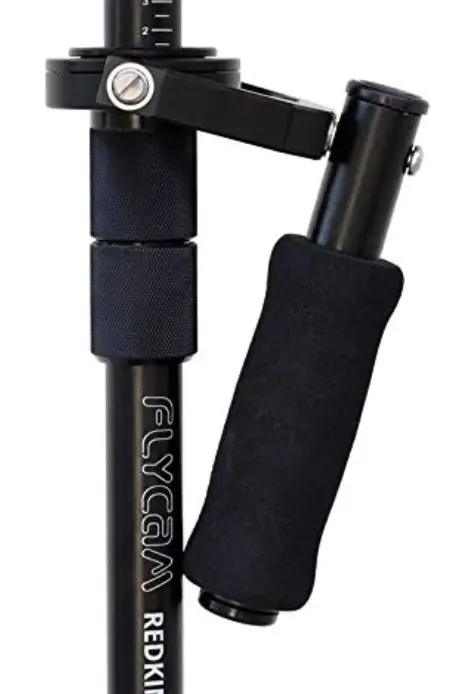 Now, as the Redking is a simple manual stabilizer that sticks to the standard Steadicam and Glidecam design there really is not much in the way of a user interface as it is simply not needed. Unlike their motorized gimbal cousins like the
Zhiyun Weebill S
that have a ton of functions and need a more in-depth user interface, the manual style stabilizers have essentially been designed to do one thing to the best of their ability, provide you with natural-looking image stabilization.
Flycam has kept the balancing procedure for the Redking as simple and straight forward as possible too. This ensures that no matter what level of experience that you have with using these Glidecam style stabilizers, you can quickly and easily get it balanced for the best possible performance with your Sony A6300 without running into issues. If you are an entry-level stabilizer user then this is ideal as the process is easy and in the very unlikely event that you do run into issues, the user manual has a very detailed and easy to follow balancing guide in it.
The fully adjustable 3 axis gimbal handle on the Redking also allows you to easily operate the gimbal in the vast majority of situations commonly found while recording for your videography gigs without having to sacrifice image quality. The stabilizer also offers a full three hundred and sixty-degree panning with fully adjustable convergence too all in the same control interface that maximizes ease of use for you, the stabilizer operator.
Build Quality And Design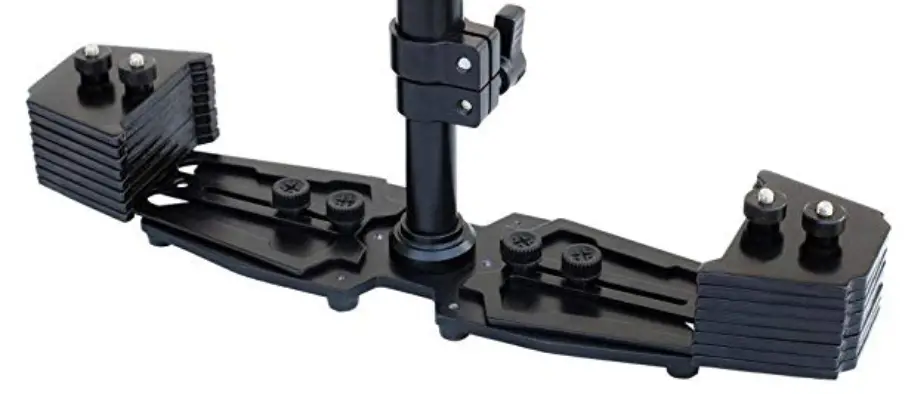 Flycam has also managed to overcome one of the biggest criticisms of their older manual camera stabilizers with their newer
Flycam Redking
and have not only managed to reduce the overall size of the Glidecam style stabilizer but also managed to reduce its overall weight too. The unit comes in at 24.1 x 8.3 x 6.1 inches while being around 3.7 pounds of weight without any of its counterweight plates mounted.
If you are a videographer or vlogger looking for a manual stabilizer that you can travel with then the Redking may meet your needs. One top tip that we would like to share with out readers is that if you are working in a niche where you have to travel around via plane then only take the counterweight plates you need plus a few spares. So many videographers take all sixteen counterweight plates that come in at 3.3 pounds of total weight on their travels with them.
With a camera as light as the Sony a6300, there really is no need to do this so only take the counterweight plates you need to be able to balance your camera rig on the Redking. With each plate coming in at around 0.2 pounds of additional weight, each of the sixteen counterweight plates you can leave behind and not have to pack in your luggage makes your life easier when it comes to sticking to your luggage weight limit.
Although the Redking is smaller and lighter than its predecessors, it is just as robust and tough due to being made from high-quality CNC machined aluminum. This has enabled Flycam to reduce the total weight of the body of the stabilizer as much as possible without having to make it weak or fragile. This is excellent news as a few compeating Glidecam style stabilizers at this price point in the market can be very weak and flimsy.
Another thing that Flycam has changed with the Redking is that it comes with both a quarter-inch mounting thread and a three eights mounting thread too. This allows you to mount pretty much any camera accessory or quick release plate you need to the stabilizer without issue. It also has sixteen additional mounting points around the body of the stabilizer to allow you to mount additional camera accessories to it such as a video light or field monitor if needed.
The final point that we want to make is that the handle grip on the Redking is comfortable but can slip with heavier payload weights being supported. We doubt that this will be an issue with something as light as even the heaviest Sony a6300 rig but it can cause the handgrip to rotate around the handle every so lightly. This can easily be fixed with a few drops of super glue though allowing you to quickly and easily fix the problem without having to folk out and waste a ton of cash.
Our Verdict
That brings our article going over what we feel is the best Glidecam for Sony a6300 and although the Glidecam Devin Graham Signature Series is an excellent bit of kit that will likley be able to meet all of your needs, it is around four times the price of the Flycam Redking that can also likley meet your needs and provide everything that you need from the stabilizer.
As we touched on earlier in the article, there are an absolute ton of independent reviews for the Flycam Redking online that have been published by third-party videographers. If you are still unsure if you should be going with this excellent, cheap Glidecam alternative we would highly recommend that you check a few of them out. We also have our own dedicated review of the Redking online but that majority of the points we raise in it have been published in this article anyway.